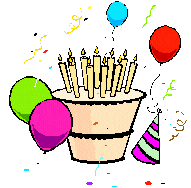 Get the horns, the balloons, the tequila!  It's my 100th post!
I can't believe that this is my 100th post!!! Wow.  That's a lot of blogging!
I guess it's appropriate because today, I think I've started a new chapter:
I've started temping again.
It started on Friday, when I finally got a BFN after my D&C.  4 weeks after my D&C.  I decided to go ahead and start charting again, just to start getting me in practice for when AF comes and I being officially TTC again.
I have to admit, I'm being a bad girl, and not using any protection when C-Dub and I…….you know!  At first,  it was:
 " We are definitely going to get some condoms until AF."
Then, "You've got to go get some condoms for next time,."
The next time, "Wait, what about a condom?"
And now….." Condom? What's that?"
So, I figured, that if my body wasn't ready, I wouldn't get pregnant anyway.  But when I really thought about it, I decided that at least if I charted and something did happen, I might have a better idea of maybe when it happened at least.
Yes, I know, I'm being really really optimistic here.  Maybe too optimistic.  But I'm tired of waiting, and moping and doing nothing!  At least now that I am charting again, I feel proactive.  
After all, there was that last new years resolution……….