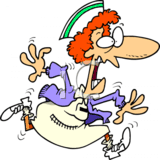 Off topic today.
I returned to L&D today(couldn't get out of it).  The day was going really good.  I had one patient who I got an epidural as soon as I got there, she progressed nicely, we're pushing, and pushing and pushing………
Her Doctor decided to put on a vacuum to assist the big baby out.
It wouldn't come.
She cut a small episiotomy.
It still wouldn't come.
She cut a bigger episiotomy.
It STILL wouldn't come.
She cut some more(OK, by this time, there is one big gaping hole where her vagina and rectum used to be separated.) and reapplied the vacuum again.
Oh look! The head is coming!!!!!!
PUUUUUUUUSSSSSSSHHHHHH!!
And………
EWWWWWW, I got a mouth full of amniotic fluid!!!!
OH YUCK YUCK YUCK!!!!!! OH MY GOD! OH GROSS! SHIT DAMN MOTHER FUCKER!!!!!
I am not ashamed to say that I left the doctor, the patient, the crying newborn and her gaping vagina/rectum right there in the room while I rushed to the bathroom to scrub my face, change my clothes and repeatedly rinse my mouth out with industrial strength mouthwash over and over and over and over again.
Oh Gross.
I am soooooooo not going back there anytime soon.
I am sooooo traumatized.