I feel like I've been holding on to this secret ALL SUMMER LONG! But finally, today is my SITS Day!!!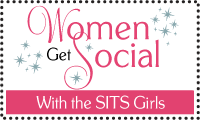 Welcome!!!!
*hits my dougie*
For those of you who don't know, SITS is a wonderful  group of 40,000 women bloggers dedicated to supporting one another by leaving comments and learning about blogging.  I am honored and soo happy to be the featured blogger for today!  If you want to know more about SITS and want to join the community, start here.
For those of you who are visiting for the first time, welcome to My Life!  I blog about struggling to find that perfect balance between work, motherhood, wifehood, and having time for me all while chugging Starbucks by the gallon!  And I can usually be found either with my iPhone or Canon in hand to document it all.
To get a better feel for My Life, you can check out the posts featured on the SITS Girls page today OR you can also check out these for a feel of what goes on around here…
Well! That's me!!
Feel free to stick around after you get to know me! 🙂 . You can subscribe to my blog( see the righthand sidebar!) for updates about this crazy life, or follow me on the twitter or my facebook page or instagram where I am @rosesdaughter.  I look forward to meeting you all!
Get Everyday Eyecandy in Your Inbox
Subscribe to get our latest content by email every week.