Looking for quick, easy gluten free one-pot meals for a weeknight? Check out this easy Rosemary Chicken and Veggies Recipe. Perfect for a weeknight meal!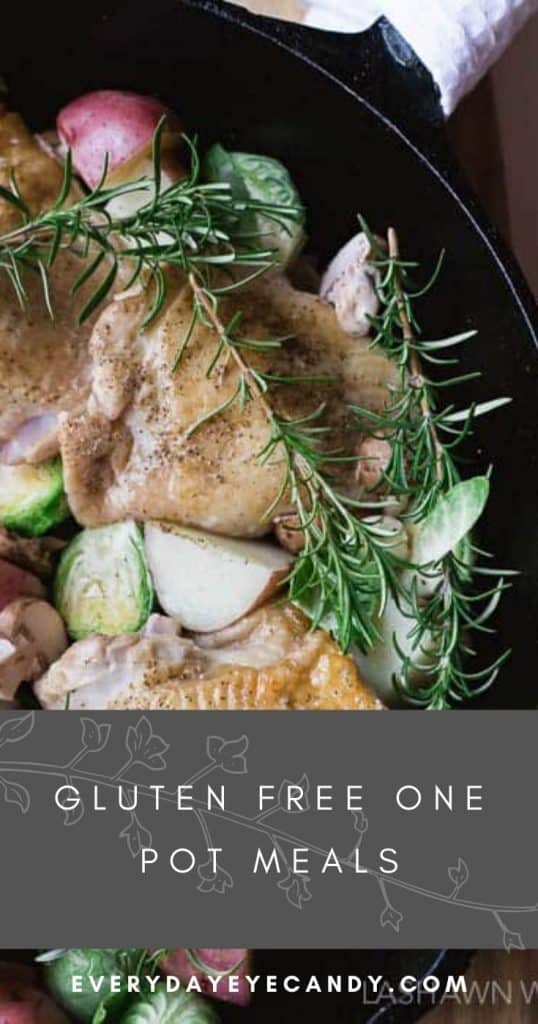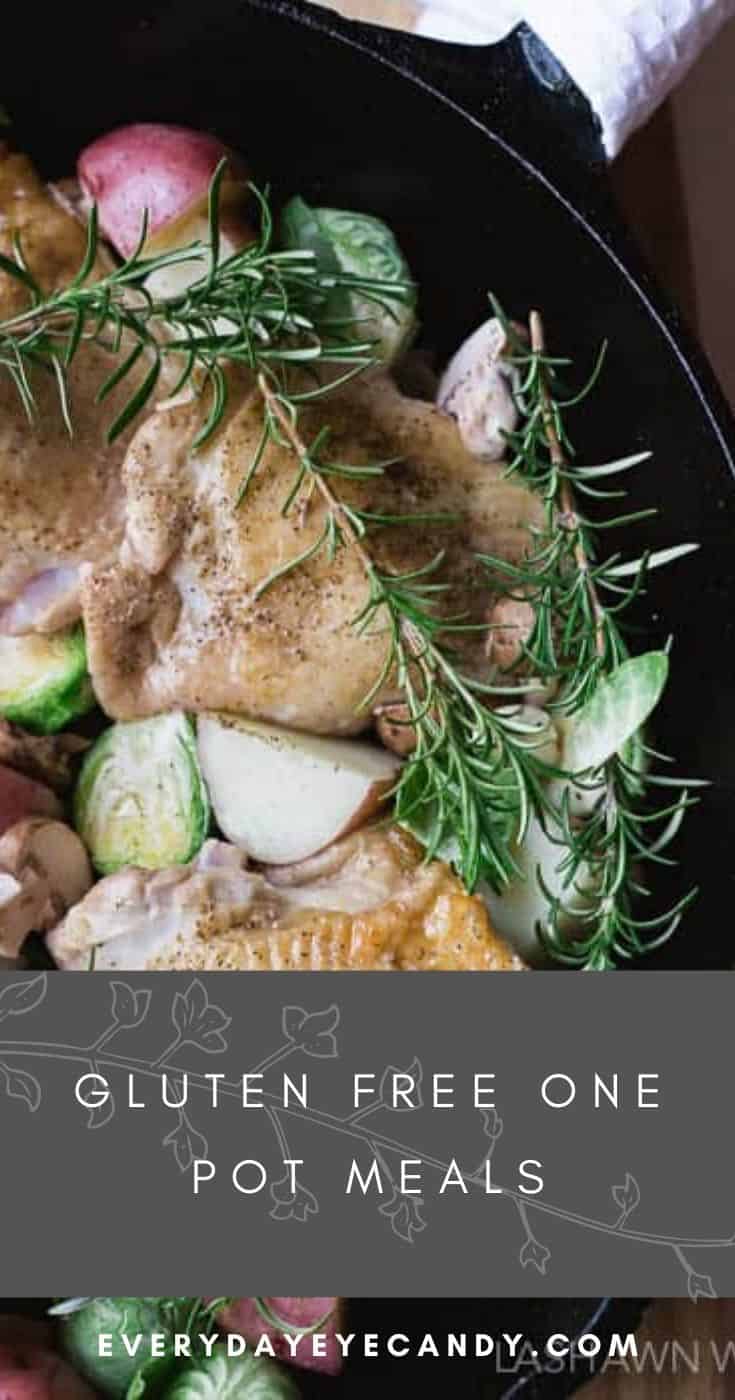 Quick and easy gluten free one pot meals that don't come out of a box is the holy grail in my house.
So when I find a gluten free recipe that fits the bill, I hold on to it and try not to fix it every day.
In our house, Pookah loves Chicken, I love roasted Brussel Sprouts and mushrooms and C-Dub just wants it to taste good.
I came across this recipe some time ago on Beatrice Clay's blog. But I had a few ideas of my own. I did a bit of fiddling and came up with a combo recipe that I knew was gluten free, tasty, quick and easy.
One Pot Rosemary Chicken and Veggies
Pookah is in that picky eating stage. When I say picky, that means he will eat about five things:
chicken
fish sticks
cheese
gluten free graham crackers
yogurt
Repeat.
So…we have a lot of chicken in our house. Barbecue, Baked, fried( in gluten free flour), in the chicken nugget variety..etc etc etc.
In an attempt to save money( and cause I' m not about to make two meals), I've been on a mission to find quick easy gluten free meals.
I've practiced and tweaked the recipe that I found over and over until I'm sure I've found the combo that works for us. From start to finish, this meal took 1 hour from refrigerator to plate.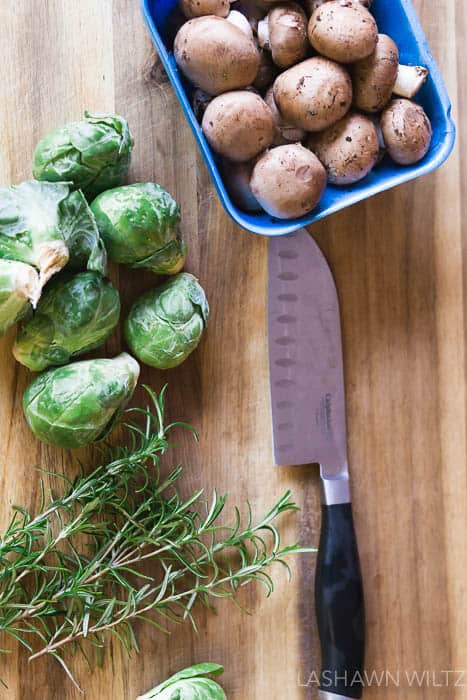 The ingredients are simple:
Chicken thighs
rosemary
brussel spouts
mushrooms
red potatos
garlic
shallots
In keeping with the easy part, I cooked this entire meal in my a big cast iron skillet that my mother gave me.
The chicken gets browned while you chop up the veggies. The potatoes boil just a little until you've got that all done.
Throw it all in the pot together.
Throw it in the oven
35 minutes later….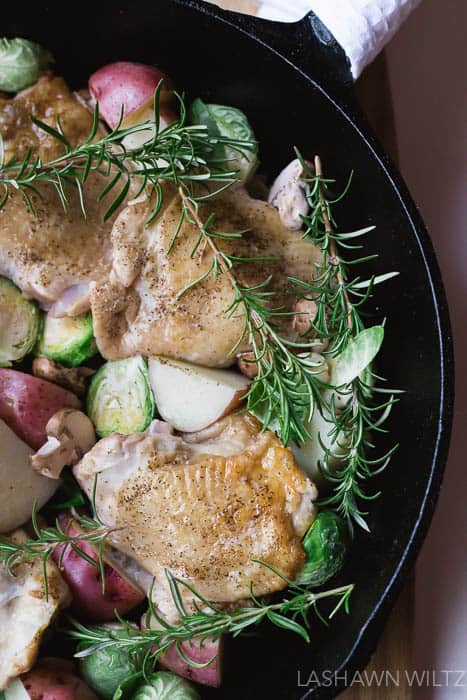 Sigh.
It was Devoured, by all who live here.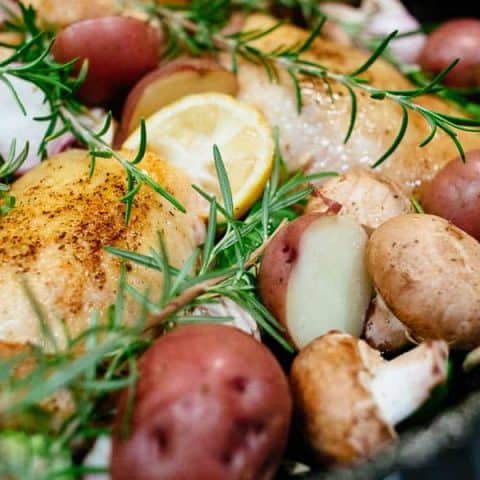 Gluten Free One Pot Meals: Rosemary Chicken and Veggies
One pot roasted chicken recipe with rosemary and veggies
Ingredients
5 Skin on Chicken Thighs
3/4 pound of small red skinned potatoes, halved or quartered if large.
3/4 pound of Brussel Spouts trimmed and halved
4 garlic cloves, peeled and smashed
1/2 pound of shallots, peeled and halved
4 springs of fresh reosemary
10 oz of mushrooms
2 tablespoons of xtra virgin olive oil
2 tablespons unsalted butter
Salt and Pepper to taste
Instructions
Preheat the oven to 475
Cover your potatoes with cold water in a pan and salt the water. Bring to a slow boil and cook about 8 minutes. Drain and set aside.
Heat 2 tablespoons of the olive oil in a cast iron skillet over medium-high heat. Season your chicken with salt and pepper( or whatever you like to season with) and add it to the skillet skin side down until the skin browns, about 5 minutes.
While your chicken is browning, chop up your veggies.
Turn your chicken, add your veggies to the skillet. Drizzle with melted butter.
Cook in the oven for 35 to 45 minutes rotating your pan halfway through cooking.
Cook until chicken registers 175 degrees.
Transfer chicken to serving platter, tent loosely with aluminum foil and let rest for 5 to 10 minutes. Toss veggies in the juice at the bottom of the pan.
Serve.
Enjoy!
Easy Weeknight Gluten Free Meals