I'm doing Fadra's Stream of Conciousness Sunday this week. Her writing prompt was : what are some things you wish you could blog about, but can't?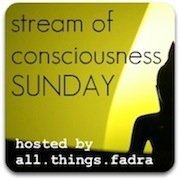 Up until this week, I categorically didn't talk about race.
Race is such a touchy sticky subject.  It's hard for some people to understand how it is to live always being reminded of the color of your skin. Because no matter what I do, I am black first, woman second.  It's hard to explain exactly how that feels to someone who is not a person of color.  It's sticky, and I just don't like having to educate and explain how and why I feel about certain issues.  How I've always had to be better than the best because I'm black. How I was teased when I was younger because I talked "white".  How education was my way out of ending up a statistic.
That reluctance to write about race is what kept me from speaking about the Trayvon Martin case for so long.  I didn't want to hear, "well, he's black, he must have done something."  I didn't want to face the stereotypes.  But I am raising a black boy in my household and I decided to stop hiding from race on my blog. I proud to be black woman. I come from people that have overcome slavery poverty, racism, and hatred.  My opinions and experiences are colored by race. I can't help that.  But I'm tired of not blogging about certain things and issues because it might be controversial.  Like I said on twitter last week, if you dont like it, unfollow. I won't be in your face militant with it, but I won't hide from it either.  Because some things are too important NOT to blog about.
******
This was my 5 minute Stream of Consciousness Sunday post. It's five minutes of your time and a brain dump. Want to try it? Here are the rules…
Set a timer and write for 5 minutes.
Write an intro to the post if you want but don't edit the post. No proofreading or spellchecking. This is writing in the raw.
Publish it somewhere. Anywhere. The back door to your blog if you want. But make it accessible.
Add the Stream of Consciousness Sunday badge to your post.
Link up at allthingsfadra.com
Visit your fellow bloggers and show some love.