Check out this spoiler free honest book review of Rootless By Krystle Zara Appiah. It's a wonderful study on motherhood and sacrifice.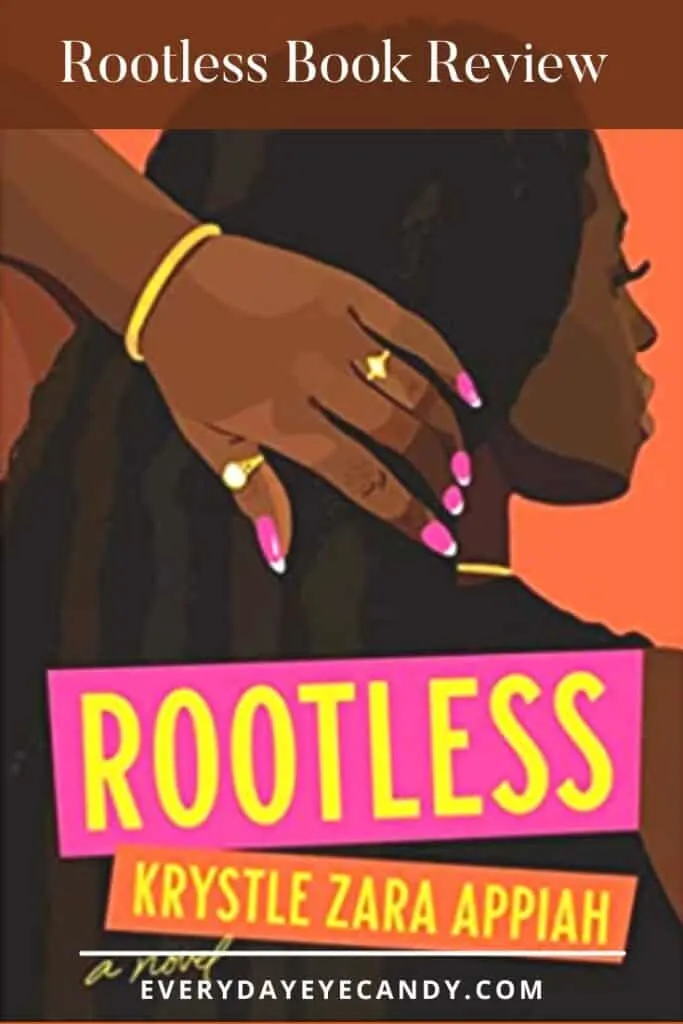 I've been sitting on this book for months. Somehow, I just knew it was going to be heavy when I read the synopsis. But I requested it anyway and received an early copy from NetGalley.
That being said, once I started, I could not put it down. I was drawn to Efe. I felt for her. I cried for her. I understood every emotion in a visceral way. Not because I myself have experienced everything she did, but because as a mother, I could have.
So when I finished, I knew this was a review that would go up here on the blog.
This blog post contains affiliate links. Everyday Eyecandy is a participant in the Amazon Services LLC Associates Program, an affiliate advertising program designed to provide a means for sites to earn advertising fees by advertising and linking to Amazon.com.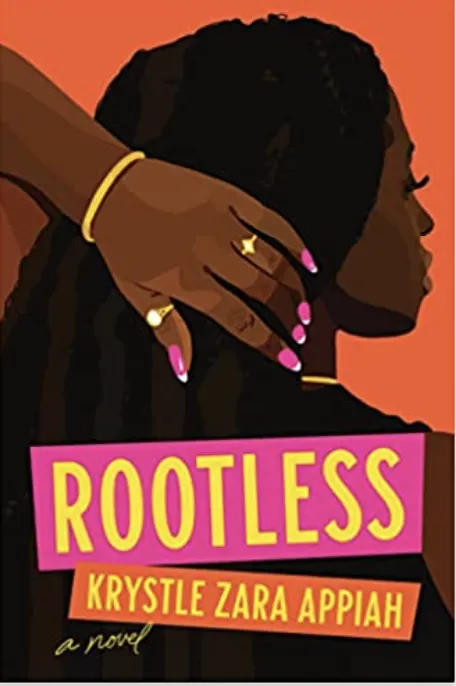 CATEGORY
Women's Literary Fiction
Synopsis of Rootless

From the Book Jacket:
On a Spring afternoon in London, Sam hops the stairs of his flat two at a time. There's £1,300 missing from his and his wife, Efe's, shared bank account and his calls are going straight to voicemail. When he finally reaches someone, he learns Efe is nearly 5,000 miles away as their toddler looks around and asks, "Where's Mummy?"

When Efe and Sam are faced with an unplanned pregnancy, they find themselves on opposing sides. Fatherhood is everything he has dreamed of, but Efe feels stuck in a nightmare. And when a new revelation emerges, they are forced to confront just how radically different they want their lives to be. Already swallowed by the demands of motherhood and feeling the dreams she had slipping away once again, Efe disappears.

Rootless is a heartrending love story about motherhood and sacrifice, providing an intimate look at what happens after a marriage collapses, leading two people to rediscover what they ultimately want—and if it's still each other. As Efe says, "Love and regret aren't mutually exclusive."
My Book Review of Rootless ( spoiler free)
I'll start with saying when I reached the end of this book, I literally just sat there.
I had been invested, having so many emotions and the ending just ravaged me.
I think this quote from the Book sums it up the best:
"I wonder why we do that," she says.

"Do what?"

"Measure a woman's strength by the amount she is able to endure?"

Rootless
Rootless begins with Sam rushing home to discover that his wife Efe has left him and their child in London and flown back to her family in Ghana. The book then takes us back 19 years earlier and each chapter going forward shows us a year in the life almost like a countdown, of Efe and Sam's lives up until the year Efe leaves Sam and their daughter.
I don't want to give away a lot here, but this book tackles some of the themes surrounding motherhood that we would rather not talk about: identity loss, postpartum depression, bodily autonomy, mental health and the way mothers feel pressure to and are even EXPECTED TO put everyone else before themselves.
The author even gives you a glimpse of Efe finally getting to be who she wanted to be. But she has to give up something to do so. A case for never being able to have it all?
I found it to be an interesting study of the expectations that society, our families, our partners and even other moms put on motherhood. And how we respond when someone doesn't fit into that box.
Despite all of that I was rooting for Efe AND Sam. Because even though this was about Efe , you see the slow transformation and love that Sam has for Efe and you just WANT it all to work out.
Which is why when I finished this book, I HAD QUESTIONS AND CONCERNS AND SHOCK AND ….ALL THE THINGS.
3 days after finishing this book…I'm still stunned.
My Rating
4/5 stars. The ending ya'll. The ending.
HOW TO GET THE BOOK!
If Amazon is bae GET YOUR BOOK HERE
If you want to support small/independent bookshops Through Bookshop.org SHOP HERE
I hope you enjoyed this Book Review of Rootless .Have you read this book yet?