Hey friends, here is my honest House of Earth and Blood :Crescent City Book Review. It was NOT what I expected. Keep reading to find out why.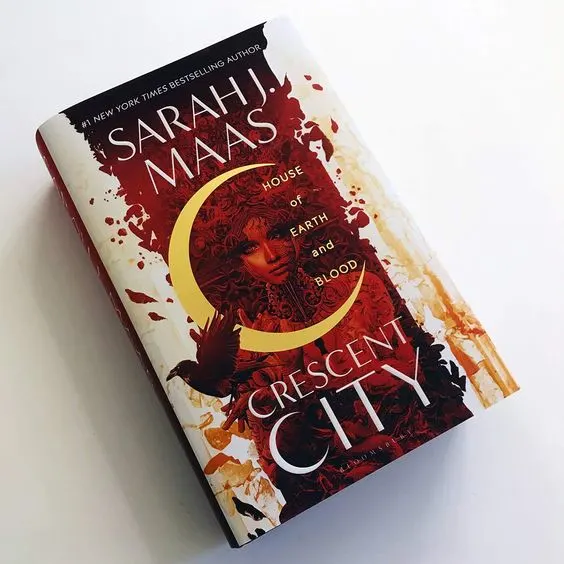 This blog post contains affiliate links. Everyday Eyecandy is a participant in the Amazon Services LLC Associates Program, an affiliate advertising program designed to provide a means for sites to earn advertising fees by advertising and linking to Amazon.com.
From the Book:
The blurb:
Bryce Quinlan used to light up Crescent City, partying all night in the clubs where the strict classes of angel, shifter, human and Fae merge into a sea of beautiful bodies.

And then a demon murdered her closest friends.

Two years later, when the supposed killer is behind bars but the crimes start up again, the city's leaders command Bryce to help investigate. They assign an enslaved fallen angel, Hunt Athalar, to make sure she does. But as Bryce fights to uncover the truth — and resist her attraction to the brooding angel who shadows her every step — she finds herself following a trail that leads deep into her own dark past.
My Crescent City Book Review
Let me preface this review with: I love me some Sarah J Maas! I DEVOURED her other two series and I still go back and re-read The Court of Thorns and Roses series OFTEN and that The Throne of Glass Series is also a favorite.
I'm a fan fan.
So anyway, I had been waiting for House of Earth and Blood Crescent City for what seems like FOREVER.
I took it with me on a cruise and spent hours holed up in my cabin reading it while I could have been on the lido deck.
ANYWAY.
So I don't know if it was because I've been waiting so long for this and had built it up in my head, or what but it gets 3 1/2 stars.
Sigh.

The first part of this book was sooooooooo long and boring. I feel like it needed a really good editor to just edit it down for us so that we could just GET TO THE POINT.
The plot is largely focused on who killed Bryce's best friend. But there was so much world building with complicated systems of governance, and caste and a dozens of characters which made this book almost overwhelming to really get into and start CARING about the story.
I did pick up and I did start caring about the characters and started to enjoy the relationship between the two main characters: Hunt and Bryce.
Until I was thrown off again. Then miraculously it all wrapped up. Kind of. With a bunch of loose ends and questions.
But my biggest gripe since this was an Adult book: and there was NO SEX.
Listen. If you have read the A Court of Thorns and Roses Series, you understand my gripe here.
ANYHOO.
I was left hanging and wondering what direction she would be going in the next book. And are Bryce and Hunt even Endgame?
Overall, once I got over the world building and background, I have to say I enjoyed getting to know the characters and sub characters and picked my favorites.
I will read the other books because..once I start something i have to finish and Im honestly curious how she brings it all together for the next book.
Would I recommend it?
Yes. because why not?