Listen.
When you work five days a week, and you need quick, easy and nutritious meals around here for folks to eat.
Toss in Pookah being allergic to wheat, and my quest for a quick meal often fails.
It's nearly impossible to find an easy gluten free meal to fix that's good AND nutritious and didn't come from a box.
But a few weeks ago, Beatrice Clay posted a recipe on her blog.
And I KNEW it would possible work for us and become one of my weeknight staples.
This recipe is AWESOME. We've got chicken, baby red potatoes, mushrooms, brussel sprouts, rosemary, garlic, shallots, and lemons ALL in my HUGE cast iron skillet
.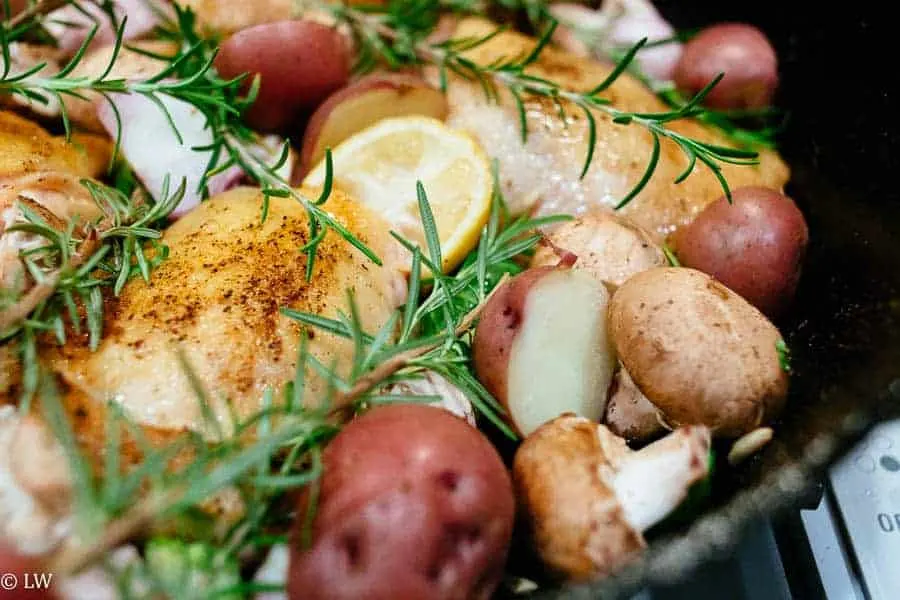 It went in the oven and came out looking and smelling FABULOUS.
And the ultimate test?
The boy ate it!
I have no photos of us eating it because it just disappeared so quickly.
Here is the original recipe from The Food Network
I did do a few modifications( like cook it a little bit longer than suggested ) and change a few ingredients ( like chicken thighs instead of breasts).
Here it is…
Ingredients
3/4 pound small red-skinned potatoes, halved, or quartered if large
Kosher salt
2 sprigs fresh rosemary, plus 1 tablespoon leaves
Brussel sprouts cut in half
2 garlic cloves
Pinch of red pepper flakes
Juice of 2 lemons (squeezed halves reserved)
2 tablespoons extra-virgin olive oil
4 skin-on, chicken Thighs
10 ounces mushrooms( cut in half)
Directions
Preheat the oven to 450. Cover the potatoes with cold water in a saucepan and salt the water. Bring to a boil over medium-high heat and cook until tender, about 8 minutes; drain and set aside.
Heat a large cast-iron skillet over medium-high heat with the olive oil in the pan. Add the chicken, skin-side down, cover and cook until the skin browns, about 5 minutes. Turn the chicken; add the mushrooms, brussel spouts, garlic, to the skillet and drizzle with the juice of the remaining lemon.
Add the rosemary sprigs and the squeezed lemon halves to the skillet; transfer to the oven and roast, uncovered, until the chicken is cooked through and the skin is crisp, 30-35 minutes.
Eat.
Enjoy.
You're welcome.
*this post does contain affiliate links*