Gluten Free Sugar Cookies are one of the most versatile Christmas Cookie Recipes. Check out this easy Gluten Free Sugar Cookie Recipe that are perfect for Santa!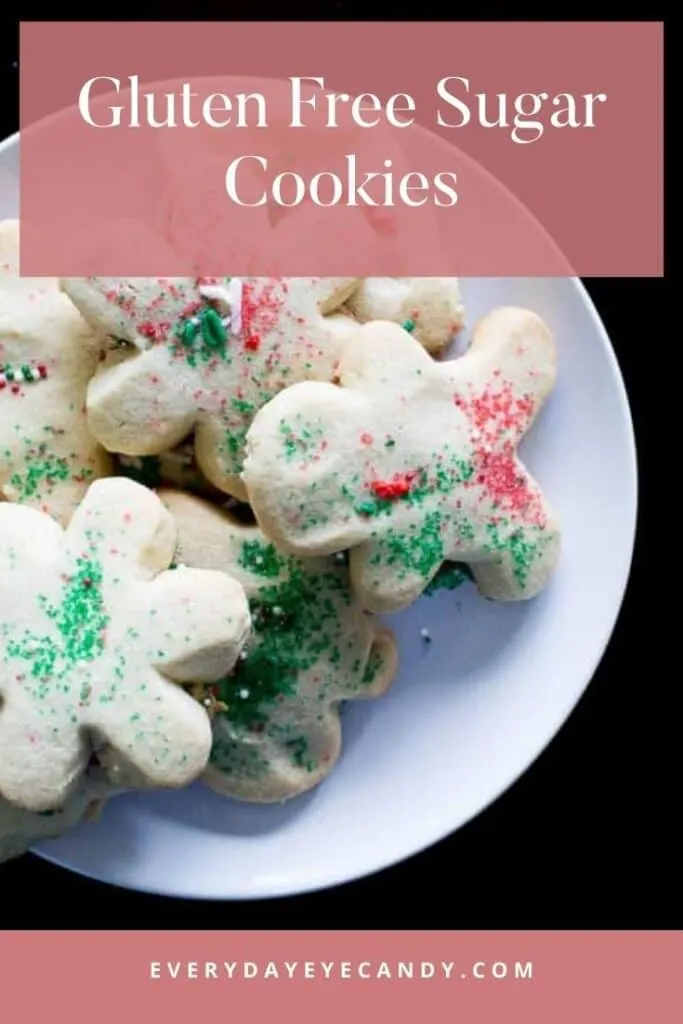 This blog post contains affiliate links. Everyday Eyecandy is a participant in the Amazon Services LLC Associates Program, an affiliate advertising program designed to provide a means for sites to earn advertising fees by advertising and linking to Amazon.com.
We are working on creating new traditions for my own little family over here this holiday season.
I am not a complicated family, so I knew I wanted something easy and fun. Something that Pookah could look back on and remember as a yearly tradition unique to us. . So I decided to bake Gluten Free Sugar Cookies for Christmas.
I love letting my son bake and decorate because kids tend to enjoy something more that they have helped to create. And while we are baking, I tell him stories from my childhood. He loves hearing all about the holidays when I was a child: what Santa got me, what his Grandparents said, what the decorations on the tree looked like and stories of us all gathering together.
Why sugar cookies?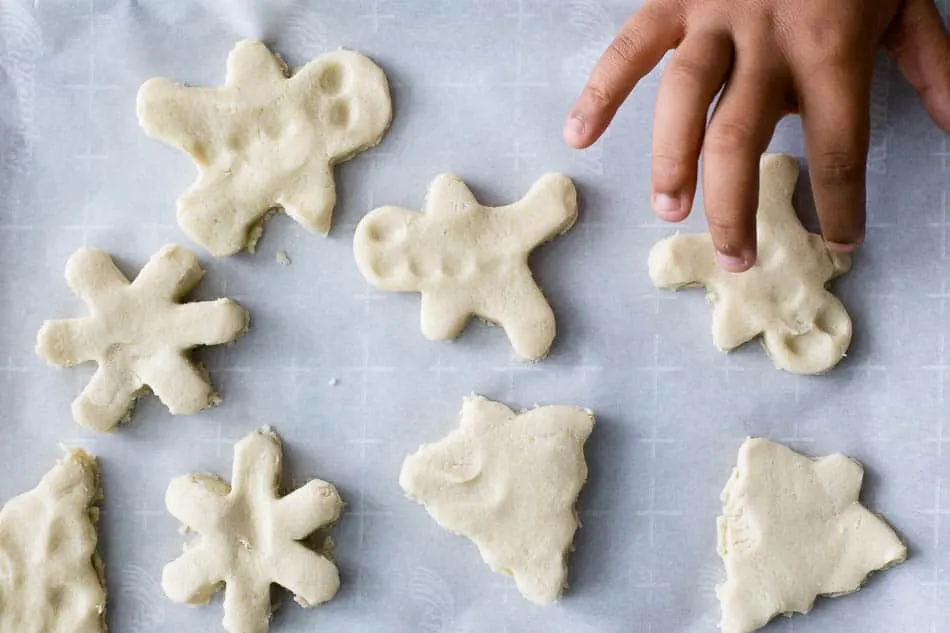 Sugar cookies are the perfect base for a number of holiday cookies. They are not too sweet and can decorated for any occasion and shaped perfectly for the holiday. If you live a gluten free lifestyle, there is no need to miss out!
Ingredients You Need to Make Gluten Free Sugar Cookies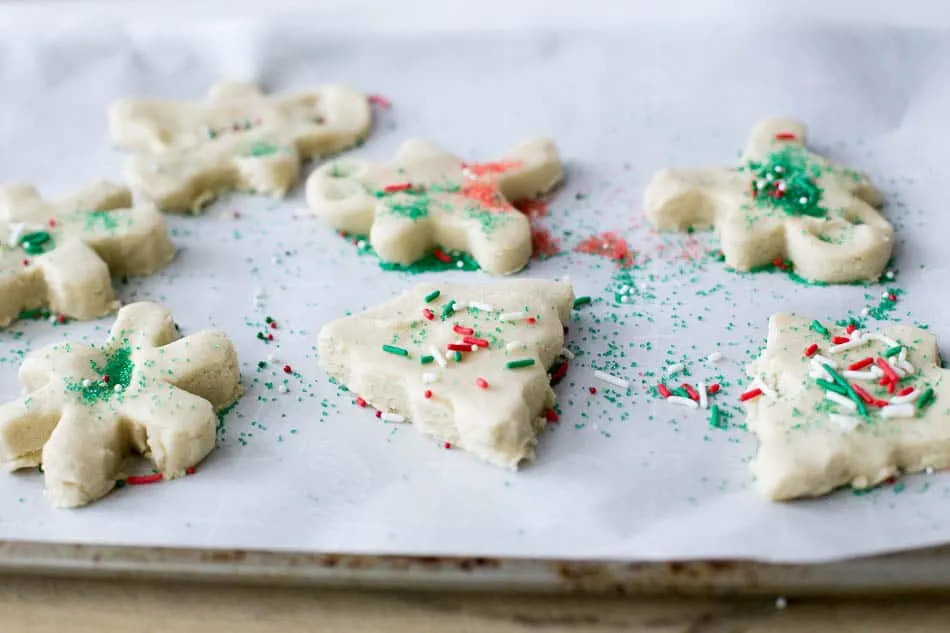 The key to good Gluten Free Baking is the flour.
I personally love Cup4Cup Gluten Free Multipurpose Flour or Pamela's Products Gluten-Free Artisan Flour Blend.
Both are magical, but Cup4Cup Flour in particular makes gluten free baked goods taste exactly like the glutened version.
Tools for your Kitchen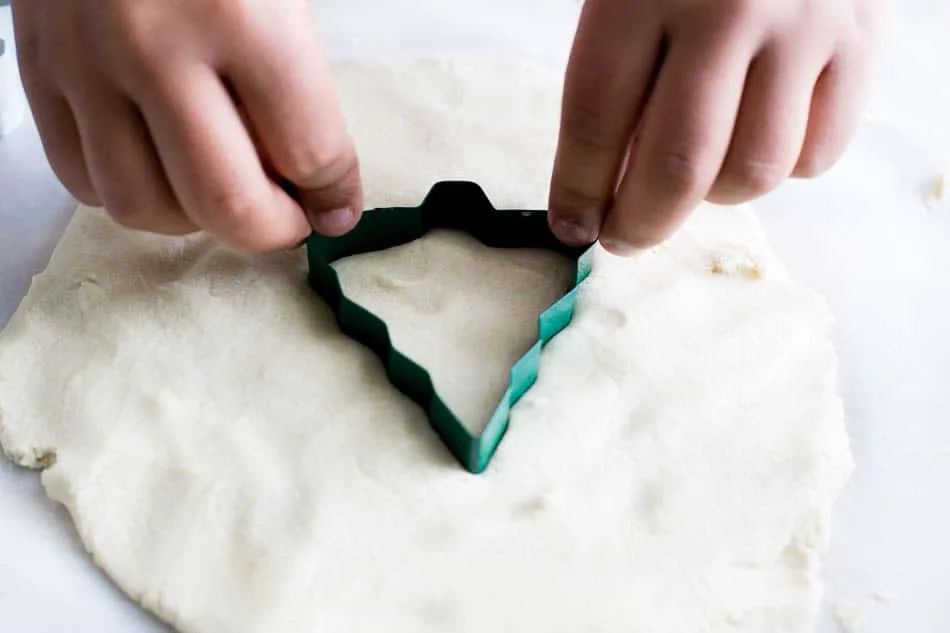 These will make your life so much easier trust me!
How to Make Gluten Free Sugar Cookies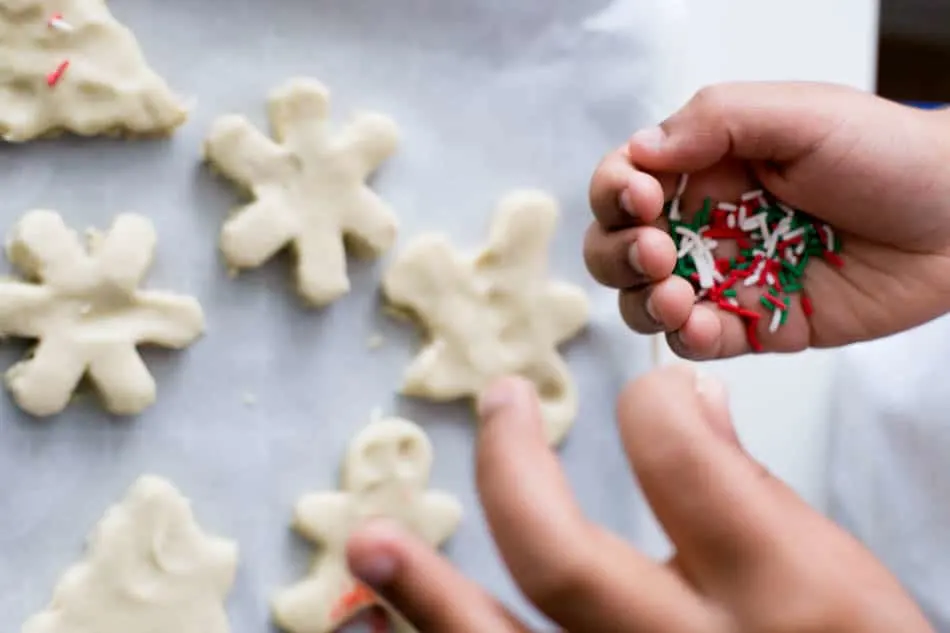 The recipe is below, but a few things:
One of the best parts of making these cookies at Christmas is that the kids get to decorate.
Even if you do the majority of the work before hand, and just bring your kids in for decorating, they will LOVE it.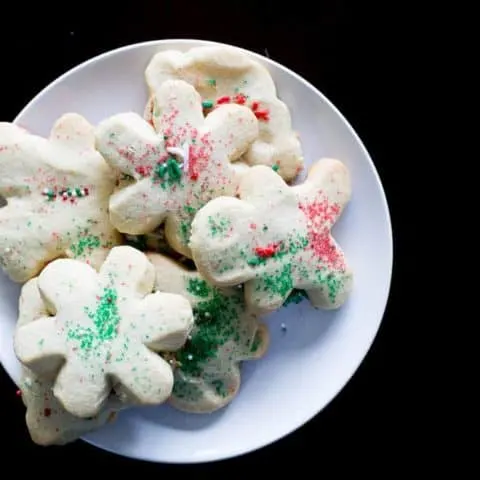 Gluten Free Sugar Cookies
Easy Gluten Free sugar cookie recipe. Perfect base for Christmas cookies and decorations.
Ingredients
3/4 cups of room temperature unsalted butter,
1/2 cup sugar
1/2 + 1/8 teaspoon salt
1 teaspoon vanilla extract
1 3/4 cups + 3 tablespoons Cup4Cup Gluten Free Flour or your favorite gluten free flour
Instructions
1. Place your butter in the bowl of a stand mixer.
2. Next, turn to your mixer on to medium-low speed and cream until smooth. Add sugar and salt and mix on medium low for about 2 minutes.
Add vanilla extract and mix on low speed for about 30 seconds.
3. Add the flour in gradually on low speed for 15 to 30 seconds until just combined.
4. Place your dough on a work surface and make a square block. Wrap the block in plastic and refrigerate for 1 hour, or until firm.
5. Preheat your oven to 325°F. Line 2 baking sheets with parchment paper.
7. Unwrap your dough and place it between 2 pieces of parchment paper or plastic wrap. With a rolling pin, flatten your dough. Then, on a floured surface roll it out to about 1/4 inches
Use decorative cutters to cut out the cookies and place on sheet pans, leaving space between them.
6. Bake until pale golden brown, about 10-15 minutes.
7. Set pans on cooling rack for 5-10 minutes and then transfer cookies to the rack and cool completely.
It's important not only to start new traditions but to remember old ones and pass them on. Especially as our loved ones get older. It's important to sit them down and ask them about family traditions and stories. While most are happy to tell stories of the "old days," over a cup of coffee remind them that everyone's stories and traditions are important and that you are honored to hear theirs.