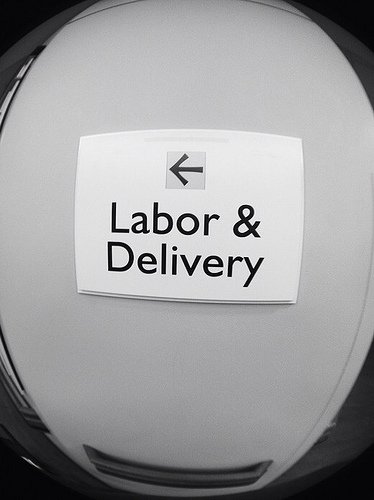 A Labor and Delivery nurse thinks she is on candid camera when….
You hear your patient coming down the hall before you see her, cussing, screaming, pushing herself in  the wheelchair, talking about: "I'm in labor dammit! Put me in a room! I'm gone leave, how do I get out of here to go to another hospital …."
When you say OK, and attempt to push her back to the waiting room so she can catch her ride, she suddenly changes her mind….
You attempt to admit her, but asking her questions and starting her IV have to wait until she finishes embellishing her ordeal and cussing out her baby daddy…..
You get her admitted( finally) and you get her induction started. You feel OK. This will be over quickly….
Her mother arrives: all you see is the pink hair with braided antenna like circles on her head, blue eye shadow and a black and gold grill……wait, is that TWO tongue rings??
You can't concentrate because the pink antennas are bobbing and weaving, the grill is flashing, and she is talking to you about hair dying techniques that include using red Kool Aid…..
Your patient's 3 year old son arrives, just as your patient is loosing her mind, screaming, out of control….
Baby is born: Mama has stopped screaming and is back in control. Unfortunately, you now how a screaming, traumatized, out of control 3 year old who saw a baby come out of his screaming mother's coochie live and in color.
Juice and crackers don't work to calm him down.
Postpartum doesn't have rooms.  You slowly bang your head on the wall at the thought of keeping these folks until change of shift.
Your patient and her pink haired Mama decided to take a wheelchair ride to the giftshop ( code word: we need to smoke). You don't care at this point, take yo ass on then…..
End of shift. You try to prepare the next nurse, but there are really no words…
You rush home, rush your own child to sleep and curl up in fetal position rocking, with a bottle of red wine…..
Stay tuned for next time for tales from a Labor and Delivery nurse……