I am happy to be a Evite Influencer! This post is a partnership with Evite® their Say Yes to Summer Campaign. All opinions are my own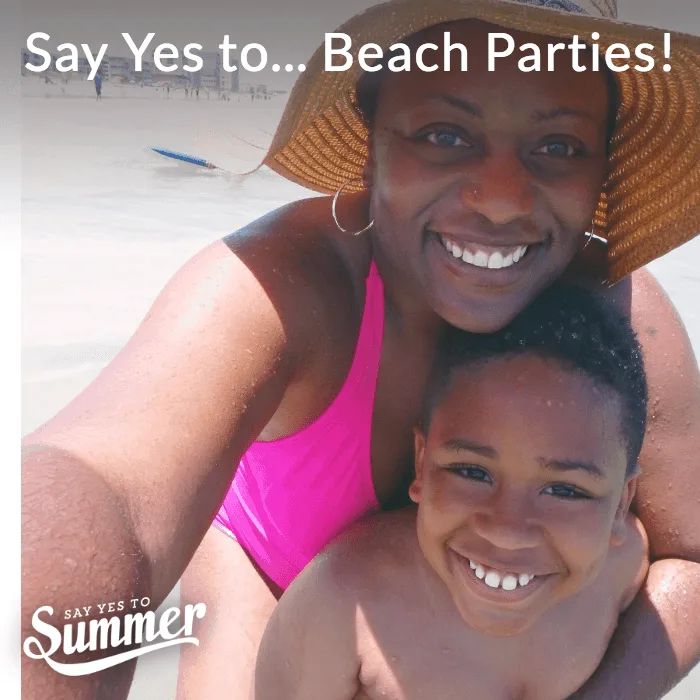 Summertime is here!! It's time for family vacations, long summer evenings at the park, pool time, family barbecues and beach parties. I have tons of photo albums full of family gatherings in the summer from my childhood and really want to have the same for our family. As the resident shutterbug, it's always up to me to document these events, but this year for our family summer beach barbecue, I am looking for ways to be more creative and get everyone else involved. Here are
5 Ways to Get Your Guests to Photograph Your Party
1.Set Up a DIY Photo booth with an iPad and a tripod.
Set up a DIY photo booth with an iPad and fun props. Folks love to take selfies for any reason what so ever. Its one way to get everyone involved. Upload the photos later to social media for sharing.
2.Make a Instant Photo Guestbook
Use any instant camera to print out photos right there of everyone as they enter the party! It's a great way to get guests involved as soon as they arrive AND to document who was there.
3.Make a hashtag for sharing photos
Everyone will have their phones out snapping random fun photos. Having a hashtag for your event helps you get all those photos in one place for sharing later!
4.Give Everyone a Disposable Camera
Hand out Disposable Cameras when everyone arrives and ask them to capture shots all throughout the event. At the end of the day, you've got lots of photos from unique angles taken by your guests!
5.Use Evite's Private Sharing Feeds.
When you send your guests an Evite invitation, the feeds are available for every invitation purely for your guests only. You can upload photos and tag your guests so that they can relive those summer memories whenever they want!

My family always has a giant family gathering every 4th of July . We've put it off a few years, but it's time to start again! Needless to say, that is going to require a lot of coordination of schedules! I'm sending everyone an Evite invitation because it's the easiest way to bring together all family and coordinate it all. Evite has lots of options in their summer invitation categories that are perfect for saying yes to summer! You can also design your own!
Evite® you to Say Yes to any and every reason to get together this summer. Evite® wants to celebrate the ways that people Say Yes to Summer by hosting a photo contest inviting everyone who loves summer to share how they are saying yes to summer for the chance to win a $500 Gift card! ENTER NOW!!! And good luck!
Have you tried any of these ways to get your guests to photograph your party? Share!
The Fab Five is Back! Head on over to the rest of Fab Five to see how they say Yes to Summer!
MJ:5 Ways Kids Say Yes to Summer
Kita: 5 Ways to Get Fit This Summer While the Kids Are Out of School
Mimi: 5 Ways to Spend More Time With Friends
Bernetta: 5 Ways to Say Yes to Summer When Your Kids Aren't in Camp
This post is part of the Evite®Influencer Program. All opinions are my own.