Looking for another book to read while we are waiting on the next Bridgerton Season? Keep reading to find books like Bridgerton to binge on and get your regency romance fix!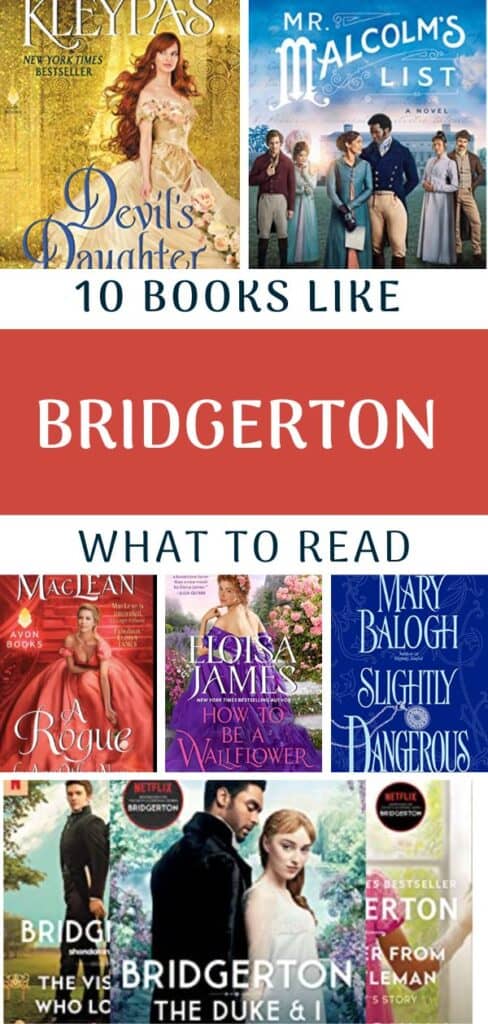 10 Books like Bridgerton
Dearest Gentle Readers!
Since the premier of the Shonda Rhimes Bridgerton series on Netflix, (and now, as we wait for the highly anticipated latest season of Bridgerton which will be Penelope and Colin's Story) everyone is obsessed with Regency Romance!
And if you already had a love of love stories, you read through the entire collection of Bridgerton books covering each of the Bridgerton siblings!
But now that you have read all of the books covering the world of Bridgerton, ( the entire series is most of us are eager to read more books in the historical romance genre while we wait for season three.
But what to read?
Bridgerton is an excellent introduction to historical romance novels, specifically, the regency era.
BUT THERE ARE SO MANY OTHERS!
As a long time fan of regency romance novels, I have many many many book recommendations but I stuck with 10 series full of fantastic books that have just the right amount of steam ( they are SPICY) to that are books like Bridgerton that I just KNOW you will love.
Let's get to the list!
Disclosure: This post contains affiliate links which means that if you click on a link and purchase something I've talked about or recommended, I'll receive a very small percentage of the sale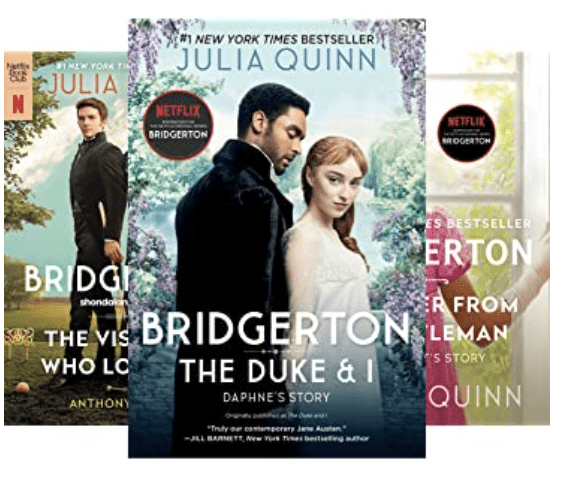 I would assume that you have read Julia Quinn's Bridgerton series in its entirety, but I make a rule to never assume! From Lady Whistledown, to the Duke of Hastings These books are every single thing you want in a regency romance. And it helps that it's a series and so you are obsessed with finding out what happens with the next sibling. Read them in order. My favorite: When He Was Wicked.
2 .Mr. Malcolm's List By Suzanne Allain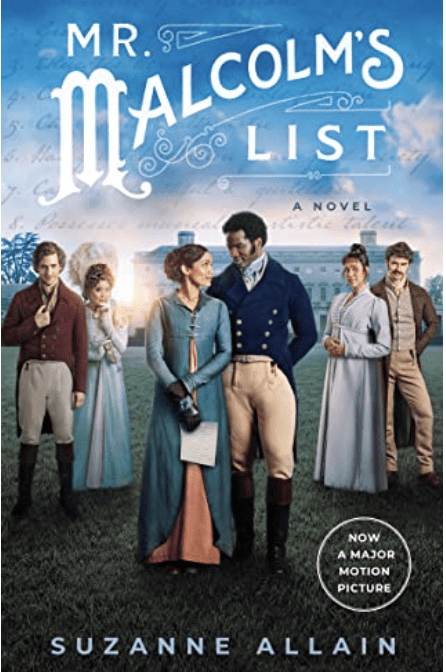 Another book in the regency genre, the honorable Jeremy Malcolm has a long list of qualifications to search for a wife. He wants someone who isn't concerned with climbing the social ladder. Selina, the daughter of a vicar who visits London with a friend,has a goal is to get revenge on Mr. Malcolm for a friend. That plan is of course goes south when Selina meets Mr. Malcolm and finds him..perfect.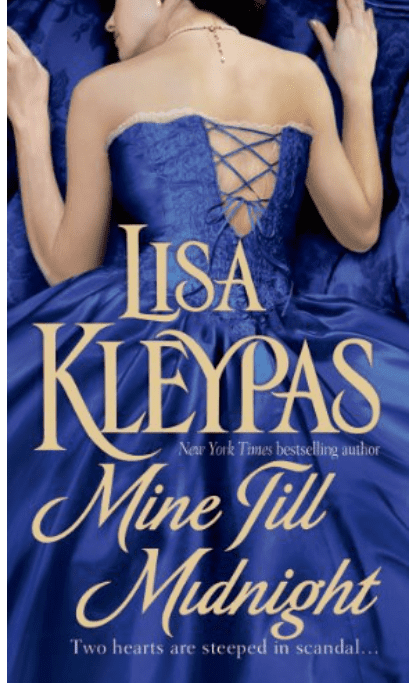 When an unexpected inheritance elevates her family to the ranks of the aristocracy, Amelia Hathaway discovers that tending to her younger sisters and wayward brother was easy compared to navigating the intricacies of the ton. Even more challenging: the attraction she feels for the tall, dark, and dangerously handsome Cam Rohan. Till Midnight is the first book in the Hathaway series by Lisa Kleypas. It's an absolutely delightful series and if you love this one, you will love the rest of the series. ( there are 5 books in all). My personal favorite of this series is Married by Morning.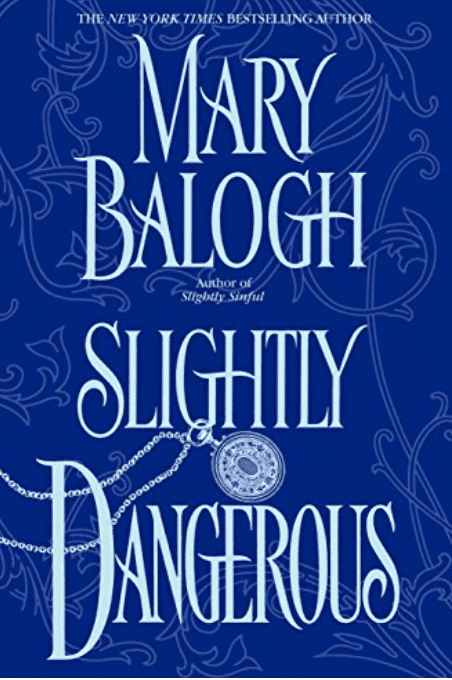 The final book in the Bedwyn series is about the eldest brother Wulfric Bedwyn, the reclusive, cold-as-ice Duke of Bewcastle. Christine Derrick is intrigued by the handsome duke…all the more so when he invites her to become his mistress. Mary Balogh brings together two polar opposites: an irresistible, high-and-mighty aristocrat and the impulsive, pleasure-loving woman who shows him what true passion is all about. It's the perfect match.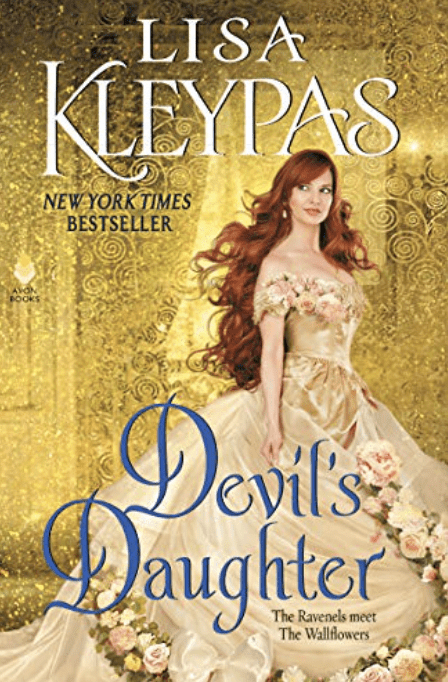 I have never met a Lisa Kleypas novel that I did not like. A part of her Ravenels series, this book is the 5th in this series. Let me tell you , there is lots of palpable chemistry between our main characters. this is the story between the beautiful young widow Phoebe, Lady Clare and West Ravenel, a man with a tarnished past. However, from the moment he meets Phoebe, West is consumed by irresistible desire…not to mention the bitter awareness that a woman like her is far out of his reach. What West doesn't bargain on is that Phoebe sets out to seduce him. And she means to have him.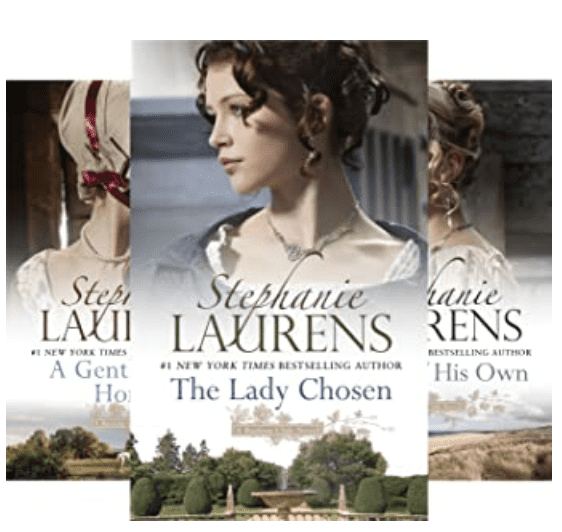 Set in regency London, The Bastion Club series by Stephanie Laurens is an old favorite of mine. Each book is an absolutely delightful read All of my favorite things are present: mystery, intrigue, romance… the books are basically perfect. I personally couldn't wait until the last book for THAT character, and let me tell you, it didn't disappoint.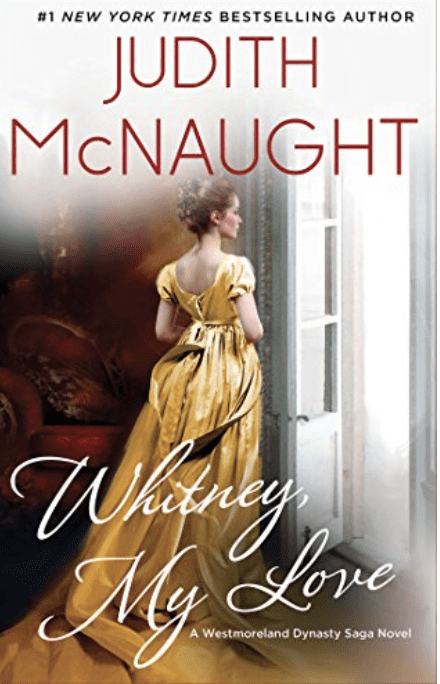 This classic is on my list of books that I wish I could read again for the first time. It's one of the best books for a lover of historical romance. It's funny, it will make you cry and then laugh. In fact, just read the series. It ages well.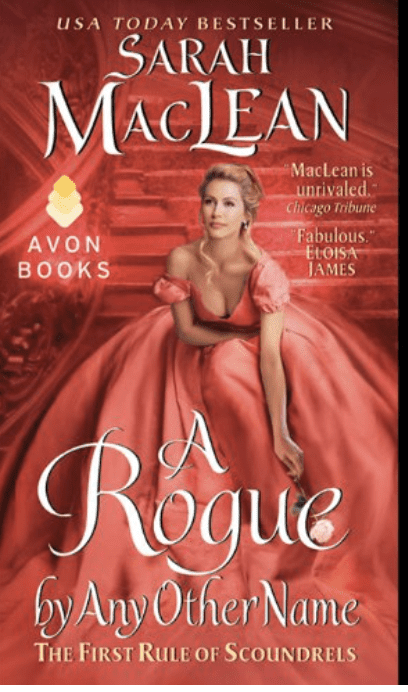 The First novel in the Rules of Scoundrels Series, is actually the best one ( even though the last one was really really good) .Sarah Macleon tends to write about the darker side of Regency London and high society.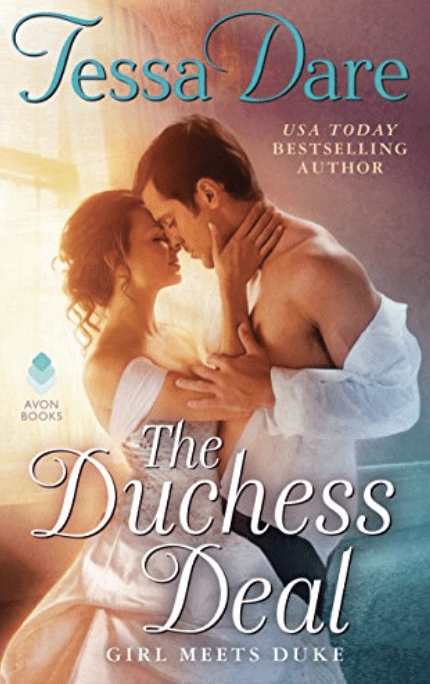 Tessa Dare started her career as a Jane Austen fan fiction writer. The Duchess Deal is the first in the Girl Meets Duke series, which is all about Handsome Rake Dukes meeting the Good young ladies who try to fix them. In this novel, the Duke of Ashbury needs a wife to produce an heir, so he settles on Emma Gladstone but of course, he falls for her.
Miss Cleopatra Lewis is an heiress with the goal of being a wallflower when she meets Jacob Astor Addison, a rugged American in a witty wager that tests whether clothing does indeed make the man—or the wallflower! This book gave me all the warm and fuzzy's. It's light on plot for me, but the character development is top-notch.
Hopefully these books like Bridgerton help you fill your Bridgerton quota until the next season comes out! Do you have any suggestions? let us know in the comments!
Other Book Related Posts
*10 Easy Ways to Save Money On Books
*How to Read 100 Books in a Year