Wake up on the weekend and make this Brunch Charcuterie Board! If you are a breakfast fan, get yourself some crispy bacon, sausage links, fresh fruit, mini waffles, and any of your favorite breakfast foods, and make this easy breakfast charcuterie board. This board can be enjoyed on any weekend but think Valentine's Day, Mother's Day, Father's Day, Christmas Day, and more!!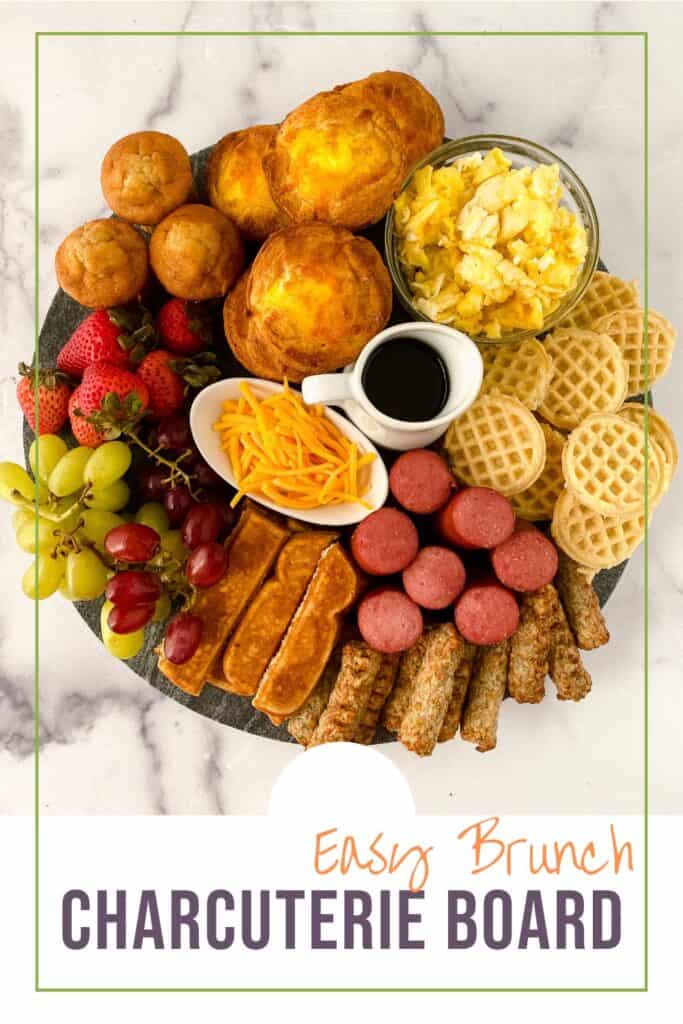 Everyone loves a Charcuterie board! They are all over social media. A Brunch/breakfast charcuterie board can include any of your favorite breakfast items found at the grocery store. It's perfect for special holiday mornings or just a lazy weekend morning( like Christmas morning or mothers day) . And it's an easy way to feed a crowd!
And making a Brunch charcuterie board doesn't have to be hard!
Breakfast is my favorite meal of the day. So I was really excited to make this easy charcuterie board.
So What Goes on A Brunch Charcuterie Board?
Absolutely anything you want!
One of the best things about a charcuterie brunch board is that you have the option to pick and choose any of your breakfast favorites.
Breakfast and brunch give you so many options. From french toast to mini pancakes, to a delicious donut hole or mini cinnamon rolls and a variety of fruits, you can do anything for a charcuterie board!
Keep reading for more tips for building a crowd-pleasing charcuterie board:
How to make a breakfast charcuterie board
Let's get started making you an epic brunch board!
The first thing is to start in the center of your board and decide what your anchor or main dish will be.
For this recipe, I've chosen these delicious mini quiches.
If adding things that require toppings like syrup, set those next. Then build everything around it.
Items Needed for your Charcuterie Board
Before you get started, make sure you have a few things:
A large Cutting board of any shape
Small bowls or ramekins
Serving items such as cheese knives, small spoons
Wax paper to put under your items. Helps to protect your board from any stains from juices that may seep through!
Ingredients needed for this breakfast spread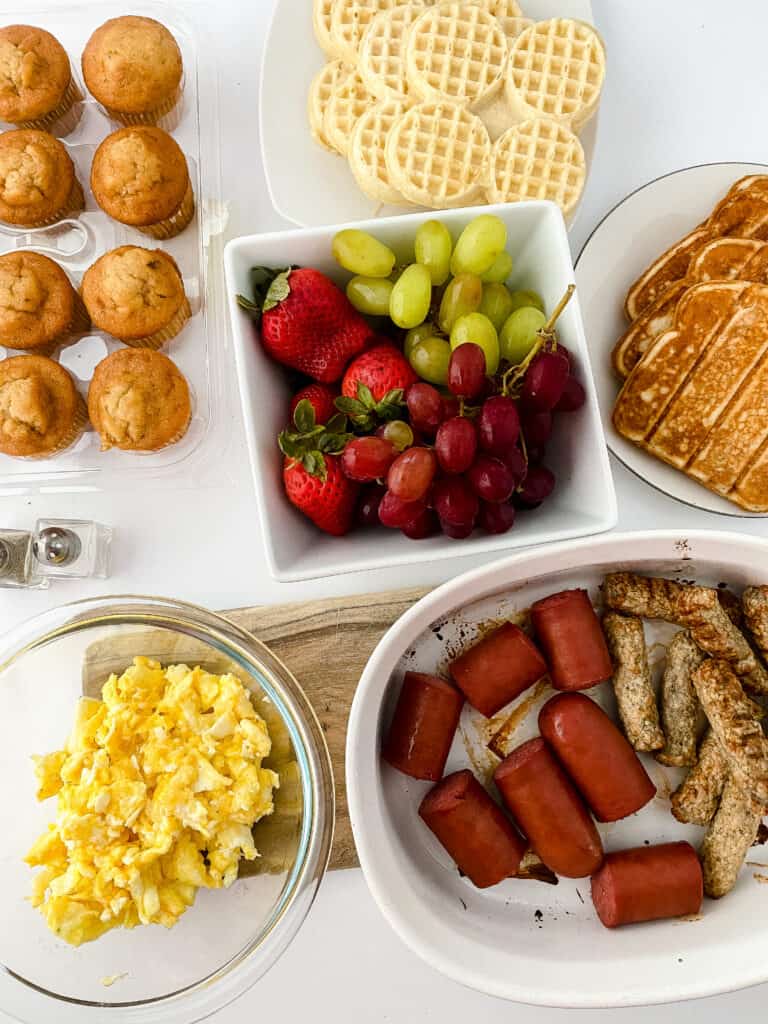 Smoked Turkey sausage
Chicken sausage links
Frozen Mini waffles
Frozen French toast
Sliced Sausage Quiche Mini banana muffins
Grapes
Strawberries
Maple syrup
OTHER BREAKFAST BOARD IDEAS
Make sure you include a good number of hot foods, savory options, and finger foods for your board,
Breads: mini bagels, mini pancakes, mini waffles, mini French toast.
Pastries: mini croissants, mini muffins, or donuts.
Meats: bacon, sausage, ham or even chicken drummettes
Fruit: raspberries, grapes, orange slices, bananas, melon, cantaloupe, pineapple, apple slices or strawberries
Condiments: cream cheese, syrup, butter, jams, preserves, and Nutella!
WHAT TO SERVE WITH YOUR BRUNCH THEME CHARCUTERIE BOARD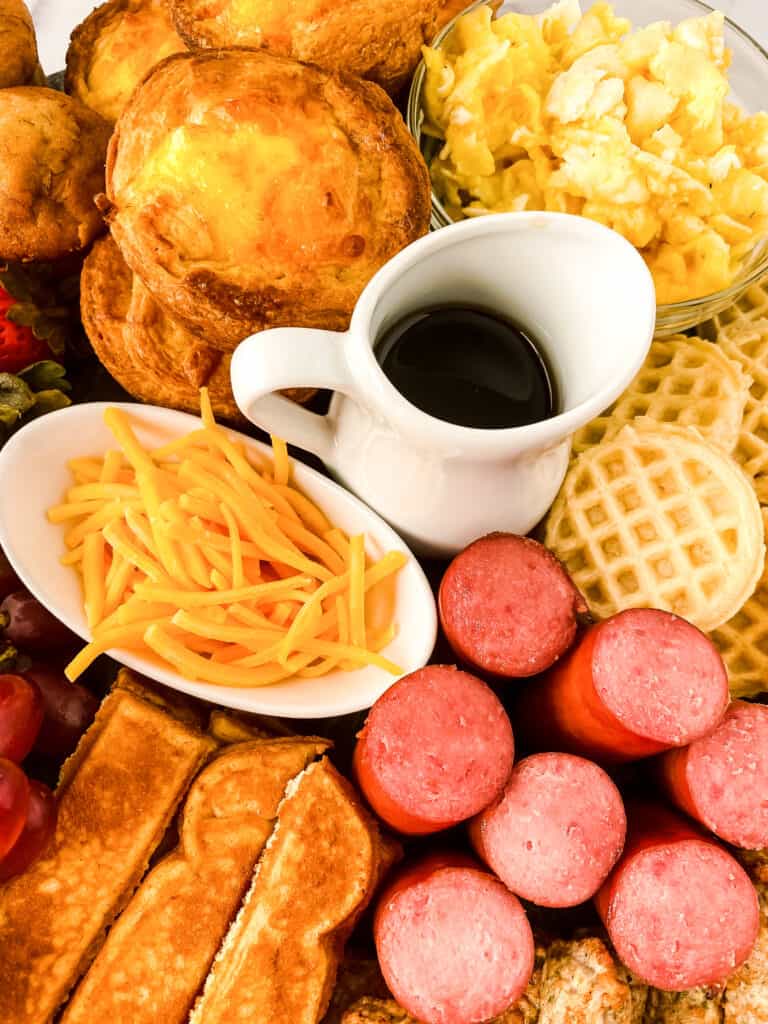 I would suggest a big batch of these Pomegranate Mimosas. But a cup of coffee, ( try these Irish Creme Coffee Bombs or learn how to make Pour Over Coffee with a French Press) tea, and orange juice are also great options to have on hand!
Ok that's it! I hope this helps you to build Brunch Charcuterie Board!
Looking for more breakfast ideas? Try these!
*Gingerbread Cinnamon Rolls
*Air Fryer Donuts
*Copycat Starbucks Lemon Loaf
*Crustless Quiche Lorraine