The holiday season is my favorite time of year. And one of the reasons is that it means that it's time to do the 25 Days of Christmas Photo a Day Challenge on Instagram!!!
It's time for the #EyecandyHolidayChallenge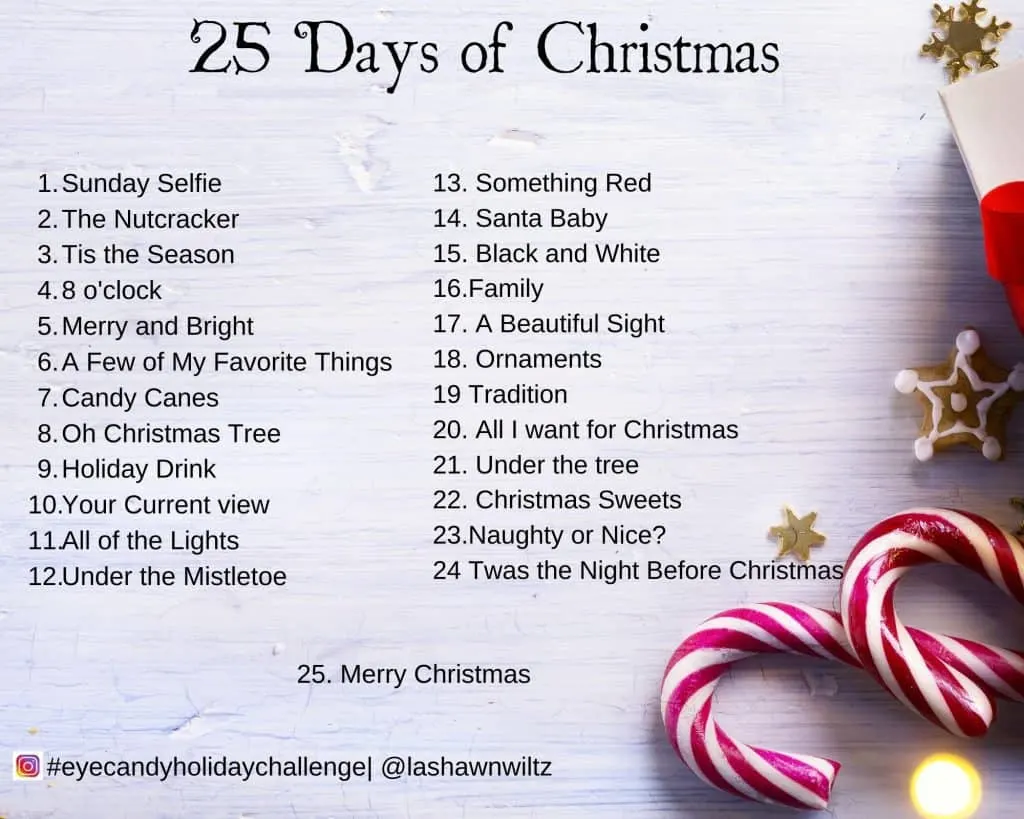 ( This post contains affiliate links)
The Christmas holidays are my absolute favorite time of year. All of the traditions, the food, family, decorations, music…. every little thing just makes me happy!
But I see a lot of us stressing about the holidays and not taking the time during the season to stop and appreciate the moments. The little things that make this holiday season so special.
That's why I love doing these challenges. The force you to stop and capture those memories. And hopefully, be thankful and grateful and happy.
Which is really the meaning of the season right?
This is year 5 of the challenge! And I love that I have gotten to know you all each and every year through your photos.
What I want at the end of this challenge is for you to have a body of photographs of this season that you can look back on with joy and love. Don't forget to include your family and your friends in these photos, because they are part of what makes this season merry and bright.
And when you are done with the challenge, PRINT OUT THE PHOTOS!
I'll have a few tips on what you can do with these photos coming up, but for now, you can:
Here is how it works:
The Challenge starts Sunday, December 1st.
Check the list every day and take a photo using the prompt as your inspiration.
Then, share your photo on Instagram using the hashtag #eyecandyholidaychallenge
Go through the #eyecandyholidaychallenge hashtag to like and comment and be a part of the community.
If you need an easy way to remember the prompts, CLICK here or the photo above to download it to your computer or your phone. OR just take a screenshot and save it!