Should you stay at Disney Saratoga Springs resort? Check out this Saratoga Springs resort review and discover why this Disney Deluxe resort may be perfect for your next Disney vacation.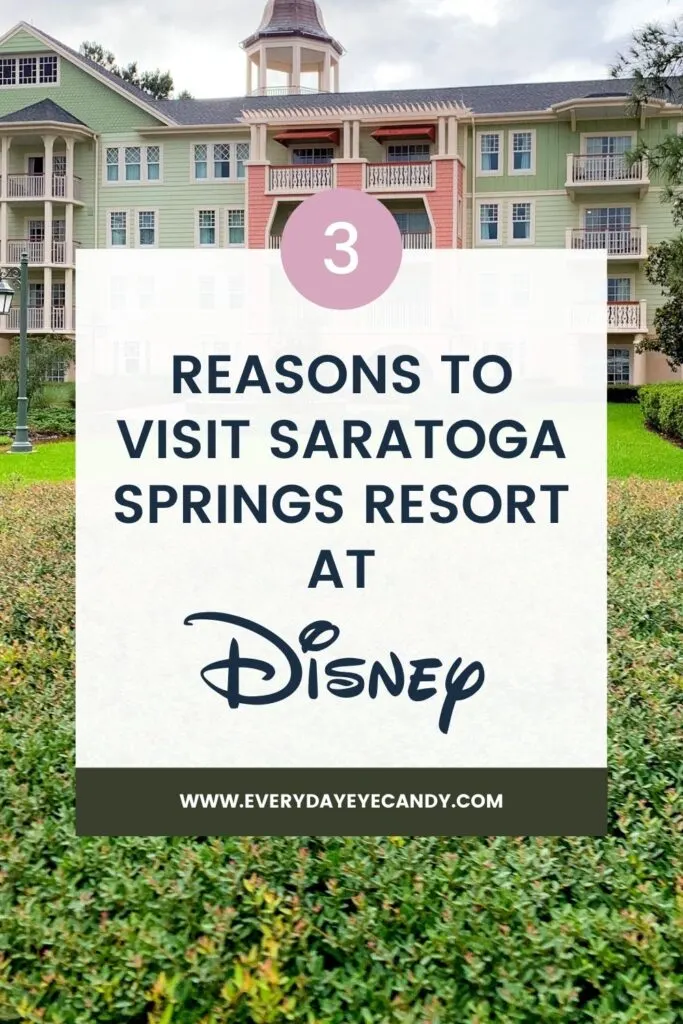 Deciding where to stay when you visit Disney is part of the fun! We've stayed both on property and off and on property is always my favorite.
This time, some of our favorites were booked, so we decided to try somewhere new!
Because of the pandemic, I wasn't quite sure how I would feel about dining out in public, so I wanted a kitchen where I could at least heat things up.
After doing our research, we landed on Saratoga Springs Resort and I'm glad we did.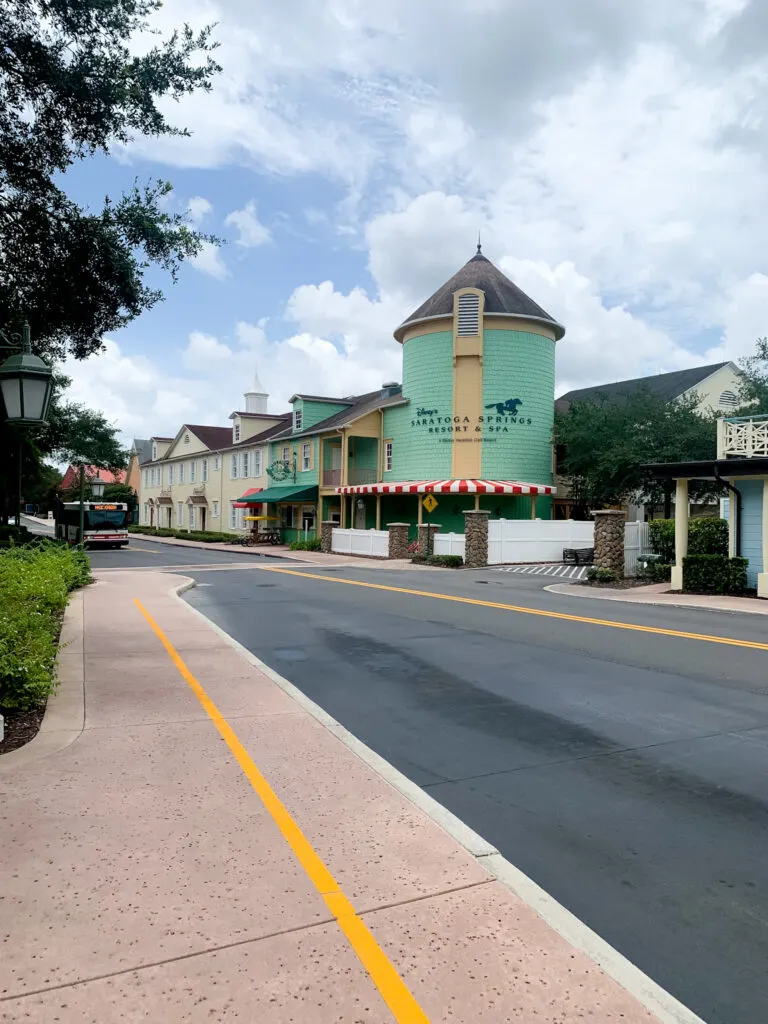 Saratoga Spring is inspired after a late 1800's retreat location in New York that drew guests in for horse racing and spa treatments. The Victorian-style Resort hotel is Saratoga Springs is a Disney Vacation Club (DVC) Resort, but non-DVC members are encouraged to stay.
The resort is tranquil, quiet and almost tucked away.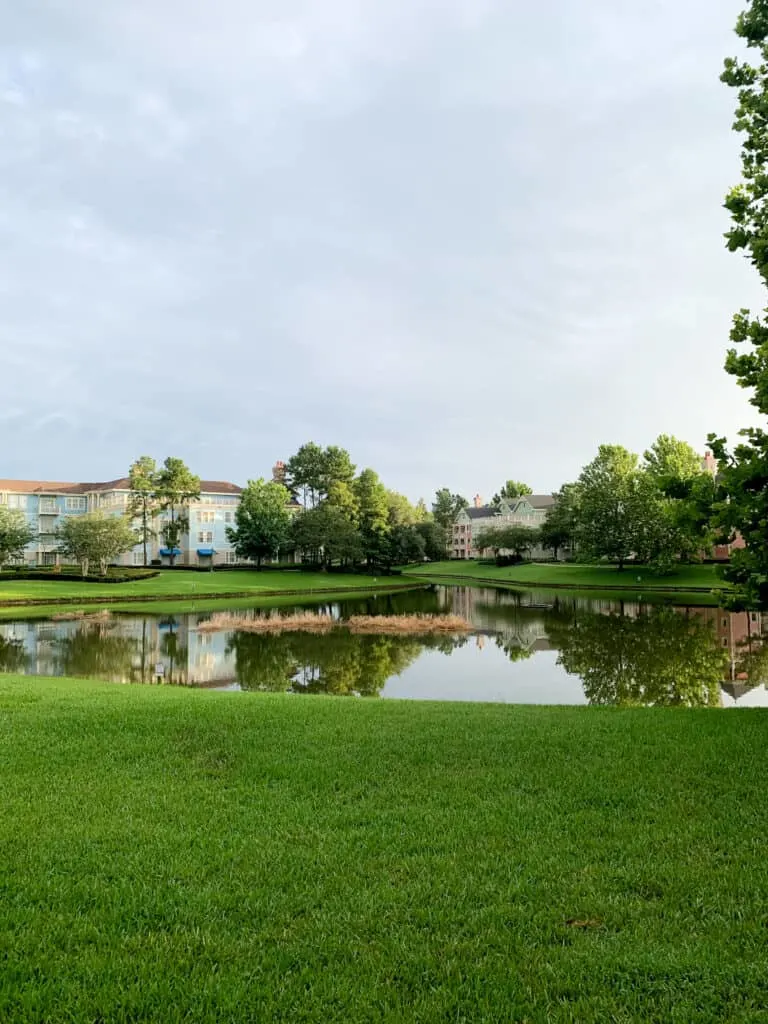 Saratoga Springs comprises 1,260 studio and one-, two-, and three-bedroom villas. It also includes a 60-unit Villa complex: Treehouse Villas at Disney's Saratoga Springs Resort & Spa.
The property is HUGE.
It is surrounded by golf courses and right across the lake from Disney Springs.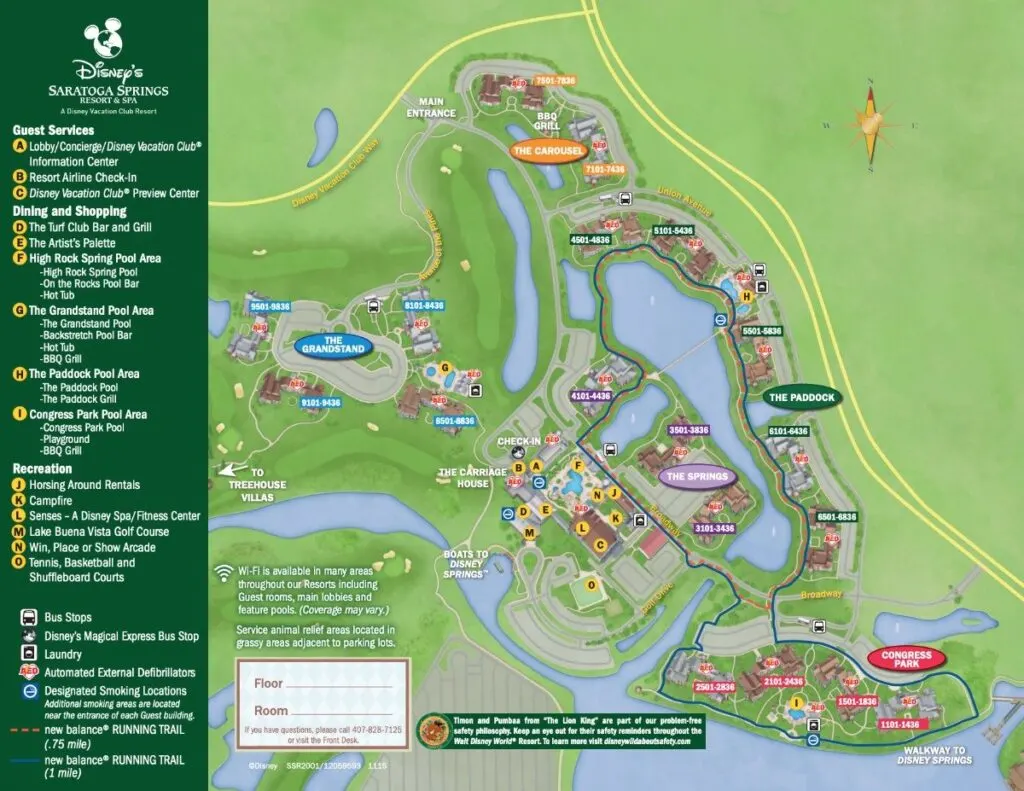 Overall, we loved our stay here. There were a few things that I will take into consideration in the future, but for the most part, this was a win.
Keep reading to find out why!
Three Reasons to Stay at Disney Saratoga Springs Resort and Spa
1.Our 1 bedroom suite had a full kitchen AND a washer and dryer.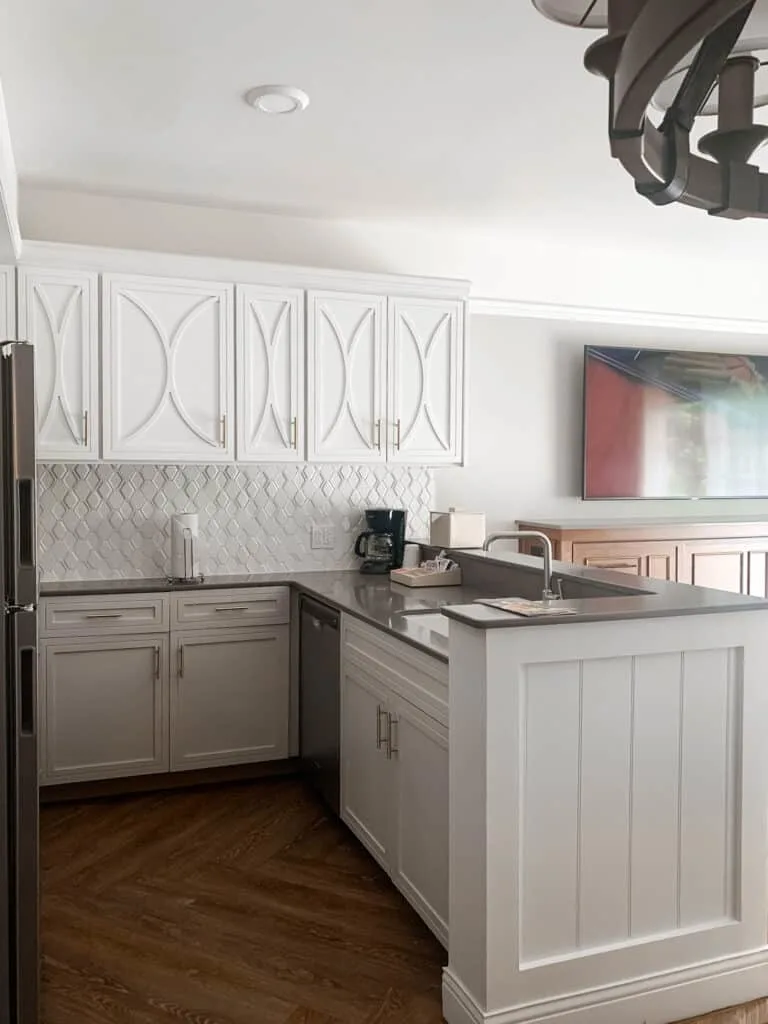 Let's start with the kitchen.
It had a full stove, a dishwasher, full refrigerator with freezer, pots, pans, cooking utensials, a toaster and more.
The store in the main building had a few essentials if needed ( packs of bottled water, bacon, eggs, bread, coffee) or you can do like we did and order from Amazon Prime or take an Uber to the grocery store to pick up what you need.
It was CLUTCH.
We reclaimed so much time by cooking breakfast in our room. Being able to take our time in the morning and not having to rush to a breakfast reservation was wonderful and really helped us feel like we were on vacation.
Plus it saved money.
And the washer and dryer: we used it EVERY SINGLE DAY.
SEVERAL TIMES A DAY.
If you know Florida in the summer, you understand why this was almost the best thing about the room. There is something so satisfying not having sweaty stinky clothes to stuff in your suitcase.
2. We could walk to Disney Springs in 5 minutes from Saratoga Springs Resort.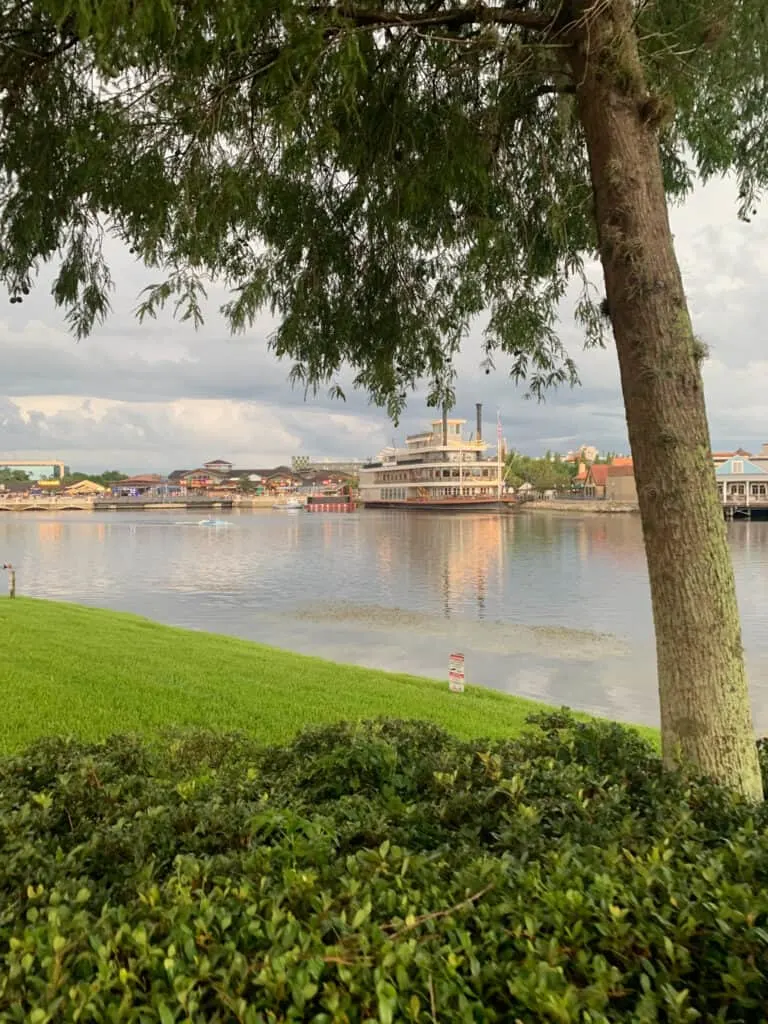 This is literally the view of Disney Springs as we came out of our building and turned left.
We stayed in the Congress Park section of Saratoga Springs, right next to the walkway to Disney Springs( see the circled area below)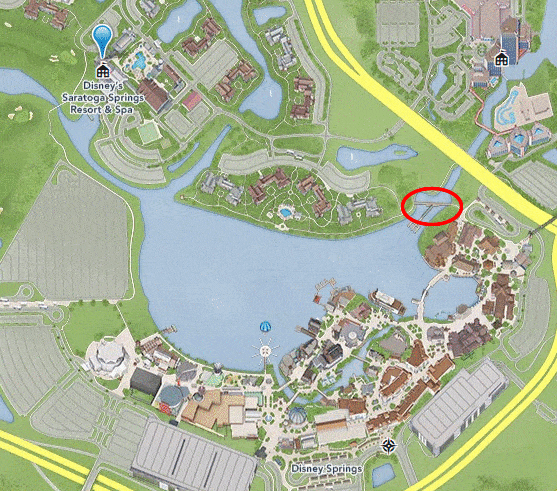 This was so so convenient since that is where we ate most of our dinners. There is so much to do there that I feel like this is almost like another park! Remember, Disney Springs has a movie theater, a bowling alley, shopping and plenty of other things to do.
3. The resort is perfectly peaceful to come back to after a long disney day.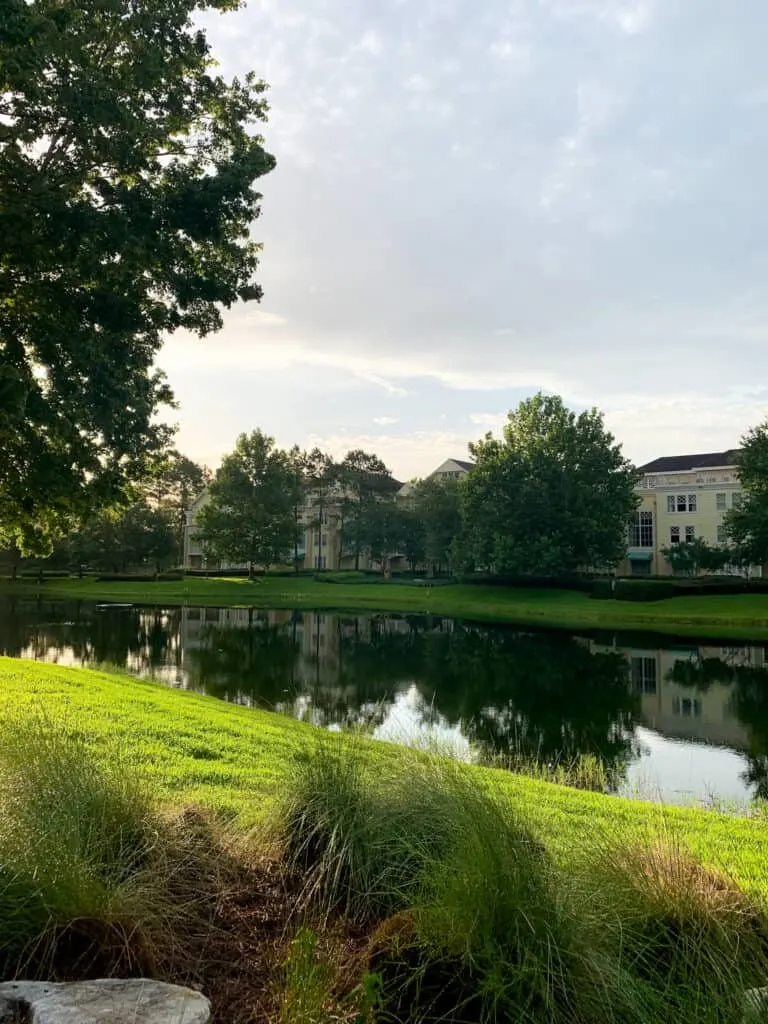 Saratoga Springs is one of the most peaceful Disney Resorts we have stayed at. It reminds me of Port Orleans, with the water and the trails.
There were plenty of kids around, but we didn't hear them in the halls or in the room above us.
It was nice to be able to come back to peace after a day of visual and audible overload at the parks, sit on the balcony and enjoy the view.
But Things We Didn't Like About Saratoga Springs…
1. It was so far away from everything.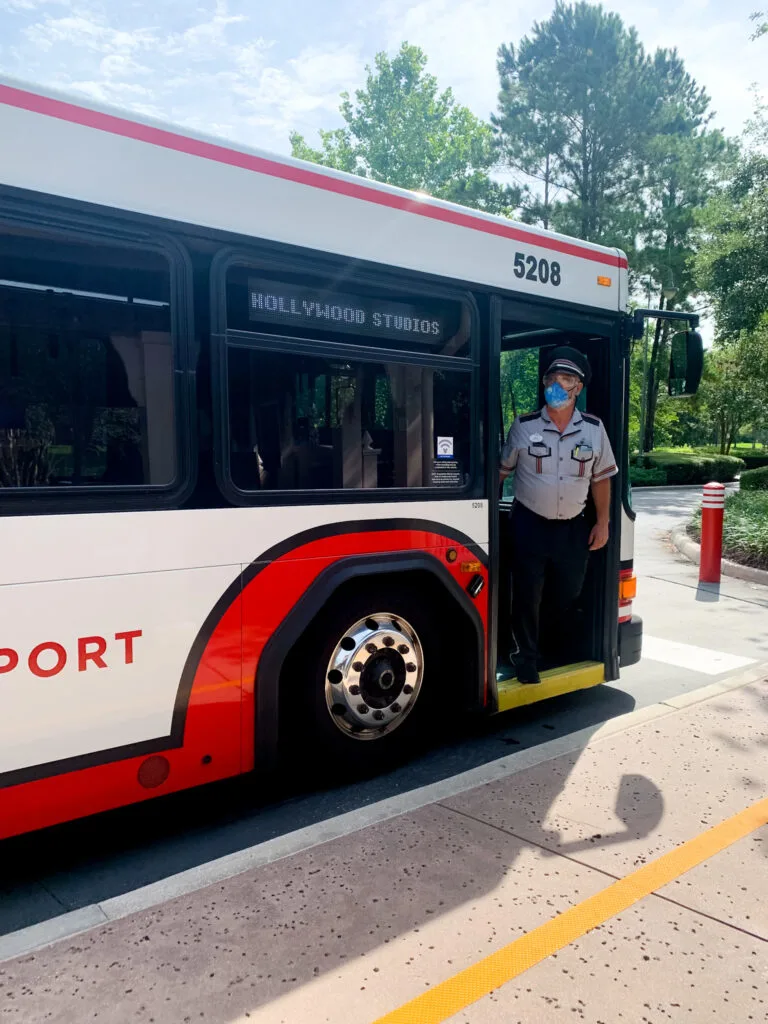 I love that fact that Disney Provides free transportation to the parks.
But there were times when we waited a 20-30 minutes for a bus to take us to a park or back to a resort.
And the ride could be anywhere from 15-20 minutes.
For us it wasn't a horrible situation, but when Pookah was younger, this could have been a disaster.
2. The resort is very spread out.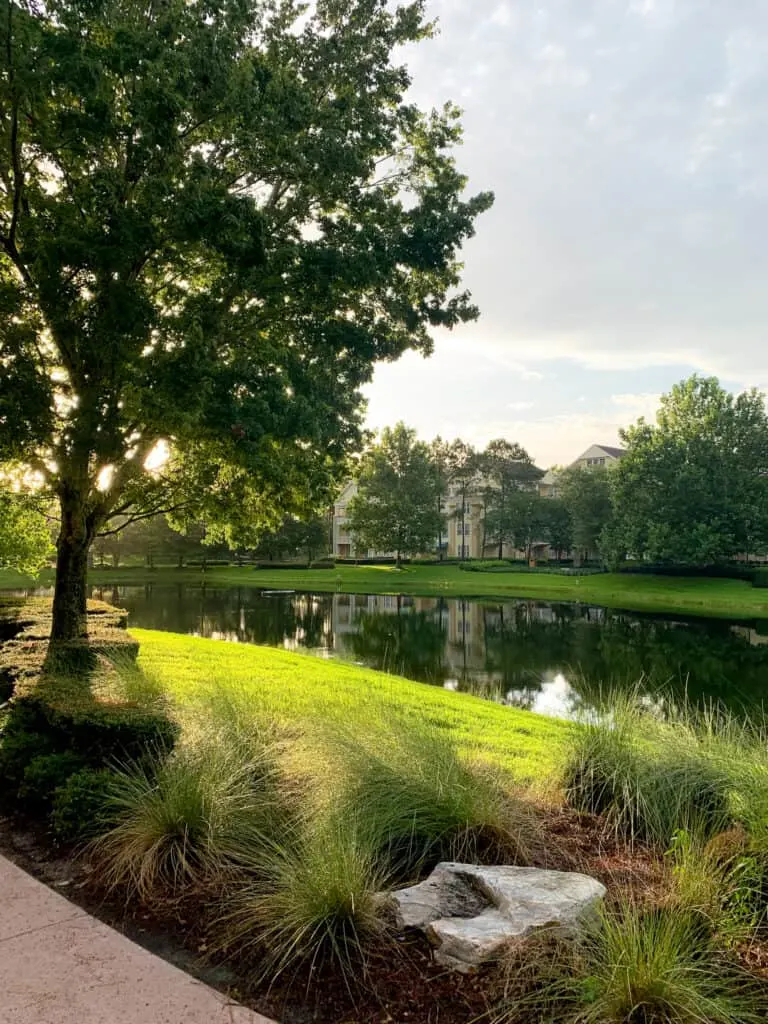 Lucky for us, the main building with food and the main pool was an easy walk. The resort itself is beautiful, full of running trails. But there were parts of the resort I never saw because they were simply too far away to walk in the hot Florida Sun.
3. The Lack of Food Choices on Property.
This one shouldn't matter much because Disney Springs but STILL, it was a big deal if you like variety without having to leave property.
Some of this couldnt be helped because of Covid and the fact that not everything is opeating at 100%.
BUT. It just would have been nice to have more options for say lunch ( especially for allergy options) other than the same sandwiches and pizza at Artist's Palette.
There is the The Backstretch Pool Bar ( which was open) and The Paddock Grill( which was not open).
For us, having good restaurants on site is key because of my son's food allergy.
Again, luckily, Disney Springs was right nearby for lots of Gluten Free Options.
I say this as someone who has stayed at other resorts and know what it's like to have options.
Would I stay again?
In the end, I loved the convieniece of having a full kitchen and washer and dryer. I loved how close we were to Disney Springs. I loved the tranquility of the resort.
The main things that bothered me: the lack of dining choices on property and how far it was from the parks, are minor in the grand scheme of things.
The perks of Saratoga Springs can't be beat.
I can't wait to visit again!
---
Need to start Planning your next Disney Vacation? Check out Golden Sunset Travel! More info below.