April Photo a Day Challenge 2019
SO! Starting next Monday, April 1st, join me on Instagram for a photo challenge to spark your creativity and just capture your version of spring.
Here is how to join up!
Simple: Just check the list every day and take a photo using the prompt as your inspiration.
Then, share your photo on Instagram using the hashtag #everydayphotoaday.
Go through the #Everydayphotoaday hashtag to like and comment and be a part of the community.
Every Friday in April, I will go through and share four photos from the hashtag that have captured my attention in my Instagram stories.
If you need an easy way to remember the prompts, CLICK here or the photo below to download it to your computer or your phone. OR just take a screenshot and save it!
I can't wait to see what you guys share for the April Photo A Day Challenge!
Happy Shooting!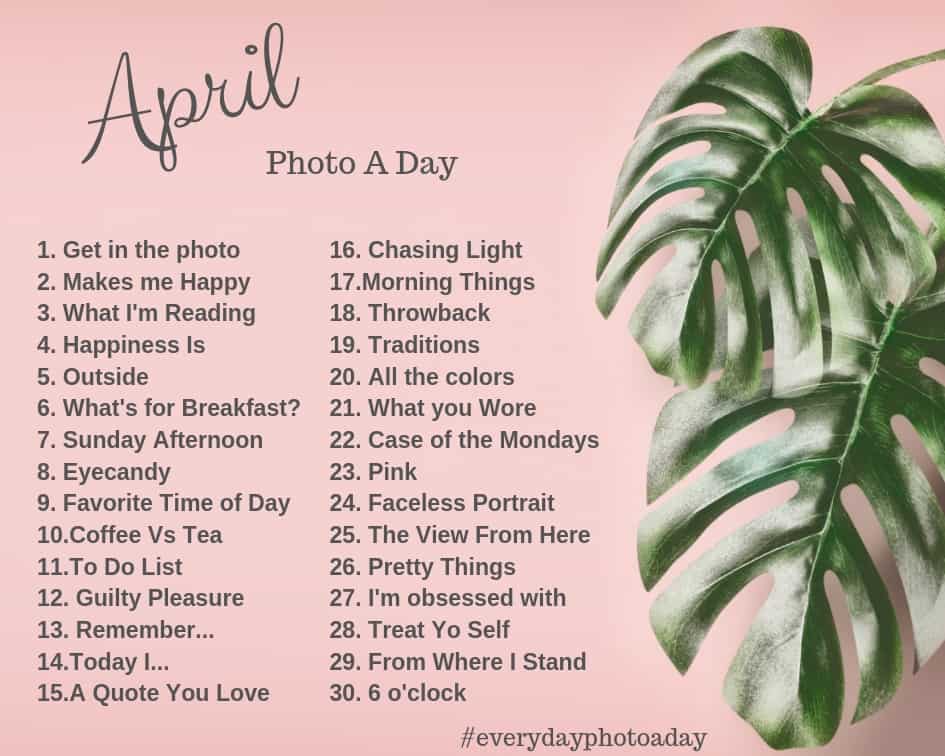 Here are the explanations of the prompts
1. Get in the photo: a selfie
2. Makes me Happy : take a photo of something that makes you happy
3. What I'm Reading: : show us what you are reading.
4. Happiness Is: What makes you happy?
5. Outside: Show us what it looks like outside in your neck of the woods.
6. What's for Breakfast?: Show us what you had for breakfast or even what you want for breakfast.
7. Sunday Afternoon: What does your Sunday afternoon look like?
8. Eyecandy: Take a photo of something that is beautiful to you.
9. Favorite Time of Day :Show us your favorite time of day
10.Coffee Vs Tea :Do you drink coffee or tea?
11.To Do List :What is on your to-do list today?
12. Guilty Pleasure: What is your guilty pleasure?
13. Remember… Show us a memory, an old photo, a photo of something old.
14. Today I… What did you do today?
15. A Quote You Love : What is your favorite quote?
16. Chasing Light: Show us the light where you are. Low light, backlight, hard light, window light, any kind of light.
17.Morning Things: What kinds of things happen to you in the morning? What does your morning look like?
18. Throwback: Throwback Thursday: Show us a photo from the past.
19. Traditions: It's the start of Passover and Easter week. What are some of your traditions?
20. All the colors: Spring is about color!
21. What you Wore: What did you wear today? Or yesterday?
22. Case of the Mondays: What is your Monday looking like?
23. Pink: Show us something pink. Or with a pink theme.
24. Faceless Portrait: A photo without a face. Could be just hands, body, back…
25. The View From Here: What are you looking at?
26. Pretty Things: Show us something pretty!
27. I'm obsessed with: What are you obsessed with?
28. Treat Yo Self: Self care. Show us how you treat yourself
29. From Where I Stand: Where are you standing?
30. 6 o'clock: That could be AM or PM. What's happening?