This is one of my favorite things I do on Instagram all year: the August Eyecandy photo a day .
Yes, friends the August photo a day challenge is back..with a twist!
Whenever I poll people about this lately it's split: some of you want to keep this challenge purely photos ( you are really my people) and others want the challenge or flexibility to add in a reel if it fits the prompt better.
Well friends, starting Monday August 1st…have at it!
This is a August photo/reel a day challenge. Officially.
Want to join us? This is what I need you to do:
1. Save this post, like it, share it with your friends so they can join us
2. Check this list every day and take a photo or make a reel using the prompt as your inspiration!??
3. Share your photo on Instagram using the hashtag #augusteyecandy
4. Go through the #augusteyecandy hashtag to like and comment and find new friends in the community!
5. Have fun!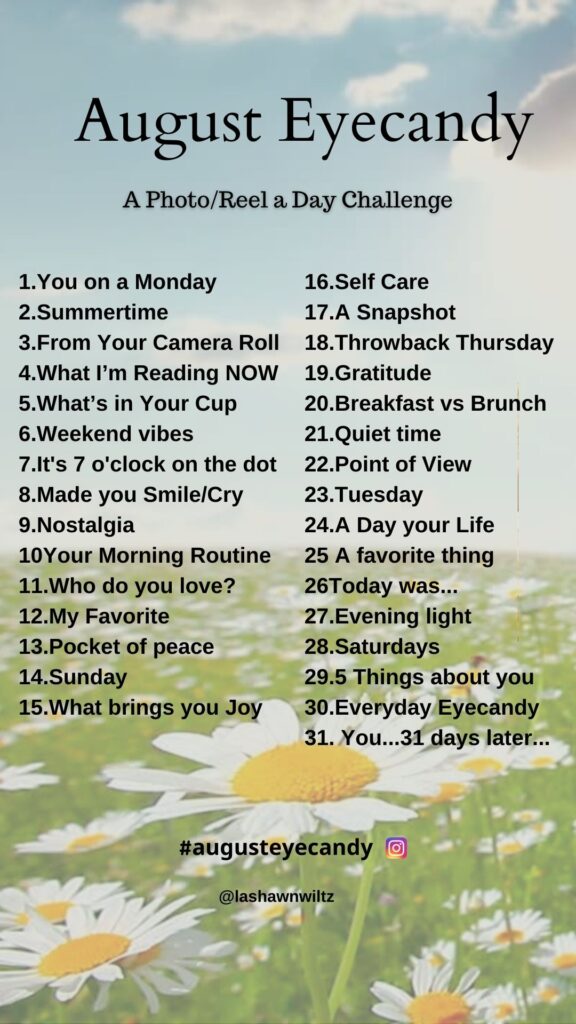 It's the perfect solution to bringing some life back into our Instagram accounts after neglecting them all summer long. And it's FUN! The community that we have built up around the hashtags are fun and engaging.