Disney.(Warning, the post is picture heavy)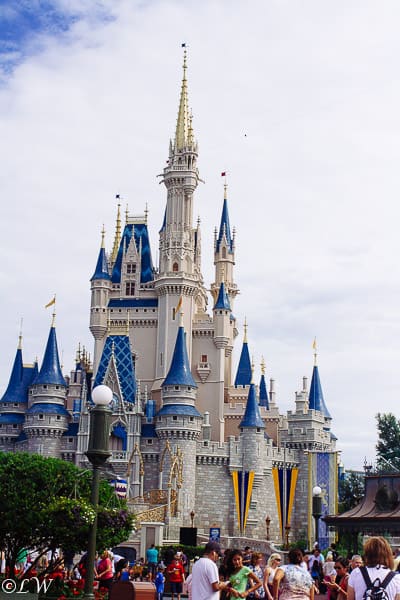 With a toddler.
There were many many many folks giving me advice on what to do, how to do it and what to get on first. My obsessive nature almost got the best of me and allowed me to plan our day within an inch of it's life. But Pookah is 3 going on 4. You can't really PLAN with a toddler.
So my plan became…..follow the toddlers lead.
And it worked…for the most part.
Disney invoves a LOT of walking. And this from a family that only saw HALF of the park. We started in Fantasyland. Because frankly, that's where all the toddler rides are.
We did the teacups
The race cars
Dumbo and a roller coaster…..
And just on this note, I must say, this was supposed to be an "intro" roller coaster? Hell, I screamed my way through it! I am ashamed, because my toddler giggled madly the whole time. No fear that boy. None.
We took a break then and let Pookah run through the spinklers. Awesome way to cool off.
We walked around and found our way to the Disney show and saw Captain Hook and Mickey and them…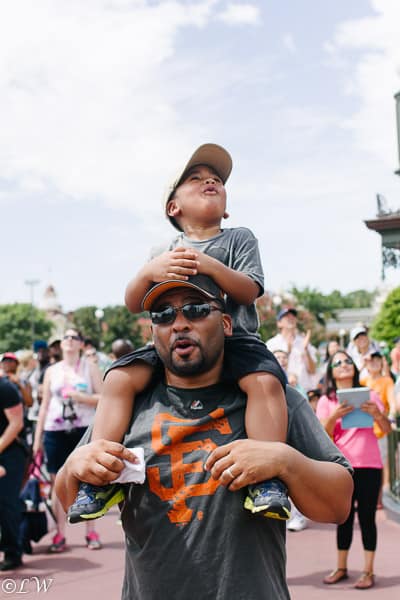 And then made our way to tomorrow land for a cool off ride…..

( Yes, he is dancing down the street)
and then a loooong line for
Around this time, Pookah started getting cranky and I knew it was time for a break. After a battle over using the bathroom, I physically picked up the child and headed for the exit.
He cried….
And then he passed out before we even got to the car
We had a lunch and a longer nap back at the hotel, and when we woke up, it was raining.
Hard.
But that's Florida for you.
We headed back over to the park anyway and decided to get Ponchos
I didn't get photos of the Ponchos because just when I was about to take a photo, the rain stopped.
We made our way back into the park, intending to go to the other side, but ended up doing the same rides over again. Because that's what Pookah wanted.
The sun set and the parade of lights began
Followed by the awesome display at the castle
Followed by awesome awesome fireworks.
It was the perfect ending to the perfect day.
A few points:
unlike everyone told us, we didn't get or need a stroller. I found that as long as we took breaks on rides that let us sit for a while we were fine. Plus, I think our mid day break helped a lot too. I didn't feel the need to stay all day just because we had paid for it. It was all about staying sane. And not letting the toddler get cranky 🙂
Get there early. Since we were there when the park opened, we were able to enjoy a lot of it without the crowds and without the long waits. By the time we left for our mid day break, it was packed. Most folks were just getting going by then. And they had long waits and cranky kids.
next time, stay on property. The journey from the actual PARK to our car in the parking lot was actually about 30 minutes round trip. That could be eliminated by staying in a resort on the property. I loooooved where we stayed ( kiss kiss @brainypintsizer) but the next time when I have more time and more money, we will stay in a resort on the property. Only one tram to take!
Bring your own water and snacks. Cause Disney ain't cheap.
Buy the cool clothes. AWESOME. They stay cool. ALL. DAY> LONG.
Photographers: Pick ONE lens or learn to use your camera phone really well. I originally was just going to bring my **Tamron AF 28-75mm f/2.8 . But at the last minute, I decided to throw my **Canon EF 35mm f/2 in my bag. That combination with my **Black Rapid Womans Camera Strap made it easy to carry my 7D all day across my body. Loved it. I didn't need a camera bag or a heavy purse. Just an extra battery and CF card just in case in my very light backpack. I did bring the Tamron out in the evening for the fireworks photos. But only because I wanted the 28mm part of the lens for the fireworks and the zoom for the parade.
Claim a spot on the street early for the parade. People started lining up 2 hours before hand.
Let go and let Disney. What I mean is this: don't overplan. Just go. Just do it. Just enjoy. It was magical. And I can't wait to do it again!!!
What about you guys? Any Disney advice for toddlers?
**this post contains affiliate links. If you click, I might get paid…notice I said might….
**All opinions are my own. Disney did not pay me to say any of this. But wouldn't it have been awesome if they did? LOL