Get ready for a flavor-packed dinner that's as easy as it is delicious! Our Easy Sausage and Peppers Over Rice recipe is a one-pot meal that's perfect for busy weeknights or when you need a comforting meal that the whole family will love.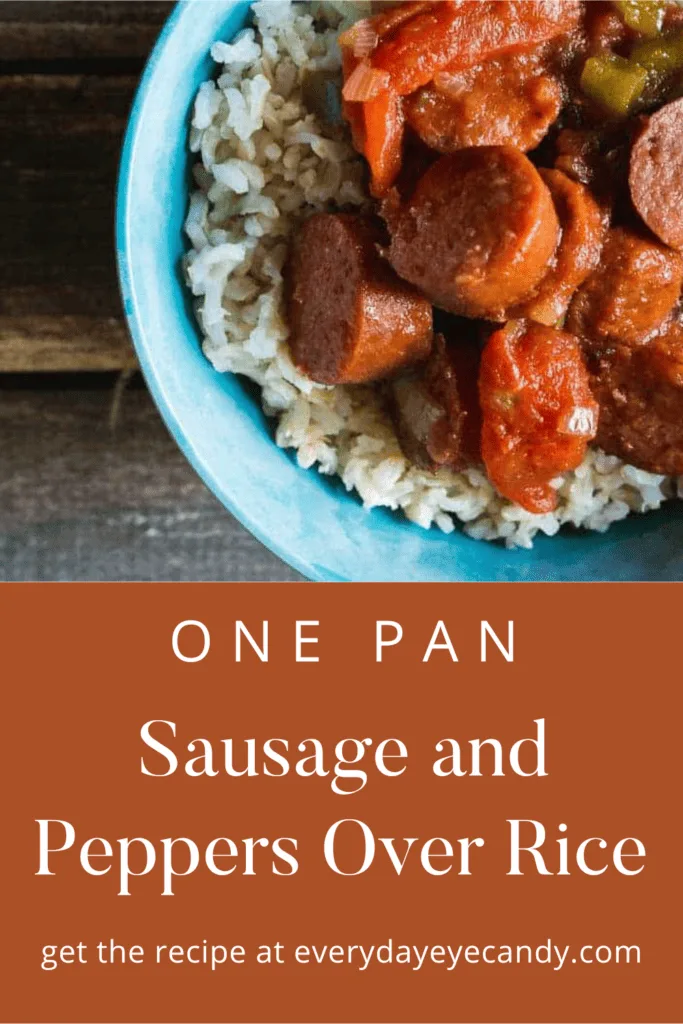 With school back in session, I don't have the time to linger over a home-cooked meal that takes me hours to cook.
I repeat:I don't have time.
I've modified a lot of my regular recipes and I do a lot of meal prep on Sundays. But one of my go-to recipes happens to be this easy Skillet Sausage and Peppers over rice that my mother used to make when I was a kid.
Its simple, easy and the best thing is that it is a one pot meal. With a medley of colorful bell peppers, rice, and the smoky goodness of Kielbasa sausage, this dish is a delicious dinner. Let's dive into this easy meal!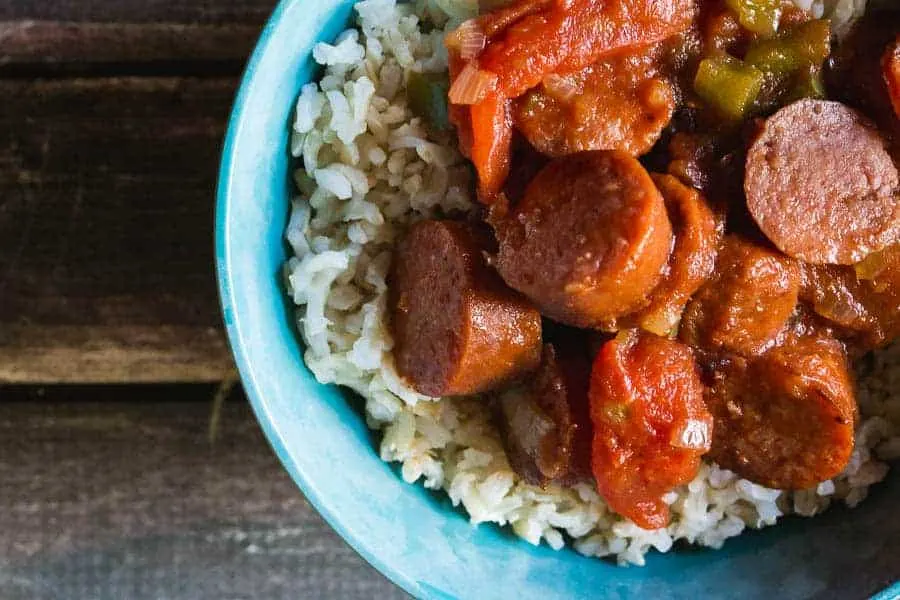 Ingredients needed for Sausage and Peppers over rice.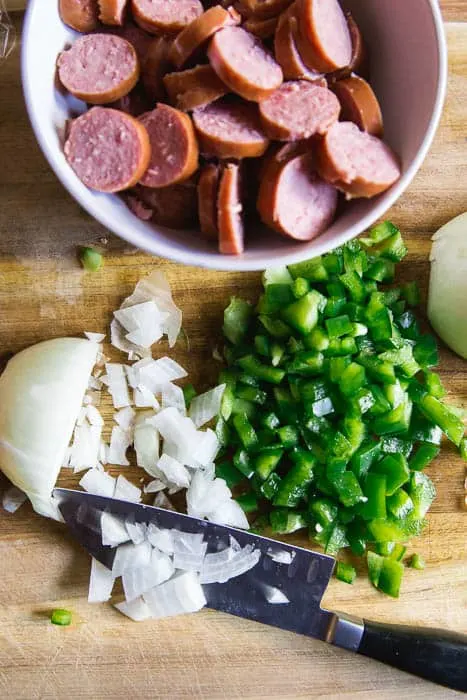 1 package of Kielbasa sausage
1 onion, chopped
1 Bell Pepper, chopped
Olive Oil
can of stewed tomatoes
can of tomato sauce
White , Brown Rice or jasmine Rice
How to make This Recipe
The Steps are Easy:
Cut up your sausage and throw it into a low skillet to brown it on each side.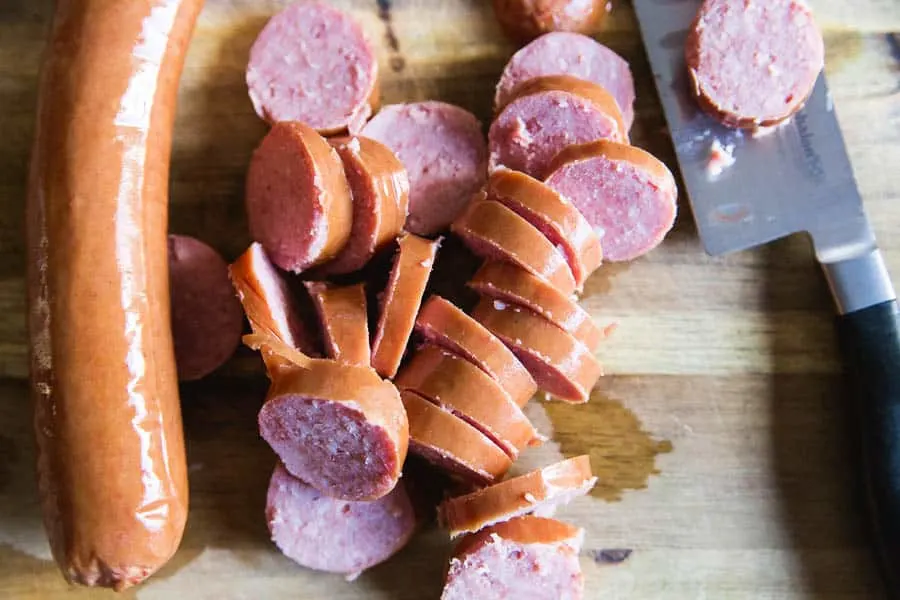 Chop up onions and green peppers…..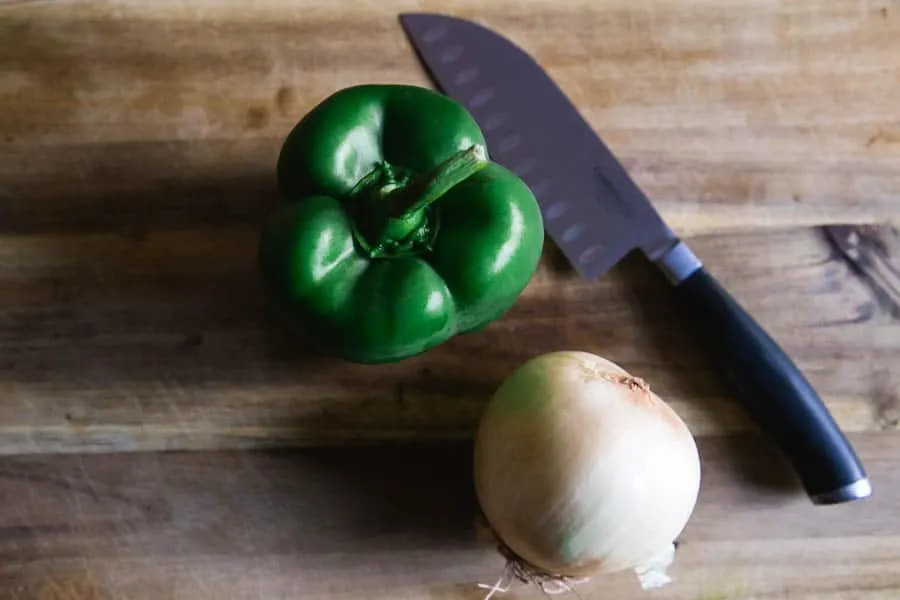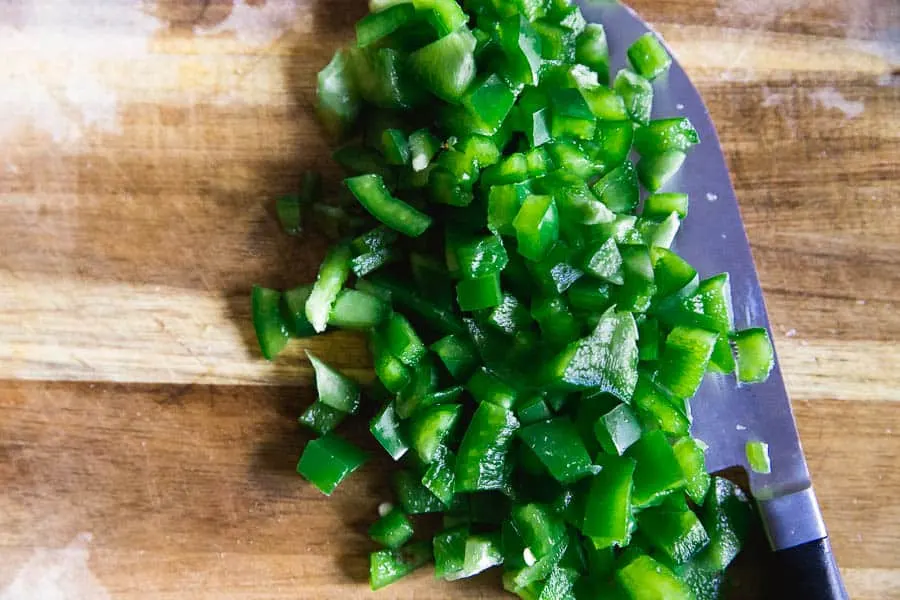 Throw them all in a large skillet and add a can of stewed tomatoes and a can of tomato sauce.
Serve over rice.
Literally…that's IT!
There is practically no prep. Or rather,the prep is easy and can be done while you are cooking or the night before if you need to. It's easy to chop up the sausage and veggies the night before and store in the refrigerator until you are ready to cook.
FAQs for Sausage and Peppers over Rice:
Q1: Can I use other types of sausage for this recipe?
A: Absolutely! You can experiment with different sausages like smoked sausage, chicken sausage, turkey sausage, or even andouille sausage for a spicier kick.
Q2: How long does it take to cook this recipe?
A: The cooking time for this one-skillet dinner with prep is approximately 25-30 minutes, making it a perfect weeknight meal.
Tips and Tricks:
Searing for Flavor: Start by searing the sausage in a hot cast iron skillet. This step adds a rich, smoky flavor to the dish.
Italian Seasoning: To enhance the taste, add a sprinkle of Italian seasoning to the dish.
Cajun Twist: For a spicy Italian sausage variation, use a Cajun seasoning blend and a pinch of cayenne pepper.
Storage: Store leftovers in an airtight container in the refrigerator for a quick and tasty dinner the next day.
Variations:
Cheesy Rice: Add grated parmesan cheese on top for an extra layer of flavor.
Cauliflower Rice: Swap the regular rice with cauliflower rice for a low-carb alternative.
Sheet Pan Sausage: Transform this into a sheet pan meal by roasting the sausage and peppers in the oven for fewer dishes to clean up.
Where to Serve:
This versatile dish is perfect for family dinners, potlucks, or even as a colorful addition to your next gathering.
Common Problems and How to Avoid Them:
Problem: Soggy rice.
Solution: Ensure you measure the rice and liquid correctly. Follow the package instructions for the type of rice you're using.
Problem: Overcooking the sausage.
Solution: Keep an eye on the internal temperature of the sausage; it should reach 160°F (71°C).
Tips for Making this Recipe with Kids:
Let the kids help chop the bell peppers and onion (under supervision).
Have them stir the ingredients in the skillet with a wooden spoon.
Topping Options:
Fresh parsley
Red pepper flakes
So, grab your skillet and create this easy flavorful meal that's sure to become a family favorite. It's comfort food, quick! And remember, for more delicious easy, weeknight recipes, check out the recipes below.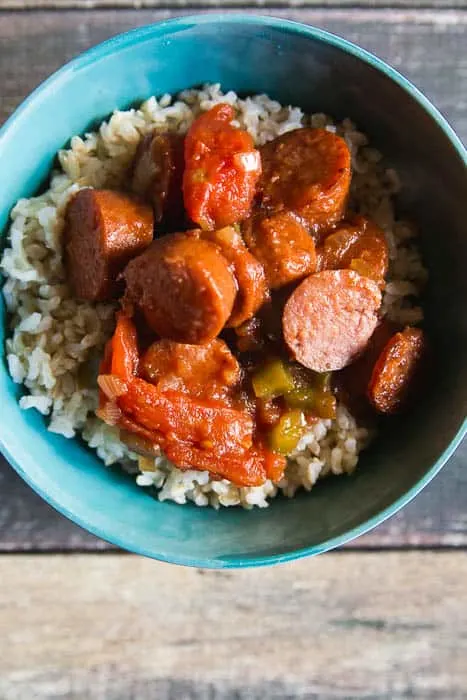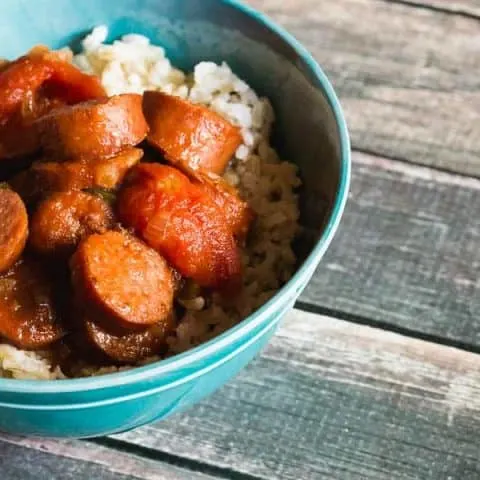 Easy Sausage and Peppers over Rice
Easy One Pot Sausage and Peppers over Rice
Ingredients
1 package of Kielbasa sausage
1 onion chopped
1 Bell Pepper Chopped
1 tbsp of Olive Oil
1 16 oz can of stewed tomatoes
1 8 oz can of tomato sauce
White or Brown Rice
Instructions
1. Brown Sausage in Skillet on both sides
2. Remove Sausage and add 1 tablespoon of Olive Oil
3. Add in Peppers and Onions
4. Saute until soft, after 5 minutes.
5. Add 1 can of stewed tomatoes. Cover and turn down hit to simmer for 5 minutes
6. Add back in sausage and 1/2 -1 can of tomato sauce and let warm up.
7. Serve over rice.