As you know, Pookah is allergic to wheat. And I am always on the hunt for new places that he can eat. Thanks to Tara over at The Young Mommy Life, I discovered an app called Find Me Gluten Free. I put in my address and Uncle Maddio's popped up. I checked out their website and was happy to discover that they had GLUTEN FREE Pizza crust.
Now, we've tried another local pizza place that has gluten-free crust. And it's….nasty….imagine, your pizza crust with the consistency of cornbread…..
But I digress! We traveled to Uncle Maddio's 10 minutes from our house and walked in.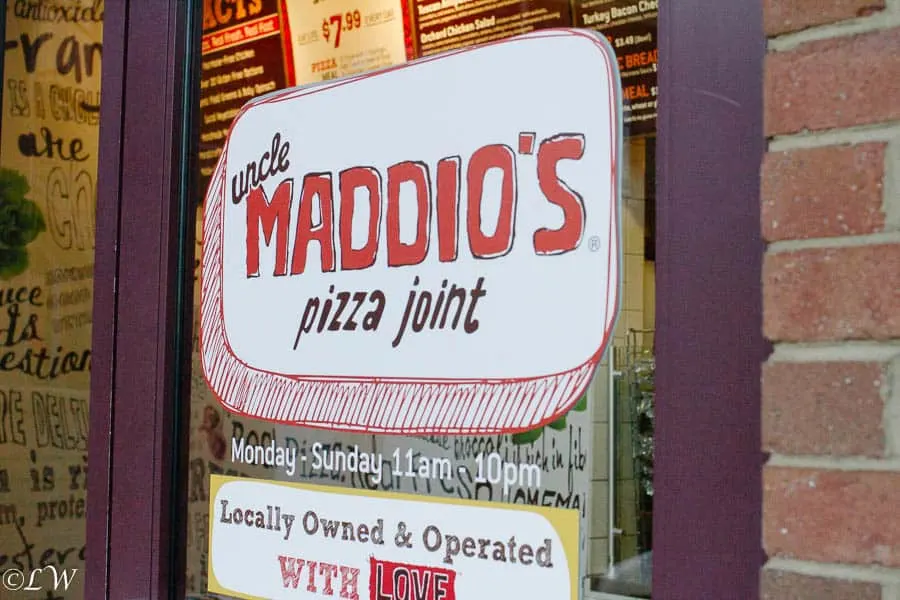 I didn't get a photo when we first got in, but it's laid out sort of like Subway or Chipotle. You see the fresh ingredients, you see them making your pizza. On a GLUTEN FREE crust. Pookah requested sweet sausage and pepperoni, and I added mushrooms to my side.
Pookah and I made our way to our table and waited for our food. Pookah had his crayons…..
And while we were waiting, my fresh made salad came. Delicious.
And then it came. It looked good…….( see Pookah stealing a sausage)
He tasted it…..
It was a HIT!
I really really enjoyed it and more importantly, Pookah did too! The crust was like a thin crust, nice and crunchy. It didn't get soggy and held up pretty well under the toppings. Service was quick and our meal was UNDER $20.
Will we go again??? OF COURSE! Pookah gives it two thumbs up!
So if you live in the Atlanta Metro Area, check out Uncle Maddio's! It's going to be our go to place for Gluten Free Pizza!
*Disclaimer: I was NOT paid in cash or Pizza to review Uncle Maddio's. *