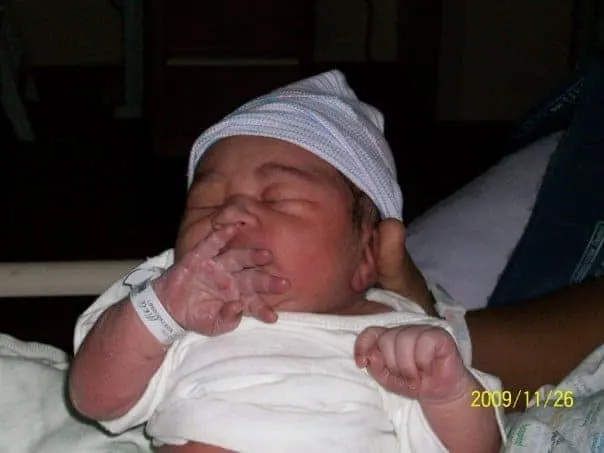 6 years ago, on Thanksgiving Day, I was laying in the hospital bed, HUGELY pregnant looking at my midwife skeptically as she told me that they were going to start Pitocin.
Being a Labor and Delivery nurse, I had noticed 3 things:
The strip was flat
I wasn't dilating
Despite being ruptured almost 24 hours, there were no REAL contractions
I knew it wasn't going to work. I mentally prepared myself for a c section and was a little pissed that I would be missing Thanksgiving dinner, including that good pound cake that I had made the day before.
Then, at around 1 in the afternoon, I remember telling my mother and Cdub that if Pookah's heart rate dropped again, I would be rushing back for a c section. I prepared them. And five minutes later,as I was rushed down the hallway for an emergency c section, my family wasn't really worried.
Strangely I wasn't either.
It wasn't until I heard his cry that I started crying and couldn't stop.
I remember the baby nurse Melissa bringing him over to me and he looked so chunky and MAD! LOL
And afterwards, when he was finally in my arms I could only think: there he is.
He was so beautiful, so precious and so CUTE!
That dimple!
I was so in love.
Now, 6 years later, here it is, Thanksgiving Day again and my little precious is now SIX years old.
Time flies, But I still remember every minute detail of that day.
I still remember how heavy he felt when I held him for the first time.
I remember my mother's face when she saw him.
I remember CDub's look of pride.
I remember my brother being nervous when I couldn't stop shaking.
I remember my friend Mickie( who was my nurse) doping me up with all the good drugs. SO good that I didn't feel any pain the entire time I was in the hospital( side eye).
I remember my Dad telling me that his prediction had come true: he had dreamed a year before that I would have a curly headed son.
I hope I always remember all of the details.
Because it was the best day of my life.
And the beginning of yours.
Happy Birthday My Precious Pookah Bear Baby.
Happy Birthday.