Looking for an honest review of the It Ends With Us Sequel by Colleen Hoover? Check out this It Starts With Us Book Review.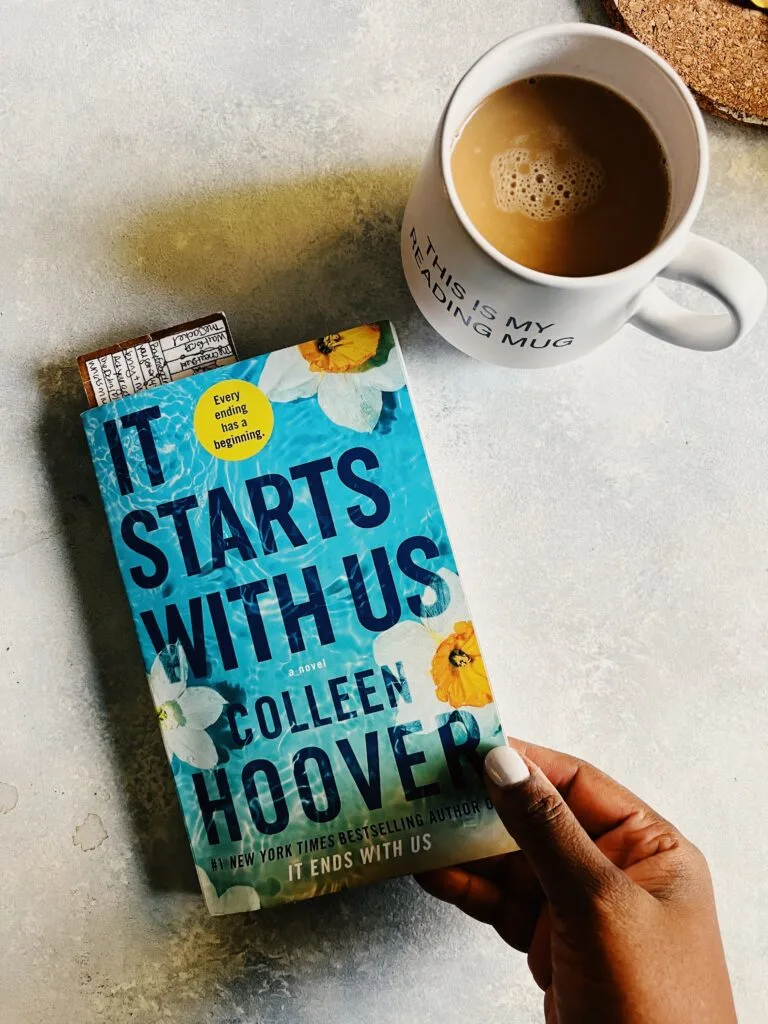 This blog post contains affiliate links. Everyday Eyecandy is a participant in the Amazon Services LLC Associates Program, an affiliate advertising program designed to provide a means for sites to earn advertising fees by advertising and linking to Amazon.com.
So unless you have been living under a rock, you know that Tik Tok sensation Colleen Hoover released her eagerly awaited sequel to her NYT bestselling book It Ends With Us. It Starts With Us was one of 2022's most anticipated releases. But does it live up to the hype?
Want to learn what order to read Colleen Hoover Books in? Click Here to get started.
Synopsis of It Starts With Us

From the Book Jacket:
Lily and her ex-husband, Ryle, have just settled into a civil coparenting rhythm when she suddenly bumps into her first love, Atlas, again. After nearly two years separated, she is elated that for once, time is on their side, and she immediately says yes when Atlas asks her on a date.

But her excitement is quickly hampered by the knowledge that, though they are no longer married, Ryle is still very much a part of her life—and Atlas Corrigan is the one man he will hate being in his ex-wife and daughter's life.

Switching between the perspectives of Lily and Atlas, It Starts with Us picks up right where the epilogue for It Ends with Us left off. Revealing more about Atlas's past and following Lily as she embraces a second chance at true love while navigating a jealous ex-husband.
CATEGORY
Romance
My It Starts with Us Book Review ( Spoiler Free)
Before we get started: Yes, you should read the first book before you read this one. Otherwise, you will miss certain storylines and reasons why characters act the way they do.
I loved loved loved It Ends With Us. But part of the beauty of the book was how the book ended. Like most good books, it left you to use your imagination to figure out wht happened with with Atlas and Lily . You were left to wonder exactly HOW they would find their way back into a relationship and therefore their own hardwon happy ending.
I've heard that Colleen Harris had no intention of writing a sequel, but that the popularity of the book on Booktok and the calls for the story of what happened after the book ended led her to write It Starts with Us.
I could not put this book down. I got interrupted several times, but I finished in one day.
I loved it.
It was wonderful to see the relationship between Atlas and Lilly redevelop. I was invested in Lilly's healing process. I was invested in Atlas and his unwavering love and support for Lilly. There isn't a lot of conflict in this book. Only the parts that led up to and dealt with the confrontation Lilly needed to have with Ryle brought any real conflict to the storyline. So if you are looking for a steady underlying conflict like the first book you won't get it.
If you are looking for a plot driven story and not a character driven one, you might want to sit this one out.
But that's not a bad thing. Especially with this story that the author wants to tell this time around.
It's a love story. Or rather the completion of a love story. And it really is a beautifully written, heartwarming love story. Right until the very last page.
My Rating
FIVE STARS
HOW TO GET THE BOOK!
If you want to get your hands on the book you can get it from
or
So what do you think? Have you read the book today?