Check out this ultimate guide to all of NYT Bestselling author Colleen Hoover books in order to get you started reading COHO books!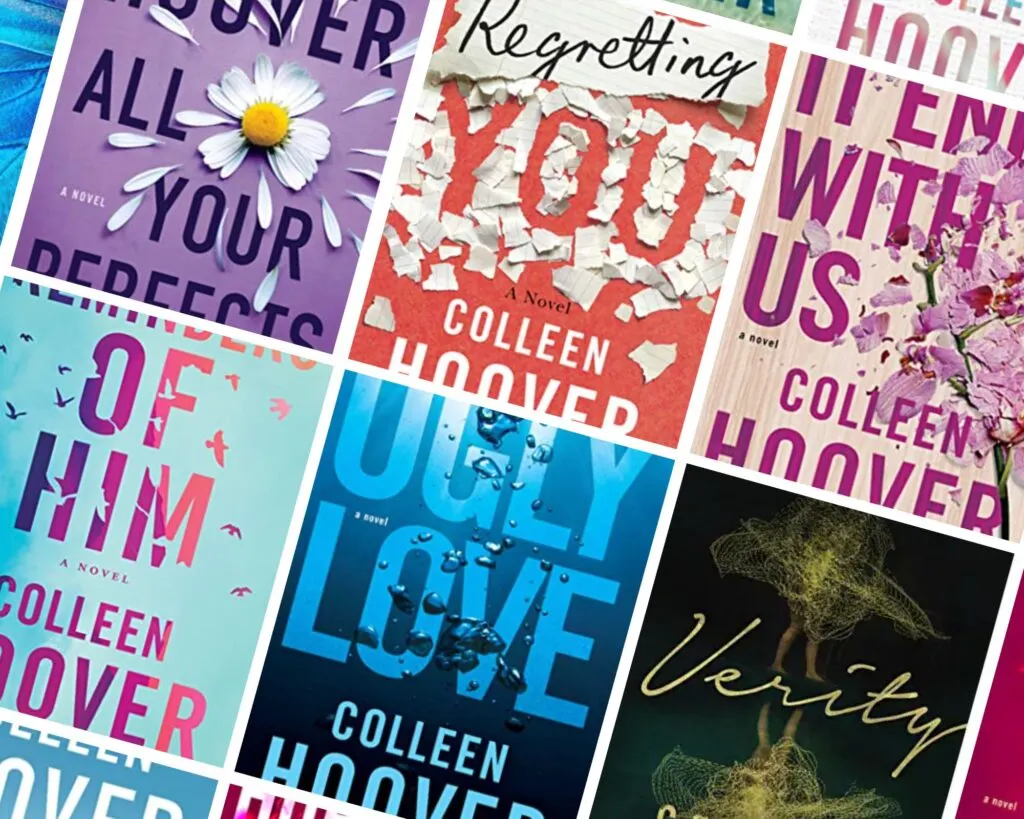 This blog post contains affiliate links. Everyday Eyecandy is a participant in the Amazon Services LLC Associates Program, an affiliate advertising program designed to provide a means for sites to earn advertising fees by advertising and linking to Amazon.com.
Unless you have been living under a rock, I know you have heard of Colleen Hoover. And if you are a lover of contemporary romance, young adult, women's fiction or even thrillers, chances are that you have read at least one of her books.
According to a recent NYT article, author Colleen Hoover has sold more books this year than Dr. Seuss AND she has sold more books than James Patterson and John Grisham — combined. This year ( 2022) Colleen Hoover has 5 spots on the best seller lists.
You know I love a good book list, so if you are looking to get into Colleen Hoover's book ahead of the release of It Starts with Us, I've got you covered! This post is a complete list of Colleen Hoover books IN ORDER, to ease you into the CoHo( as her fans call her) world. I've grouped them by series and by her stand alone books.
But first, let's get into a few Frequently Asked Questions about Colleen Hoover.
FAQ's
So who is Colleen Hoover?
Hoover worked as a social worker while living in a mobile home. She decided to start writing because she was bored. She wanted to share her novel with her friends and families so Hoover self-published it on Amazon. That book became Slammed in 2012.
What Type of Books Does Colleen Hoover Write?
Her books are young adult and new adult contemporary romance. But a few are in the psychological thriller genre. Most of her books are about family, friendships,and love. While they have young adult themes, they are better suited for ages 16 and up. Check the trigger warnings to see if you think your teen is mature enough to read.
She has won 3 Goodreads Choice awards for Best Romance ( Confess 2015, It Ends with Us 2016, Without Merit 2017).
Why are Colleen Hoover Books so popular?
Besides booktok? Colleen Hoover's books are plot-driven. There is always a plot that is easy to follow. But what makes them even more compelling is that she also dives into the emotions and the why's behind her characters. And last: they tug on your heartstrings. Or leave you in complete shock.
Where to find Colleen Hoover Books?
Anywhere where books are sold. There are a remarkable( for a New York Times Bestseller) of her books on Kindle Unlimited.
What the Best Order to Read Colleen Hoover Books
If you are like me, when you find an author you like, the first thing you want to know is: what is the best order to read her books. My answer for CoHO books is complicated.
There are a number of her books that are series, so of course, you want to read those in order. But she also has several stand-alone books. But whether you are a series reader or want to read them in order of the date they are published, I have put together some options to get you started below.
No matter where you want to start, there is something for you.
Colleen Hoover Books in Order: A Complete Guide to Get You Started!
Colleen Hoover Book Order by Series
If you love to binge a good romance series, this section has all of those Colleen Hoover Books in order.
Slammed Series:
Following the unexpected death of her father, 18-year-old Layken is forced to be the rock for both her mother and younger brother. Outwardly, she appears resilient and tenacious, but inwardly, she's losing hope.
Enter Will Cooper: The attractive, 21-year-old new neighbor with an intriguing passion for slam poetry and a unique sense of humor. Within days of their introduction, Will and Layken form an intense emotional connection, leaving Layken with a renewed sense of hope.
Not long after an intense, heart-stopping first date, they are slammed to the core when a shocking revelation forces their new relationship to a sudden halt. Daily interactions become impossibly painful as they struggle to find a balance between the feelings that pull them together, and the secret that keeps them apart
Layken and Will have managed to overcome the obstacles that threatened to destroy their love, proving that they are destined for one another. What they are about to learn, however, is that the things that have brought them together may be the very things that ruin their connection forever…
In This Girl, Will tells the story of their complicated relationship from his point of view. Their future rests on how well they deal with the past in this final installment of the beloved Slammed series.
Hopeless Series:
Sky, a senior in high school, meets Dean Holder, a guy with a promiscuous reputation that rivals her own. From their very first encounter, he terrifies and captivates her. Something about him sparks memories of her deeply troubled past, a time she's tried so hard to bury. Though Sky is determined to stay far away from him, his unwavering pursuit and enigmatic smile break down her defenses and the intensity of the bond between them grows. But the mysterious Holder has been keeping secrets of his own, and once they are revealed, Sky is changed forever and her ability to trust may be a casualty of the truth.
Haunted by the little girl he couldn't save from imminent danger, Holder's life has been overshadowed by feelings of guilt and remorse. He has never stopped searching for her, believing that finding her would bring him the peace he needs to move on. However, Holder could not have anticipated that he would be faced with even greater pain the moment they reconnected.
A chance encounter in the dark leads eighteen-year-old Daniel and the girl who stumbles across him to profess their love for each other. But this love has conditions: they agree it will last only one hour, and it will be only make-believe.One year and one bad relationship later, his disbelief in love-at-first-sight is stripped away the day he meets Six: a girl with a strange name and an even stranger personality. Unfortunately for Daniel, finding true love doesn't guarantee a happily ever after… it only further threatens it.
Friends Daniel, Six, Holder, Sky, and Breckin are planning to celebrate the upcoming Thanksgiving holiday with a Friendsgiving dinner at Sky's parents' house.But things have been off within the tightknit group and when Daniel reaches out to Six to ask the hard questions he hasn't dared to bring up since they last spoke about their shared secret, he's dismayed to learn that it's this very secret bringing a cloud over the holiday. Suddenly, Daniel must do everything he can to find answers for the one person he loves the most in the world, but will this search only lead to despair.
Maybe Someday Series:
Sydney is living in an idyllic bubble—she's a dedicated student with a steady job on the side. She lives with her best friend, has a great boyfriend, and the music coming from the balcony opposite hers is fast becoming the soundtrack to her life. But when Sydney finds out her boyfriend is cheating on her, the bubble bursts. The mysterious and attractive man behind the music, Ridge, gives Sydney hope that she can move on and they begin to write songs together. But moving on is harder than she expects, Sydney can only hope….
When Warren has the opportunity to live with a female roommate, he instantly agrees. It could be an exciting change. Or maybe not. Especially when that roommate is the cold and seemingly calculating Bridgette. Tensions run high and tempers flare as the two can hardly stand to be in the same room together. But Warren has a theory about Bridgette: anyone who can hate with that much passion should also have the capability to love with that much passion. And he wants to be the one to test this theory. Will Bridgette find it in herself to warm her heart to Warren and finally learn to love?
Ridge and Sydney are thrilled to finally be together guilt-free. But as the two of them navigate this freedom, Warren and Bridgette's relationship is as tumultuous as ever, and Maggie grapples with her illness. When she comes across an old list of things she wanted to do "maybe one of these days," Maggie decides to live life to the fullest and accomplish these dreams. Maggie keeps Ridge updated on her adventures, but he can't help but worry, even as Sydney grows more and more suspicious about their friendship. But if she's going to move past this jealousy, she'll need to reconcile how she and Ridge came together with the fact that Maggie will always be in their lives somehow…or end up walking away from the man she loves so much.
Never Never Series
This series was written with the New York Times bestselling author of Mud Vein. Charlize Wynwood and Silas Nash have been best friends since they could walk. They've been in love since the age of fourteen. But as of this morning…they are complete strangers. Their first kiss, their first fight, the moment they fell in love…every memory has vanished. "I don't care what our real first kiss was," he says. "That's the one I want to remember."
Charlize and Silas must work together to uncover the truth about what happened to them and why. But the more they learn about the couple they used to be…the more they question why they were ever together to begin with.
It Ends With Us Series:
It Ends With Us is the Book that made Colleen Hoover Viral. It Ends With Us was voted the Best Romance in 2016's Goodreads Choice Awards. This book is the perfect intro, I think, to Hoover and how she writes. Trigger warning: This story was inspired by Hoover's mother's personal experience. Lily, our main character, grew up in an abusive family and is always making excuses for her abusive husband Ryle. But when she has a chance encounter with her first love Atlas and life gets even further complicated, will these things give Lilly the strength to end the vicious cycle of abuse?
Switching between the perspectives of Lily and Atlas, It Starts with Us picks up right where the epilogue for It Ends with Us left off. Revealing more about Atlas's past and following Lily as she embraces a second chance at true love while navigating a jealous ex-husband, it proves that "no one delivers an emotional read like Colleen Hoover"

Standalone Colleen Hoover Books in Order
Now if reading a series isn't your thing or you just want to dip your toe into one CoHo books, check out these sand alone Colleen Hoover Books in order.
When Tate Collins meets airline pilot Miles Archer, she doesn't think it's love at first sight. They wouldn't even go so far as to consider themselves friends. The only thing Tate and Miles have in common is an undeniable mutual attraction. Once their desires are out in the open, they realize they have the perfect set-up. He doesn't want love, she doesn't have time for love, so that just leaves the sex. Their arrangement could be surprisingly seamless, as long as Tate can stick to the only two rules Miles has for her: Never ask about the past, and don't expect a future. They think they can handle it, but realize almost immediately they can't handle it at all.
Auburn Reed is determined to rebuild her shattered life and she has no room for mistakes. But when she walks into a Dallas art studio in search of a job, she doesn't expect to become deeply attracted to the studio's enigmatic artist, Owen Gentry. For once, Auburn takes a chance and puts her heart in control, only to discover that Owen is hiding a huge secret. The magnitude of his past threatens to destroy everything Auburn loves most, and the only way to get her life back on track is to cut Owen out of it—but can she do it
Fallon meets Ben, an aspiring novelist, the day before her scheduled cross-country move. Their untimely attraction leads them to spend Fallon's last day in L.A. together, and her eventful life becomes the creative inspiration Ben has always sought for his novel. Over time and amidst the various relationships and tribulations of their own separate lives, they continue to meet on the same date every year. Until one day Fallon becomes unsure if Ben has been telling her the truth or fabricating a perfect reality for the sake of the ultimate plot twist. Can Ben's relationship with Fallon—and simultaneously his novel—be considered a love story if it ends in heartbreak?
After finding herself stuck in a relationship with the dangerous and morally corrupt Asa Jackson, Sloan will do whatever it takes to get by until she's able to find a way out. Sloan is the best thing to ever happen to Asa. And if you ask Asa, he'd say he's the best thing to ever happen to Sloan. Despite Sloan's disapproval of Asa's sinister lifestyle, he does exactly what he needs to do in order to stay a step ahead in his business. He also does exactly what he needs to do in order to stay a step ahead of Sloan. Nothing will get in his way. Nothing except Carter.
The Voss family is anything but normal. They live in a repurposed church, newly baptized Dollar Voss. The once cancer-stricken mother lives in the basement, the father is married to the mother's former nurse, the little half-brother isn't allowed to do or eat anything fun, and the eldest siblings are irritatingly perfect. Merit Voss collects trophies she hasn't earned and secrets her family forces her to keep. While browsing the local antiques shop for her next trophy, she finds Sagan. His wit and unapologetic idealism disarm and spark renewed life into her—until she discovers that he's completely unavailable. Merit decides to shatter the happy family illusion that she's never been a part of before leaving them behind for good. When her escape plan fails, Merit is forced to deal with the staggering consequences of telling the truth and losing the one boy she loves.
There are all sorts of trigger warnings for this book but let me give you the gist of it: Lowen Ashleigh is a struggling writer on the brink of financial ruin when she accepts the job offer of a lifetime. Jeremy Crawford, the husband of bestselling author Verity Crawford, has hired Lowen to complete the remaining books in a successful series his injured wife is unable to finish.
Lowen arrives at the Crawford home, ready to sort through years of Verity's notes and outlines, and uncovers an unfinished autobiography Verity never intended for anyone to read. Page after page of bone-chilling admissions, including Verity's recollection of the night her family was forever altered. Lowen decides to keep the manuscript hidden from Jeremy, knowing its contents could devastate the already grieving father. But as Lowen's feelings for Jeremy begin to intensify, she recognizes all the ways she could benefit if he were to read his wife's words. After all, no matter how devoted Jeremy is to his injured wife, a truth this horrifying would make it impossible for him to continue loving her.
For this book, there is a new hardcover published in 2022 that has a bonus epilogue that may or may not change your mind about some of the characters in this book.
Quinn and Graham's perfect love is threatened by their imperfect marriage. The memories, mistakes, and secrets that they have built up over the years are now tearing them apart. The one thing that could save them might also be the very thing that pushes their marriage beyond the point of repair.This is a heartbreaking page-turner that asks: Can a resounding love with a perfect beginning survive a lifetime between two imperfect people?
Morgan is determined to prevent her daughter from making the same mistakes she did. By getting pregnant and married way too young, Morgan put her own dreams on hold. Clara doesn't want to follow in her mother's footsteps. Her predictable mother doesn't have a spontaneous bone in her body.
The only person who can bring peace to the household is Chris—Morgan's husband, Clara's father, and the family anchor. But that peace is shattered when Chris is involved in a tragic and questionable accident. The heartbreaking and long-lasting consequences will reach far beyond just Morgan and Clara.
After a childhood filled with poverty and neglect, Beyah Grim finally has her hard-earned ticket out of Kentucky with a full ride to Penn State. But two months before she's finally free to change her life for the better, an unexpected death leaves her homeless and forced to spend the remainder of her summer in Texas with a father she barely knows. Devastated and anxious for the summer to go by quickly, Beyah has no time or patience for Samson, the wealthy, brooding guy next door.
Yet, the connection between them is too intense to ignore. But with their upcoming futures sending them to opposite ends of the country, the two decide to maintain only a casual summer fling. Too bad neither has any idea that a rip current is about to drag both their hearts out to sea.
When Leeds meets Layla, he's convinced he'll spend the rest of his life with her—until an unexpected attack leaves Layla fighting for her life. After weeks in the hospital, Layla recovers physically, but the emotional and mental scarring has altered the woman Leeds fell in love with. In order to put their relationship back on track, Leeds whisks Layla away to the bed-and-breakfast where they first met. Once they arrive, Layla's behavior takes a bizarre turn.
And that's just one of many inexplicable occurrences.Feeling distant from Layla, Leeds soon finds solace in Willow—another guest of the B&B with whom he forms a connection through their shared concerns. As his curiosity for Willow grows, his decision to help her find answers puts him in direct conflict with Layla's well-being. Leeds soon realizes he has to make a choice because he can't help both of them. But if he makes the wrong choice, it could be detrimental for all of them
After serving five years in prison for a tragic mistake, Kenna Rowan returns to the town where it all went wrong, hoping to reunite with her four-year-old daughter. But the bridges Kenna burned are proving impossible to rebuild. Everyone in her daughter's life is determined to shut Kenna out, no matter how hard she works to prove herself. The only person who hasn't closed the door on her completely is Ledger Ward, a local bar owner and one of the few remaining links to Kenna's daughter.
But if anyone were to discover how Ledger is slowly becoming an important part of Kenna's life, both would risk losing the trust of everyone important to them. The two form a connection despite the pressure surrounding them, but as their romance grows, so does the risk. Kenna must find a way to absolve the mistakes of her past in order to build a future out of hope and healing.
Which Colleen Hoover book to read first
After reading the blurbs of the Colleen Hoover books in order, if you STILL have trouble deciding where to start, I'll give you a nudge!
Start with It Ends With Us. It's quintessential Colleen Hoover and it's Sequel is about to be released. It is a great story and a great way to get immersed in the CoHo universe.
So in conclusion:
As you can see your choices are endless when it comes to Colleen Hoover's Books. I hope this list of Colleen Hoover Books in order has helped you find your next great read!
Pin this post to save for later!!