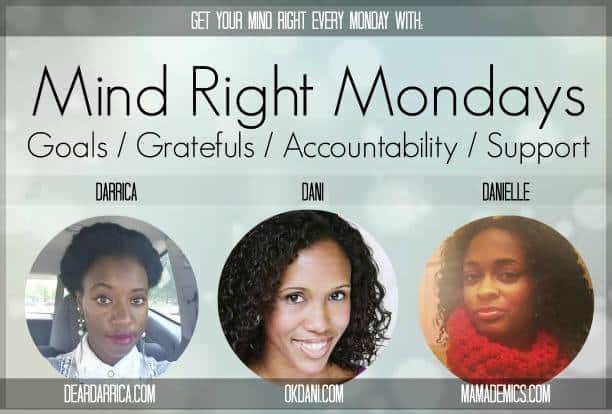 I haven't done one of these is a loooooong time, so I'm linking up with Dani over at OK Dani for her Mind Right Monday Series.
Last week was both a failure and a success I guess you could say in my goals to FOCUS, be ore organized and GET STUFF DONE.
I have three planners. THREE. And I swear, I still failed to do about half of the stuff that I was supposed to . Maybe I'm too organized or too focused on the process and not getting stuff done.
Plus, I've got way too many irons in the fire.
And PMS is a b………
ANYHOO
Lets Get to it:
My GOALS this week:
Run three times( 2 short runs, and 8 miles on Saturday)
Get up and meditate and journal EVERY morning.
Follow through with everything on my editorial calender
Respond to blog comments within….48 hours.( I know ya'll I know.)
DO the things on my To Do List in the EXPENSIVE ASS PLANNER that I got to organize my life!
Create a vision board.
Write at least 2 chapters for my ebook.
Spend some snuggle time with CDub.
Take Pookah on a Mommy and son date.
Take time to read 30 minutes a day.
Read information for a class I signed up for.
I'm GRATEFUL For:
The fact that CDub actually LIKES spending time with us and pushes me out of my comfort zone to DO things outside of this house and the internet.
Sisterfriends. Enough said.
Good Wine…..
Keurig's automatic delivery service. So I never run out of coffee…..
The fact that I work at home and don't have to fight Atlanta traffic.
Warm fuzzy socks
Mandi for constantly trying to get me out of my comfort zone( even though I give her so much grief)
Spotify and all the ratchet songs that they have for me to run to.
Amazon Prime
Pookah's warm little kisses
That's it!
To link up, head on over to Dani