15 Podcasts by Black Women that you need to listen to right now. They cover everything from beauty, trending topics, wellness, sex and relationships motherhood and more.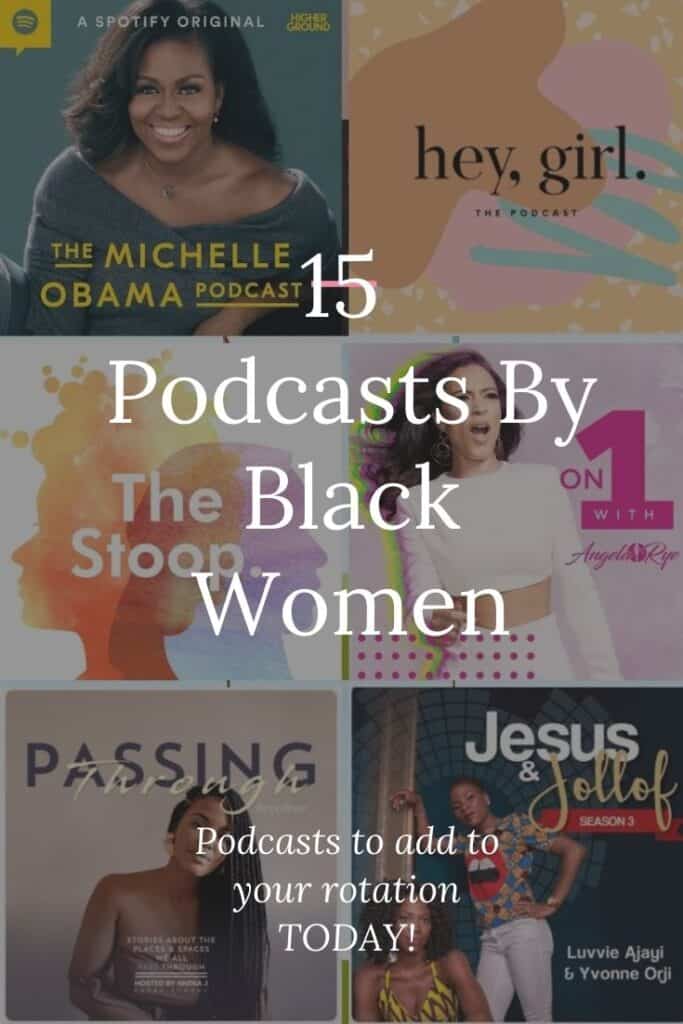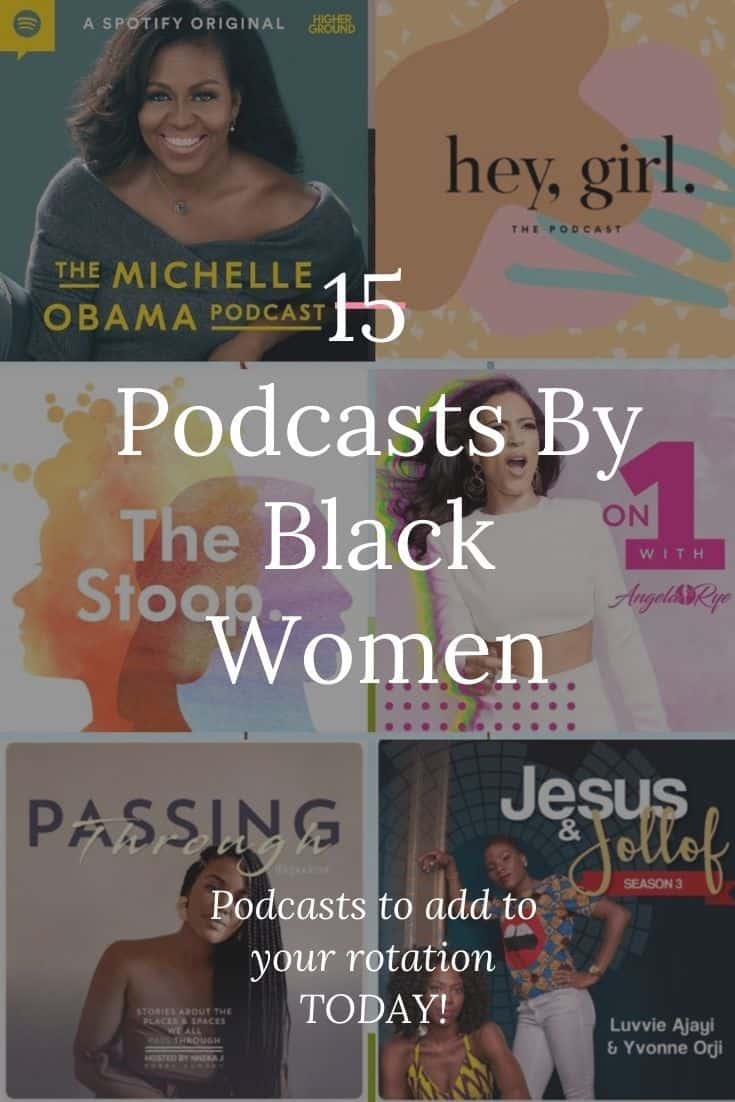 Everyone needs a good podcast in their life.
Before this pandemic happened, I was a sometimes I listen to podcasts type of person. I was more of a listen to books type of girl. I mean, my audible account is everything.
But then the pandemic came and I found myself listening to podcasts about business, then for fun. And then I found this whole world of black women podcasting and was hooked.
I listen to podcasts while cleaning, while in the shower, while cooking dinner, on my rare commutes to the grocery store.
They are the perfect way to get info and entertainment all in one.
I subscribe to a TON of them, but what i wanted to share, are 15 of the podcasts by black women that I found this year. A few, I was already following, but the rest, I found this year.
They range in everything from politics, beauty, trending topics, wellness, sex and relationships, motherhood and more.
So get ready to subscribe friends.
Enjoy.
15 Podcasts By Black Women That You Need to Listen To Right Now
Photo Credit: podcasts.apple.com
Nneka Julia shares revelations and wisdom collected through travel, conversation, and self-education
Photo Credit: www.sidehustlepro.co
The first and only podcast to spotlight bold, Black women entrepreneurs who have scaled from side hustle to profitable business.
Photo Credit: open.spotify.com
Features the Former First Lady diving into to conversations about the relationships in our lives that make us who we are.
Photo Credit: podcasts.apple.com
hey, girl. is a podcast that unites the voices of phenomenal women near and far. Created with sisterhood and storytelling in mind, author Alex Elle sits down with people who inspire her. From friends to family members and strangers, the hey, girl. guests give us a peek into their stories through candid and intimate conversations.
Photo Credit: podcasts.apple.com
Jesus and Jollof is a podcast featuring Luvvie Ajayi and Yvonne Orji, two proudly Nigerian women (who have no behavior) talking about the things they love, their stories, and life in general. Why "Jesus and Jollof?" Those are the two things they cannot do without. Besides, the other option was "2 Goat Queens."
Photo Credit: podcasts.apple.com
Demetria L. Lucas, cultural critic and author of A Belle in Brooklyn and Don't Waste Your Pretty, muses on pop culture shenanigans, dating and relationships, and everything worth watching on any size screen. #ratchetandrespectable
Photo Credit: soundcloud.com
Tune in every week for the most honest answers to the pressing political, racial, and pop culture questions of the day.
Photo Credit: www.blackgirlinom.com
This podcast is a warm embrace, soothing realness, and conscious girl talk. Black Girl In Om exists to hold and heal black women and women of color around the world on their unique wellness journeys, mending us from the inside out
Photo Credit: podcasts.apple.com
Welcome to The Suga, a brown mama's guide to the sweet life with hosts Tika Sumpter and Thai Randolph. Each week, listeners can laugh, learn, love AND (instead of spilling the tea) share THE SUGA by celebrating sisterhood and motherhood.
Photo Credit: podcasts.apple.com
The Stoop podcast digs into stories that are not always shared out in the open. Hosts Leila Day and Hana Baba start conversations and provide professionally-reported stories about what it means to be black and how we talk about blackness. Come hang out on The Stoop as we dialog about the diaspora.
Photo Credit: podcasts.apple.com
At Black Girl Magic headquarters, senior editors Cori Murray (@corimurray), Charli Penn (@ManWifeDog) host ESSENCE's Yes, Girl! Podcast every Thursday. The award-nominated, podcast fills your glass with celebrity interviews, pop culture and unapologetic perspective. From week-to-week, they're uplifting everybody who's taking Black culture a little higher.
Photo Credit: soundcloud.com
Join Sarah Jakes Roberts as she shares her take on the week's top stories in news and entertainment
Photo Credit: soundcloud.com
Listen every week as these ladies share differing opinions and life experiences lead them to understand themselves, and the world around them, a little bit better.
Photo Credit: podcasts.apple.com
Truth Be Told hosted by Tonya Mosley is an advice podcast that explores how you can be you in a world that doesn't always want you to be. We're like the friend you call after a long, exhausting day – the one who will laugh, cry, bitch and moan with you. The one who gets it.
Photo Credit: podcasts.apple.com
Join host Rebecca Carroll for 15 essential conversations about race in a pivotal moment for America.