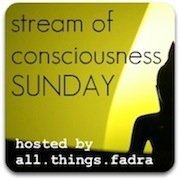 I haven't done a Stream of Conciousness Sunday in a while! But I loved Fadra's prompt today:  Do you have a secret blogging life? Are you connected to your "real life" friends and family through social media? How does that affect your writing?
****************
Of course, you guys know that I am rebranding around here( sometime by the end of the summer instead of this month by the way). I briefly considered changing my URL to: myrealname.com, but changed my mind.  You see, I LIKE blogging anonymously.  I mean I'm not REALLY REALLY anonymous, photos of my family are all over this blog.  And that only happened after about 3 years of blogging.  I haven't exactly kept it a secret, but I haven't really shared it with anyone IRL either. I know my husband knows I keep one, but he doesn't keep up. ( at least, I don't think he does….) Even my twitter is anonymous.  Instagram was until that damn Android got it and now, IRL folks are showing up out of the woodwork on my instagram feed. SMH. But it's not connected to this blog…at all.   The point is( and I do have one) is that I like saying what I have to say without having to sensor myself. Because lets face it my dears, I say a lot. This blog is like my therapy, and I would hate to have to give it up.  I NEED this space like I need breathing.  I need to share, without worrying about repercussions and what my friends family and co workers think. Do you understand? Because i'm not always nice on here. I'm not always objective and happy happy joy joy like they think I am.   And I like it that way.  Only my internet friends need to know how ratchet, crazy, silly, and depressing I can really be…..
************
this was my 5 minute Stream of Consciousness Sunday post. It's five minutes of your time and a brain dump. Want to try it? Here are the rules…
Set a timer and write for 5 minutes.
Write an intro to the post if you want but don't edit the post. No proofreading or spellchecking. This is writing in the raw.
Publish it somewhere. Anywhere. The back door to your blog if you want. But make it accessible.
Add the Stream of Consciousness Sunday badge to your post.
Link up your post at allthingsfadra.com.
Visit your fellow bloggers and show some love.
Get Everyday Eyecandy in Your Inbox
Subscribe to get our latest content by email every week.