Thank you to Disney for the invite to explore and learn about ESPN Wide World of Sports. All opinions are my own.
Pookah has been playing sports since he was a little toddler playing t ball. He is such a competitive person, and I've always known that putting him in sports would help him manage all of that energy that he has. Now that he is growing up and is focused on just baseball and basketball, I can see him getting more and more serious about it, and know that this will lead to regional, state and other chances to compete hopefully on a national level. That is why I was so excited when Disney invited me to come check out and to learn more about the ESPN Wide World of Sports Complex at Disney.
Jose Mola, the General manager -Sports operations says that since it's opening in 1997, ESPN Wide World of Sports complex has become the premier site for amateur sports in the nation. It is a sports complex is where dreams come true as well. Those dreams may be different from the dreams on other parts of the Disney property but it is still a Disney experience and a place where amazing things happen.
Hosting over 100 different entertainment and sports events a year, more than 350,000 athletes, coaches, and fans visit the sports complex each year. Including competitors of all ages and skill level.
We got a tour of the facilities and spent the day learning all about what kids and their parents can expect when they come to visit. I was AMAZED, and I hope that Pookah one day gets to compete here. There is a lot I could say, but I want to give you a few things that I think us parents need to know.
What Every Parent Should Know about EPSN Wide World of Sports Complex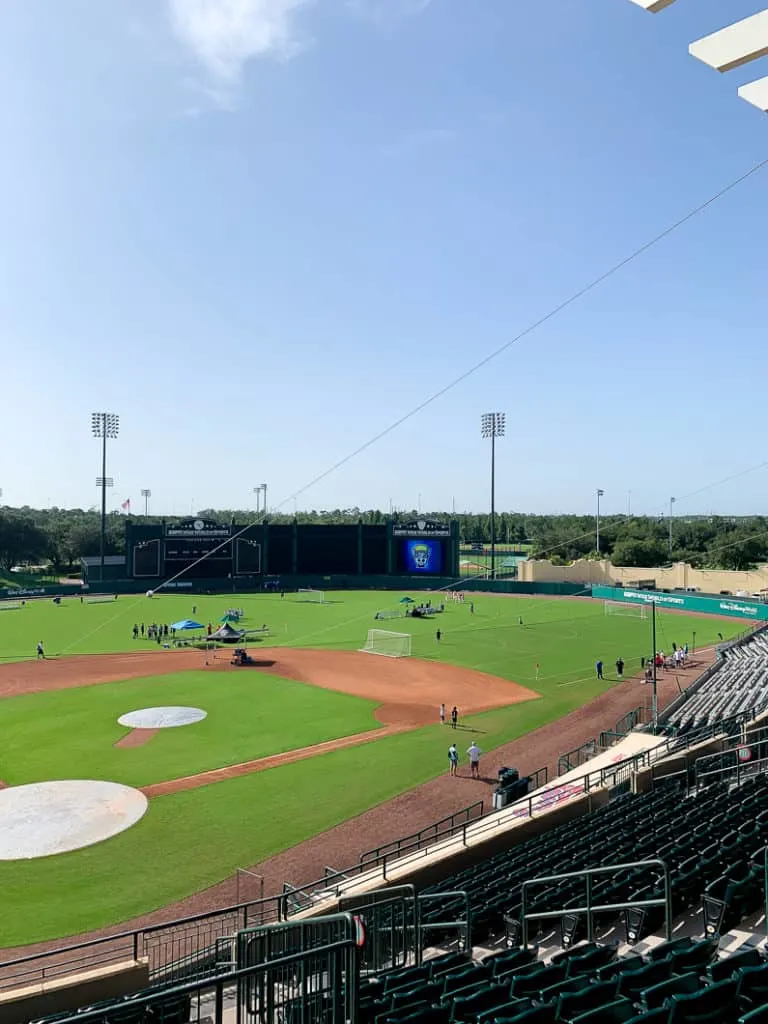 It's huge! I'm just going to talk about some of the highlights!
Stadium at ESPN Wide World of Sports complex. This centerpiece is a retro-style Maor League Baseball ballpark that hosted spring training for the Atlanta Braves for 22 consecutive seasons.
The Arena at ESPN Wide World of Sports: seats 8000 guests and is one of the only arenas in the country specifically designed for cheer and dance events. It can also host six regulation basketball courts, six regulations volleyball courts and can be converted quickly to host events.
The Marathon Sports Fields : These fields can accommodate outdoor sports like soccer, football, baseball, field hockey, rugby, etc. It also has a baseball quadraplex and softball diamondplex. Throughout the year, these fields host minor league players, instructional lectures, camps clinics and tournaments for amateur and youth players.
The complex offers an array of unique sports solutions that make traveling and competing here easy for teams and their families.
Some of those options include:
Team Meals: orders can be placed in advance of an event, bulk beverages, and snacks. And they are delivered directly to the competition venue to save time and stress
Equipment Drops: for select events taking place at the Diamondplex or the sports fields, teams are able to dropoff off their equipment in the designated dro of zone and transported to the field the team is playing on
Gameday Photography Services: if you or your team want professional photography or video of your athlete's events, Disney Gameday Photography provides personalized imaging of your kid competing.
Print on Demand Custom Teas : Guests can take tees to the custom tee center and choose from more than 50 designs that can be added to the t-shirt.
There are awesome food and beverage options
Athletes, coaches and their families and friends have lots of options for food at the ESPN Wide World of Sports Complex.
My favorite has to be hands down 4 Rivers Smokehouse. The award-winning barbecue brand opened two concession venues inside the Arena this year. Both eateries ( a walk-up version of 4 Rivers Smokehouse and a walk-up version of 4 Rivers Cantina are open to the general public during scheduled events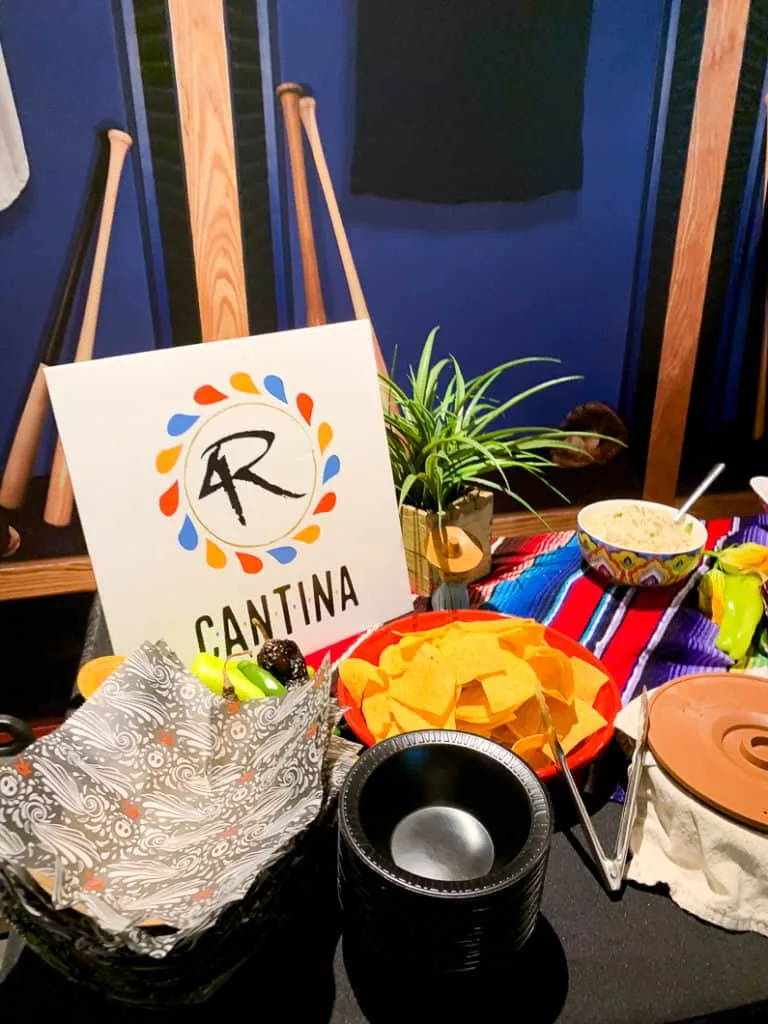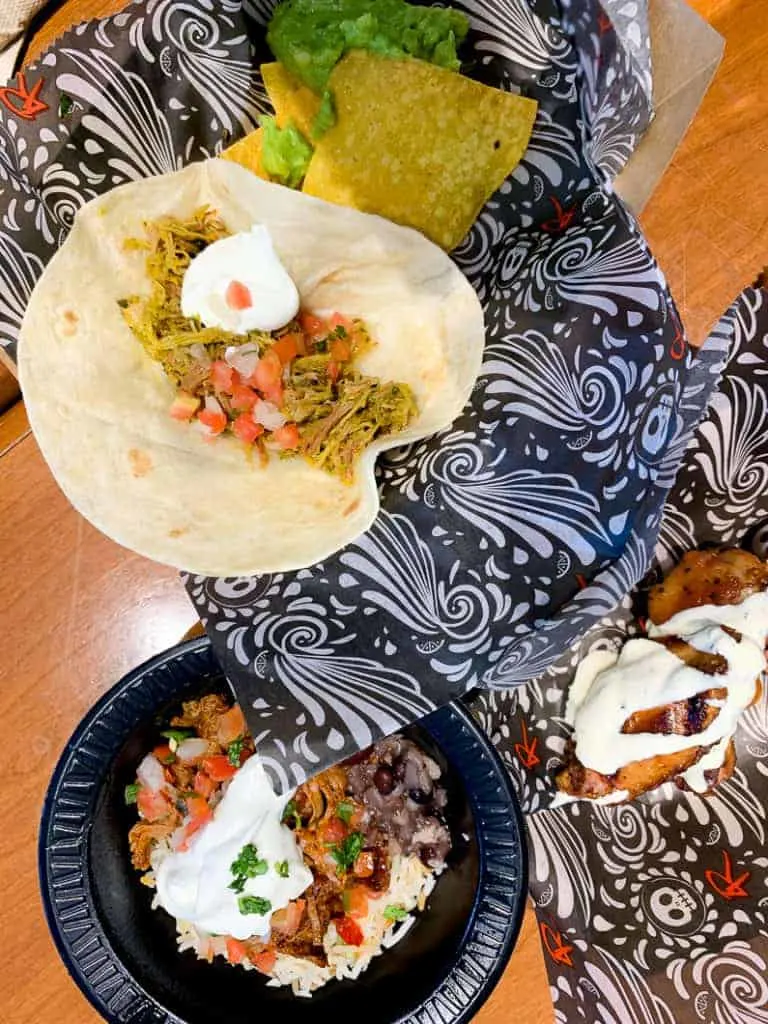 We got to sample the menu, and I have to say, RUN don't walk to try it out.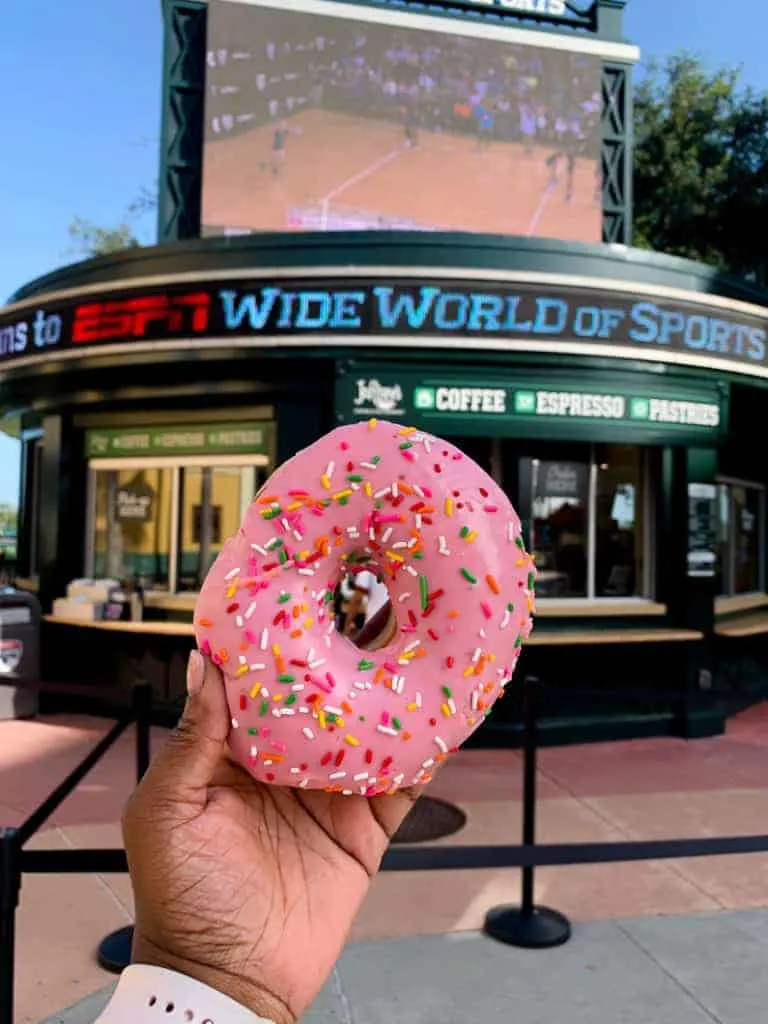 And for us coffee-fueled mamas and their teenagers, Joffrey's Coffee and Tea Company is the place to go. It offers a variety of menu options such as artisan roasted coffees tea, lattes and some of the BIGGEST donuts I've ever seen. When you go, make sure you try out the Game Changer: a cold brew specialty beverage with a shot of espresso.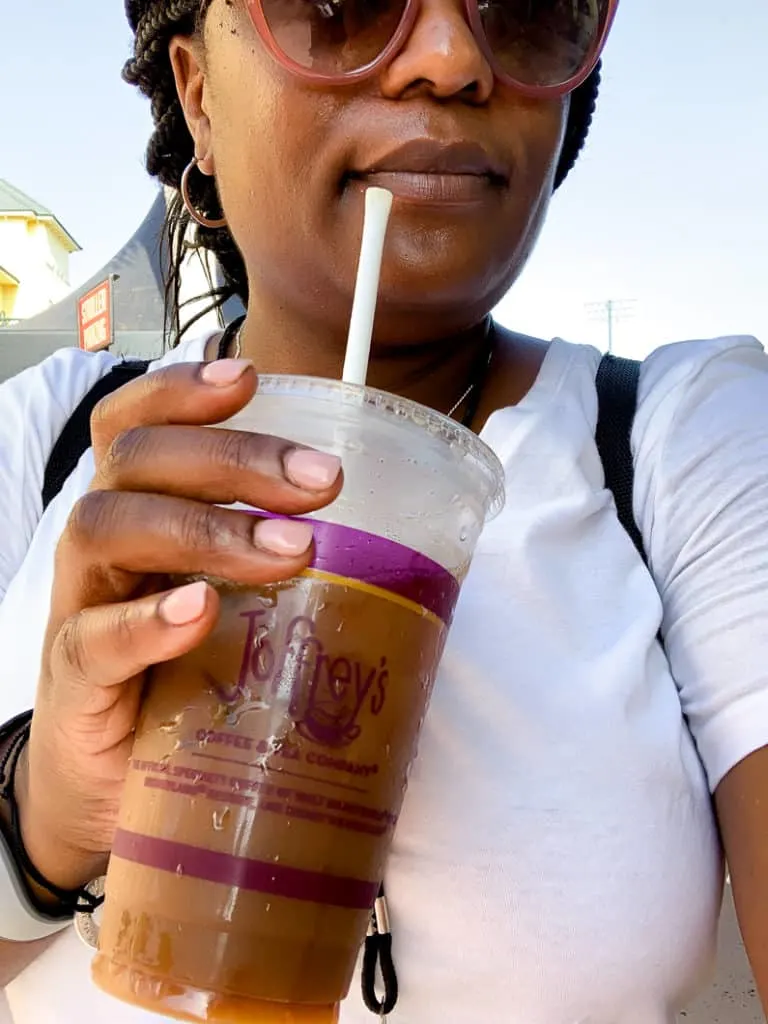 There are lots of signature events held every year at ESPN Wide World of Sports that put your child in front of college scouts.
Some of these signature events include:
The Disney Girls Soccer Showcase: In this competition, more than 6000 athletes from 400 teams compete for the nation's top girls soccer clubs. And college scouts are there to watch.
Disney Field Hockey Showcase: This is a USA field hockey sanctioned event for more than 200 teams to perform in front of 240 plus college coaches from around the country.
AAU National Basketball Championships: More than 7000 athletes compete. 37 states and 11 countries are represented in this event that takes place in July. Tops grade school and high school boys and girls basketball players have a chance to play in front of scout and collegiate coaches.
Pop Warner Super Bowl :64 of the tops youth football teams in the nation compete in this week-long super bowl after advancing through regional competitions. This event also coincides with the Pop Warner National Cheer and Dance Championships. This brings thousands of cheerleaders from across the country to the complex.
Ideasport Soccer Academy at EPSN Wide World of Sports complex this youth soccer training programs provides year-round training for athletes as well as training for coaches and officials. The program also brings tournaments, on-site events, and summer camps for aspiring players.
There are packages available for players and their families to experience the magic at Disney while competing.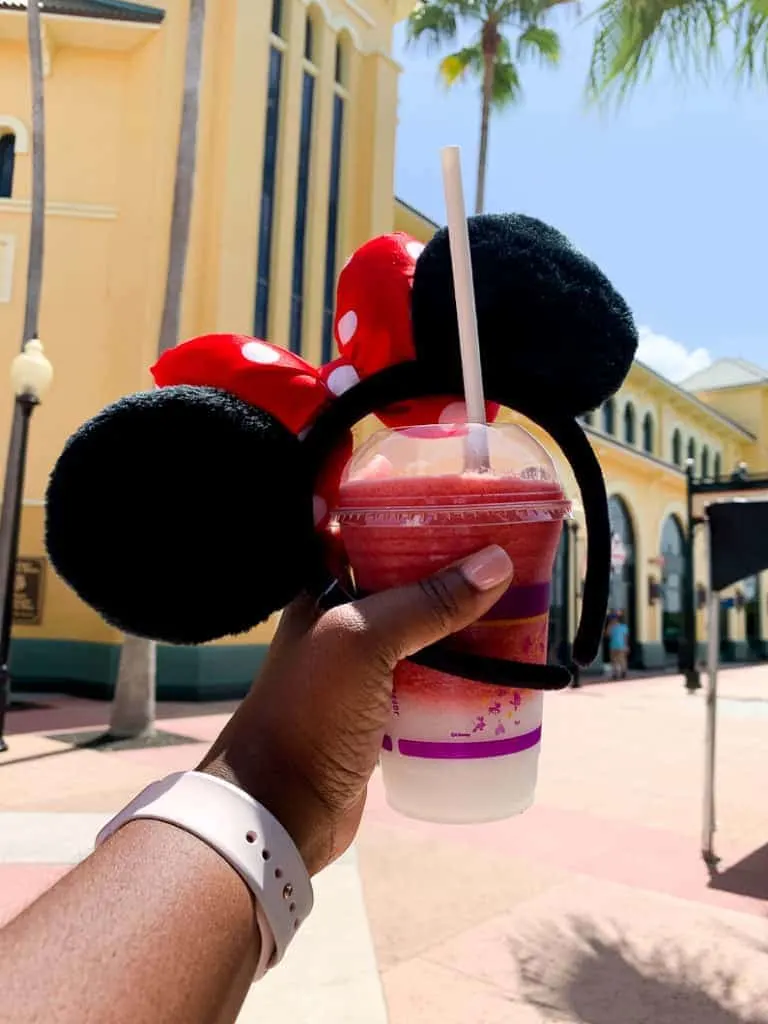 You can't come to Disney and not experience the magic!! When athletes and family stay at a Walt Disney World Resort Hotel, they get airport transportation, the in-room ESPN Wide World of Sports TV Channel, and easy access to the theme parks. For select events and weekends, athletes and their families may also take advantage of resort bus transportation. These buses travel between the resort and ESPN Wide World of Sports Complex on game days. Event travel requirements may include booking a resort stay through Disney Sports Travel or one of Disney's approved travel providers.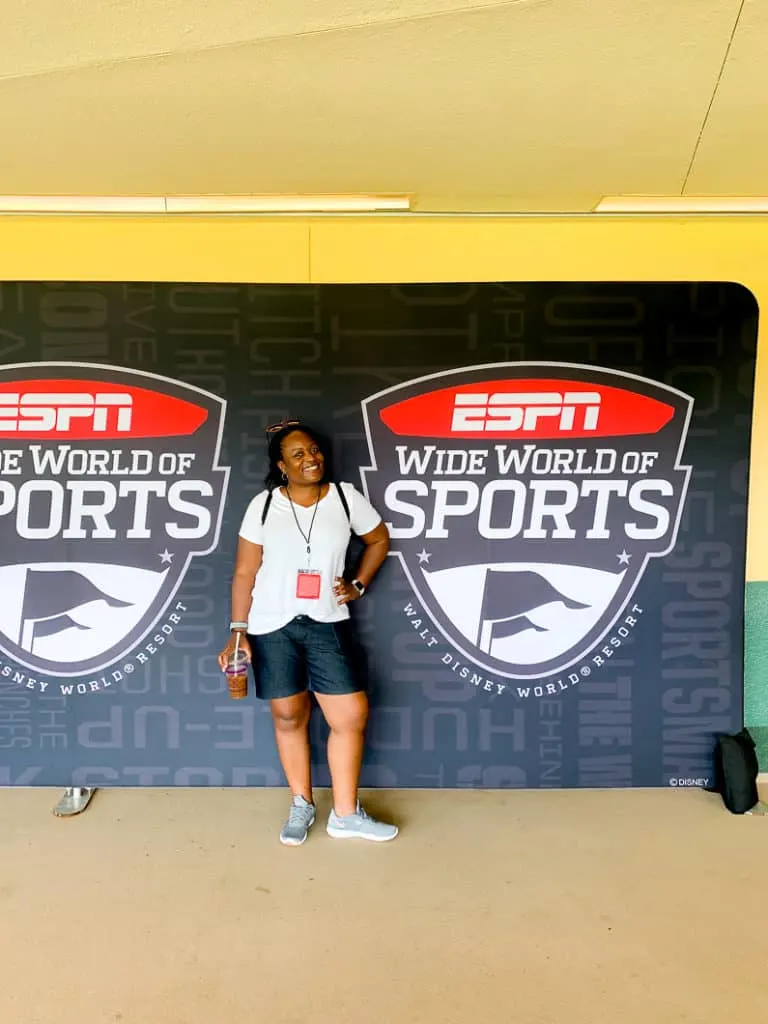 Cool right? I love the very idea of The ESPN Wide World of Sports Complex. As a parent of a kid who plays sports, I love that he can have the opportunity to where the pros play. AND have a Disney quality experience at the same time. Disney really is where dreams can come true. And if you have a kid who plays sports, this is the place to be.
Questions? Hit me up on social!