Thank you so much to Walt Disney World for the invite to Typhoon Lagoon! All opinions are my own.
You know, in all the times that we have visited the Walt Disney World Resort, we never get to the water parks. It's always on my radar, but we just never make it. That's why I was so excited to get the opportunity to visit disney's typhoon lagoon water park last month when we visited! GUYS! It was so much fun! Remember when I talked here about the need for breaks at Disney? I would describe it as the perfect place ( especially in the summer months) to take a break from the main parks in the middle of your Disney adventure. Especially if you love water parks like we do. When I posted about it on my Instagram stories, I got a lot of questions. So today, I'm bringing you a Disney Typhoon Lagoon Guide for families.
A Disney Typhoon Lagoon Guide for Families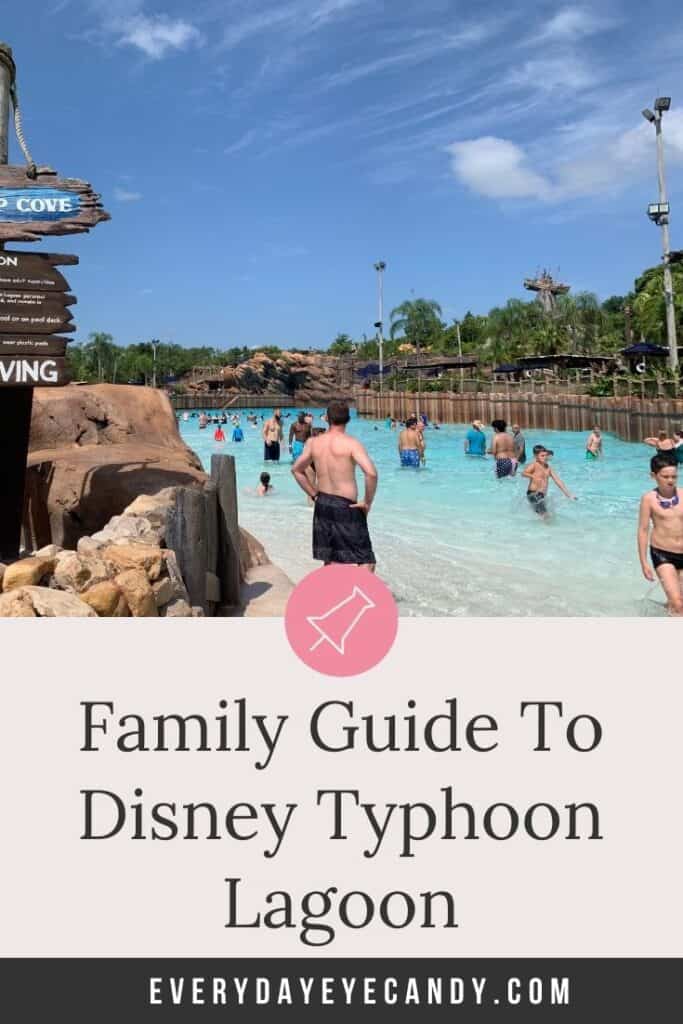 Where is it?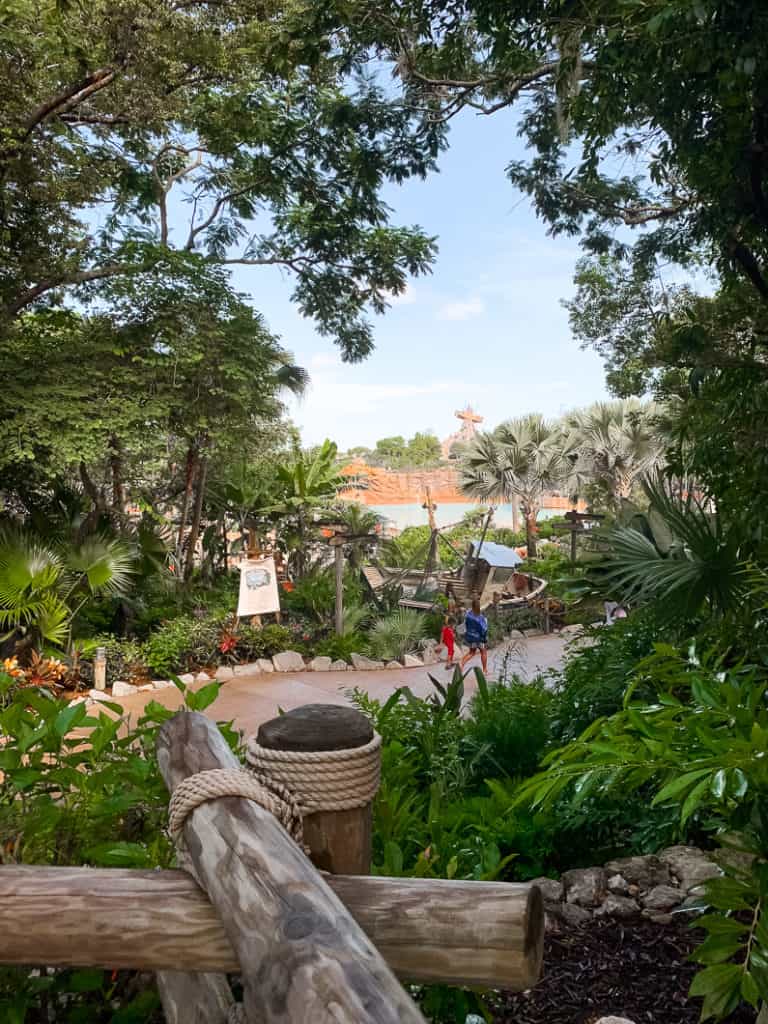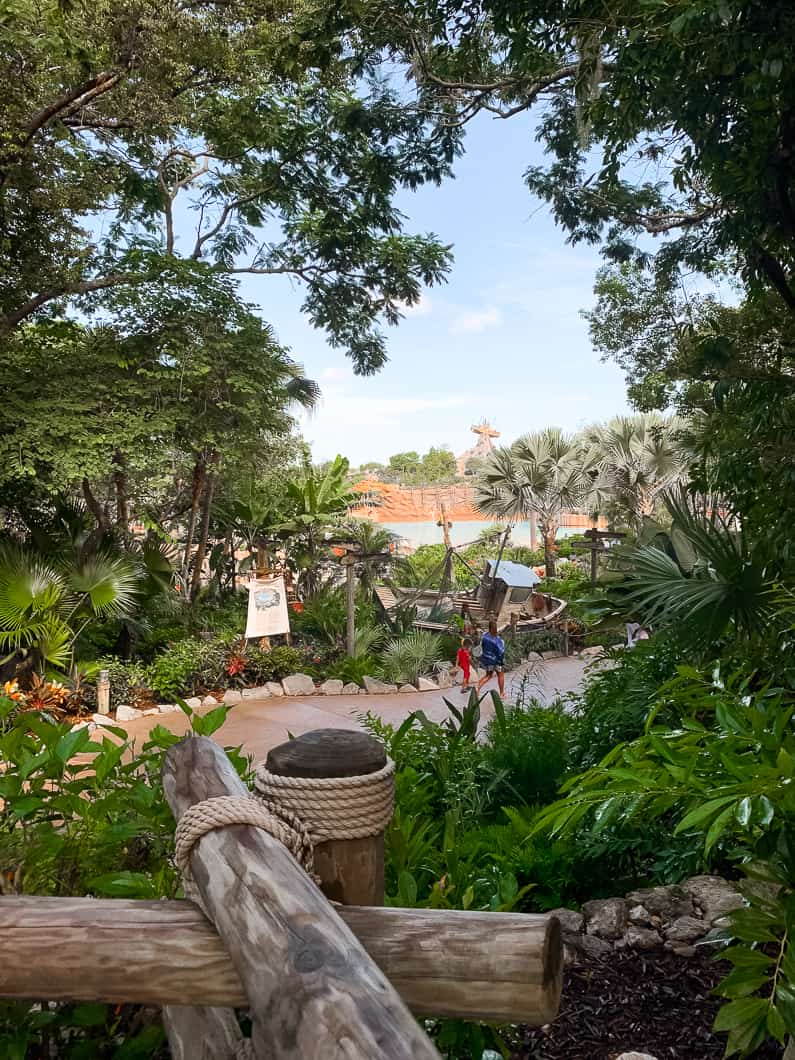 Typhoon Lagoon is a 61-acre themed water park located between Disney's Old Key West Resort, Disney's Caribbean Beach and Disney springs.
When are they open?
The hours at Typhoon Lagoon vary by season. In the colder/winter months, the park is open from 10 AM to 5 PM. During the summer, the park is open from 10 AM to 8 PM. And while the park will not close for rain, even a downpour. But will close down for Thunderstorms.
How do we get there?
There is free parking for all guests. If you are staying at one of the Walt Disney World Resorts on-site, there is free bus transportation between your hotel and Typhoon Lagoon And remember there is Uber!
What do we do once we get there?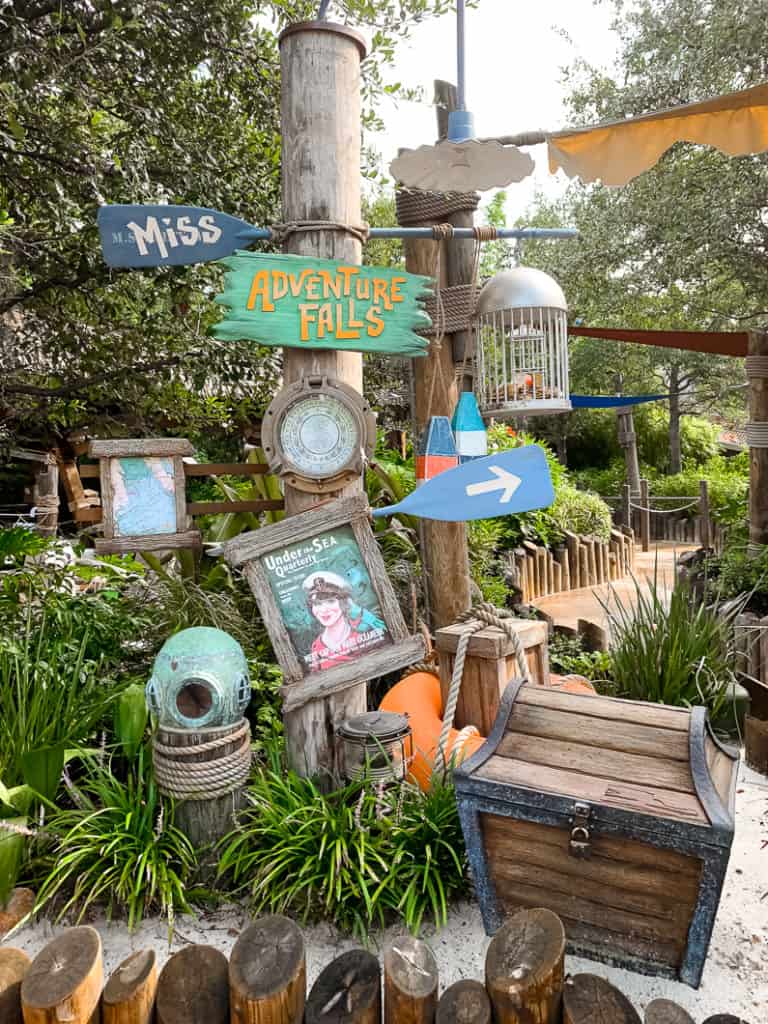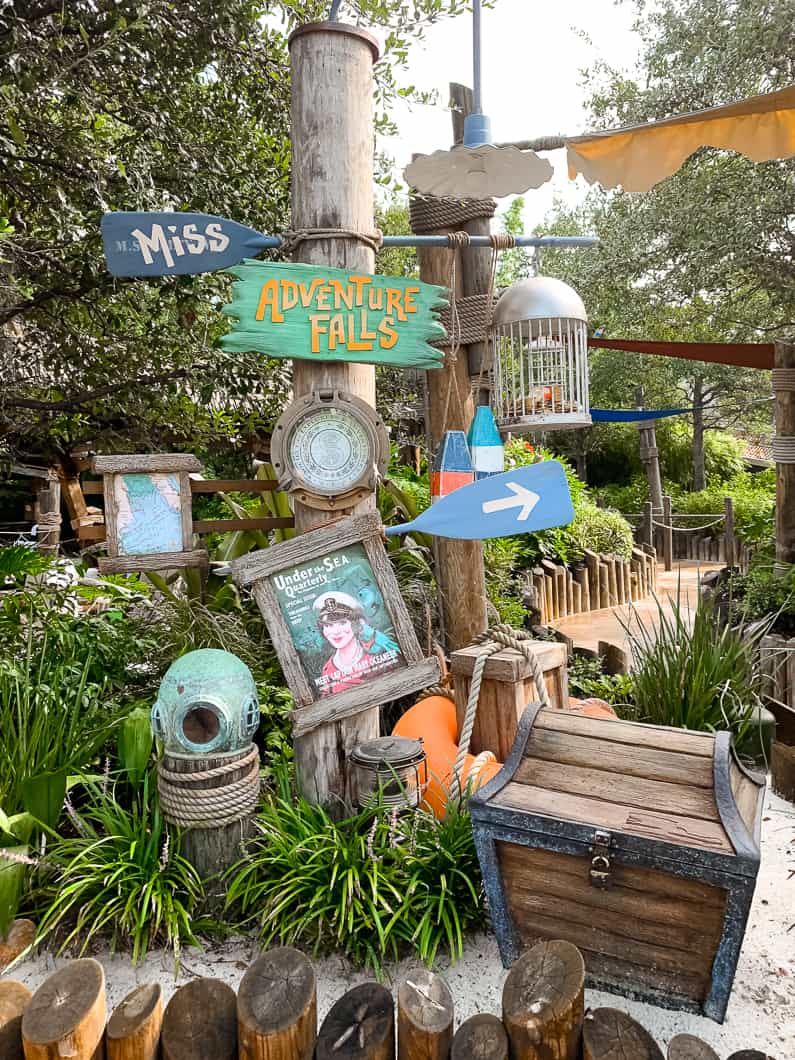 Typhoon Lagoon has seven water slide rides, one kiddie slide, one child play area, a lazy river, and a wave pool. We didn't get to them all, but I'm going to give you the highlights of the main things everyone seemed to like.
Surf lessons
Disney's Typhoon lagoon is the only waterpark in Central Florida that offers surf lessons. There are 2 surfing options: the Hang 10 private lessons for experienced surfers and Surf like a Pro group lessons for all skill levels. Al guests must be at least 8 years old to participate.
The lessons are offered on select days before the park opens.
The Typhoon Lagoon Surf Pool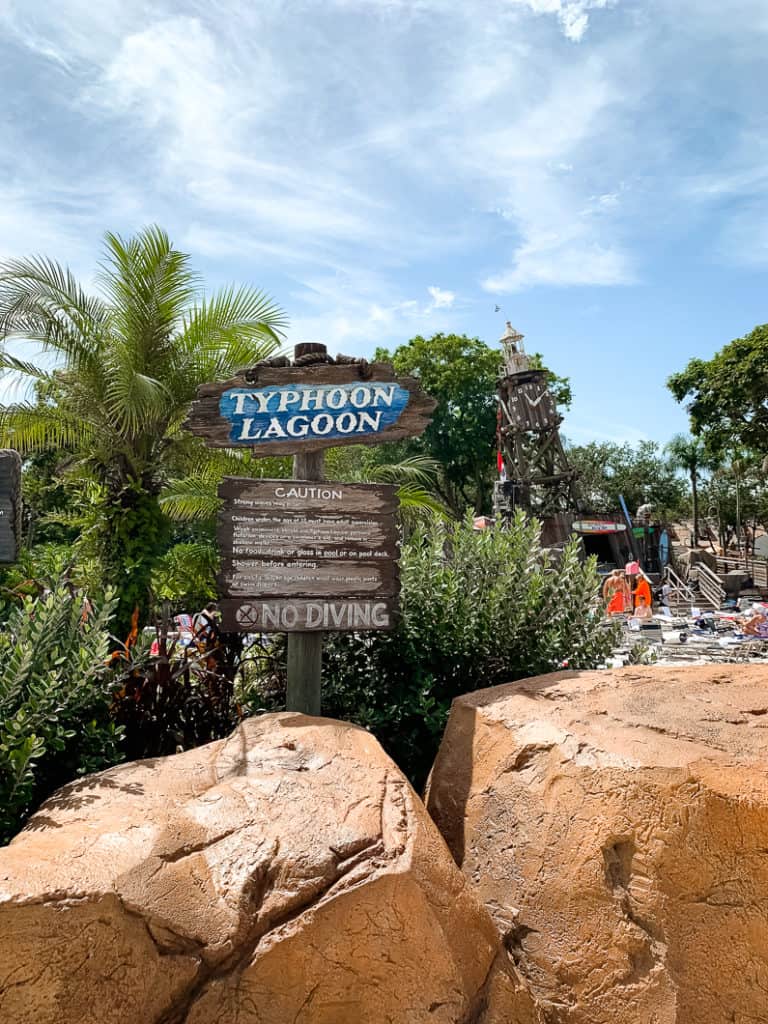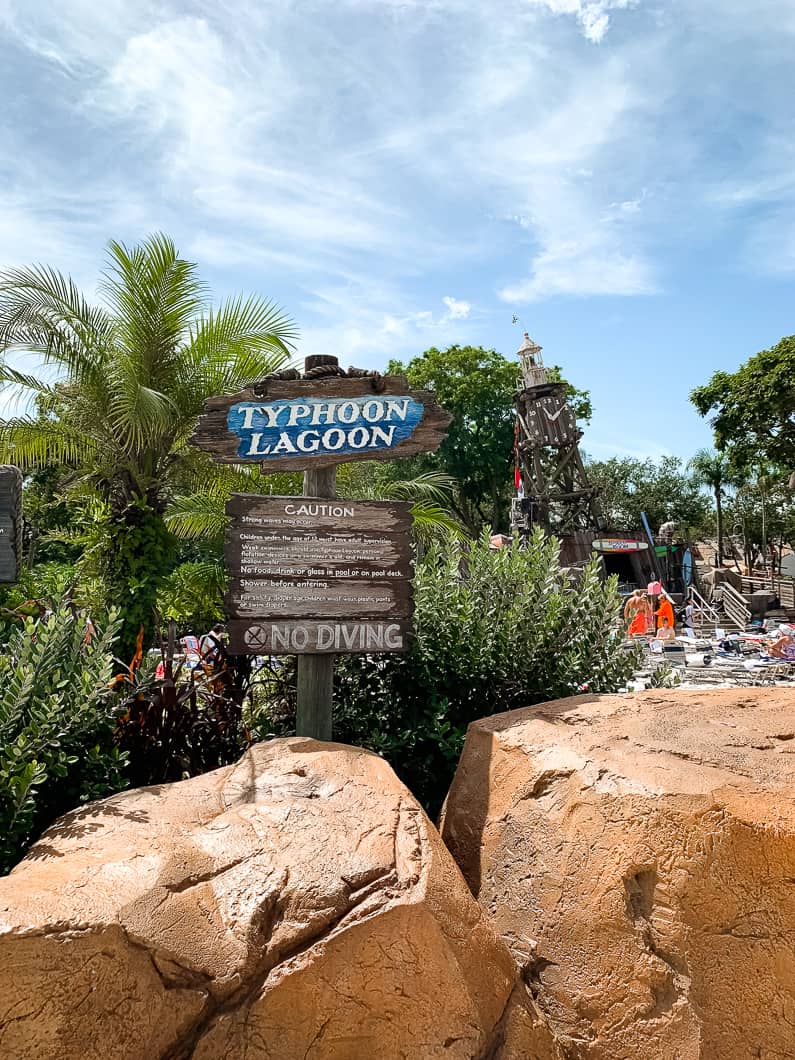 Typhoon Lagoon is one of the world's largest wave pools with SIX FOOT WAVES. Listen. My son loves a good wave/surf pool. So he ( and my husband) were obsessed with this one!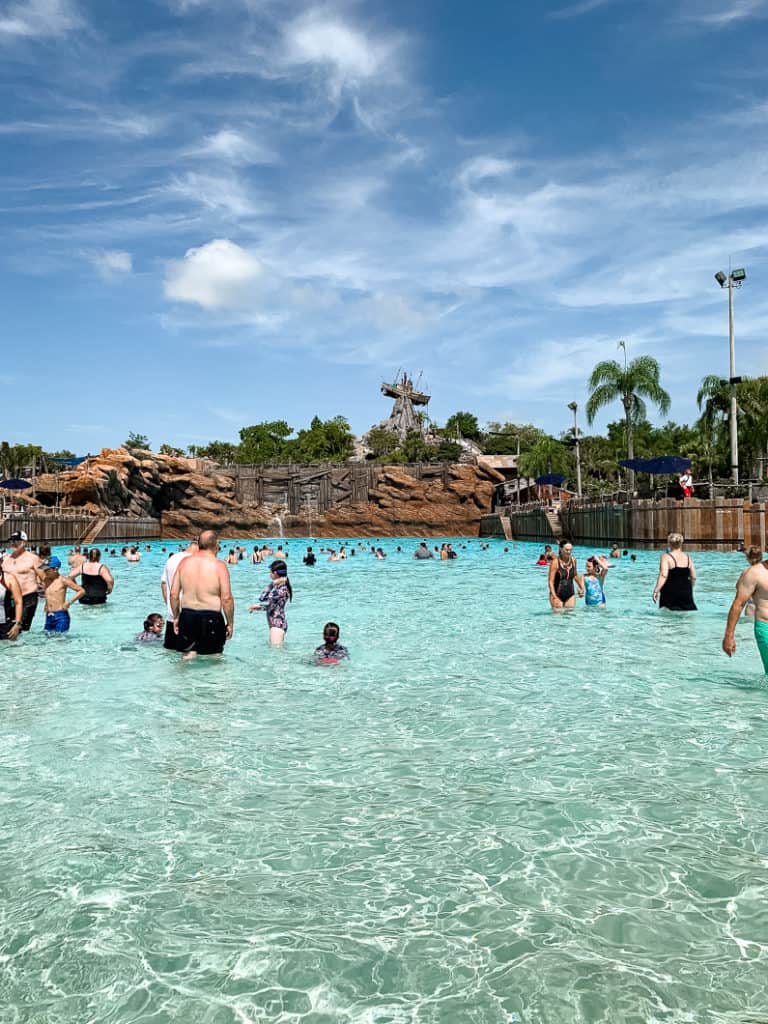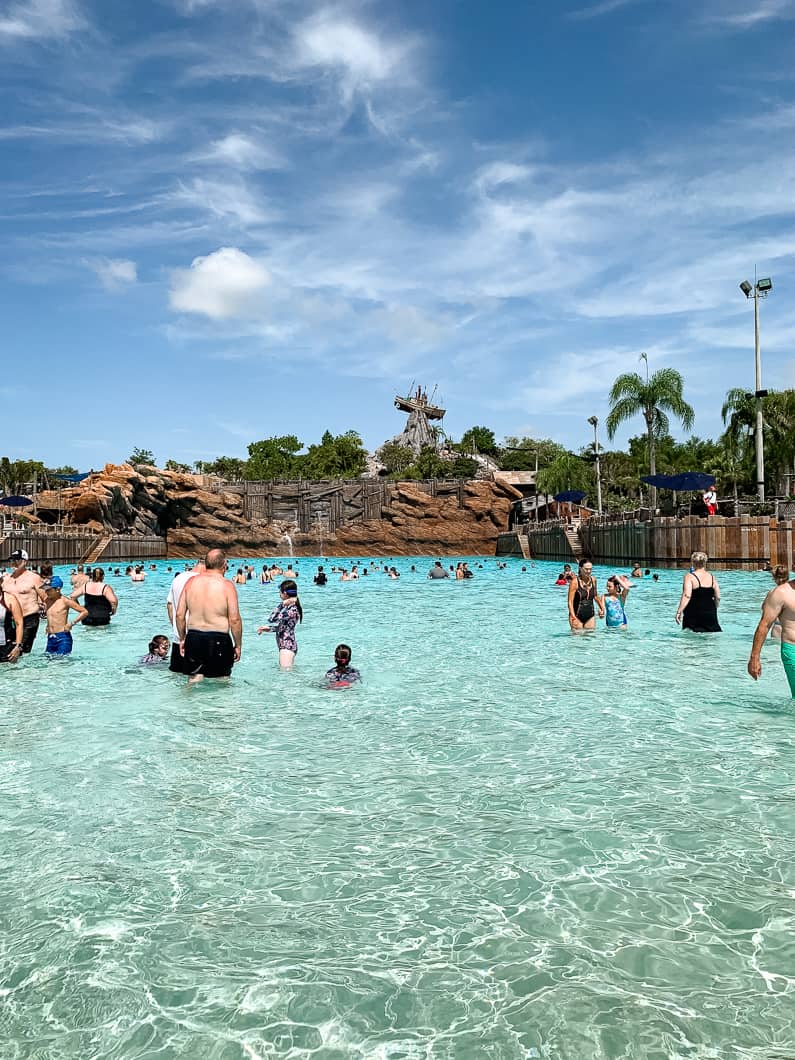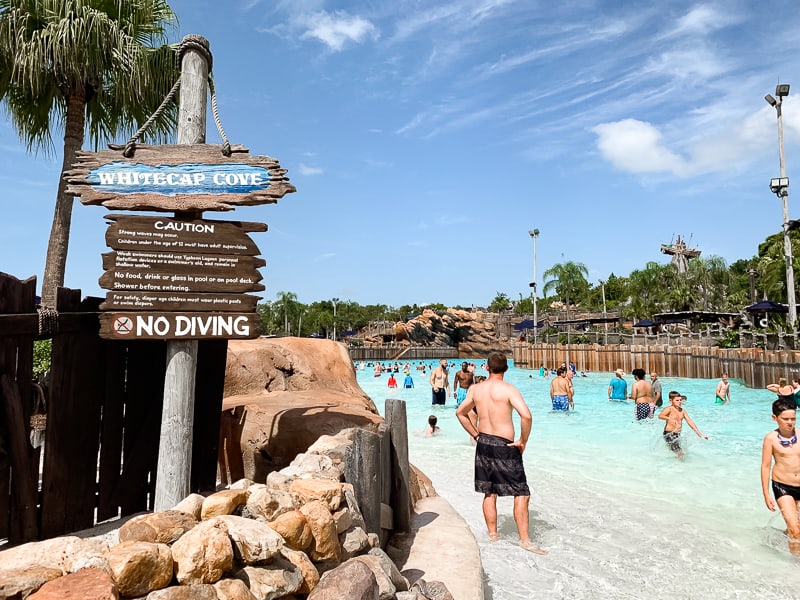 We legitimately could have stayed in it all day. The Surf pool is made to resemble a beach, so you have little areas that have small waves and shallow water for the little people and people who don't know how to swim. ( also, life jackets are provided)
Crush N' Gusher
This is a roller coaster-like attraction that takes riders aboard inflatable rafts on a twisting turning up an down adventure propelled by powerful water jets.
The Water Slides
Typhoon Lagoon has several water slides and raft rides.
Castaway Creek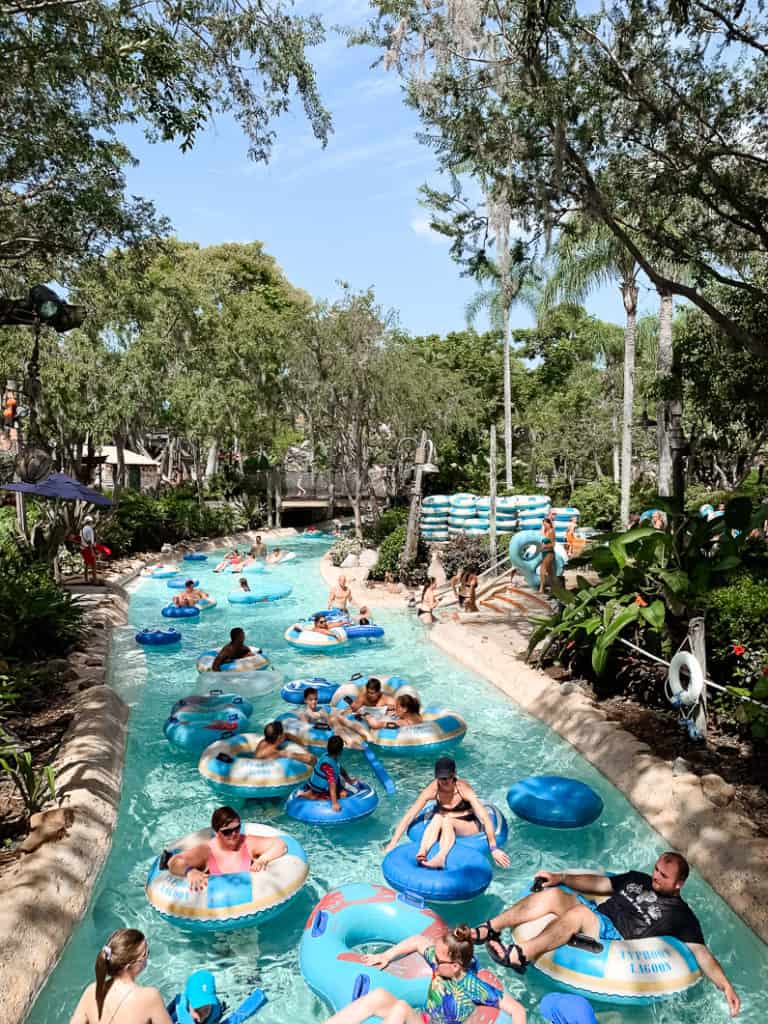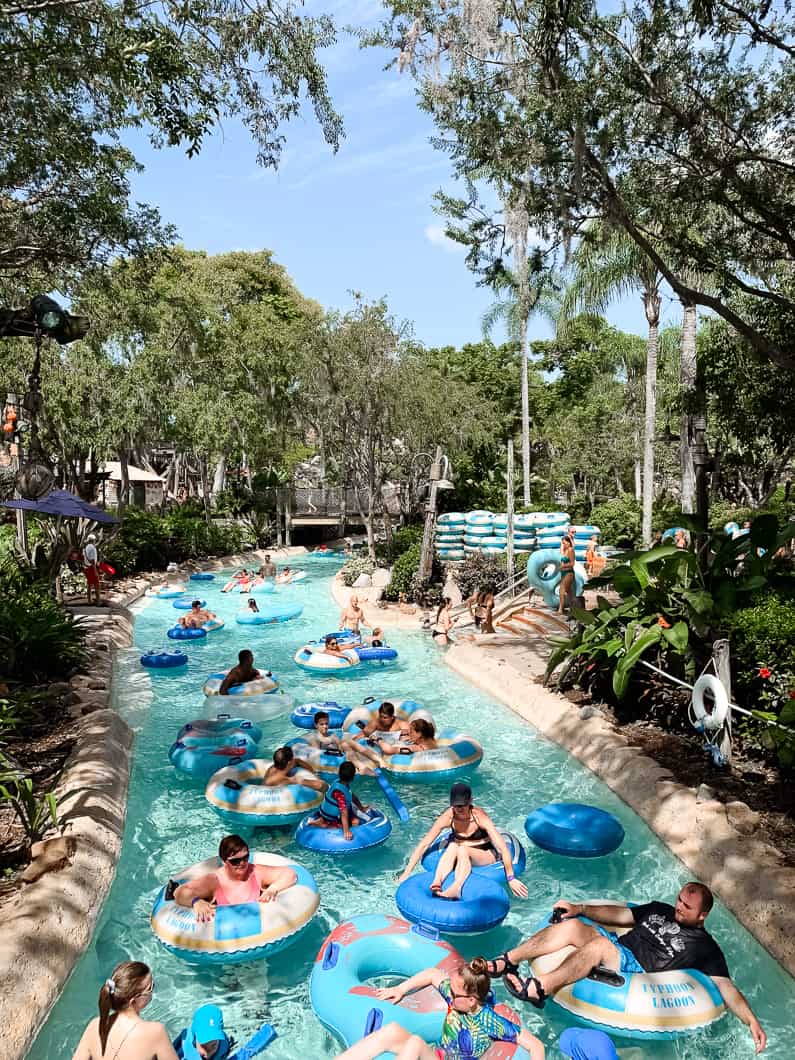 We love a good lazy river! The lazy river winds around the entire park, and it takes you through a misty rainforest area, a hidden grotto and more. It's just fun to relax and laugh.
The Storm Slides: The Rudder Buster, the Stern Burner, and the Jib Jammer.
Lying flat on their backs, riders zip down three stories of sharp twists and turns. in and out of caves through waterfalls and rock formations.
The White Water Rafting Slides: Keelhaul Falls, Mayday Falls, and Gang plank Falls.
These rafts take riders though caves and under waterfalls in inner tubes (or a family-sized craft on Gangplank Falls).
Ketchakiddee Creek
While we didn't personally go to this one, I have to mention it because I know some of you have young children. There are mini slides, fountains, mini inner tube rapids ride, water cannons and more.
What do we eat?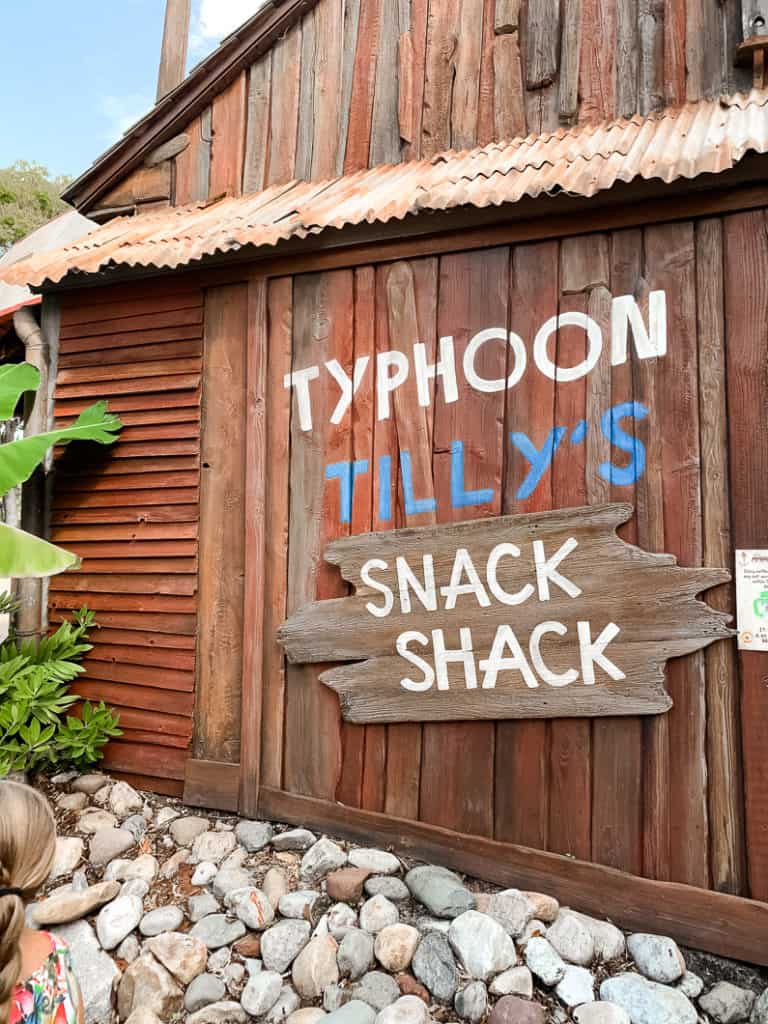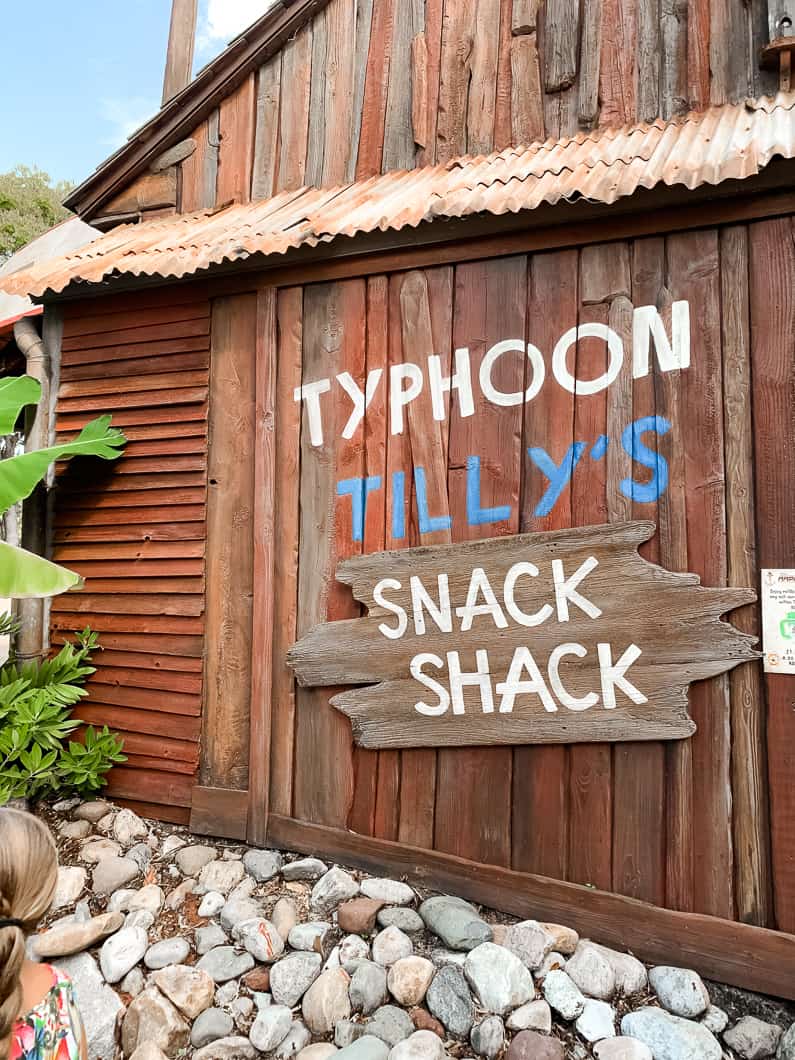 There are plenty of dining choices at Typhoon Lagoon. Altogether I counted 10. The food options are either quick-service restaurants or smaller snack stands. No table service restaurants. There are also 3 bars for if you want alcoholic beverages LOL. There are also two Joffrey's Coffee stands for those of us who need our caffeine fix.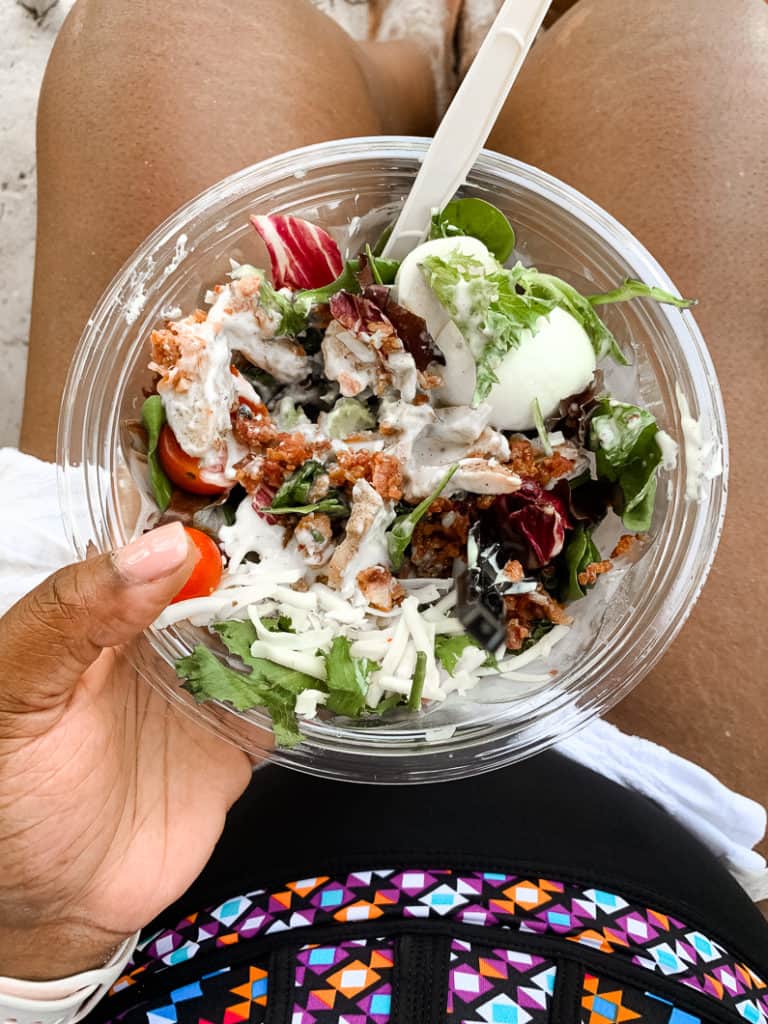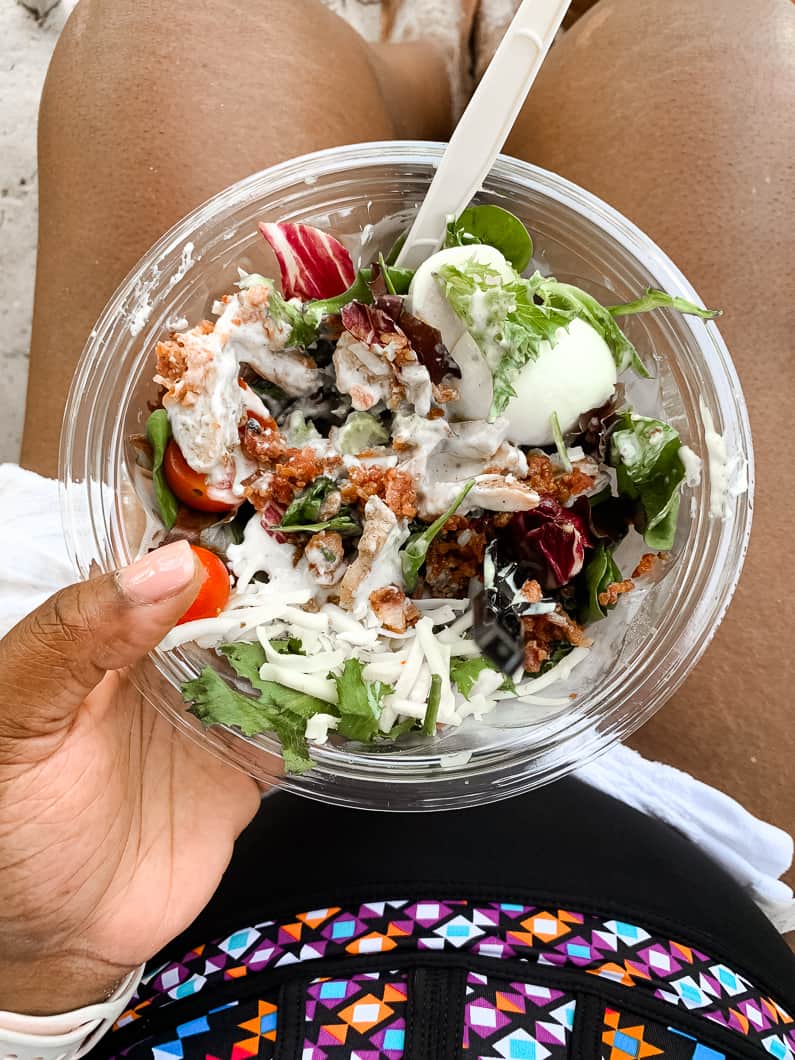 I can only really review Leaning Palms because that's where we ate. LOL.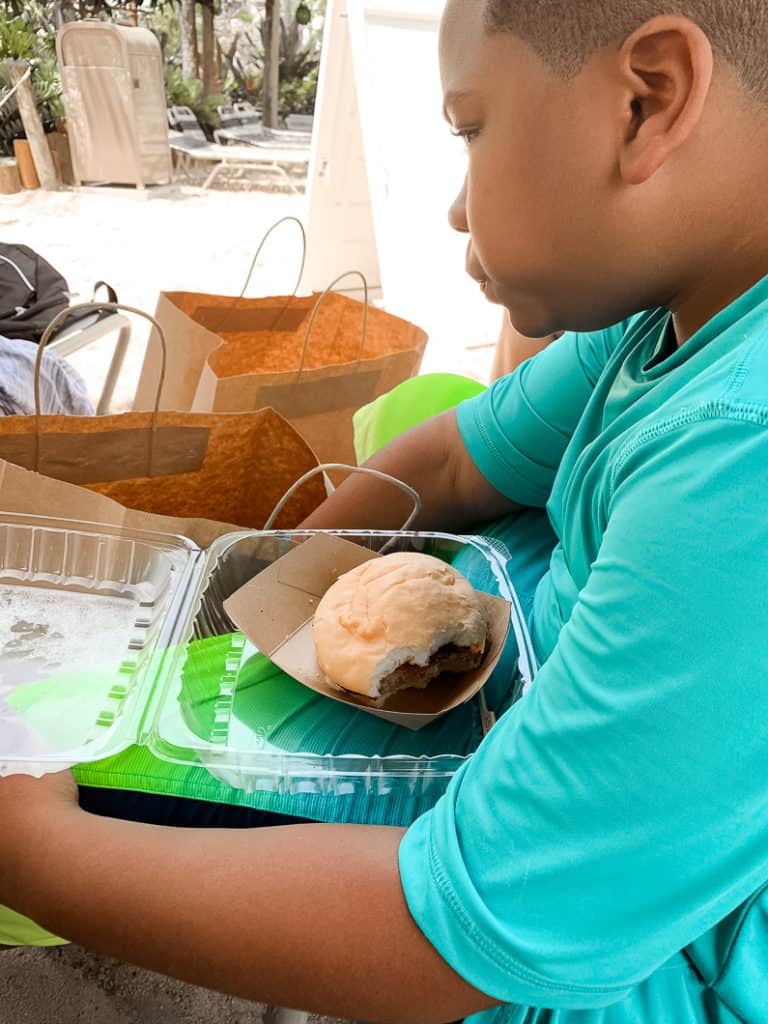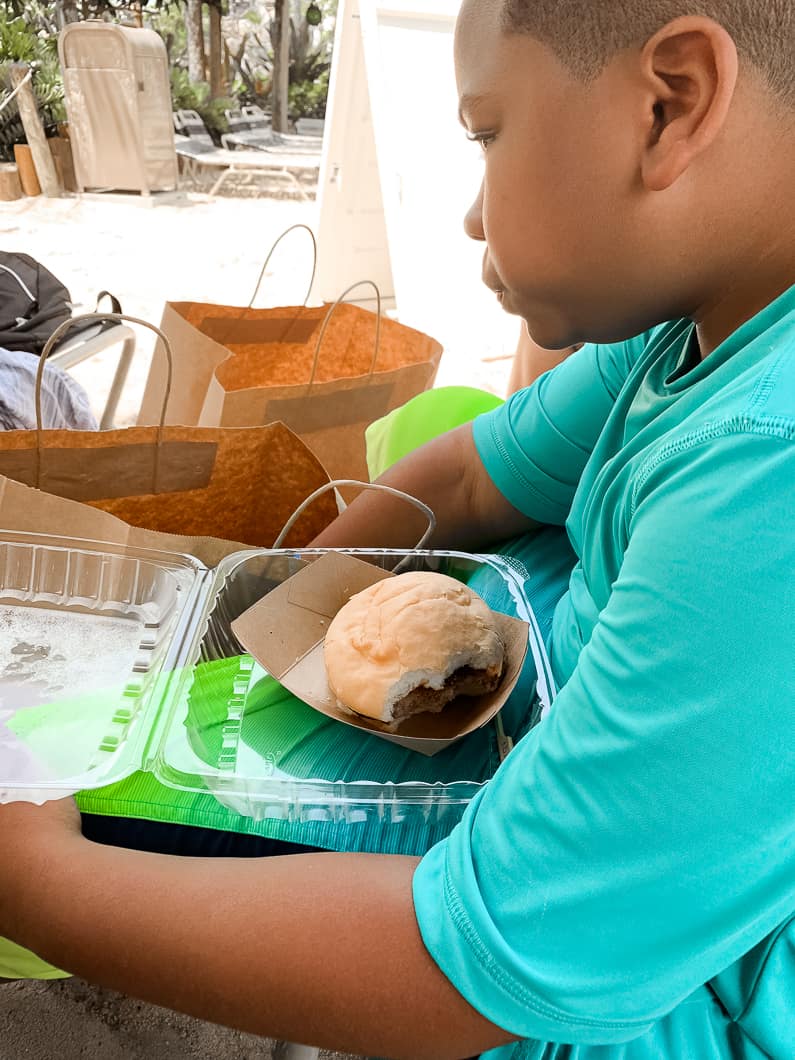 We are always looking for Gluten free options at Disney World. Pookah was able to get a Gluten Free cheeseburger at Leaning Palms, and I had a Jerk Chicken salad and CDub had a Jerk Chicken rice Bowl. The menu also has all of your regular quick service options like burgers, hot dogs, Pizza, and nuggets.
Helpful tips
Arrive early if you want a spot in the shade. Those lounge chairs disappear quickly.
Unless you have a Go Pro, you are probably not want to carry your camera around all day. Get your photos out of the way and then put it away. ( or get a waterproof cover for your phone)
Your things would probably be safe by a beach chair, but Typhoon Lagoon does have lockers for rent. So you have somewhere to store your phones, credit card sunscreen and everything else while you enjoy yourselves.
Be aware of height requirements for some rides.
FAQ I got on the Gram
What if my kid or I have food allergies, is there anything to eat?
Yes, we ate at Leaning Palms and there was an extensive allergy menu!
Can we bring our own food?
Disney will allow you to bring a small cooler, though they will check it for alcohol or glass containers (not allowed). You can also bring your refillable drink mugs from the resorts.
Do you need a full day at the park?
I say no. The park was small enough that if you get there when it opens, you could be finished, with lunch around 2 or 3.
Can you use your magic bands?
YES! They can be used to pay for food, drinks, souvenirs or anything else you might need. This is really convenient since you won't be carrying around a wallet or purse in the water park. AND the Magic Bands are waterproof!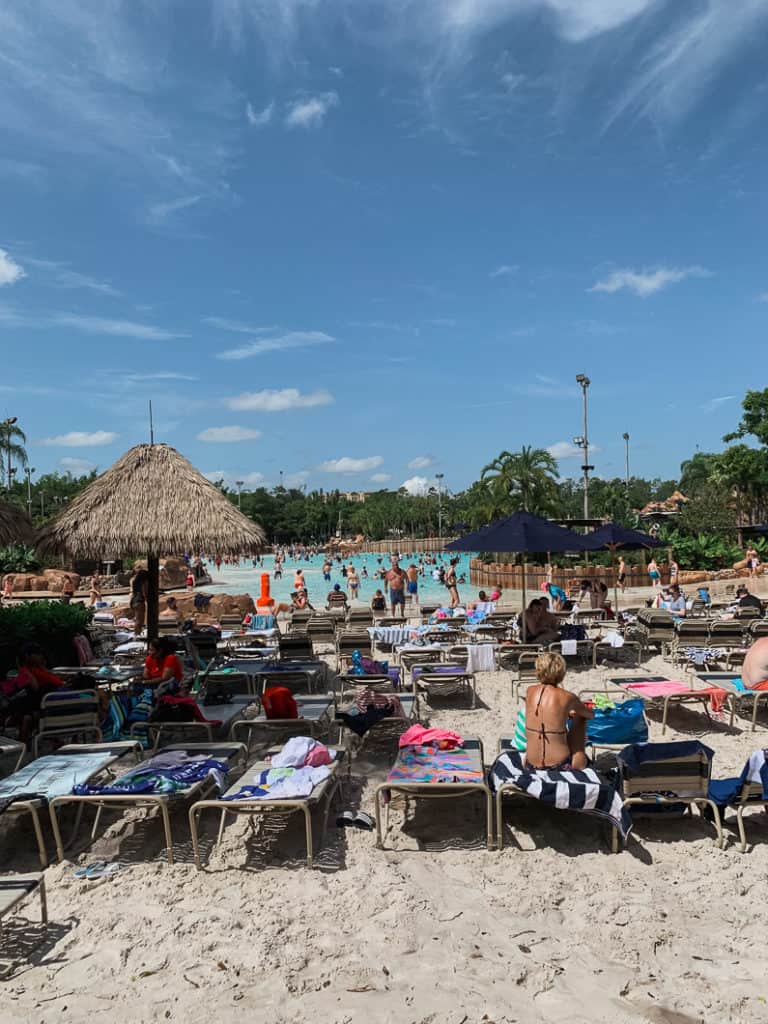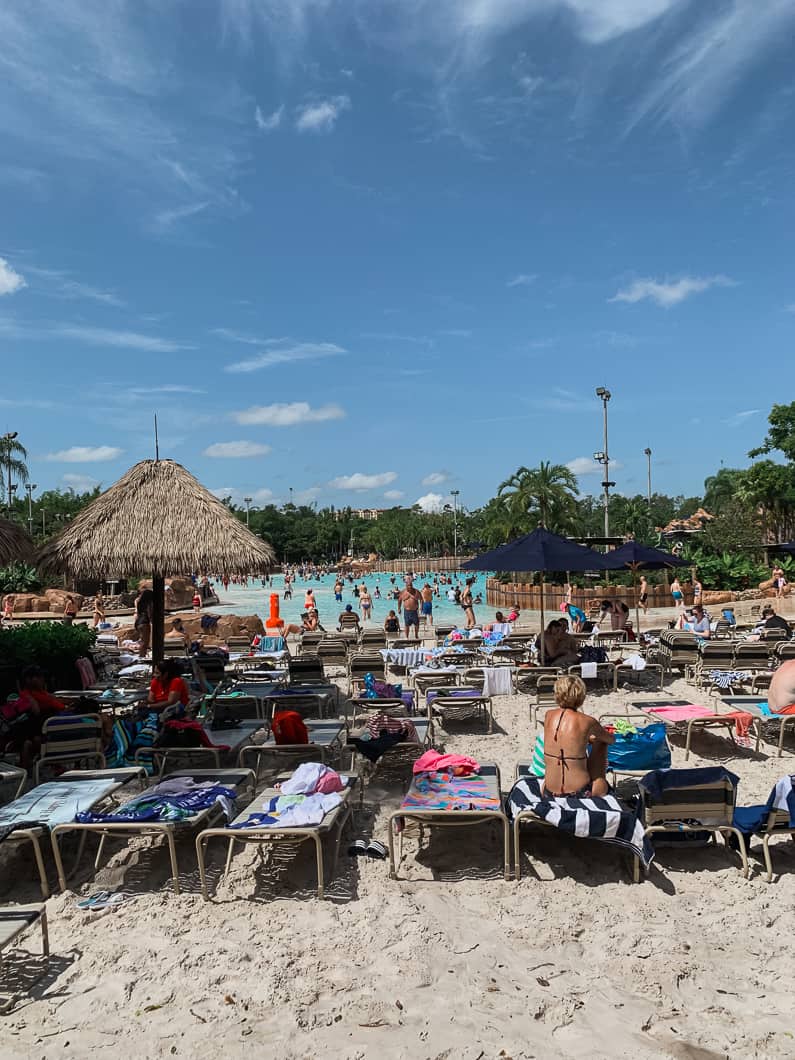 Ok, you've sold us…How much?
You can purchase 1-day tickets that are 73 .49 with tax for adults and $67.10 ages 3-9. If both water parks are open, you can come and go between them as you please. Standard one-park-per-day tickets do not include the water parks. If you buy those tickets, you'll need to purchase a separate 1-day water park ticket.
Park hopper tickets without park hopper plus also do not include the water parks.
The only tickets that include both theme parks and water parks are the tickets with the Sports Option or the Park hopper plus tickets, which allow you one visit per day to your choice of: Typhoon Lagoon, Blizzard Beach Water Park, Winter Summerland Miniature Golf Course, Fantasia Gardens Miniature Golf Course, Oak Trail Golf Course, and the ESPN Wide World of Sports Complex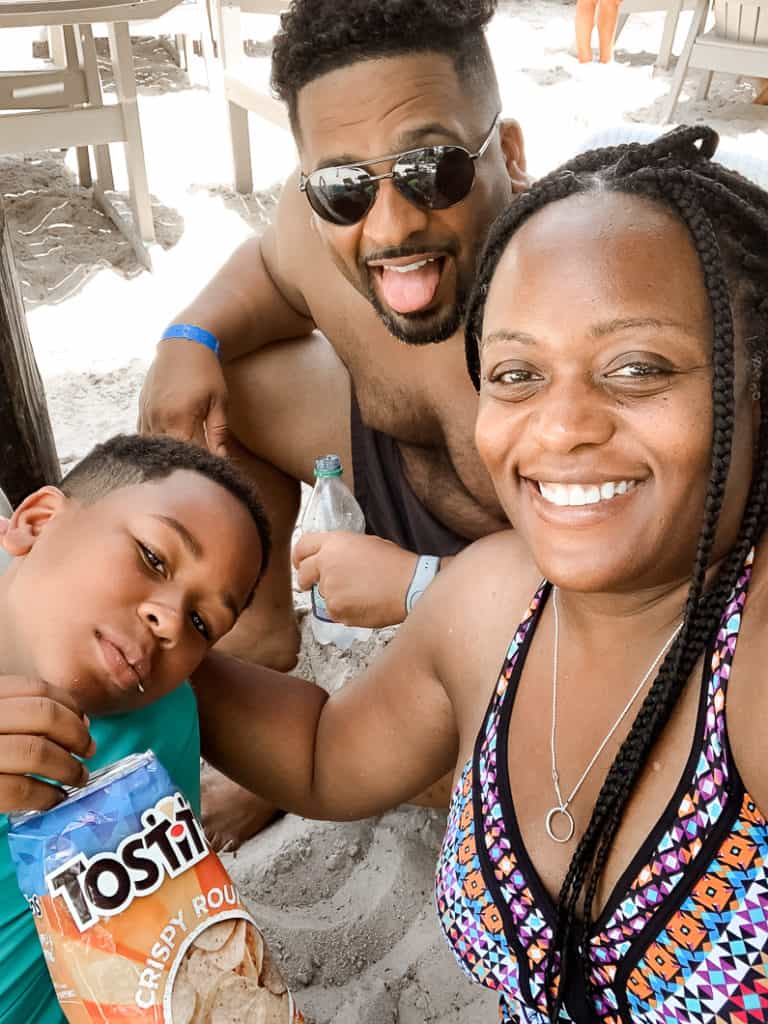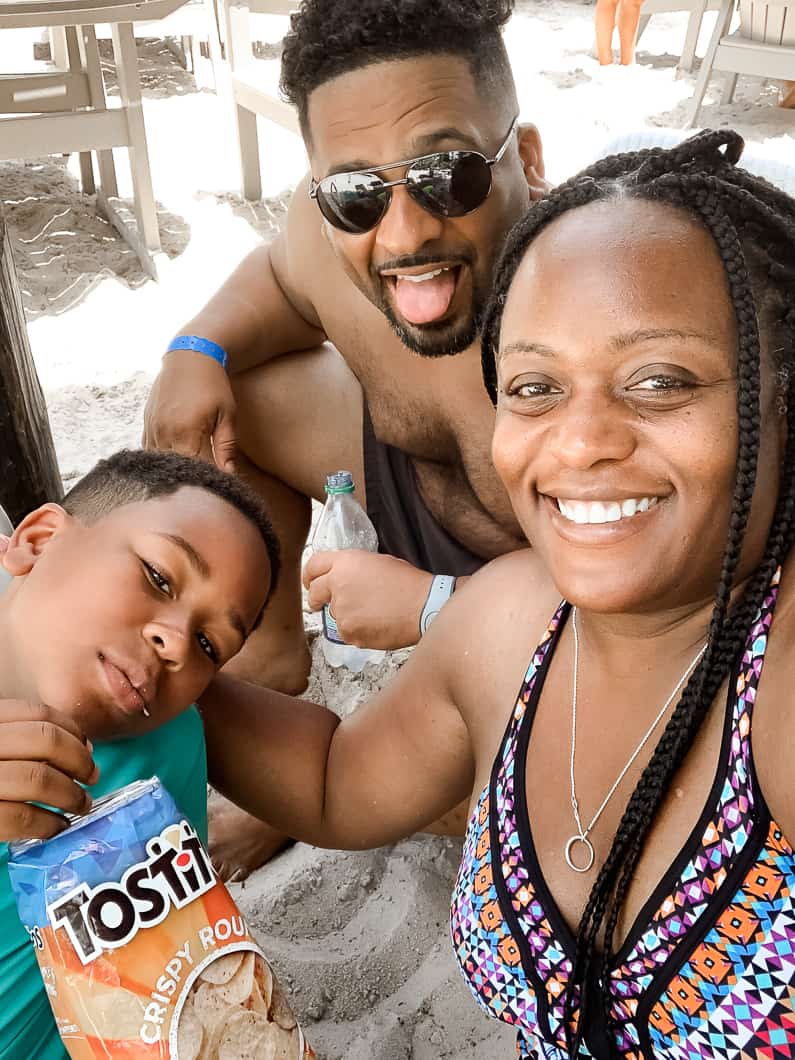 WHEW! Hopefully, this Disney Typhoon Lagoon Guide for families helps you plan to visit the next time you travel to Disney World! That's it! If you still have any questions, post them in the comments or hit me up on social media!