Looking for a different kind of side this Thanksgiving? This Baked Sweet Potato stuffed with Feta and Sundried Tomatoes is the perfect grown up Thanksgiving side!
Baked Sweet Potatoes: Baked and Stuffed with Feta and Sundried Tomatoes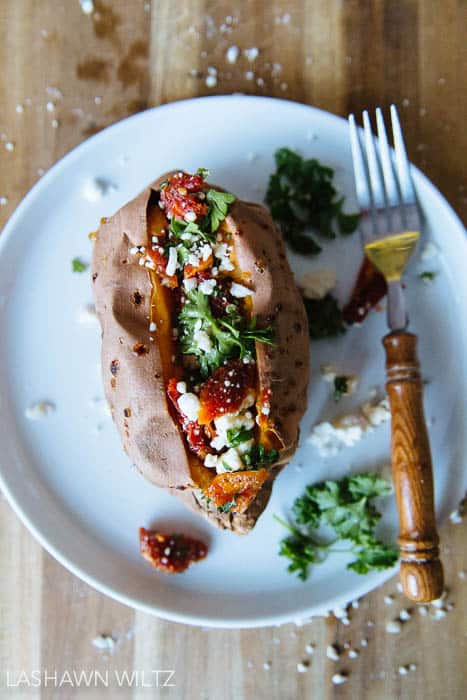 I have a confession: the thought of a sweet potato casserole topped with marshmallows makes me gag.
That's right. I said it.
There has always been that dilemma when you go to someone's house for Thanksgiving or Christmas and there it is. With a more prominent place than the turkey.
It's too sweet.
It's…got marshmallows on it.
It's not right.
Yes, I am a sweet potato snob.
If and when I do decide to eat them, most of the time, I just throw some butter on the top of a baked sweet potato and keep it moving.
But I figured you guys already knew about that. *side-eye if you don't*
But for the grown ups…those who want a sweet baked potato with a twist..I bring you…..
Baked Sweet Potatoes: Stuffed with Feta and Sundried tomatoes.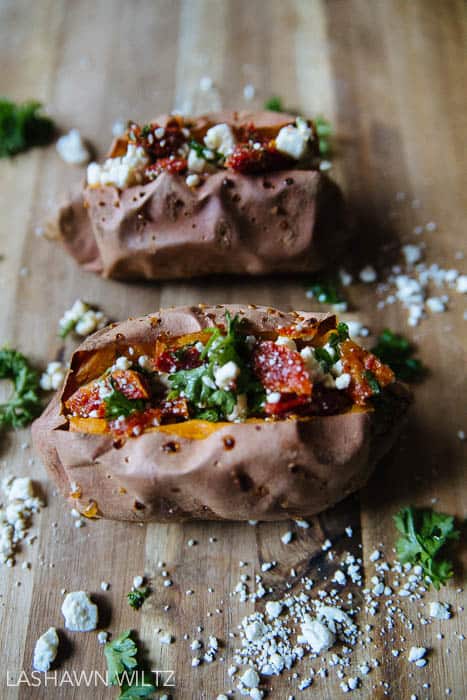 I love feta…..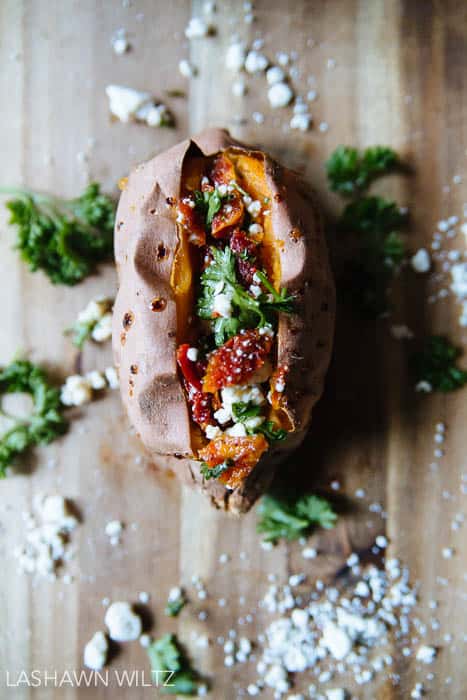 And I now have a new appreciation for sundried tomatoes. I mean guys……it was sweet with the sharp taste of the feta and the savory taste of the sundried tomatoes.
I'm drooling as I write this and I'm thinking I'm going to have this for lunch later on. Cause….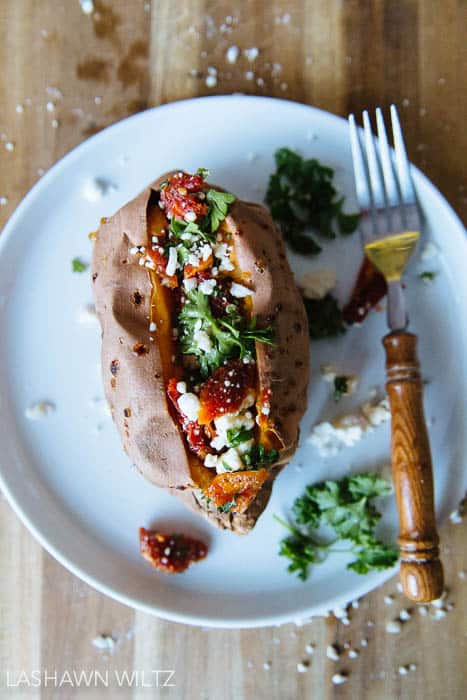 YOU HAVE TO TRY IT!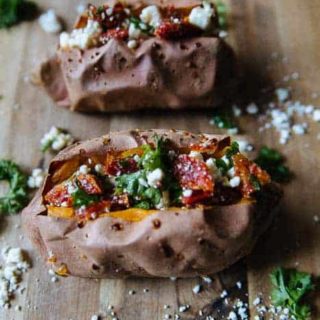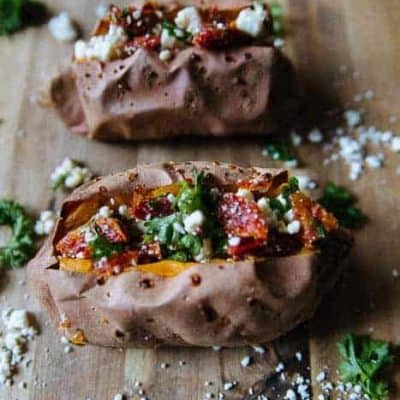 Baked Sweet Potatoes stuffed with feta and sun dried tomatoes
Yield: 2 servings

Prep Time: 10 minutes

Cook Time: 45 minutes

Total Time: 55 minutes

Tired of sweet potatoes topped with marshmallows? Try out these savory baked sweet potatoes stuffed with feta and sun dried tomatoes.
Ingredients
2 medium sweet potatoes, scrubbed clean
2 oz low fat crumbled feta cheese
1 oz sundried tomatoes ; thinly sliced
1/4 cup 1 handful chopped fresh parsley
1/2 teaspoon dried or 2 teaspoons fresh oregano; chopped
1 Tablespoon extra virgin olive oil
salt and pepper to taste.
Instructions
First, preheat your oven to 400F.
Take a fork, and pierce your sweet potatoes SEVERAL times with a fork.
Place them on a baking sheet in the oven lined with parchment paper.
Bake until the sweet potatoes are easily pierced with a knife and cooked through, about 45-60 minutes depending on size of your sweet potato.
When they are done, remove from the oven and set aside to cool.
For the topping:
Mix together remaining ingredients in a small bowl and set aside. That is all.
Slice sweet potatoes lengthwise down the center to expose cooked insides, top with your mixture and serve.
Nutrition Information:
Yield: 2 Serving Size: 1
Amount Per Serving: Calories: 288Total Fat: 14gSaturated Fat: 5gTrans Fat: 0gUnsaturated Fat: 8gCholesterol: 25mgSodium: 480mgCarbohydrates: 36gFiber: 7gSugar: 14gProtein: 9g

This post is part of a blog circle with my lovely Fab Five ladies! This month we are all talking about the Sweet Potato! Head on over to each of their blogs to find out what recipes they have come up with !
Kita is making a sweet potato casserole for one. It is for those who want to hide in their closets and indulge in their very own sweet potato casserole without making any for the rest of the family. It's the holidays so you can be a little bah humbug and treat yourself.
Bernetta is making Baked Garlic Parmesan Sweet Potato Fries! Who said you couldn't have fries because you are eating healthy now? This version allows you to eat good, get a french fry fix and enjoy all the health benefits that a Sweet Potato brings. You can make these fries sweet or spicy and it will still taste great.
MJ is making Savory Sweet Potato Grits Love grits? Love sweet potato? Combine them for this delicious taste of fall and Southern eats. Enjoy with country ham, green onions and a splash of hot sauce.
Mimi is turning sweet potatoes into your favorite side dish with a few herbs and olive oil.
Enjoy!!!