Looking for a quick tortilla soup to make on a chilly weeknight? Try this easy low carb chicken tortilla soup right in the crock pot or insta pot!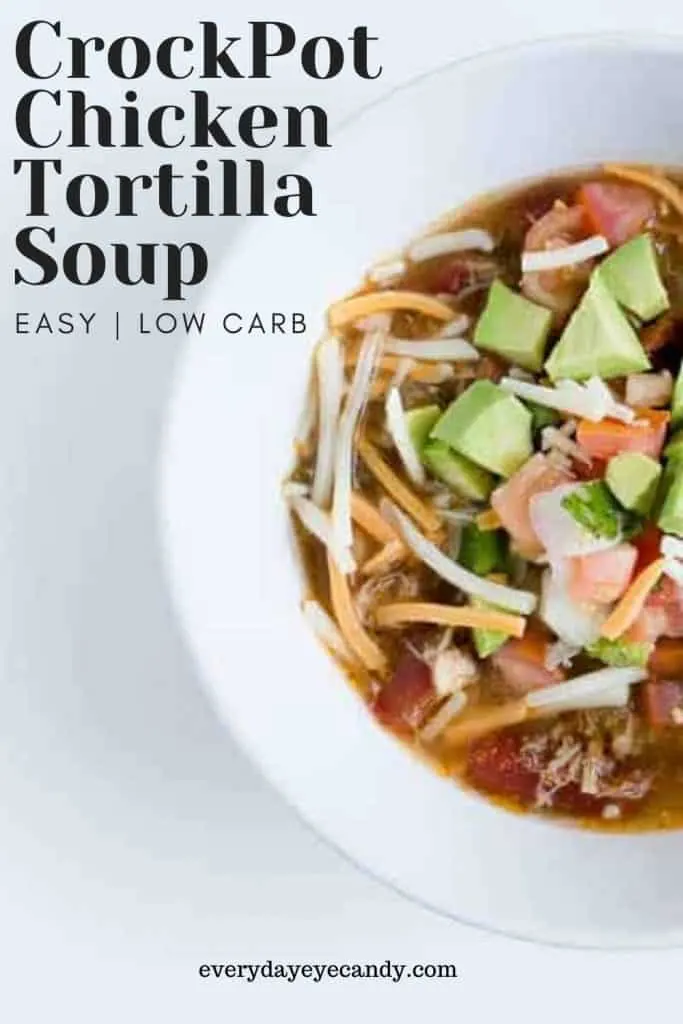 I love Chicken Tortilla soup. It's one of my most favorite things. But I hate black beans that seem to be in every single recipe ( i know, kill me) and it always takes me so long to make a tortilla soup. I love soup. But I hate it out the can.
C-Dub and I were doing whole 30 last month ( a big fail) and I wanted soup. I NEEDED Chicken tortilla soup…without the tortillas and without a whole lot of other things that make Whole 30 Whole 30. And my low carb chicken tortilla soup was born.
I literally threw things into the pot and made this soup.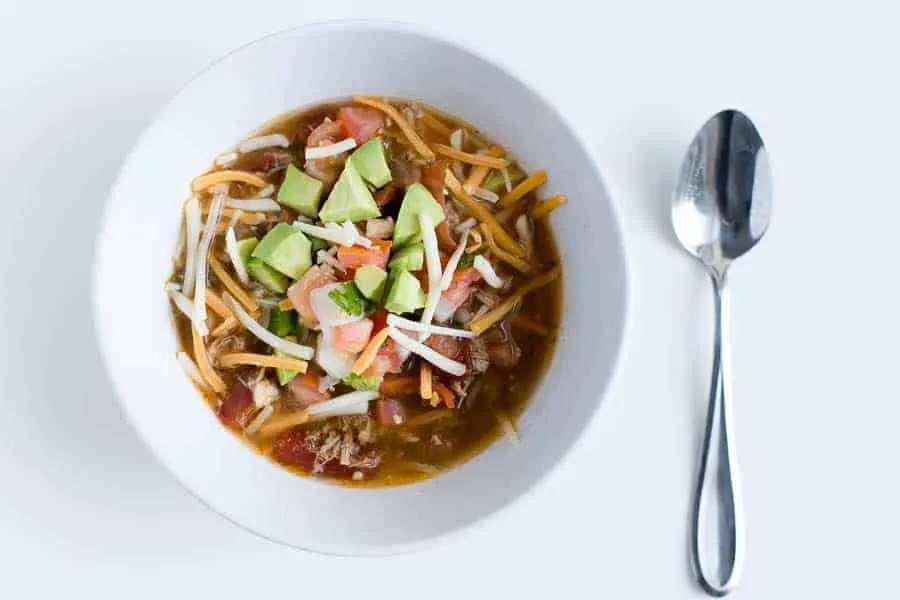 IT WAS SO GOOD.
The good thing about this soup is that even though it's whole 30 compliant and Paelo , and gluten free it's GOOD and we are still eating it.
Oh and did I forget to mention that I made this in the crockpot on a weeknight?
YASSSS. ALL the YAAASSES.
This low carb chicken tortilla soup recipe is so easy to make you literally dump all the ingredients in the crockpot and set it based on how much time you have. For me that meant since I remembered I needed to cook dinner at 1, it went in for 4 hours on high.
By the time Pookah got done with homework and Cdub got home from work, dinner was ready!
PERFECT.
Of course, I'm sharing the recipe!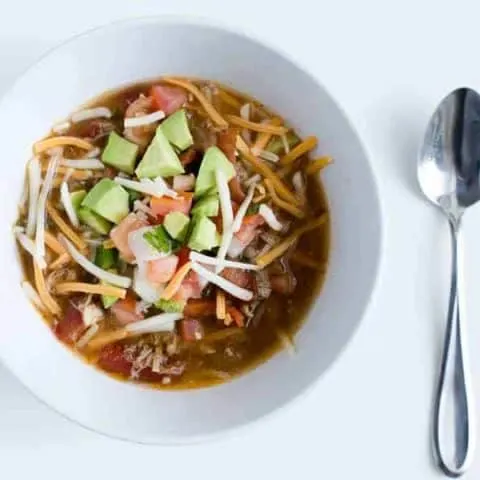 Low Carb Chicken Tortilla Soup
Total Time:
4 hours
10 minutes
Ingredients
1.5 lbs of boneless skinless chicken thighs
1 can of fire roasted diced tomatoes
1 bell pepper, thinly sliced
1 onion thinly sliced
3 cloves of garlic
1 Tbsp Cumin
1 Tsp Oregano
1/2 tsp of smoked paprika
1/2 tsp of sea salt
1/2 tsp of ground pepper
2 cups of Chicken broth
1/2 cup of water
Instructions
Place all of the ingredients in the crockpot in the order above.
Cook on low 8 hours, or high 4 hours in the crock pot. ( or if you have one, 20 minutes in the Insta Pot on manual settings.
Once done, shred chicken in the crockpot.
Garnish with Monterey Jack and Cheddar Cheese avocado, pico de gallo, cilantro or even tortilla chips,
Enjoy!
Want other quick low carb recipes?