So last week, I got a spiralizer and made this Zucchini Noodles and Shrimp Stir Fry Recipe.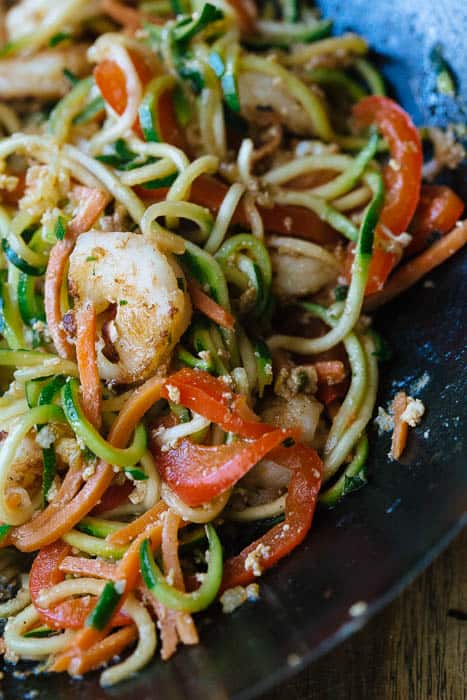 *this post contains affiliate links. Thank you for supporting Everyday Eyeycandy***
But wait, let me start at the beginning…
When you are trying to eat healthy and do most of your cooking at home, sooner or later you run out of ideas for healthy meals that you want to eat.  And then you end up buying fried chicken from Publix on a Wednesday night because  you didn't plan well and dang it, you are hungry.  
So confession: I'm doing Weight Watchers. I didn't want to give up the money for it at first because in my mind, I should have been able to use one of those nifty apps like  My Fitness Pal for free and everything.
But…free doesn't motivate me. #keepingitreal.  
So  last month, I lost  9.4 pounds staying within my points.  But chicken breast gets boring for dinner after a while, no matter how many different ways there are to make it.   
So I was trolling Pinterest last week for ideas and trying to meal plan when I came across this recipe. I was fascinated by the idea that they were using Zucchini for noodles. I investigated further and discovered there was a whole community out there making zucchini noodles. But…I hate zucchini I said to myself. 
So I got myself a spiralizer and proceeded to experiment. ..and experiment…and experiment. And Thursday night, I hit the jackpot with this Zucchini Noodles and Shrimp Stir Fry.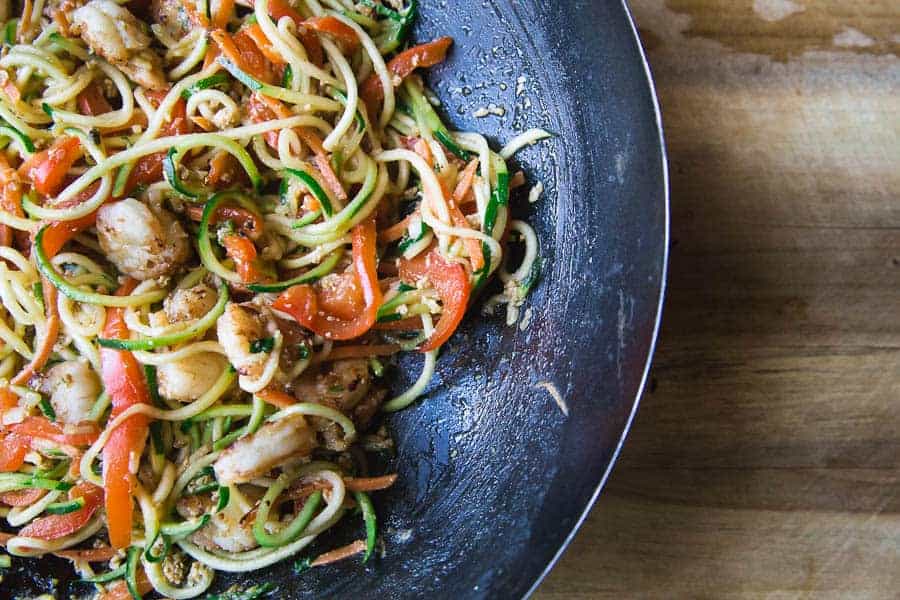 I had to make it again Friday for lunch just to make sure it was actually good. And that it could be re-created.  I changed a few things after the first attempt and now I have this one written down.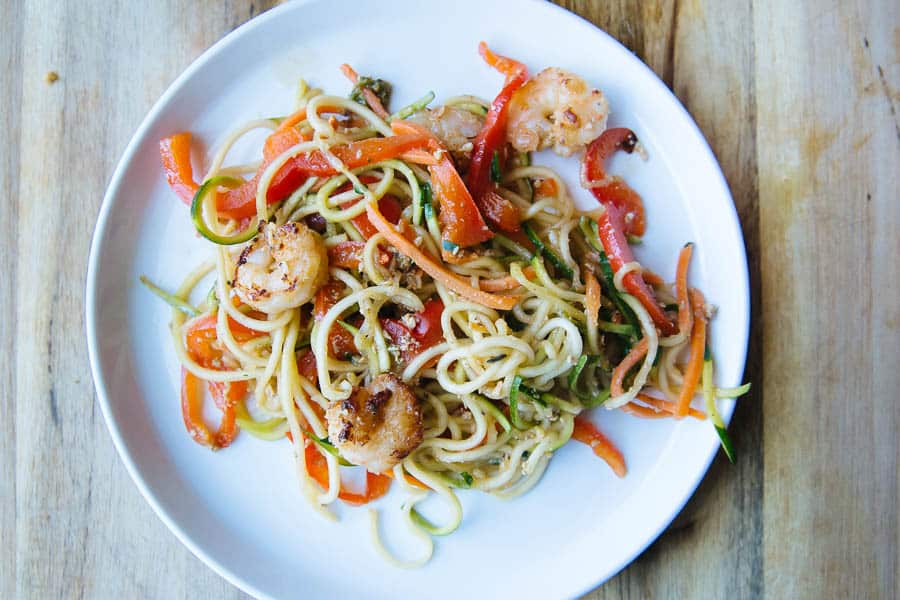 Listen, even C-Dub ate it and actually TOLD me, WITHOUT prompting, that it was good.
Houston, we have a winner.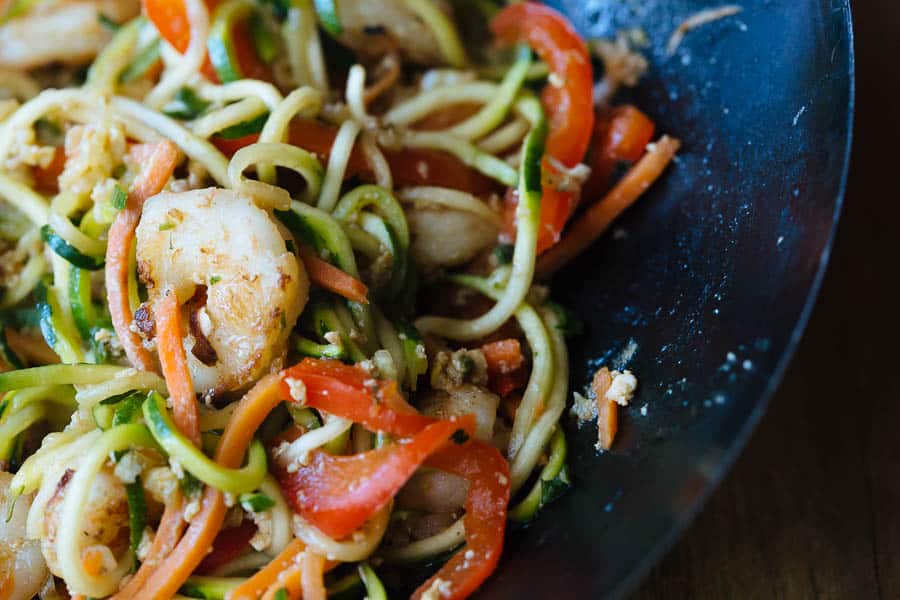 Zucchini Noodles and Shrimp Stir Fry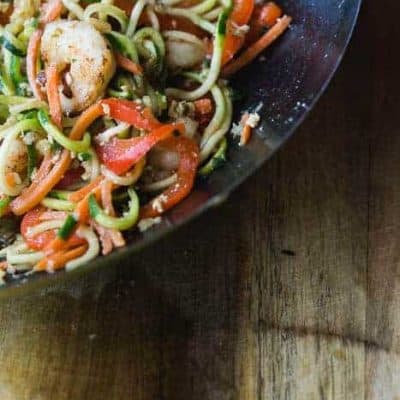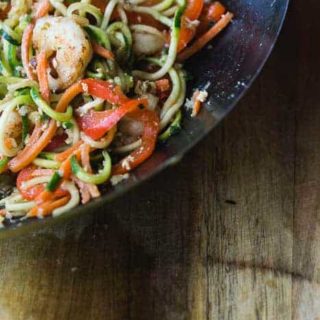 Zucchini Noodles and Shrimp Stir Fry
This healthy zucchini noodle and shrimp stir fry is easy to make and so good.
Ingredients
4 tablespoons of Grapeseed Oil.
2 tablespoons of Soy Sauce
1 teaspoon of rice vinegar
2 teaspoons of oyster sauce
1/2 teaspoon of sugar
2 Large zucchini
1/2 pound peeled and de-veined shrimp
3 large cloves minced garlic
1 red bell pepper sliced into thin strips
1 large carrot, sliced into thin strips
4 green onions, diced
1 large egg
Instructions
Cut zucchini into spiraled strips using a Spiralizer.( I used this one!)
Combine rice vinegar, oyster sauce, soy sauce and sugar together in a bowl and put aside for later.
Heat a large pan on medium high heat.
Add 2 Tablespoons of Grapeseed oil.
Add zucchini to pan, and cook 2-3 minutes or until noodles are tender.
Remove from pan and set aside for later.
Wipe pan clean.
Add the last 2 tablespoons of oil and garlic, stirring for another 20 secs.
Add shrimp and cook until shrimp is cooked through.
Remove shrimp and set to the side.
Add peppers and onions and stir until tender they are tender.
Add egg to pan and scramble with veggies until egg is done.
Add Zucchini noodles and shrimp back, top with sauce and stir until heated through.
EAT IT!!!!