It's the most wonderful, delicious time of year! I've been researching Gluten Free Christmas Cookie Recipes for years. It started when I found out that Pookah was allergic to wheat and I searched the internet for ideas so that my 1 year old could have a cookie at Christmas.
10 years ago, this was hard! But now, I've got lots of Gluten Free Recipes to share (like this Gluten Free Gingerbread Cookie Recipe)
25 Gluten Free Christmas Cookie Recipes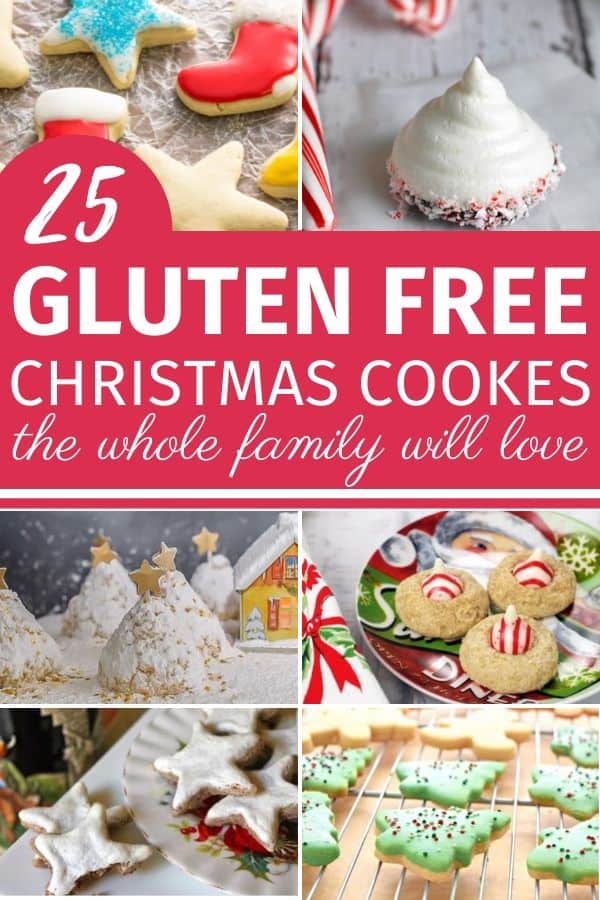 ( this post contains affiliate links. See my disclosure policy here)
Frequently Asked Questions about Gluten Free Cookies and baking
I get a lot of questions about how to make gluten-free cookies and what to do afterward, so I'm adding in a few FAQ before we get to our recipes!
What do you need in your pantry for Gluten Free Cookies?
I stock up on few gluten free staples in my pantry for baking season.
Coconut Sugar
Almond Flour
Coconut Flour
Oat Flour
Coconut Oil
Butter
Baking Powder
Baking Soda
Salt
What do you need for baking Gluten Free Cookies?
After You've stocked your pantry, I recommend you have the following items on hand for your Gluten Free Baking this holiday season
Parchment Paper
Rolling Pin
Measuring Cups
Measuring Spoons
Electric Hand Mixer
Small and Large Mixing Bowls
Wooden Spoon
How do you store Gluten Free Cookies?
All of the recipes I'm about to share are easy to store and last about 2-3 weeks at room temperature as long as they are stored in an airtight container.
You can also Freeze cookies if you bake in advance. I like to put them in freezer zip lock bags. They will keep for about a month frozen. When you are ready to eat them, thawing is easy!
Just let them sit on the counter at room temperature until completely thawed.
Then enjoy with a nice glass of milk!
So without further ado, here are 25 Gluten Free Christmas Cookie Recipes for you to enjoy this holiday season!