If you love granola, try this homemade gluten free maple pecan granola. This recipe is easy and perfect to make at home in 20 minutes!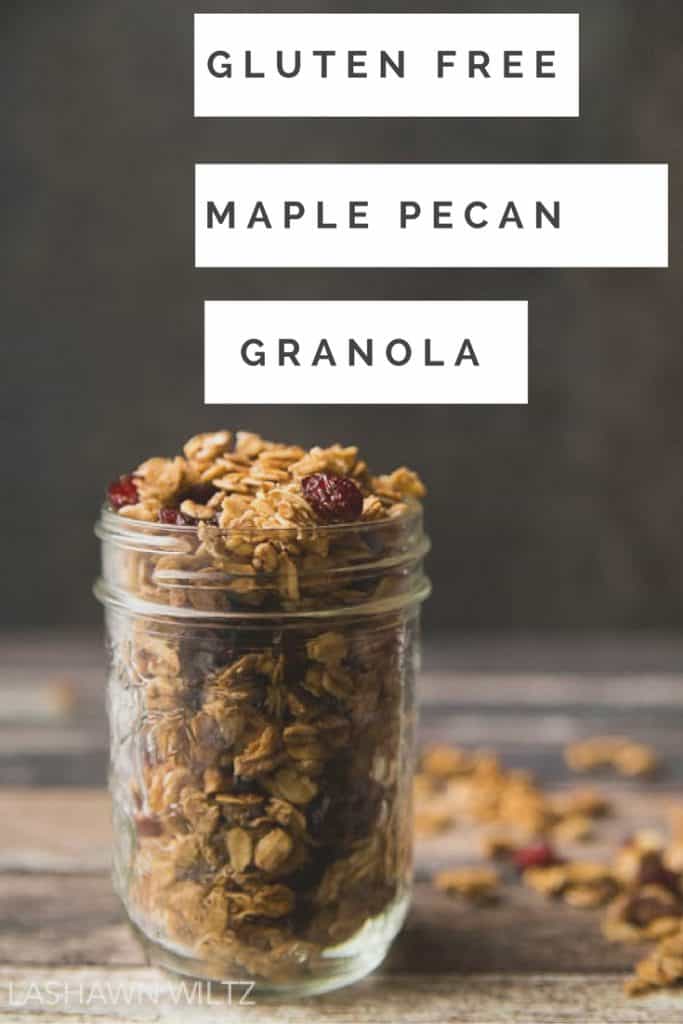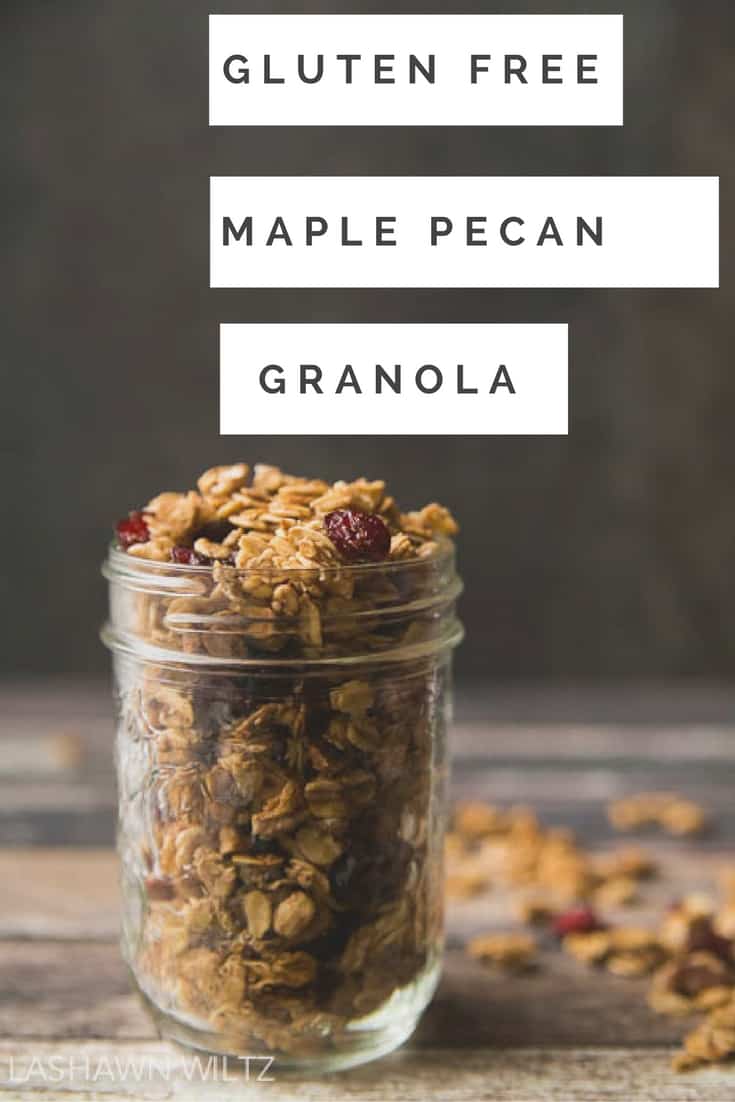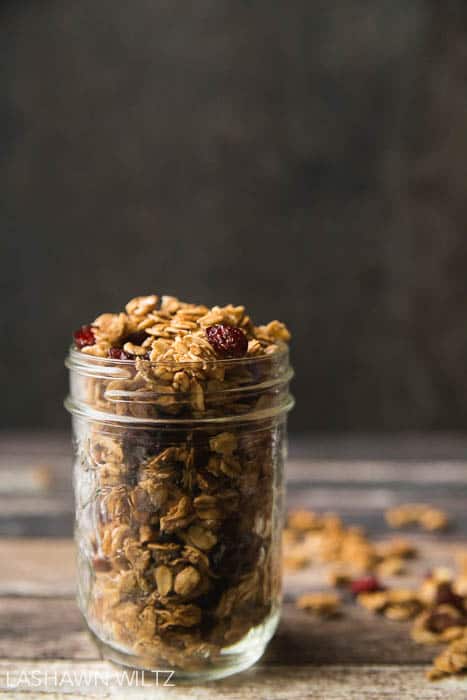 It rained again. On Sunday. The whole weekend really. I'm so over it. SO OVER IT.
So, stuck in the house on Sunday morning because I REFUSED to go grocery shopping in the wet, I needed breakfast.
Milk? No….
Eggs? No…
Pancakes…enough for Pookah….
So I rummaged through my pantry and made one of my favorite things: granola.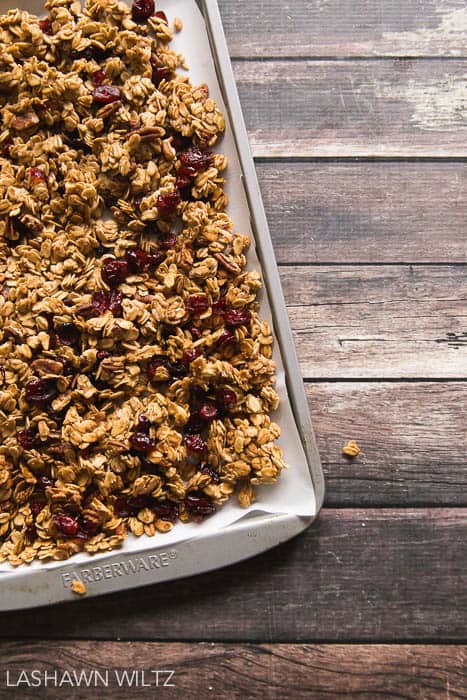 And not just any granola, I made this Gluten Free Maple Pecan Granola. And added Cranberries. Cause tis the season for them after all…
The thing I love the most about Granola is that it keeps. I can make a batch Sunday and eat on it all week. I put it over yogurt, I eat it with milk, I grab handfuls of it as I walk by the jar during the day.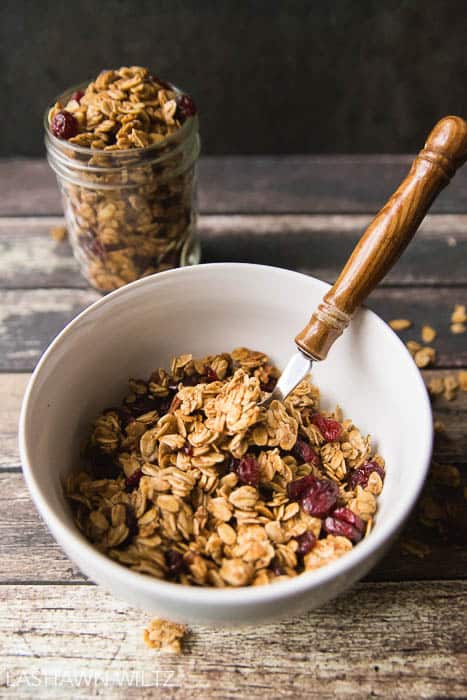 It's just so easy to make! So of course, I'm sharing my recipe with you this Monday morning ( and it's STILL RAINING BY THE WAY).
Because sharing is caring!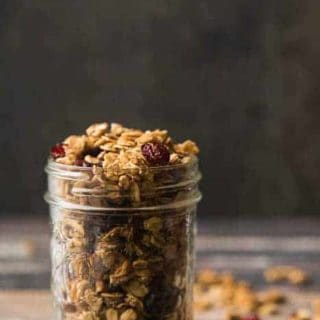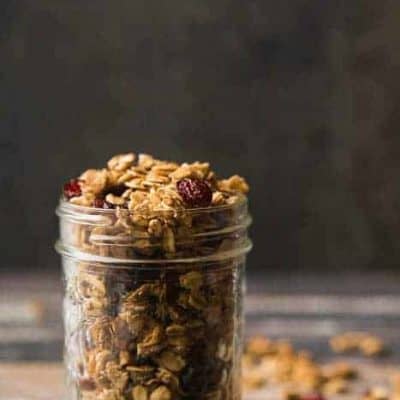 Gluten Free Maple Pecan Granola with Cranberries
Ingredients
2 cups of Gluten Free Rolled Oats
1/2 cup nuts/seeds, I used Pecans with this recipe
1/2 tbsp cinnamon
Dash of sea salt
2 Tablespoons of coconut oil
2 Tablespoons of honey
1 1/2 tbsp pure maple syrup
1 tsp vanilla extract
1/2 cup cranberries
Instructions
Preheat oven to 325
Line baking sheet with parchment paper
In a large bowl combine oats, nuts, cinnamon, and a dash of salt
In a pan on the stove combine the coconut oil, honey, vanilla extract, pure maple syrup, and bring to a boil
Once boiling, pour over mixture in the bowl of oats and mix well
Pour onto baking sheet and bake at 325
After 10 minutes, stir.
Baked for another 5 minutes, add cranberries
Bake for another 5 minutes and then take out to cool.
Let cool, and store in air-tight container.
ENJOY!
Enjoy!