In my quest to get my son to even LIKE brownies so that I can justify baking more and more, I've been experimenting with trying to make the perfect gluten-free Brownie recipe. . He usually turns up his nose (the horror!!!) But I saw him eating one of those caramel-filled chocolate Ghirardelli squares one day and that sparked an idea: I could make gluten free salted caramel brownies.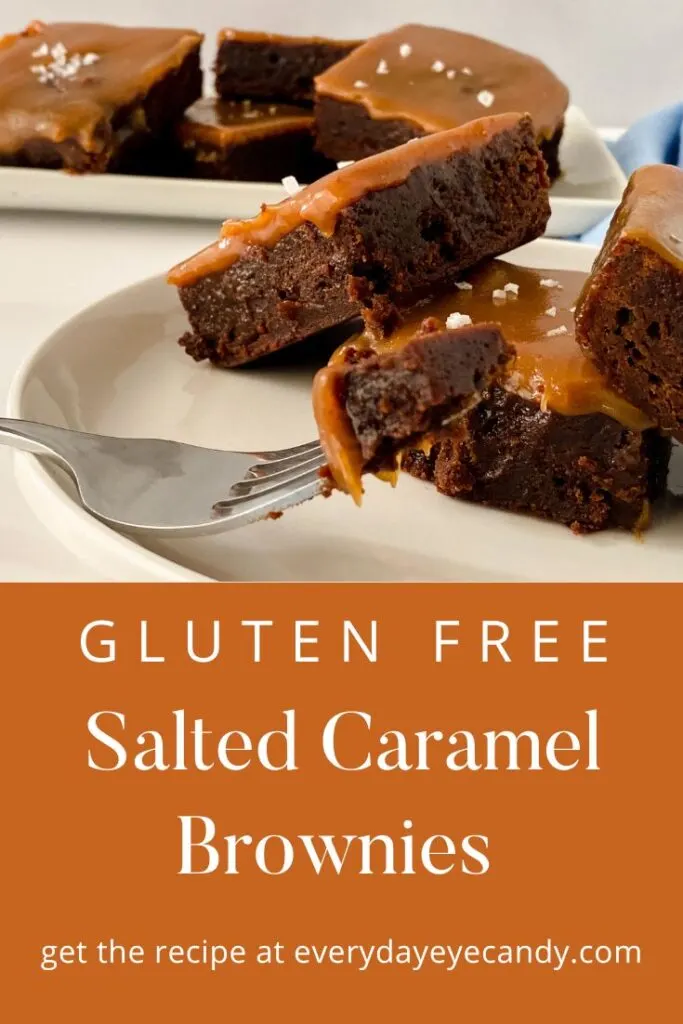 Because what could be better than delicious fudgy brownies topped with salted caramel sauce? It's the perfect combination.
If you are on a gluten free diet, have gluten allergies or simply want to try something new, these brownies are for you. I'm promising YOU CANNOT TELL that these are gluten free. They will have that fudgy texture you are looking for. This recipe makes decadent brownies. Like, OMG. You will not be able to tell the difference between these and traditional brownies.
So let's get started.
This post contains affiliate links.
Gluten Free Salted Caramel Brownies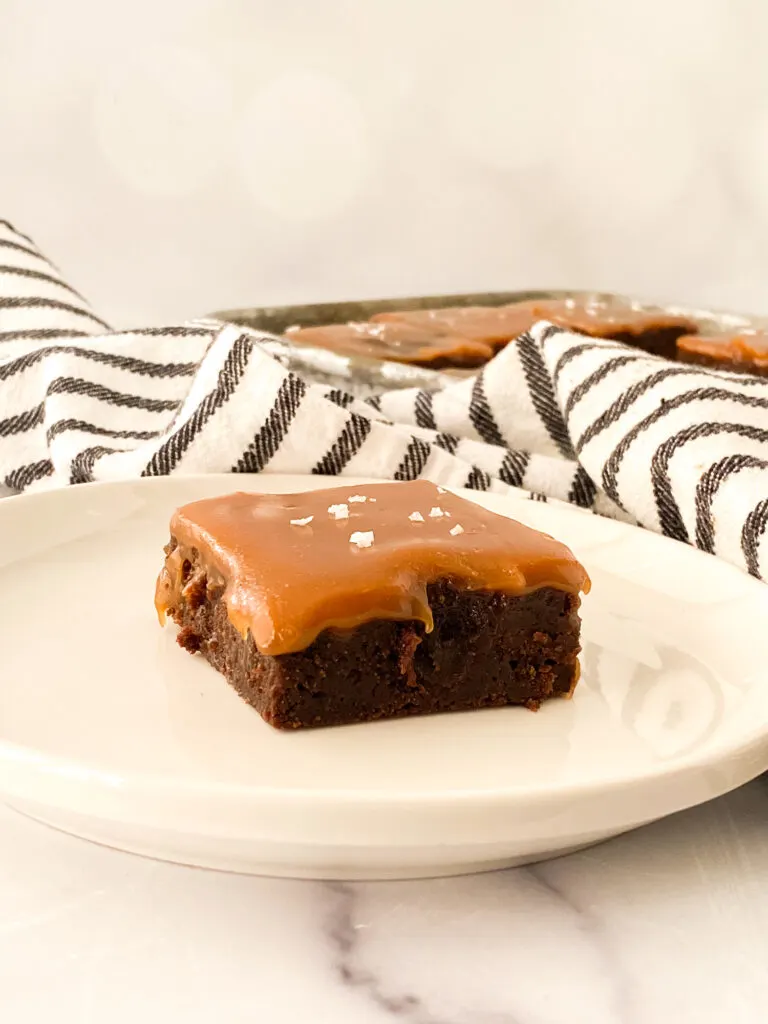 Let me be clear before we get started: These brownies are made from scratch. This is not a modified box brownie mix recipe.
Gather what you need:
In order to make these delicious brownies, you will need a few things
For Your Brownies: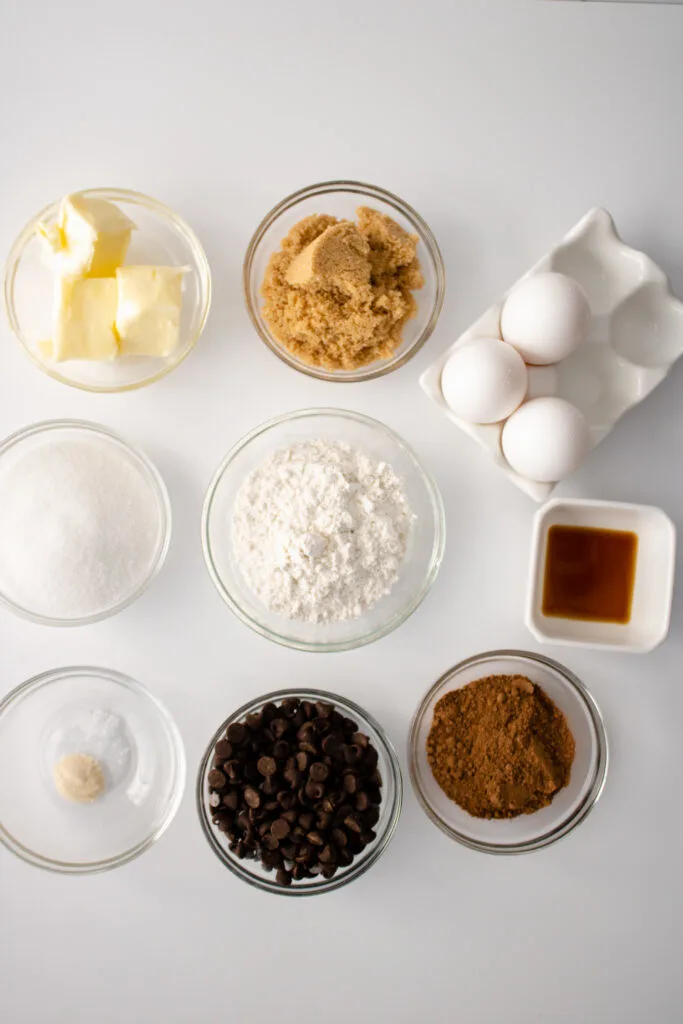 All purpose Gluten-free flour blend *see note*
granulated sugar
light brown sugar, packed
cocoa powder
xanthan gum *see note*
kosher salt
butter, unsalted
semi-sweet chocolate chips (gluten free)
large eggs
vanilla extract
Salted Caramel ingredients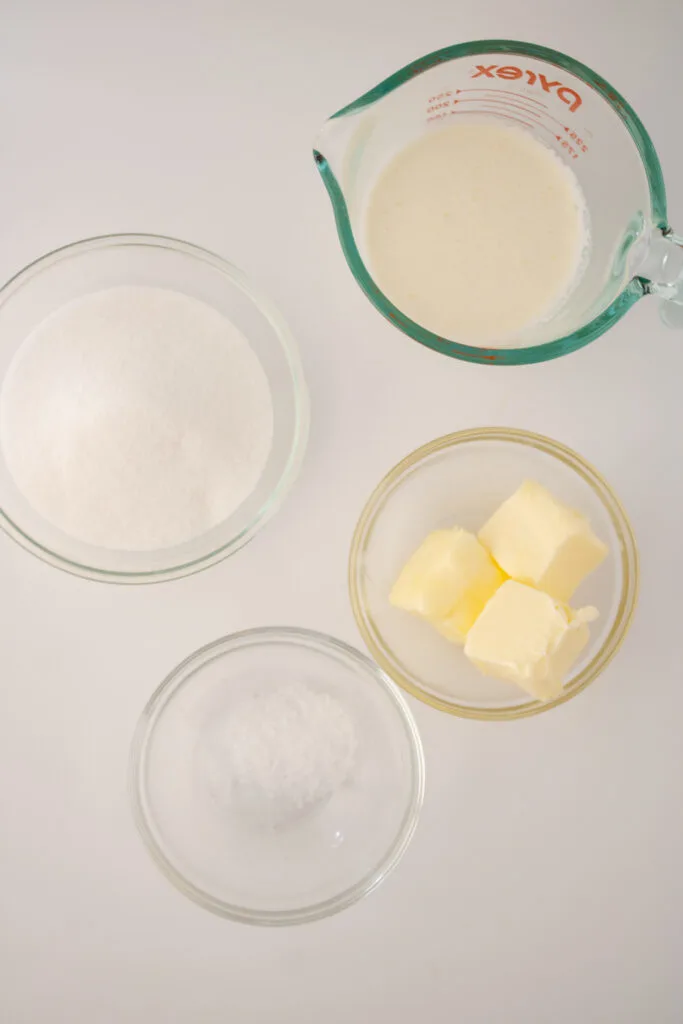 granulated sugar
unsalted butter
heavy cream
salt
flaky salt for the top of the brownies
**If using a gluten-free flour blend that already includes xanthan or guar gum, then omit the xanthan called for in the recipe. (Brands that include xanthan: GF Jules, Cup4Cup, King Arthur, Pamela's and Bob's Red Mill )
Tools Needed
A Small saucepan
A Whisk
8*8 baking dish
Parchment paper (optional)
a large Bowl
Measuring Spoons and Cups
How to make Gluten Free Salted Caramel Brownies
Preheat your oven to 350,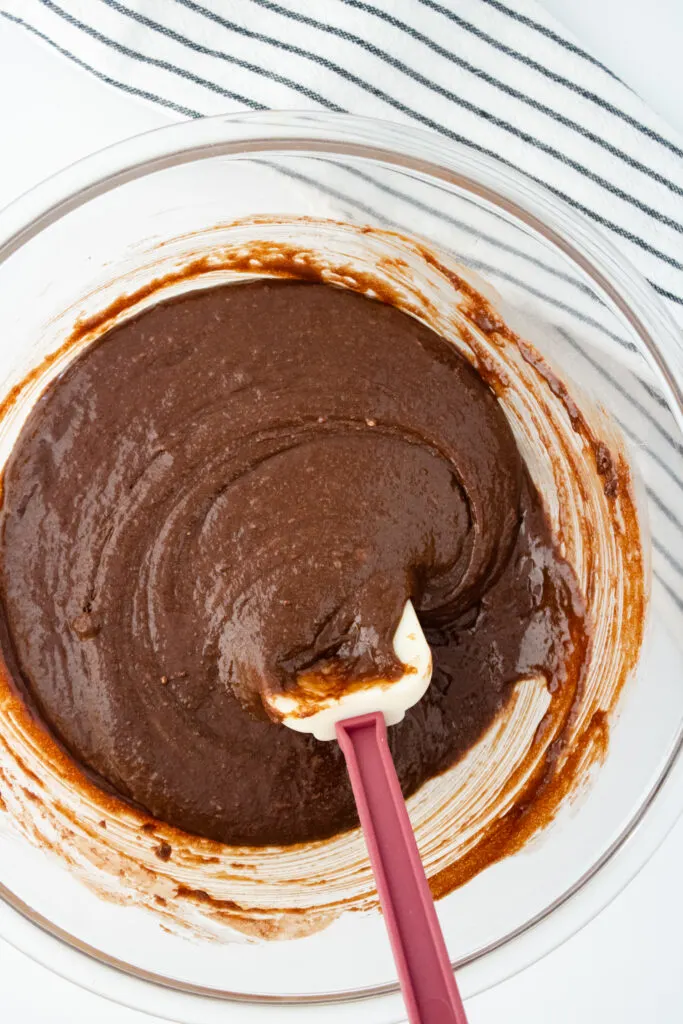 In a medium bowl, add the flour, sugar, brown sugar, cocoa powder, xanthan gum and salt, and whisk together.
Next, in a small saucepan over medium heat, melt the 8 tsp of unsalted butter.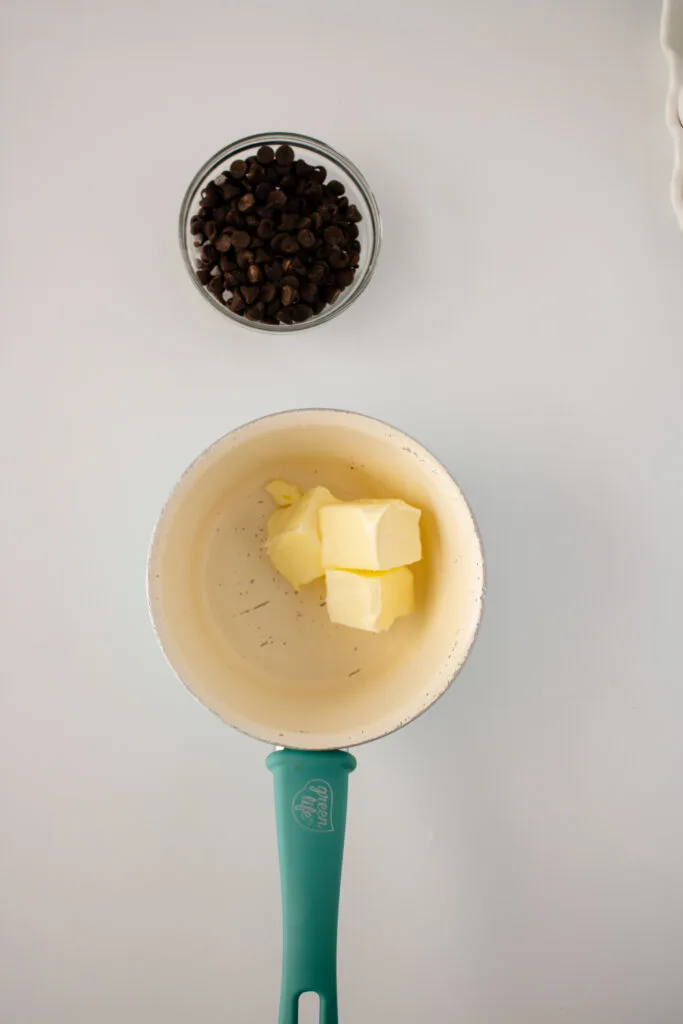 Once melted, remove from heat and stir in the chocolate, until smooth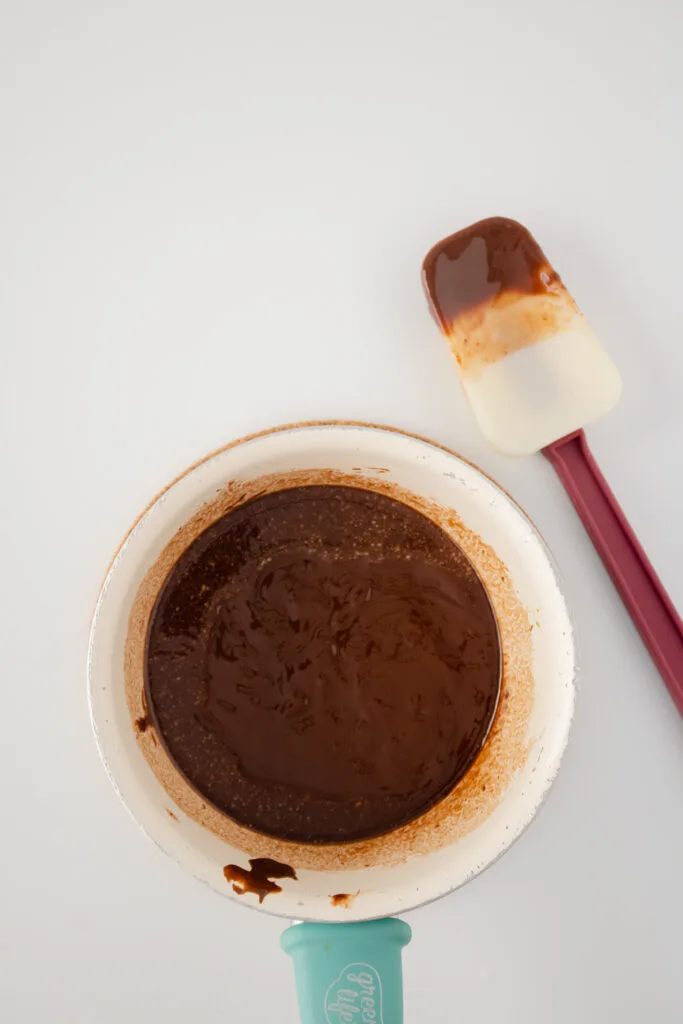 Whisk In the eggs and vanilla extract to the chocolate mixture until well combined.
Pour into the dry ingredients, use a rubber spatula or wooden spoon to fold in the mixture.
Once fully mixed, pour the brownie batter into baking dish and bake in the preheated oven for 30 mins.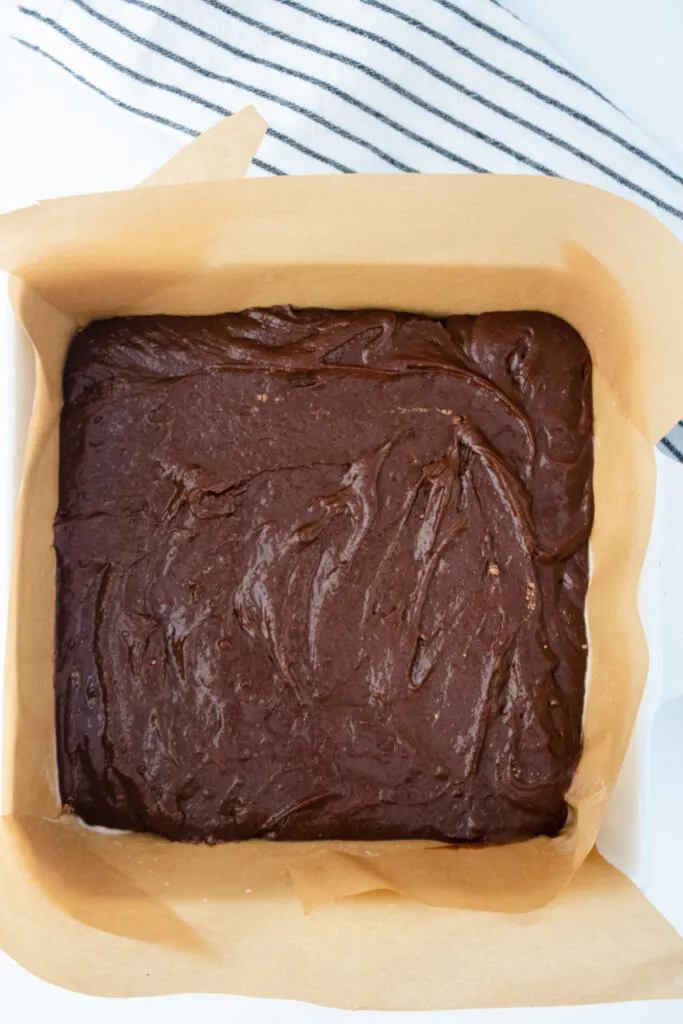 Now, while the brownies are baking, it's time to make the caramel!!
Add the granulated sugar to a clean, dry, saucepan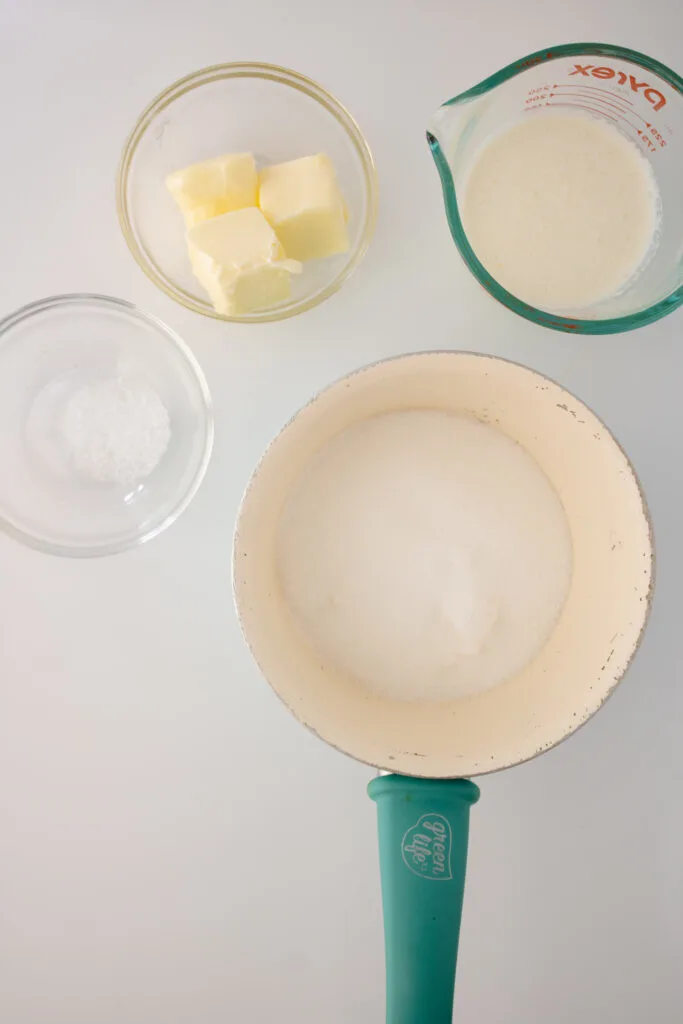 Place over medium heat, stirring or whisking constantly. As the sugar begins to melt, it may look clumpy (see photo for reference) but keep stirring.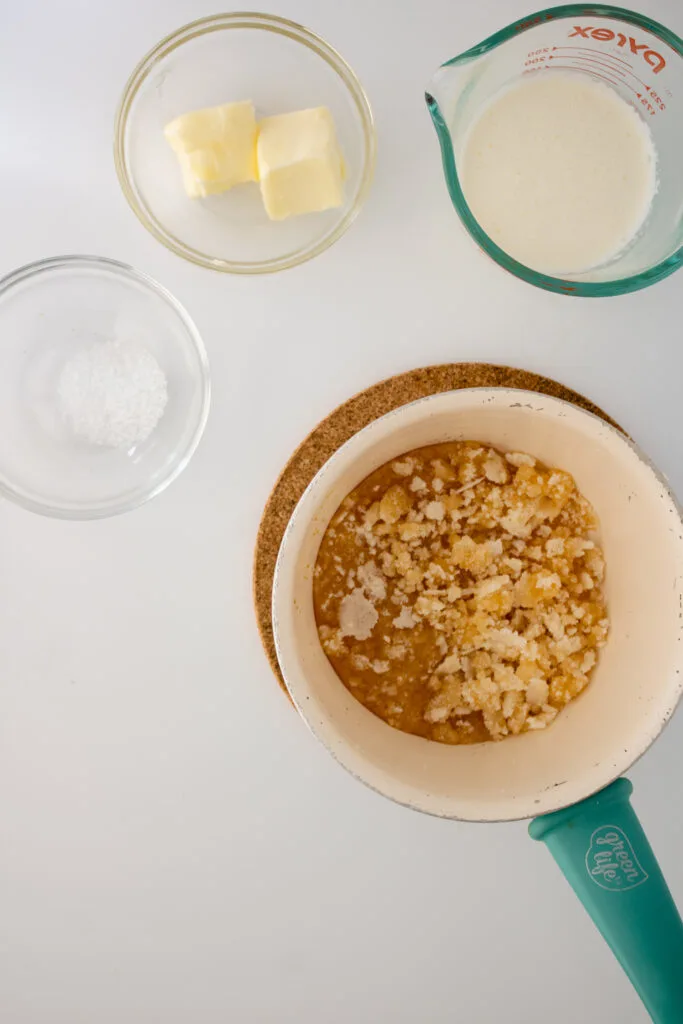 This process takes about 4-5 mins.
Once the sugar begins to melt, reduce the heat, but keep stirring so it doesn't burn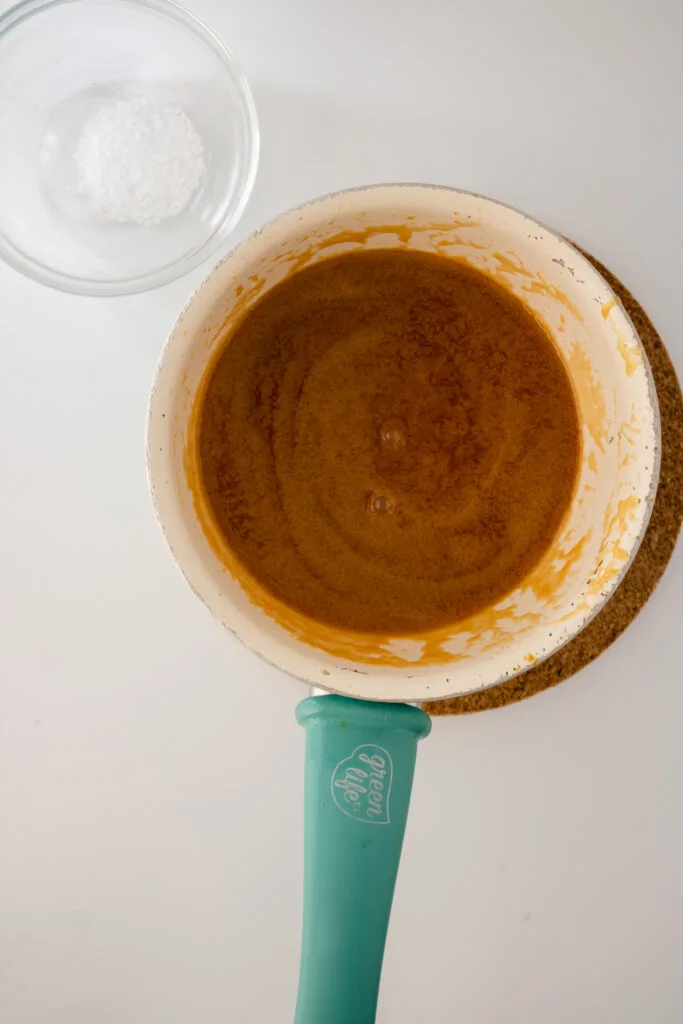 Remove the pan from heat once fully melted and slowly begin to stir in the butter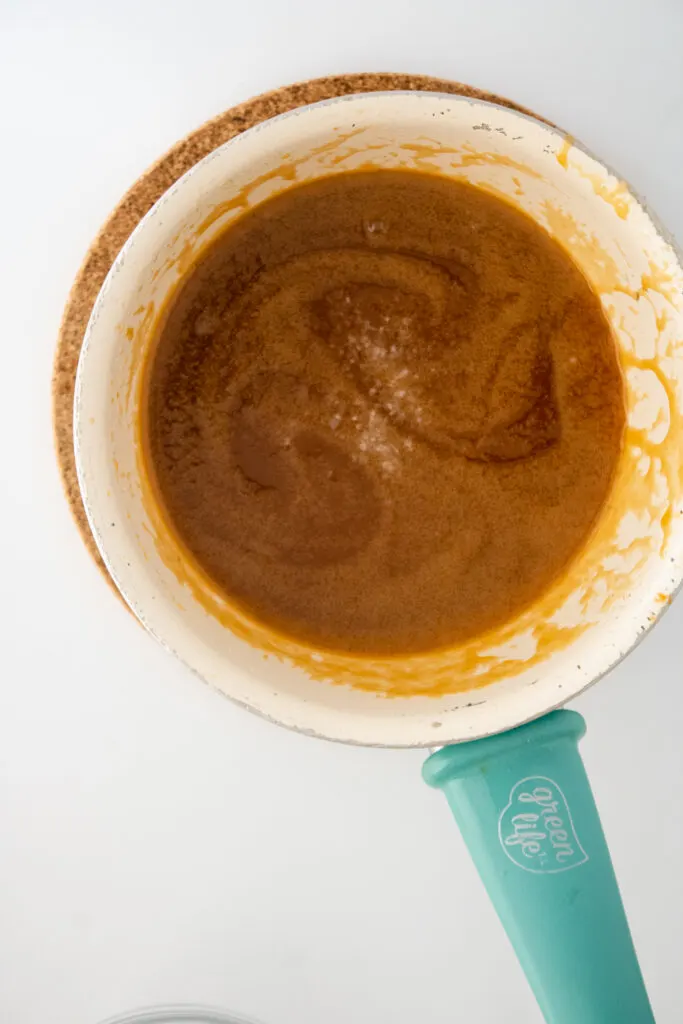 Stir as the butter is added, then add the cream.
Return pan to the stove over medium heat to warm everything back up.
Continue to stir, once incorporated, bring to a boil and remove from heat.
Stir and add in salt.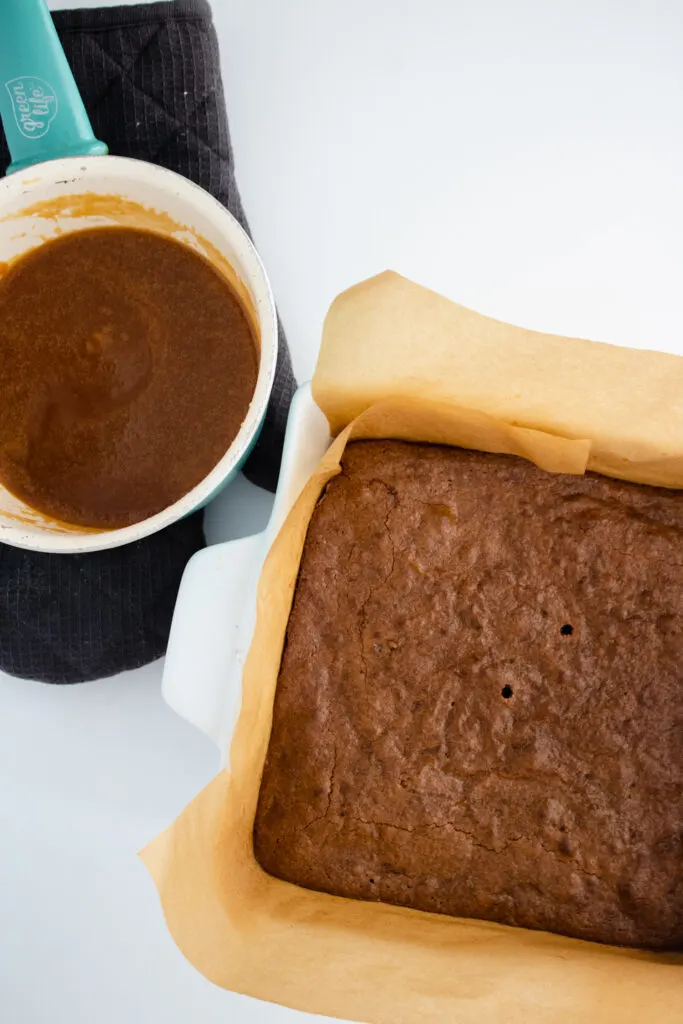 Remove the brownies from the oven and pour the caramel over the brownies. Take a nice and make lovely caramel swirls while the caramel is warm.
Add flaky sea salt to the top .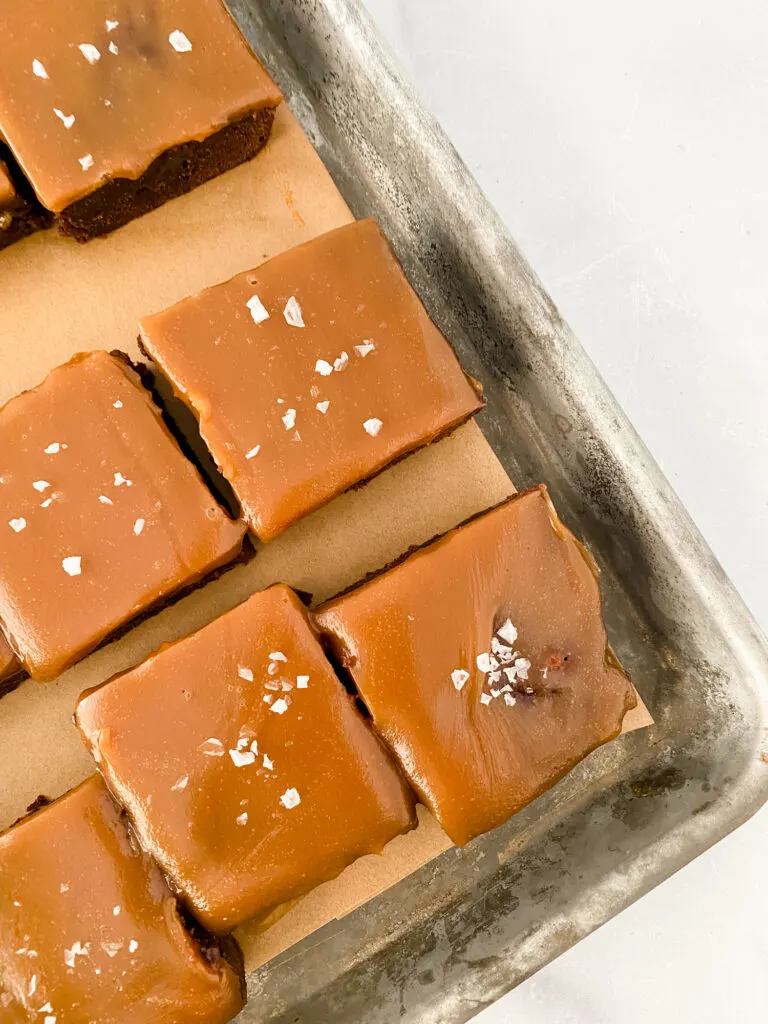 Let this sit at room temperature for at least 15-20 mins.
If you want the caramel to firm up, place it in the fridge for a few hours.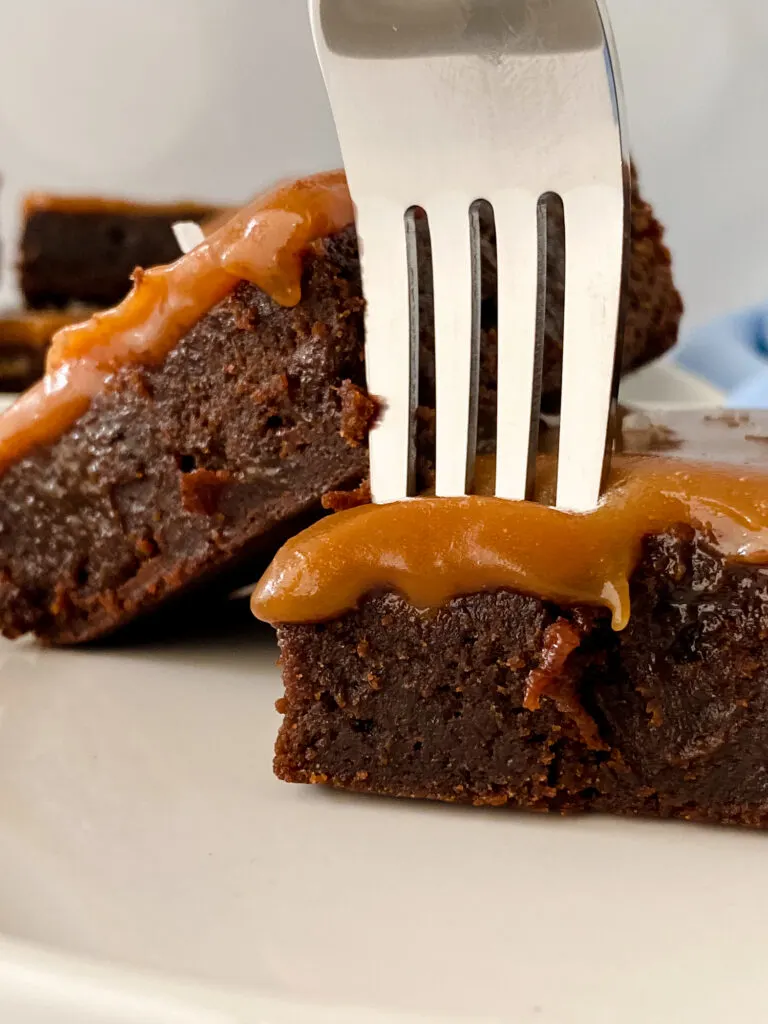 How do I Store my Gluten-Free Caramel brownies?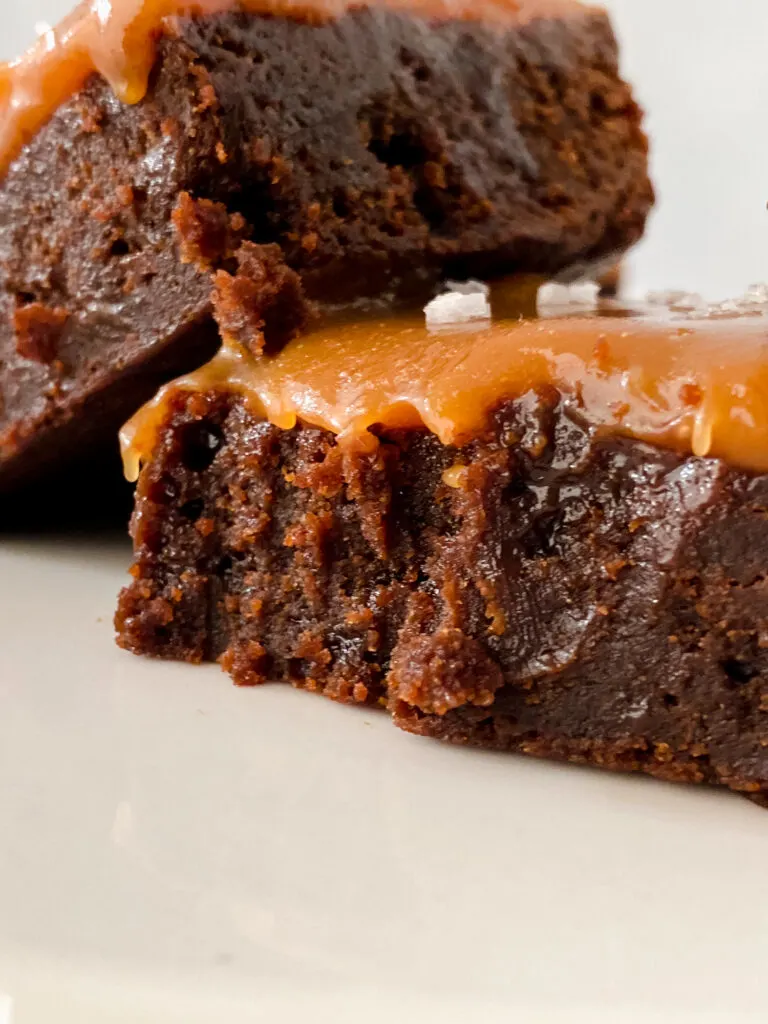 The brownies can sit at room temperature for two days in an airtight container.
If you want to be creative, remember these gluten free brownies can have ANY toppings. Suck as flaky salt, pretzels, or dark chocolate chips. Or keep it simple with a scoop of ice cream.LOL
.
Hopefully, this recipe helps you to make the perfect brownie! Or rather, the perfect gluten-free brownie!
More Gluten Free Recipes and Resources