Before you read this review, realize that I have a healthy, non obsession like interest in the royal family. Harry has always been my favorite. Not to say I never liked William or Kate. I love Kate and her long flowing hair and fashions. So I've always been neutral. Wanting the brothers to be besties, wanting the fab four to actually be a thing. Hell, I was even willing to give Camilla a chance because hey…love is love.
And then came Meghan. And the vitriol, the hate, the tabloids… soured me on the whole institution. But I always hope for the best. But to say I could not wait to get my hands on this memoir is an understatement.
Is this review biased? Only because Harry is my fav. Not because I hate the others. But this is my spoiler free honest opinion of Spare By Prince Harry.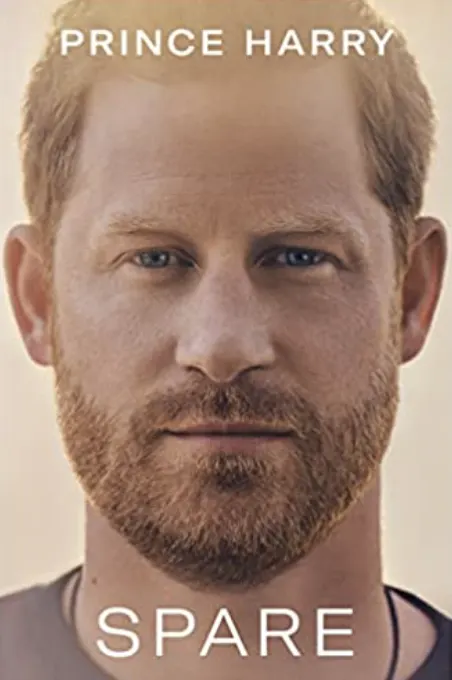 This blog post contains affiliate links. Everyday Eyecandy is a participant in the Amazon Services LLC Associates Program, an affiliate advertising program designed to provide a means for sites to earn advertising fees by advertising and linking to Amazon.com.
Synopsis of Spare By Prince Harry

From the Book Jacket:
It was one of the most searing images of the twentieth century: two young boys, two princes, walking behind their mother's coffin as the world watched in sorrow—and horror. As Princess Diana was laid to rest, billions wondered what Prince William and Prince Harry must be thinking and feeling—and how their lives would play out from that point on.
For Harry, this is that story at last.
For the first time, Prince Harry tells his own story, chronicling his journey with raw, unflinching honesty. A landmark publication, Spare is full of insight, revelation, self-examination, and hard-won wisdom about the eternal power of love over grief
Category
Memoir
My Spare By Prince Harry Review ( Spoiler Free)
I can't say that I had very high expectations of this book. I had no idea of Harry's writing ability. Even after finding out that he was getting the help from a ghost writer, I wondered if there was enough of a story for a book.
My goodness there was.
What I can say, without giving anything at all away, is that this is a well put together book with a great flow and an almost ease in the storytelling. Even on the parts that you might feel like you need to slog through, you are so invested that you HAVE to keep going.
That's a good book.
I worried that he would be complaining or whining a lot.
He did not. Instead, you realize that this is a book Harry wrote in response to his family and the fact that all his life he has never been able to publicly complain or explain. And we learn that this man spent the majority of the life he remembers( a key point )…traumatized…and responding to that trauma.
What I loved most about this book were the quick chapters, the details he remembers and doesn't, the behind the scenes of some of the headlines we've seen over the years, the real Harry behind the headlines and Harry's voice reading the text.
Friends, do yourself a favor, GET THE AUDIO VERSION.
A lot of people asked is this a rehash of the Oprah Interview and the Netflix series?'
The answer is no. A clean no.
The book is divided into three parts: Out of the Night That Covers Me( Starts when his mother dies and continues through young adulthood) Part 2: Bloody, But Unbowed about his years in the military and his search for his purpose in life and love. and Part 3:Captain of my Soul: about meeting and marrying Meg and the drama that followed.
So really, the only part that is sort of rehashed is part 3 which is about him meeting, marrying and fleeing with Meg. Even that part has new stories and insights that keeps it interesting.
That being said, to me, the middle of the book was hard to get through. It was a LOT of details about war. A LOT. And I know it was a pivotal part of his life but this is one of those parts of Harry's life where he remembers a LOT of detail so…be prepared.
My biggest takeaway? Harry was always going to leave. Meeting and Marrying Meghan was just the catalyst that helped him do it.
My Rating
FIVE STARS
HOW TO GET THE BOOK!
I HIGHLY recommend listening to this book since the author ( Prince Harry) reads it.
Get the audible version here or from Libro.FM here.
Other Book Posts: