Make this easy gluten free banana nut bread, so good you won't even realize that it's gluten free! Perfect for breakfast or anytime!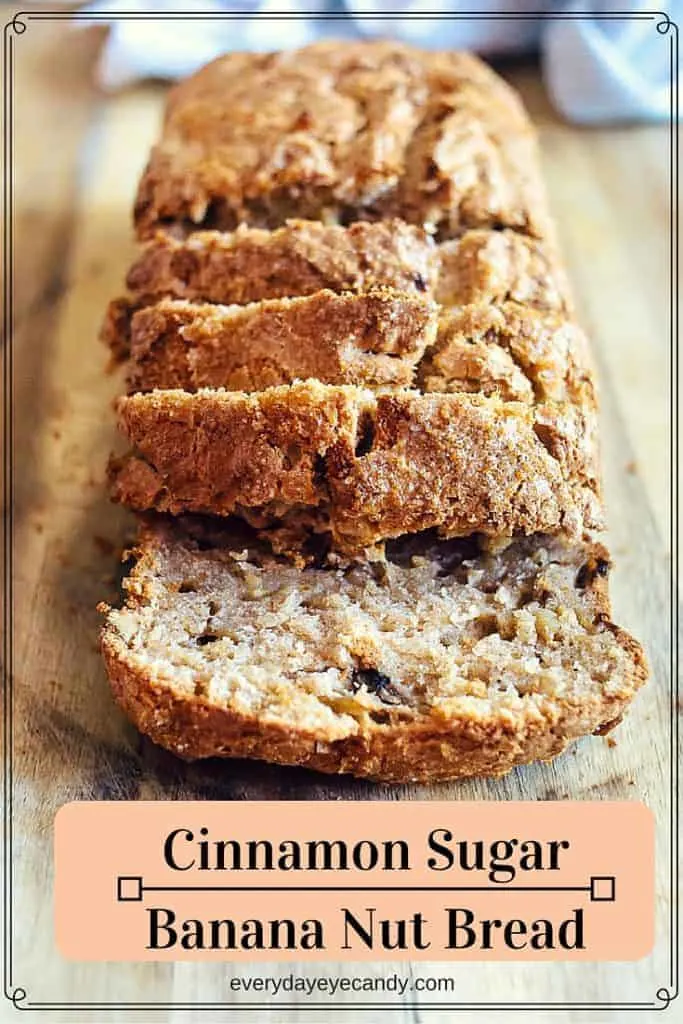 What do you get when you combine sugar, cinnamon, bananas and LOTS of butter? Why this moist and delicious Gluten Free Cinnemon Sugar Banana Nut Bread that's what!

GLUTEN FREE CINNAMON SUGAR BANANA NUT BREAD
So I was just minding my business, scrolling through Facebook one morning when I came across a video of Bobby Flay making this Banana bread French Toast with Banana Nut Bread.
Ya'll….I drooled all over my iPhone screen.
I told myself NO. Because #diet…#lifestylechange………
I haven't made banana bread in years. But the idea of the banana bread stayed with me. I haven't made banana nut bread in forever. Since before Pookah was diagnosed with his wheat allergy.
I've made it my mission in life to make GOOD gltuen free versions of our favorite foods so I was on a misson to get this right.
All week, I thought about it, imagined it, and finally, decided, I had to have it.
I experimented for weeks trying to get the right combination of ingredients and to make it taste GOOD.
And guys….
Let me tell you that this is in NO WAY healthy…
Cause butter…
Sugar…
Cinnamon sugar crust…..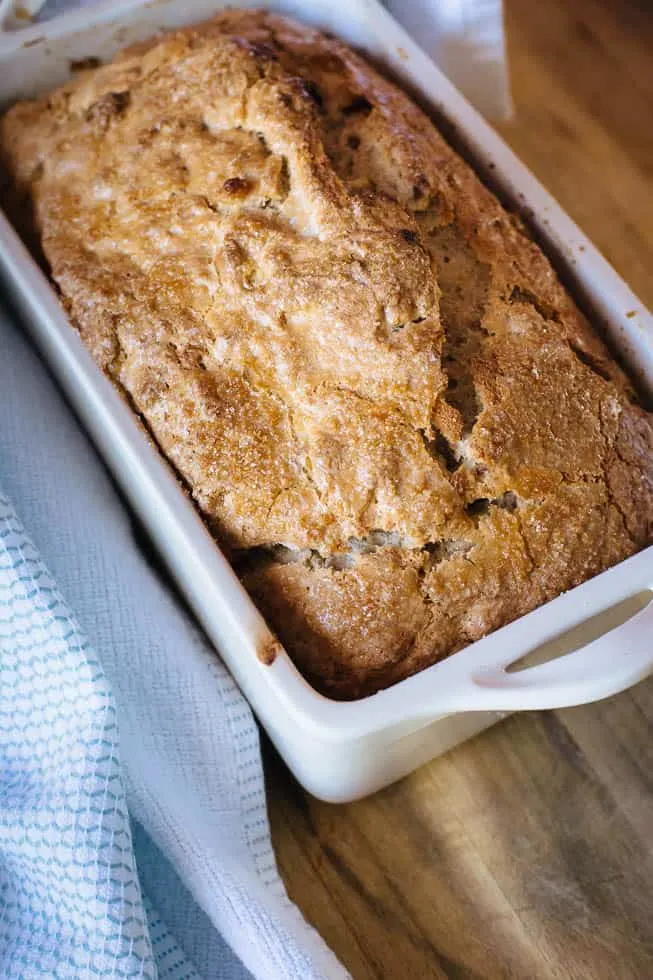 GLOOOORAY!!!
I made it and even CDub had to try a piece.
I cut it and had a piece at 7 pm with a cup of coffee…cause…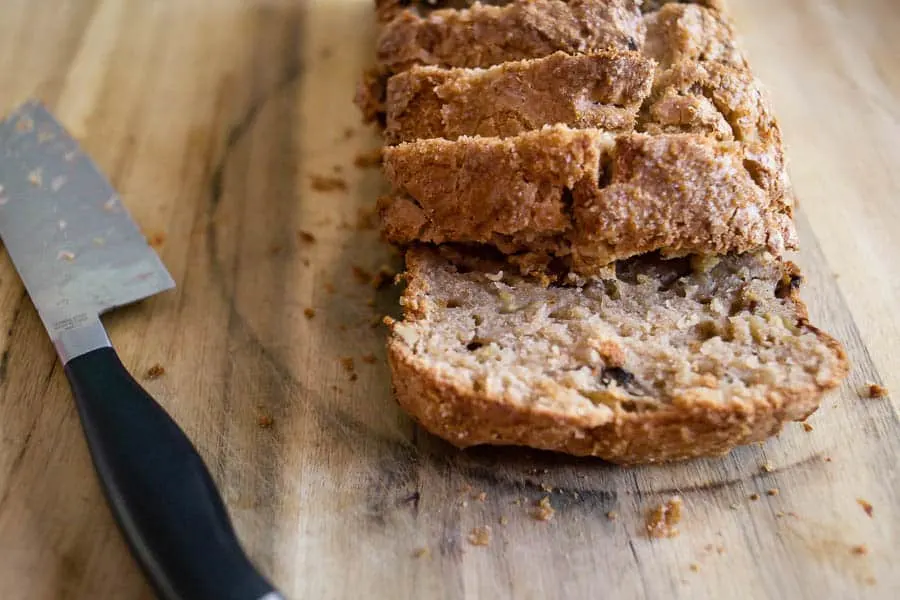 This recipe is a combination of many many recipes that I have hoarded over the years. The trick with all gluten-free baking is to not only get the consistency right, but in this case especially, to make it moist.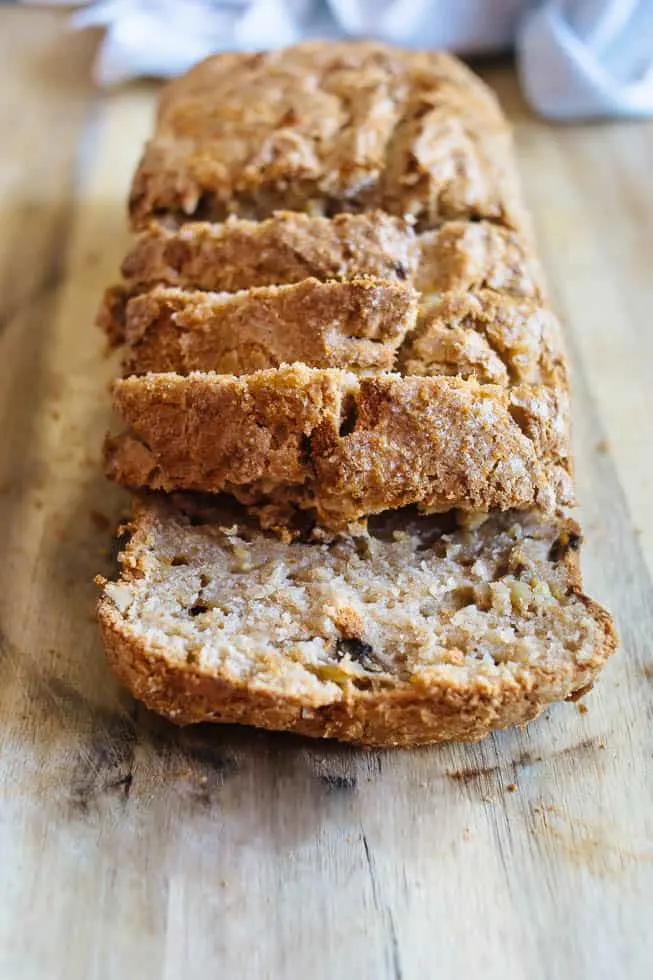 So bake this and get your self a cup of coffee. Better than Starbucks, I promise!
Enjoy!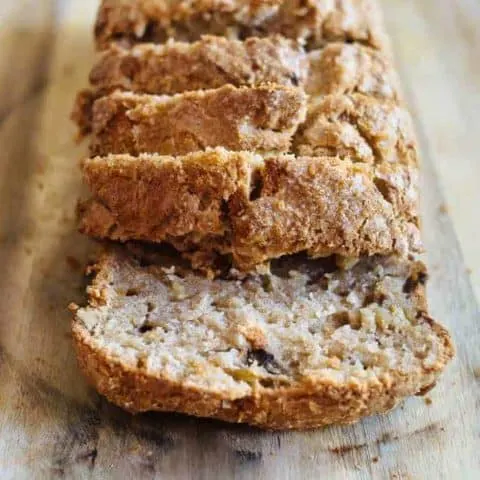 Gluten Free Cinnamon Sugar Banana Nut Bread..
Easy, moist, decadent, gluten free banana nut bread
Ingredients
1 stick of butter. REAL BUTTER
1 cup of sugar
1/2 cup of brown sugar
3 large eggs
1 tsp of vanilla
4 Ripe Bananas
1/4 cup of Sour Cream, DO NOT USE LOW FAT
2 cups of Gluten Free Flour, I always use Pamela's Artisan Flour Blendfor baking
1 tsp of baking soda
1/2 cup of chopped walnuts
1/4 tsp of cinnamon
For cinnamon sugar crust:
1/4 cup of sugar
1 tsp of cinnamon
Instructions
Preheat your oven to 375 degrees.
In a separate bowl, add dry ingredients( flour, baking soda, cinnamon) and mix together. Set aside.
Cream butter and sugar( white and brown)
Add one egg at a time, beating well in between each addition
Add vanilla, blend well
In a separate bowl, mash bananas( I used a potato masher) and add sour cream to mix.
Mix well.
Add to butter mix and blend well.
Add in dry ingredients, Mix until just incorporated.
Fold in nuts.
Grease your pan...with BUTTER( cooking spray tends to darken the sides too much)
Pour mixture into greased 9x5 loaf pan
Sprinkle Cinnamon sugar mixture over the top. ALL OF IT. You will thank me later.
Bake 50-60 minutes, or until a toothpick comes out clean with only a few crumbs.
Cool completely before you remove the loaf from the pan, but you can cut it after about 20 minutes.
Try not to eat it all at once...
ENJOY!