Want to read the Heartstopper books in order but don't know where to start? Check out this guide Alice Oseman's Heartstopper series of graphic novels while we wait for season 3 on Netflix!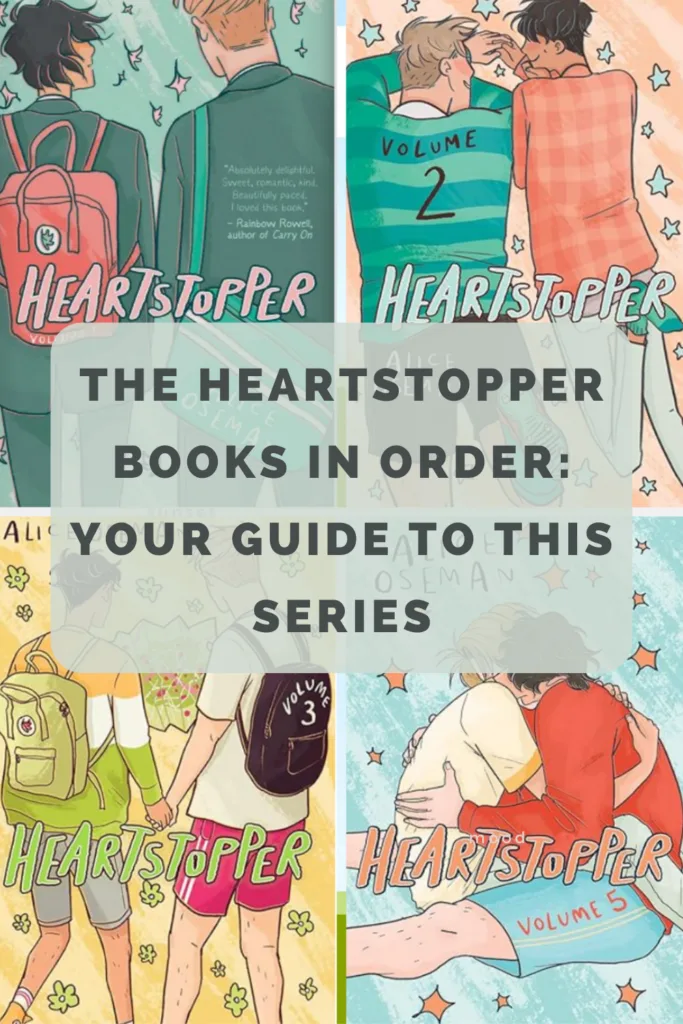 This blog post contains affiliate links. Everyday Eyecandy is a participant in the Amazon Services LLC Associates Program, an affiliate advertising program designed to provide a means for sites to earn advertising fees by advertising and linking to Amazon.com.
Whenever I discover a good Netflix series that has been adapted from a book, the first thing I do if I enjoy it…is to go read the book.
I am the only one who feels like I have to compare Netflix's adaptation to the original story?
As soon as I saw the first season of Heartstopper I headed right on over to my library to read all of Alice Oseman's books.
So While you are waiting for the third season of Heartstopper on Netflix, let's talk about these Alice Oseman books and reading the Heartstopper Books in Order.
What is the Heartstopper book Series about
Alice Oseman originally self-published a print run of her online comic in 2018. Hachette Children's Group acquired the rights to publish and the first official volume of Heartstopper was published in the spring of 2019.
The Graphic Novel Series Heartstopper follows the story of Charlie Spring, a shy and openly gay, teenager and Nick Nelson, a friendly and popular rugby player who is still coming to terms with his sexuality.
The series explores their friendship, budding romance, and the challenges they face as they navigate the complexities of high school life, friendship, mental health and self-discovery.
How Many Heartstopper Books Are There?
There are now four volumes of the Heartstopper graphic novels and the fifth and final volume of the series is expected to be released in January 2024. There is also a companion book, titled Heartstopper Yearbook. Then there are Oseman's spin-off novellas, some of which feature the beloved Heartstopper characters.
How to read the Heartstopper Books in Order
So to help us all out and to hold us off until the next season comes to Netflix, here are is the volumes of Heartstopper and the reading order that I suggest. All volumes are listed with the bookseller's description.
The Heartstopper Books in Order
Extra Books in the HeartStopper Universe to read while you wait for the next adventures of the Heartstopper gang
Everyone knows that Nick and Charlie love their nearly inseparable life together. But soon Nick will be leaving for university, and Charlie, a year younger, will be left behind. Everyone's asking if they're staying together, which is a stupid question... or at least that's what Nick and Charlie assume at first.
As the time to say goodbye gets inevitably closer, both Nick and Charlie start to question whether their love is strong enough to survive being apart. Charlie is sure he's holding Nick back... and Nick can't tell what Charlie's thinking.
Things spiral from there.
Everyone knows that first loves rarely last forever. What will it take for Nick and Charlie to defy the odds?
A very special Heartstopper story set over a challenging holiday season...
Reuniting Tori Spring, her little brother Charlie, and Charlie's boyfriend Nick, this novella sees the Spring siblings brave a particularly difficult festive season.
The Heartstopper Yearbook is packed full of exclusive content from the Heartstopper universe: never-before-seen illustrations, an exclusive minicomic, character profiles, trivia, and insight into Alice Oseman's creative process, narrated by a cartoon version of Alice herself. In full-color for the first time, this companion book is perfect for fans of Heartstopper!

So hopefully this guide to the Heartstopper Books in Order help tide you over while you wait for the next adventures of the Heartstopper gang.
Looking for more books to read?
Check out :
15 YA Dystopian Books For Teens
and