If you love audiobooks and want to branch out from audible AND support your local bookstores, read this Libro.FM vs Audible Review!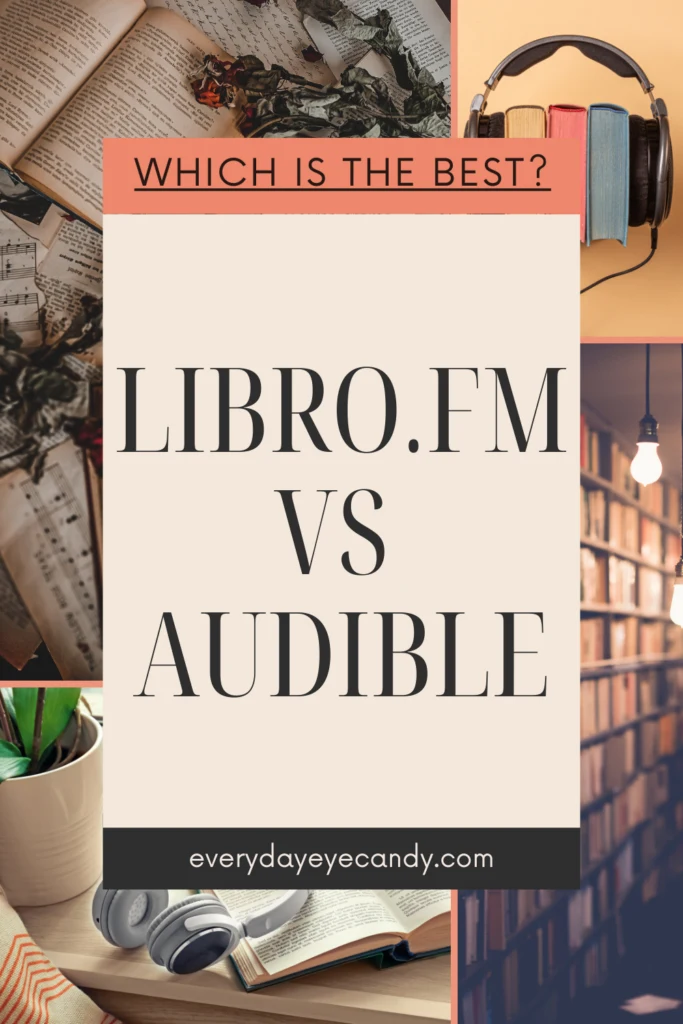 This blog post contains affiliate links. Everyday Eyecandy is a participant in the Amazon Services LLC Associates Program, an affiliate advertising program designed to provide a means for sites to earn advertising fees by advertising and linking to Amazon.com.
If you're an avid audiobook listener like me, you know that choosing the right audiobook platform is essential to enjoying your favorite books in audio format. I've talked about Audible vs Scribd here. But today, I want to talk about Libro.fm vs Audible. We'll discuss their features, audiobook credits, monthly memberships, new releases, and more to help you decide which audiobook service is best for you and your audiobook habits.
What is Libro.FM?
Libro.fm is a digital audiobook platform and online bookstore that focuses on supporting independent bookstores. It offers a wide selection of audiobooks that customers can purchase and listen to through its website or mobile app. What sets Libro.fm apart is its commitment to helping local independent bookstores thrive in a world where Amazon has a monopoly on where we buy books. When you buy audiobooks through Libro.fm, a portion of the proceeds go to a local independent bookstore of your choice, allowing you to support your favorite local bookshop while enjoying audiobooks. It's a way for people who love audio books to enjoy digital audiobooks while also contributing to a local bookstore of your choice.
How much does Libro.fm give to bookstores?
Per the American Booksellers Association, Libro.fm gives 15% of audiobook profits to local bookstores.
Besides giving a percentage of profits to local bookshops, Libro.fm also works hard to support booksellers by sharing marketing materials and free advance listener copies (ALCs) with them.

Libro.FM Vs Audible Compared
Libro.FM vs Audible Library
For those who are used to Amazon's Audible's seemingly endless audio library, the key reason not to try any other service is fear of not finding the book you want to listen to.
Per the Libro.FM website, Libro.FM has over 400,000, audible books available. Audible has 600,000+. That may seem like a big gap, but Libro.fm has over 99% of the NYT Bestsellers, and many of those unavailable are those locked into an Audible exclusive contract that you can't even find in your local library.
Libro.FM vs Audible Price
The monthly subscription with Libro FM costs $14.99, while the Audible premium plus subscription plan is $14.95 per month. A whole 4-cent difference. Both subscriptions give you monthly membership credits ( one per month) for this fee that can be used to purchase any audiobook from their catalog regardless of the list price.
Both give an additional 30% off of additional audiobooks, and both services have free iPhone and Android apps.
Extra credit: Unlike Audible, Libro.fm's titles are DRM ( Digital Rights Management) -free, meaning you own audiobooks just as if they were physical books sitting on your shelf and you can listen on multiple devices.
Does Libro.FM have a free trial?
No, but when you use my referral link here to sign up, you do get one free book.

What do I personally use?
Personally, I bleed money and have both an audible membership and a libro.fm membership. I have a big audiobook habit, so I find that having access to some Audible exclusive audiobooks and some exclusive bestsellers makes it work for me personally. But as a person who still buys physical copies from her bookstore, I love the option to support independent bookshops when I buy my next audiobook.
Ultimately, the choice between Libro.fm and Audible depends on your audiobook habits and priorities. If you're passionate about supporting indie bookstores and indie authors, Libro.fm is an excellent choice. However, if you seek a vast library and exclusive content, and a library of free audiobooks, Audible might be more appealing.
Try a Free Trial of an Audible Subscription here