Scribd vs Audible, which one is the best? If you love audiobooks, keep reading to find out the pros and cons to both.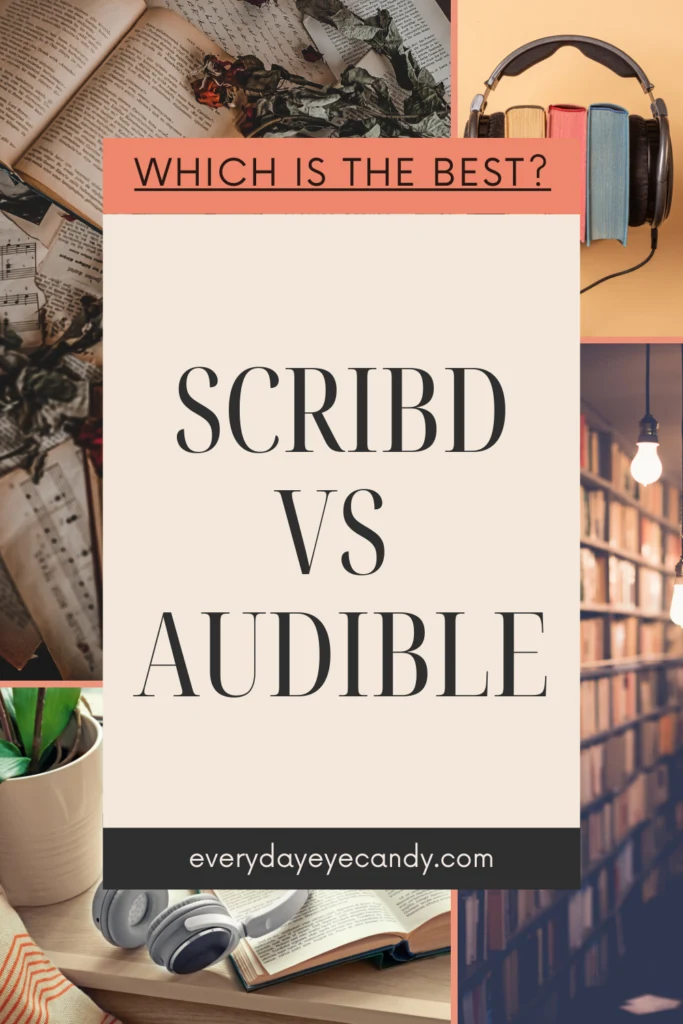 This blog post contains affiliate links. Everyday Eyecandy is a participant in the Amazon Services LLC Associates Program, an affiliate advertising program designed to provide a means for sites to earn advertising fees by advertising and linking to Amazon.com.
Avid readers everywhere have debated whether or not Audiobooks could be considered reading or not. But I love audiobooks and my audible subscription. I have been a fan of the Audible App ever since I discovered it. The multitasker in me loves that I can listen to books as I go about my day. I use them as background noise, I listen in my car sometimes instead of music and I clean to audiobooks. But earlier this month, I decided I wanted to listen to The Fourth Wing, but didn't have enough audible credits for it. I had been listening to a podcast and they talked about Scribd. There was a free 30-day trial..so I went for it.
A lot of you have asked me: which one is better?The answer of course is not simple, it really depends on what you are looking for. Keep reading to hear my thoughts.
SCRIBD VS. AUDIBLE: What is the difference?
Before I break down the specifics of both apps, let's talk about them both to help you choose an audiobook platform. Both platforms have similar features and if you are an avid audiobook listener, keep reading so we can figure out which is the best value for you.
Launched in 2007, the Scribd app is a flat-rate monthly subscription that grants unlimited access to their entire library of audiobooks, ebooks, sheet music, magazine articles, and other content. The "unlimited 'option is a great option for those who like to read a lot or listen to a lot of audiobooks. There has been a question on if the service is actually "unlimited" due to a history of some throttling of audiobooks once you get to a certain number of books. Something to keep in mind.
Audible, an Amazon-owned service, is an audiobook subscription service that offers a wide range of exclusive audiobooks and original content. It's fee-based are with has an enormous library with over 200,000 popular books across various genres. Depending which plan you chose, you can listen to all you want or you have a credit that allows you to get one title a month that you own, with the option to purchase more.

The main difference between Scribd and Audible is that you will never own the books with Scribd and that Audible has a larger library with the option to own them based on what subscription you choose.
Scribd vs Audible : Pricing
A Scribd membership costs $11.99 per month for unlimited audiobooks, ebooks, some magazine and uploads.
With Audible, there are two subscription plans: Audible Plus, which offers a selection of audiobooks and Audible Originals for $7.95 per month, and Audible Premium Plus, which includes everything from Audible Plus and one audiobook credit for $14.95 per month.And you OWN that book forever. Even if you cancel the service.
Scribd vs Audible: Content
Both Scribd and Audible both offer extensive catalogs but the content within each library is somewhat different.
Scribd :
Scribd's catalog is different than Audible's because, in addition to audiobooks, it includes eBooks, magazines, comics, and sheet music. But even though the audiobook selection includes both new releases and bestsellers, not every popular title is available on Scribd. ( for example, Penguin Random House does not have any books on the platform)
Audible:
Audible has over 60,000 titles to choose from the Audible library that includes popular titles from major publishers as well as exclusive content created specifically for Audible like podcasts, new programs and audio content. PLUS, you get access to the thousands of titles included with your membership and free audible originals that don't need a credit including the Jane Austen Collection, Harry Potter, Julia Quinn and more.
So which one is best for you?
So, which audiobook service is best for you? That depends on you, how much you listen to audiobooks, and which kind of books you are interested in.
If you are looking for a very specific book, an Audible Premium Plus subscription might be the better choice out of the two subscription services. And plus, you OWN the books you get. You can also purchase additional credits for additional books. Try this audible offer that gives you a 3 month free trial month if you are interested.
If you listen to audiobooks frequently and also want access to a few eBooks on the same platform, you will love a Scribd subscription which includes unlimited listening and reading. Try a 60 day Free trial on the Scribd Website here. ( But, one caveat: according to some Reddit users, free trial users get a limited selection of titles meaning you don't get all that Scrib has to offer) .
If you listen to a lot of audiobooks every month and don't mind listening to a lot of backlist titles, I think Audible Plus is a better option. Remember, with this plan, you get unlimited audiobooks for a flat monthly fee of $7.95
And if you like options…like me…try both! Scribd is a great subscription to listen to popular new releases and indie audiobooks alike. And if you can't find something you want, and you want to own it, and listen to it again and again…get Audible.
So in conclusion: there is no clear winner. Either of these options is a good choice.
Looking for something to read? Check out
The Best AudioBooks for Road trips
20 of the Best Kindle Unlimited Romances
10 Books to Read if You Like Bridgerton
Colleen Hoover Books in Order: A Complete Guide