Now is the perfect time to start over,start a new habit, or make changes in your life.Chose from these 10 motivational books for the new year.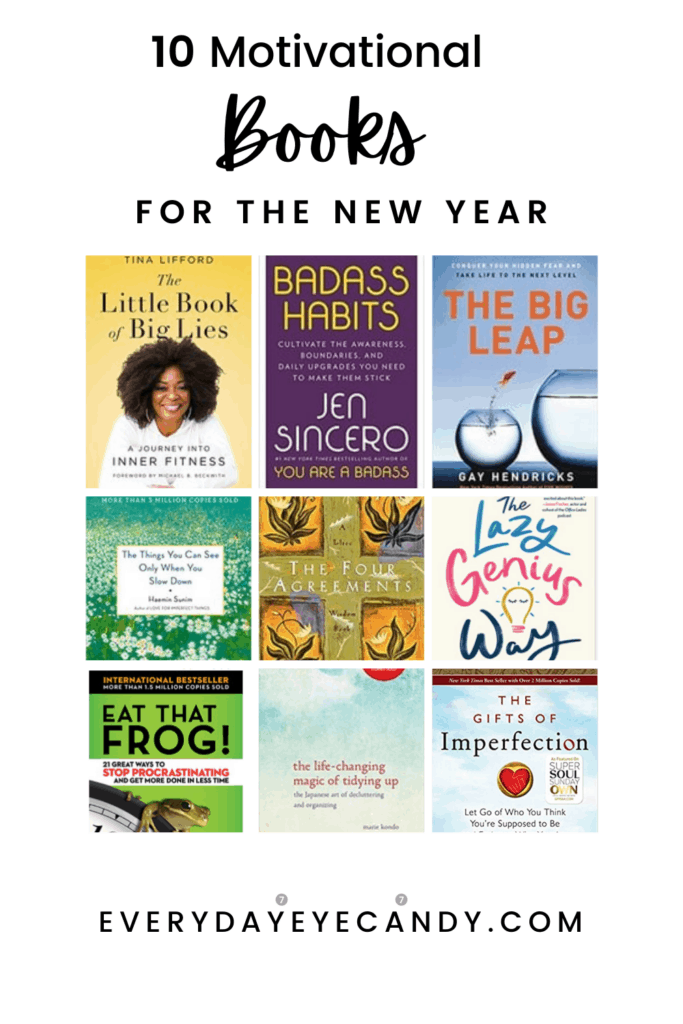 The New Year is less than 30 days away! And it's now the perfect time to start over, start a new habit, make big changes in your life or find ways to keep the momentum going from the previous year.
I don't really believe in New year's resolutions, but I always set intentions with goals tied to an overall theme or Word for the year.
If you don't believe in resolutions or words of the year, that's ok too! But The new year is a great time to reflect on the past year and what we want the future to look like.
But no matter what goals you have or don't have this year, I still think you can be inspired to have priorities and intentions for your life.
I've curated these 10 books that will I hope will motivate you to make changes and just live your best life next year.
So keep reading to check out 10 Motivational Books for the New Year.
10 Motivational Books for the New Year
When you are used to being busy it's hard to learn how to slow down. If you need motivation and a great "how to", read this book.
Conquer Your Hidden Fear and Take Life to the Next Level
Being a Lazy Genius isn't about doing more or doing less. It's about doing what matters to you.
Speaking of habits, this book changed my life last year. James Clear offers practical strategies to help you form good habits and break the bad ones.
If your goal of the year is to be more productive, look no further!
it has been proven that practicing gratitude and writing it down, improves our outlook on life. While not technically a book, this journal is perfect to help you start and maintain your gratitude practice.
The Four Agreement offers a code of conduct advocates freedom from self-limiting beliefs that may cause suffering and limitation in a person's life.
Photo Credit: shopstyle.it
We all tend to hold on to things we don't need or even want anymore. This classic book is perfect if your goal for the new year is to declutter your life and only keep what sparks joy.
If learning how to practice self care ( not just bubble baths and spa appointments), check out this true guide to self care.
Photo Credit: shopstyle.it
Probably my favorite book from Brene Brown, this book motivates you to embrace your own imperfections.
BONUS BOOK
If you have read Atomic Habits, you really don't need this book. The ideas might sound redundant It's basically the same information written from a different perspective, so nothing new. BUT
If this is your first time really considering Habit changing, then start here .It's an easier read than Atomic Habits and it's more geared towards the importance of identity when you start changing your habits. It also includes a 21 day guide to help you modify behavior which I know people will love for the new year.
It's the actionable part for me.
So hopefully, a book on this list of 10 Motivational Books for the New Year is exactly what you need!
Which book are you going to try?