Want to know if the Peloton Bike is worth the money? Read my Peloton Bike review for 8 reasons why it's worth every single dime.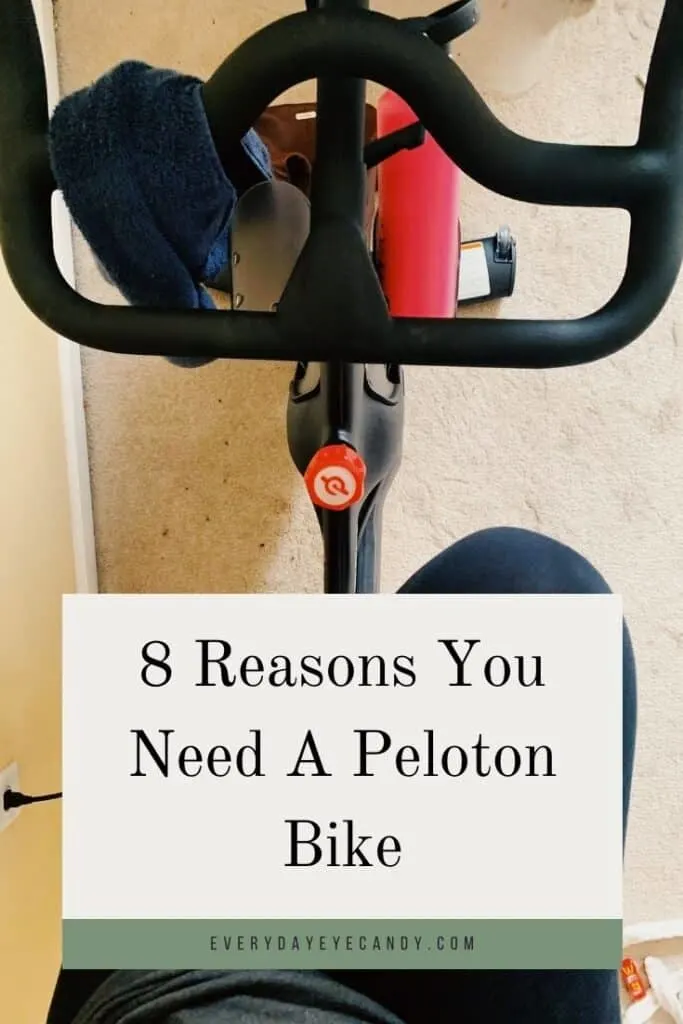 This blog post contains affiliate links. Everyday Eyecandy is a participant in the Amazon Services LLC Associates Program, an affiliate advertising program designed to provide a means for sites to earn advertising fees by advertising and linking to Amazon.com.
I remember hearing about the Peloton bike some time last year, but not really paying attention to it. I had a gym membership I argued, why do I need a bike at home? ( Even though I was sporadically using said membership)
If you know me at all, you know that A: I hate sweating and B: I hate working out.
Then came Covid-19.
After the first month, I was going crazy and my Covid snacking was at an all time high because stress right?
I knew I had to keep the promise I made to my Physician earlier in the year to move everyday. My plan for staying active at home was sporadic at best, so influenced by my friend Nellie and then my friend Clarissa, I broke down and ordered a Peloton Bike.
I love it!!!
Every morning, between 5 and 7, I get on and ride my bike to nowhere gleefully.
As of this morning, I have completed 174 rides since I got my Peloton Bike in April.
Why? Because it's FUN friends! Just pure fun.
It doesn't hurt that I've lost 13 pounds either.
I get a lot of friends asking me for my detailed Peloton Bike Review WHY I love my Peloton, and is it worth the money?
The answer is yes! And here are the 8 reasons why.
My Peloton Bike review: 8 Reasons why you need a peloton Bike
1.The Playlists
I mean where else can you find an entire ride dedicated to Lizzo? ? Or a whole ride dedicated to Carnival, Or Whitney Houston, or Common or PRINCE????
I swear by 80s rides ( nostalgia) and 90s rides ( best years of hip hop fight me!) and the themed rides like hip hop and the club bangers rides always get me going.
I mentioned I don't like working out right? But music? Music gets me going, it makes me laugh, it takes me back to a special time. I swear, sometimes I have to stop myself for singing the top of my lungs at 5 am.
2.The Instructors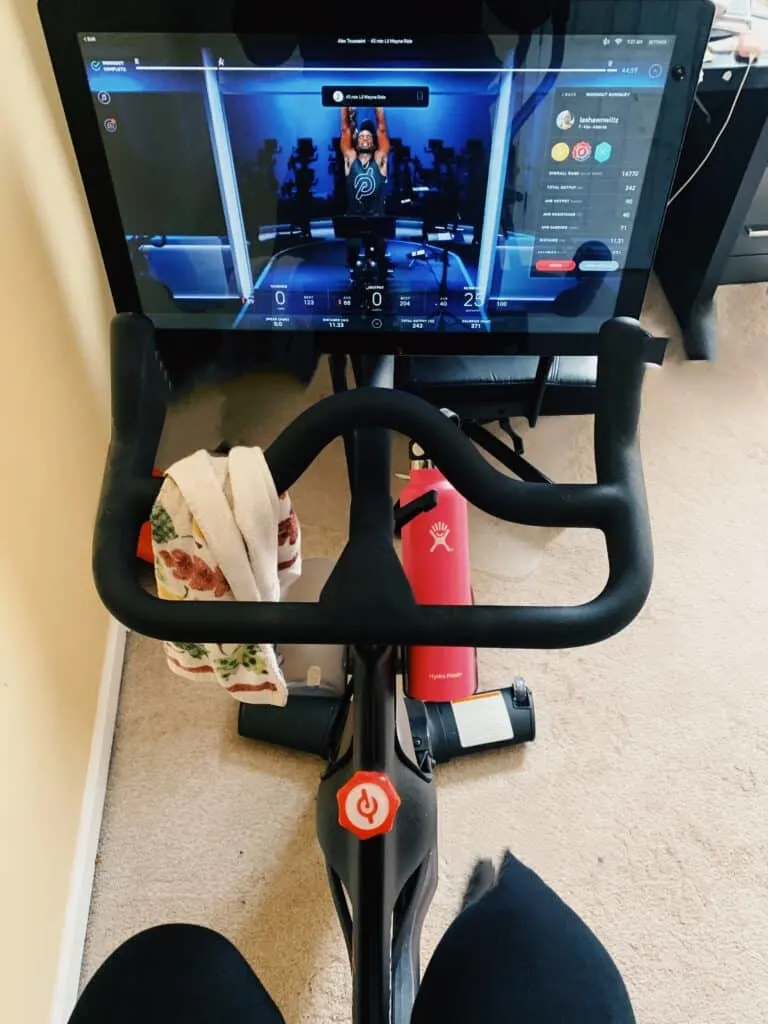 Everyone has their favorites! I've found that the instructors can also make or break a ride. But Peloton has put together a great group of instructors for every type of rider. If you want drill Sargent like precision: take Alex Toussaint. If you want a zen like climb ride, take Sam Yo. If you want your butt kicked with a smile, take Ally Love or Tunde Oyeneyin.
I have my favorites depending on the day. But definitely have my core group.
3.Quotable Motivation
And speaking of the instructors, each one has their own way of motivating you and that, besides the music is one of my main draws.
From Robin Arzon' saying :
"You didn't get on this ride today to become mediocre."
or
"But did you die?"
To Alex SCREAMING:
"This aint daycare"
and
"You got too many mental tabs open, close the tabs and focus on what is in front of you"( that one dragged me)
To Cody saying with a side eye
"If Britney can get through 2007, you can get up this hill! "
Every time I ride, I hear something that motivates me BEYOND the bike. I appreciate that.
4.The Convenience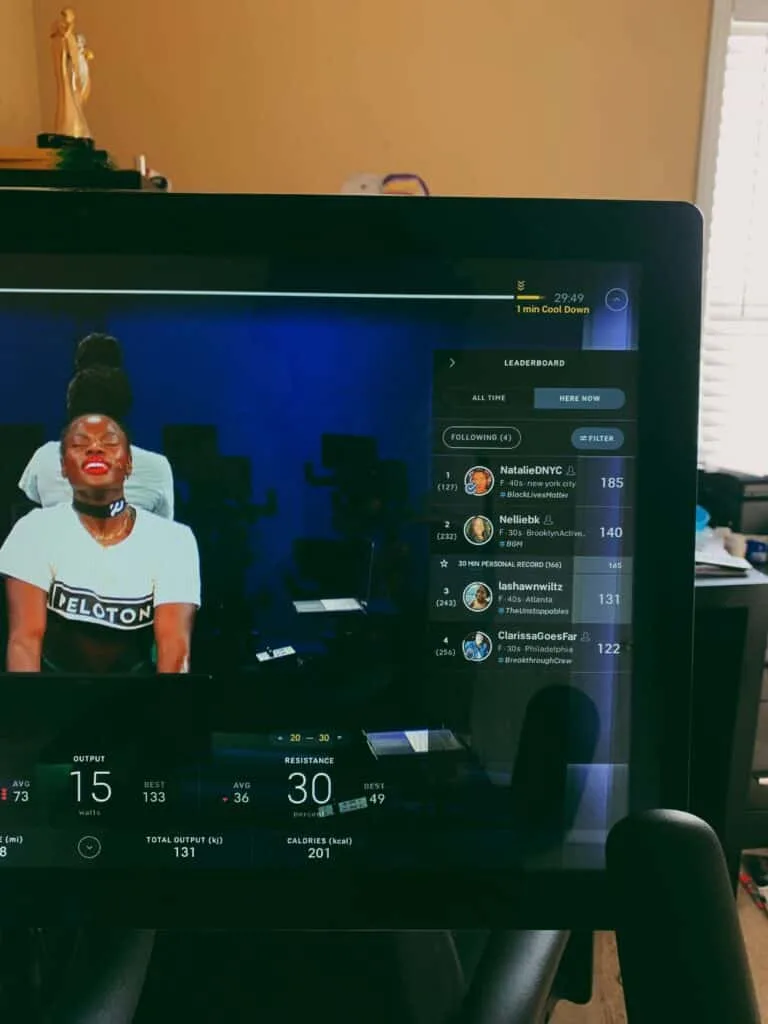 I don't have to leave my house. Every morning, I literally walk down the hall to ride my bike. I can workout at 430 am ( I have) or 7:30 pm ( I have). You can take a class Live or on demand.
This is the MAIN reason it works for me when nothing else has. I can do it whenever I can fit in a class.
5. The Classes
Speaking of the classes, I love the variety! You can take a 10 minute climb ride or an hour long Pop Ride. There is a class for every level, every time frame and every body type. If you want to take it easy, take a low impact class. You want to be really really challenged? Take Tabata.
There is something for EVERYONE
6. The Community..or Cult
ROFL. You decide!
But this is also one of my favorite aspects. I belong to a a few Facebook groups for Peloton riders and i love the community. I love when I ride that if we are all using the same hashtags, we high five each others. I love that random strangers hi-fived me on my Century ride a few weeks back. and that I got featured by Peloton on the app!
This summer, every Friday, I rode with friends because it's just FUN.
Just mention Peloton to another rider and we get into the lingo the classes the instructors and PR's…it's its own little world and I love being a part of it.
7.The Peloton App
Once you have the bike, you have access to all of the classes and bootcamps on the app.
It's not just cycling!
There are strength training classes, running classes that can be done on or off the Peloton, Stretching, Bootcamps, Meditation and Yoga.
I use my Roku to do yoga and stretching on my TV after a workout.
It's so much bang for you buck.
8.The Health Benefits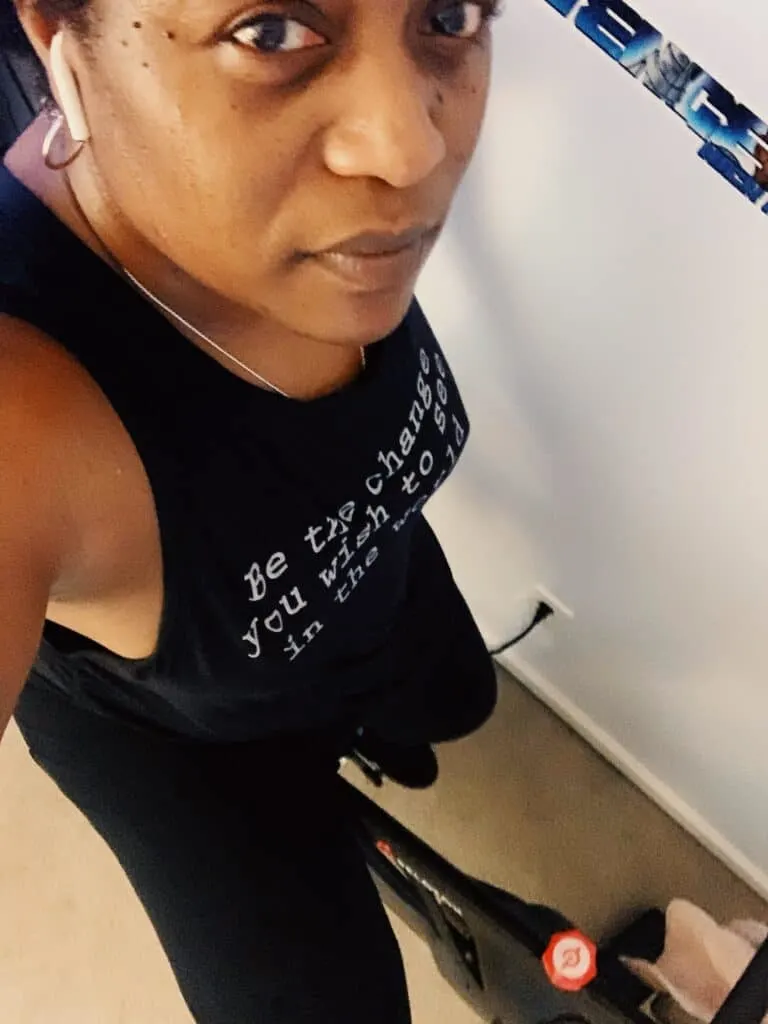 I mentioned at the beginning of this post that I have lost 13 pounds since I started riding my bike regularly? Now that might not be a lot to some, but to me?
That's everything.
As someone who has been struggling in the last few years to find my way back to being healthy, this is my way.
I kow myself, and I don't workout if im not enjoying it. I enjoy the Peloton so I workout.
I don't get short of breath going up the stairs anymore. My legs are stronger, my clothes fit better and I just feel GOOD.
I'm sure my Doctor will be pleased the next time she sees me.
Must Have Peloton Accessories
The last thing I get asked is: what do I need????
If you don't get most of it from when you ordered your bike, I've made a list below!
Must Have Peloton Accessories
Hopefully my Peloton Bike review helped you make up your mind about the bike!
So are you ready? My username is lashawninATL! Follow me on the app!