Easy Family Dinners that are HEALTHY are an actual goal of mine. Perdue is making it so easy for me to make this Ninja Foodi Whole Chicken Recipe.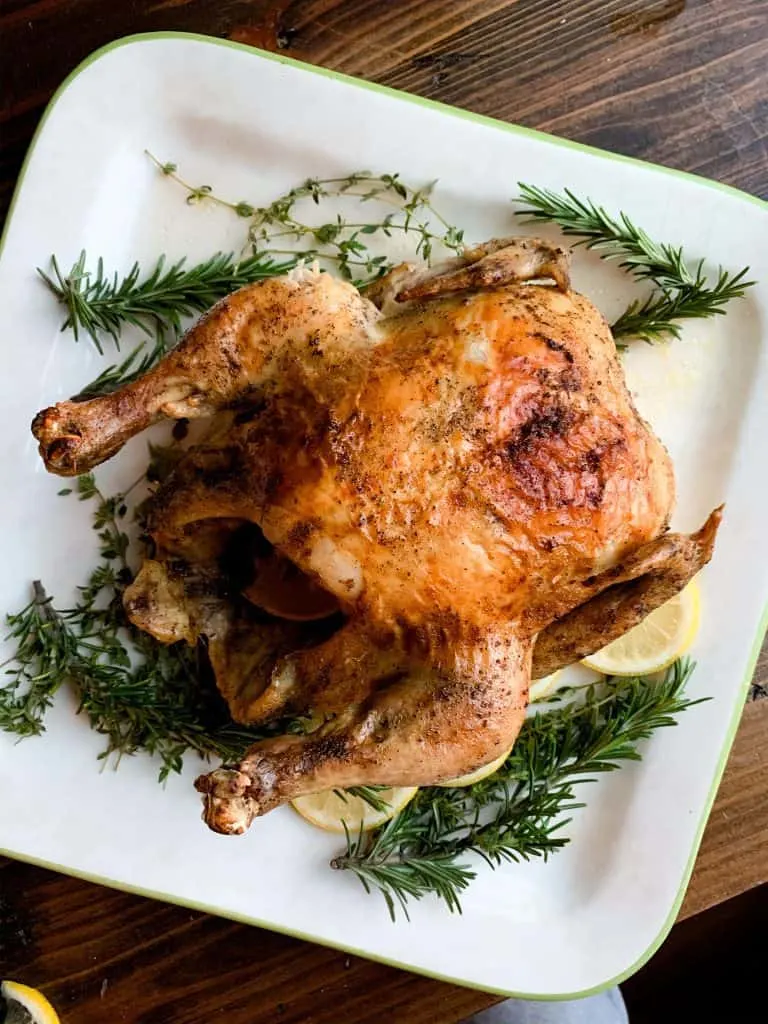 This is a sponsored post on behalf of Perdue Farms. All opinions are my own.
My days are BUSY! And if you have followed me for any amount of time, you know that I love shopping online for my groceries. I am here for anything that saves TIME.
Recently, I was introduced to Perdue Farms' new direct-to-consumer website . Perdue Farms is working directly with small family farmers to raise animals with care and deliver premium proteins directly to your door.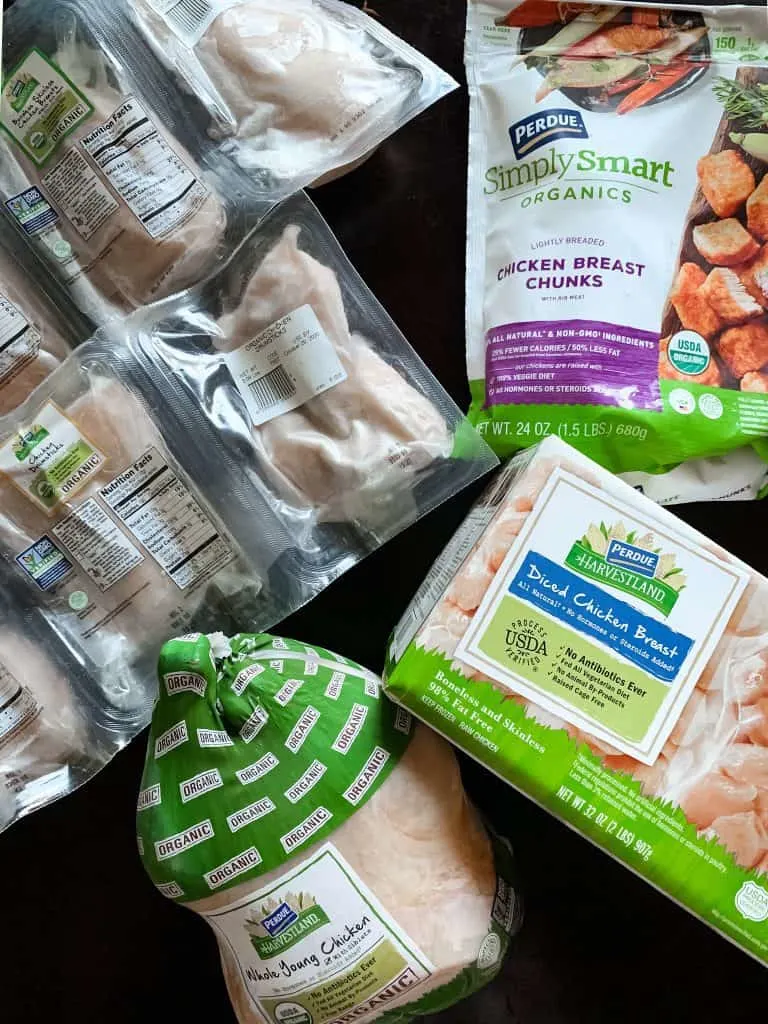 Which is awesome because I am always looking for healthy options that can be delivered right to my home! Because let's face it: there are only 24 hours in the day, and I really don't want to spend a lot of it in the grocery store!
Take the guesswork out of grocery shopping by shipping Perdue Farms' most popular organic chicken products straight to your door. Order here today!
Perdue Farms is more than just Perdue chicken
I know when we think of Perdue Farms, most of us think about Chicken. But Perdue Farms boasts a full line of premium protein products and brands including Niman Ranch, Coleman Natural, Perdue Chicken, Perdue Harvestland, Panorama Meats, Spot Farms, Full Moon and more.
Over the last ten years, Perdue Farms has transitioned from conventional chicken and turkey production to becoming the #1 supplier in the United States for Organic Chicken as well as a leader in premium Beef, Pork, Lamb, Pasture Raised, Grass-fed, Heritage Breed, Antibiotic Free (No Antibiotics Ever), Non-GMO, Ever, Certified Humane, GAP & more.
I'm really excited about this. Because don't we all want to have more convenient ways to feed our families healthy food?
But back to the chicken…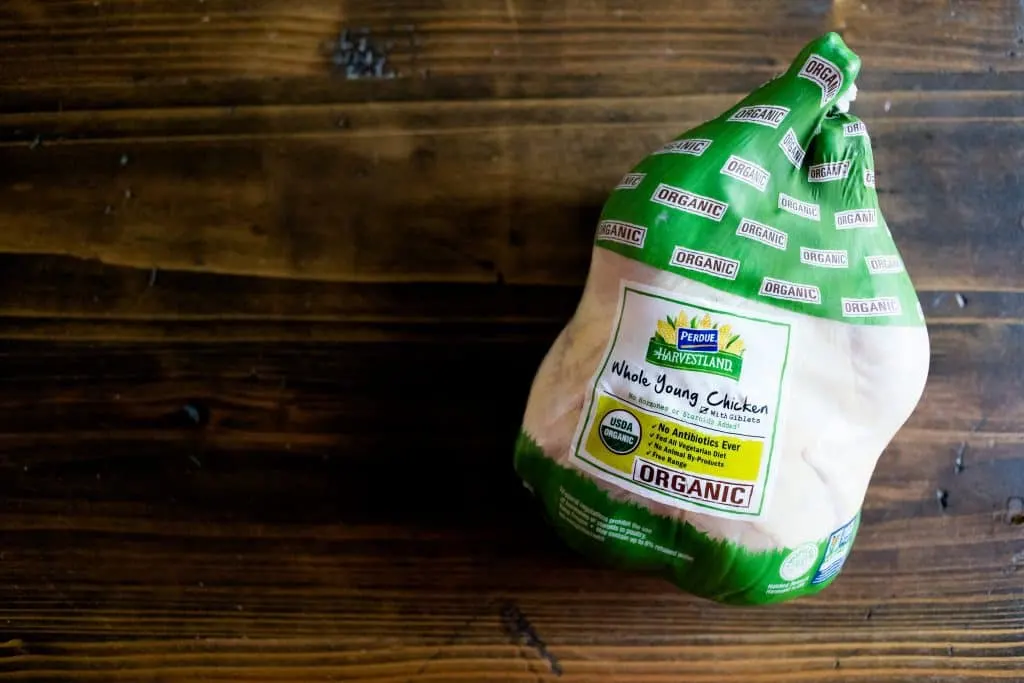 I loved everything in our first box from Perdue, but I couldn't wait to cook this Perdue Harvestland Organic Whole Chicken for dinner one night.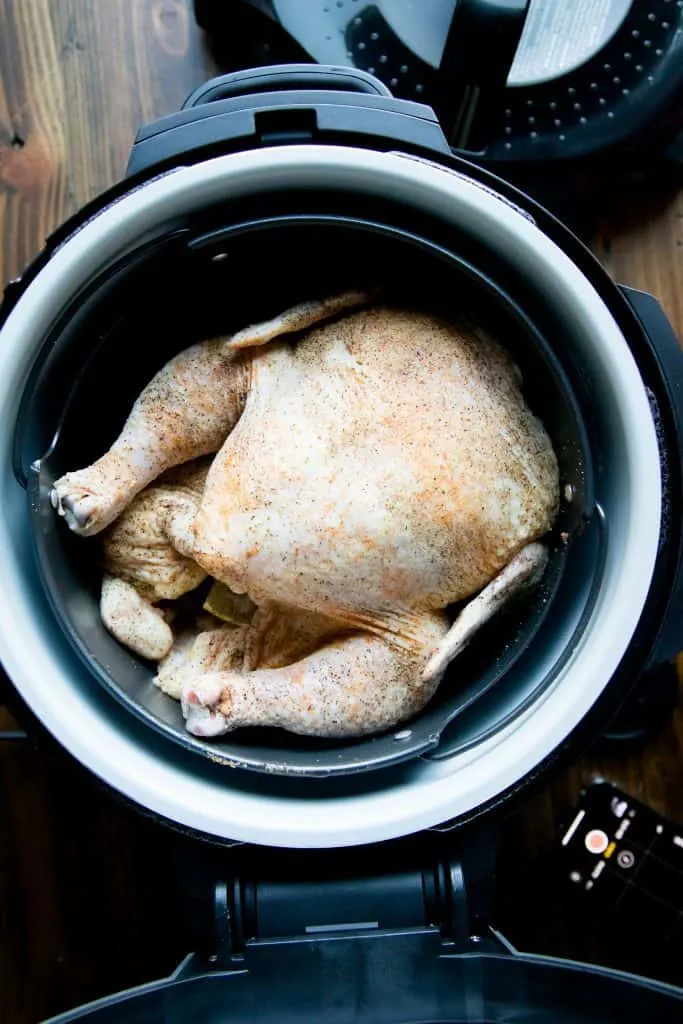 I haven't made a whole roasted chicken in ages because it always seems to take more time than I have. But…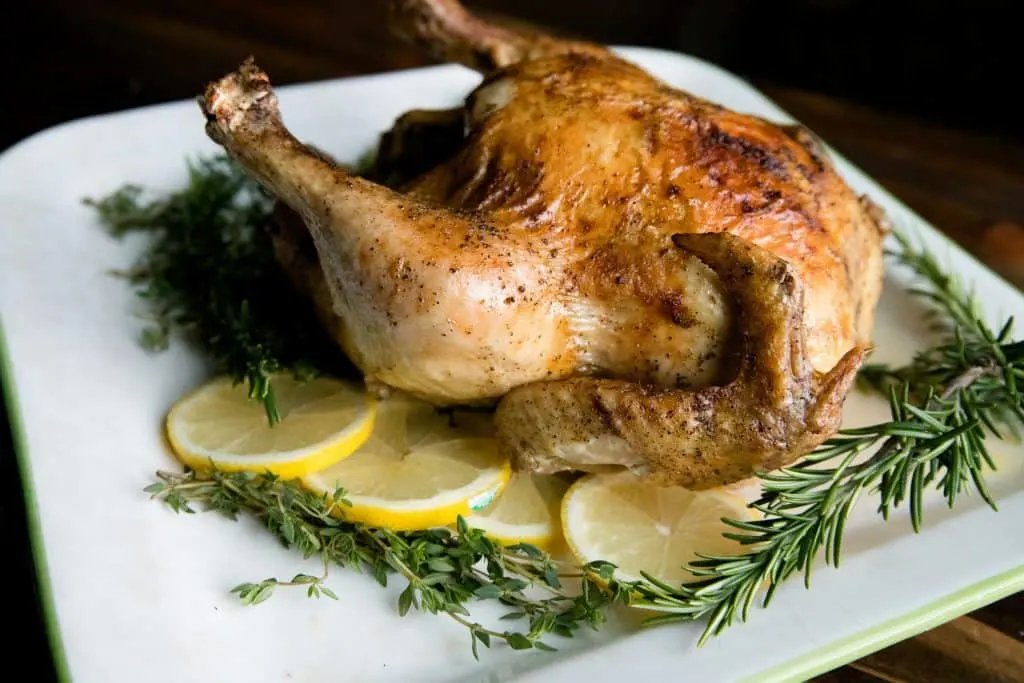 It turned out so well!!!! I know I'm not the only one who is looking for easy healthy recipes during the week! This Organic Chicken is PERFECT for a quick meal made with the Ninja Foodi.
I want my family to eat healthy, but I also want to relax at the end of the day. Keep reading for my easy Ninja Foodi Whole Chicken Recipe! It's the perfect recipe to add to your meal plan!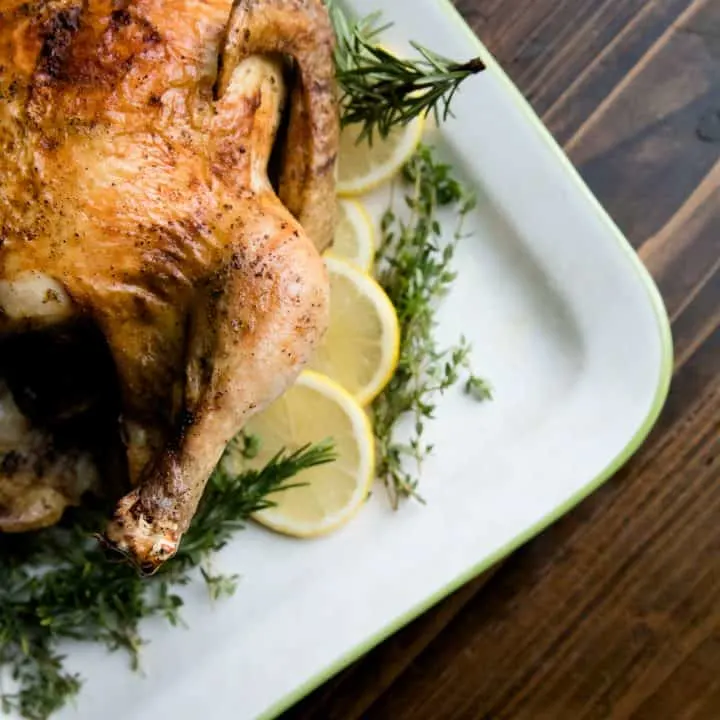 Ninja Foodi Whole Chicken Recipe
Ninja Foodi Roasted Chicken Recipe. Perfect for a quick and healthy weeknight meal.
Ingredients
1 Fresh Perdue Harvestland Organic Whole Chicken
1 cup of water
Seasoning Rub:
1 Tablespoon of seasoned salt
1 Tablespoon of pepper
1 Tablespoon of Garlic powder
1/2 Tablespoon of onion powder
1 teaspoon of smoked paprika
2 Tablespoons of melted butter
1 lemon
Instructions
1. Wash chicken and pat dry.
2. Remove the giblets if included from the inside of the chicken.
3. Season chicken with seasoning rub, and place a cut-up lemon in the cavity.
4. Place Chicken into the cooks and crisp basket and place basket in the pot.
5. Add one cup of water.
6. Place pressure lid on the Ninja Foodi, making sure the pressure release valve is in the SEAL position.
7. Select PRESSURE and set to high.
8. Set time to 30 minutes and select start/stop to begin.
9. When pressure cooking is complete, allow pressure to naturally release or 5 minutes. After 5 minutes, quick release the pressure by moving pressure release valve to the VENT position. Carefully remove the lid.
10. Brush the chicken with melted butter.
11. Close the crisping Lid. Choose AIR CRISP and set the temperature to 400 degrees Fahrenheit. Start with 5 minutes and increase time increments in 5-minute intervals until Chicken is as crisp as you want.
12. Let the chicken rest for 5-10 minutes. Your chicken is done when the internal temperature reaches 165 degrees Fahrenheit.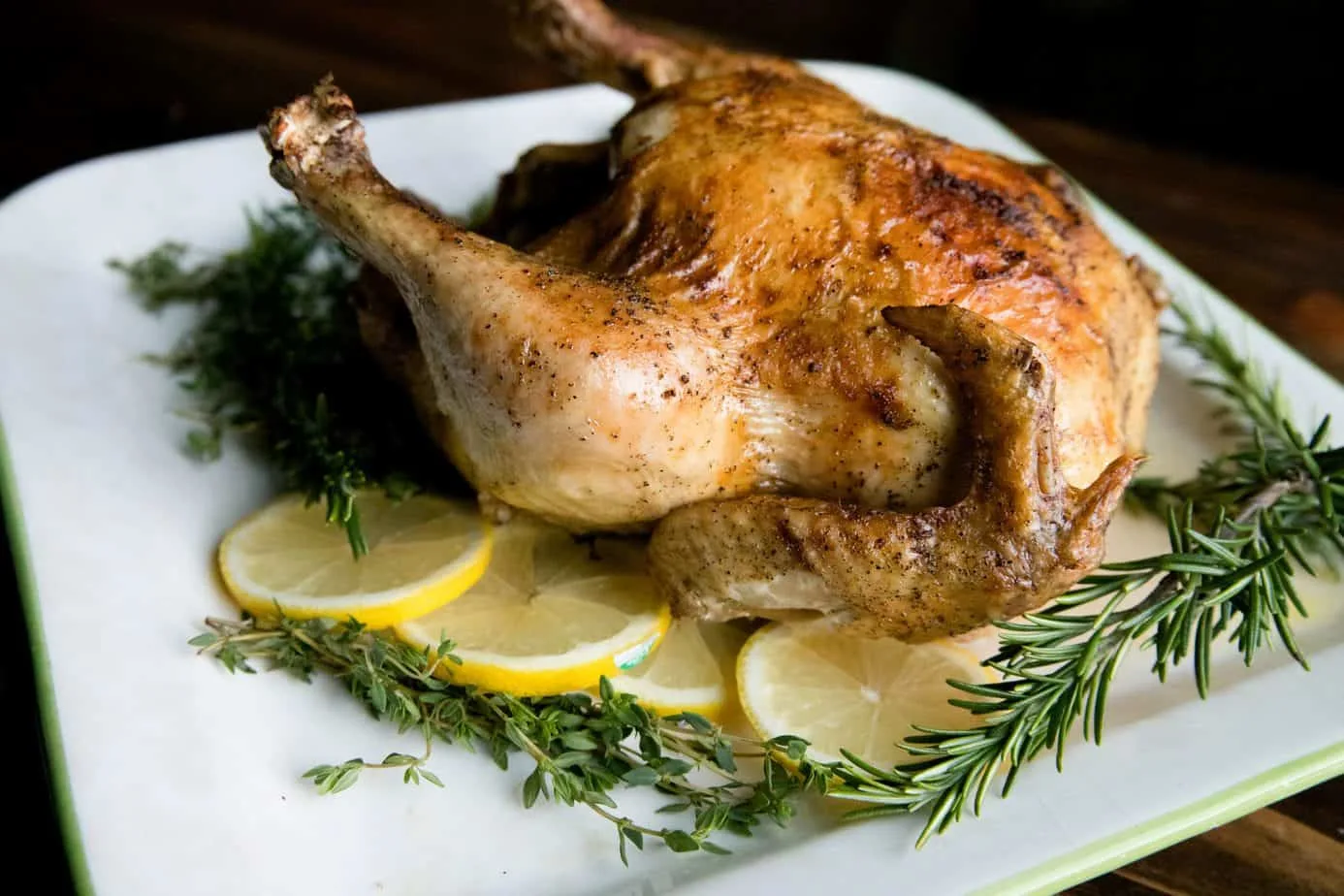 13. remove the chicken from the basket and serve!
Recommended Products
As an Amazon Associate and member of other affiliate programs, I earn from qualifying purchases.
`