My favorite month of the year is right around the corner and it's time for the 2023 October Photo a Day Challenge!
I love doing these challenges 4 times a year, but the October one remains my favorite! Every time I do one of these, I meet new people and get to see Fall in different parts of the country and the world.
SO! Starting SUNDAY, October 1st, join me on Instagram for a photo challenge to spark your creativity and just capture your version of fall.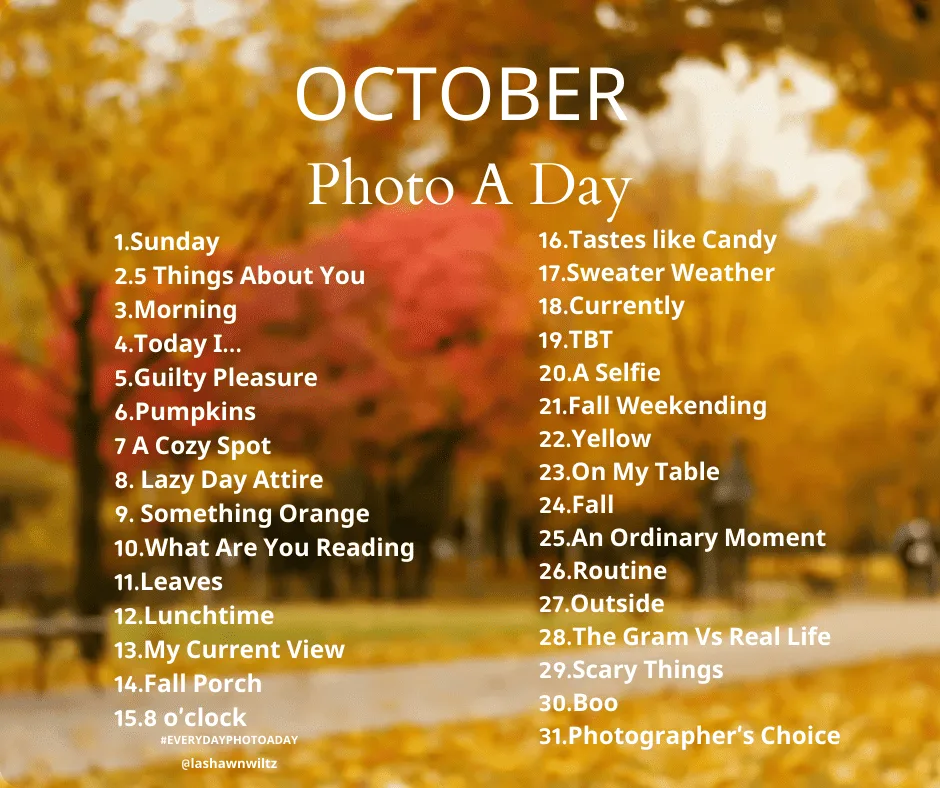 Want to join us? This is what I need you to do:
1. SAVE THIS POST on instagram in a collection so you can refer back to it!
2. SHARE it with your friends so they can participate too! The more the merrier!
3. Check this list every day and take a photo using the prompt as your inspiration!
4. Share your photo on Instagram using the hashtag #everydayphotoaday.
5. Go through the #everydayphotoaday hashtag ( make it easy and follow the hashtag so it shows up in your feed) and like ,comment and find new friends in the community!
And now, an explanation of the prompts…
1.Sunday: Share your Sunday
2.5 Things About You: Tell us about you
3.Morning: what does your morning look and feel like
4.Today I…: what did you do today?
5.Guilty Pleasure:what is your guilty pleasure?
6.Pumpkins: self explanatory.
7 A Cozy Spot: Share a cozy spot
8. Lazy Day Attire: what do you wear for a lazy day
9. Something Orange: tis the season of orange
10.What Are You Reading: what are you reading right now,
11.Leaves: what do the leaves look like where you are?
12.Lunchtime: what did you have for lunch?
13.My Current View: what do you see?
14.Fall Porch: what does your front porch look like?
15.8 o'clock: what is happened at this time?AM or PM
16.Tastes like Candy: Halloween candy
17.Sweater Weather: is it this cold for you?
18.Currently: what is currently going on with you?
19.TBT: throwback Thursday! Share a memory
20.A Selfie: Share a selfie
21.Fall Weekending: what does your fall weekend look like?
22.Yellow: share something yellow
23.On My Table: what's on your table
24.Fall : share fall in your neck of the woods
25.An Ordinary Moment: ordinary moments are the most beautiful
26.Routine : share a routine
27.Outside: what does it look like outside where you are?
28.The Gram Vs Real Life: share your reality
29.Scary Things: halloween approaches
30.Boo:share something scary or scary fun
31.Photographer's Choice: whatever you want!
Can't wait to see everyone's photos!