Want chicken alfredo without having to go to a restaurant or spend hours in the kitchen? Make this quick and easy homemade chicken alfredo recipe tonight!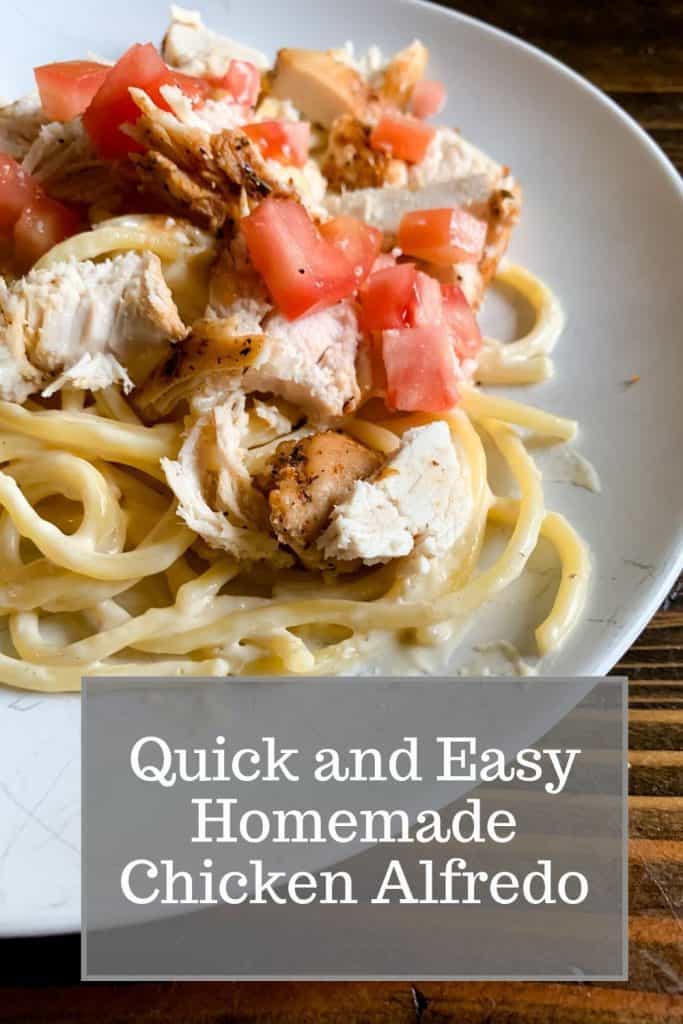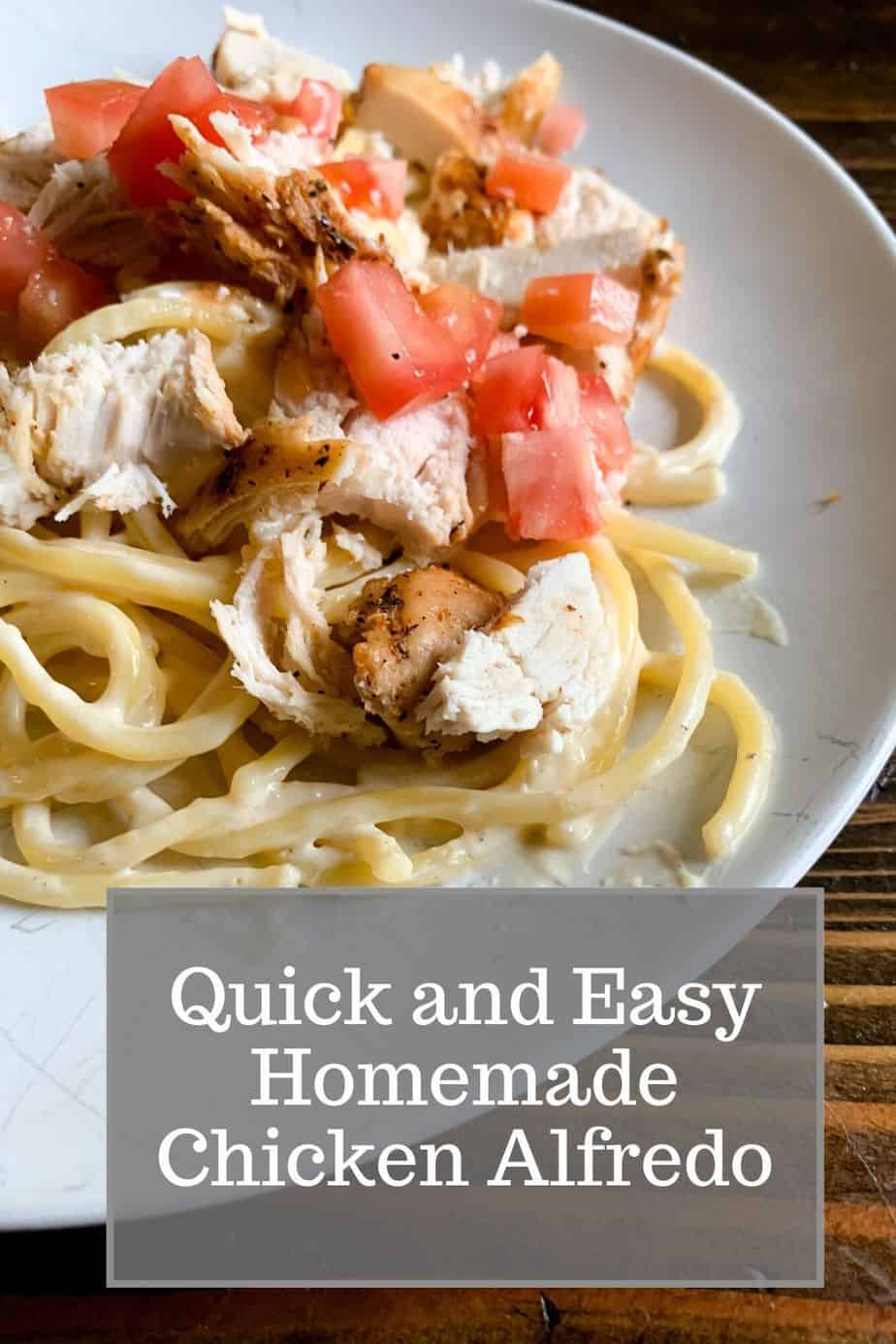 This post contains affiliate links
I love Chicken Alfredo. In fact, if we go to a restaurant and it's on the menu, I will get it. I recently spent time in New York and ate at a REAL Italian restaurant in Little Italy and I was obsessed with their Alfredo. So much so that I was ready to try to recreate it when I got home.
But then I remembered that I am also obsessed with not spending a lot of time in the kitchen!
And so my quick and easy Homemade Chicken Alfredo recipe was born.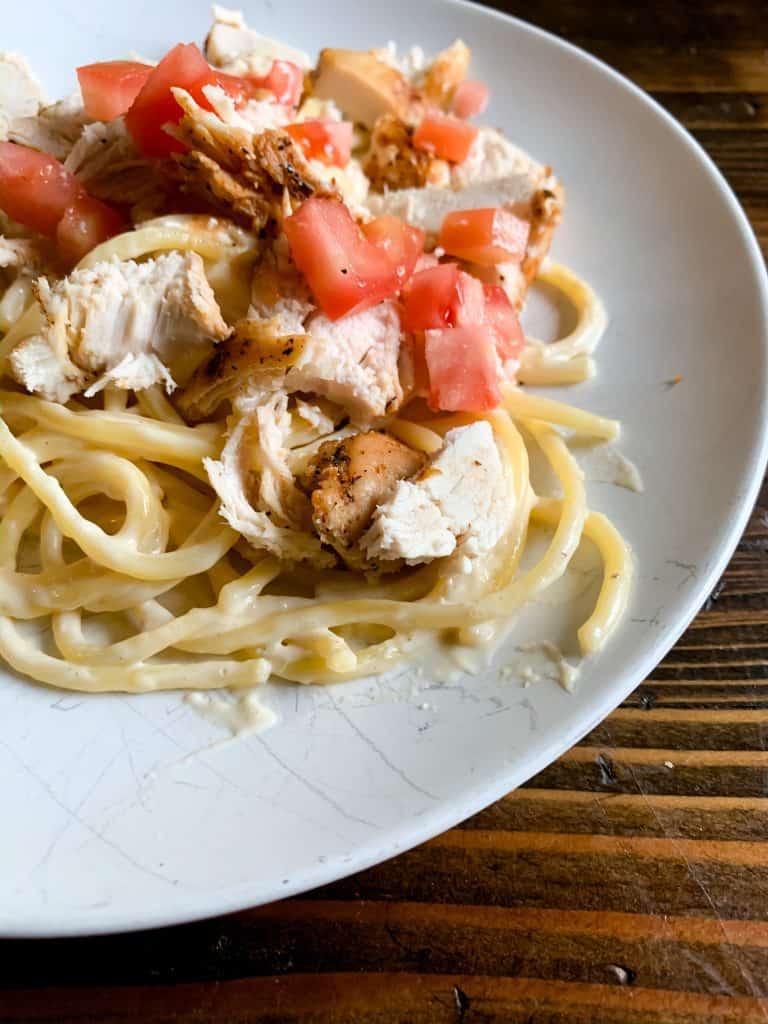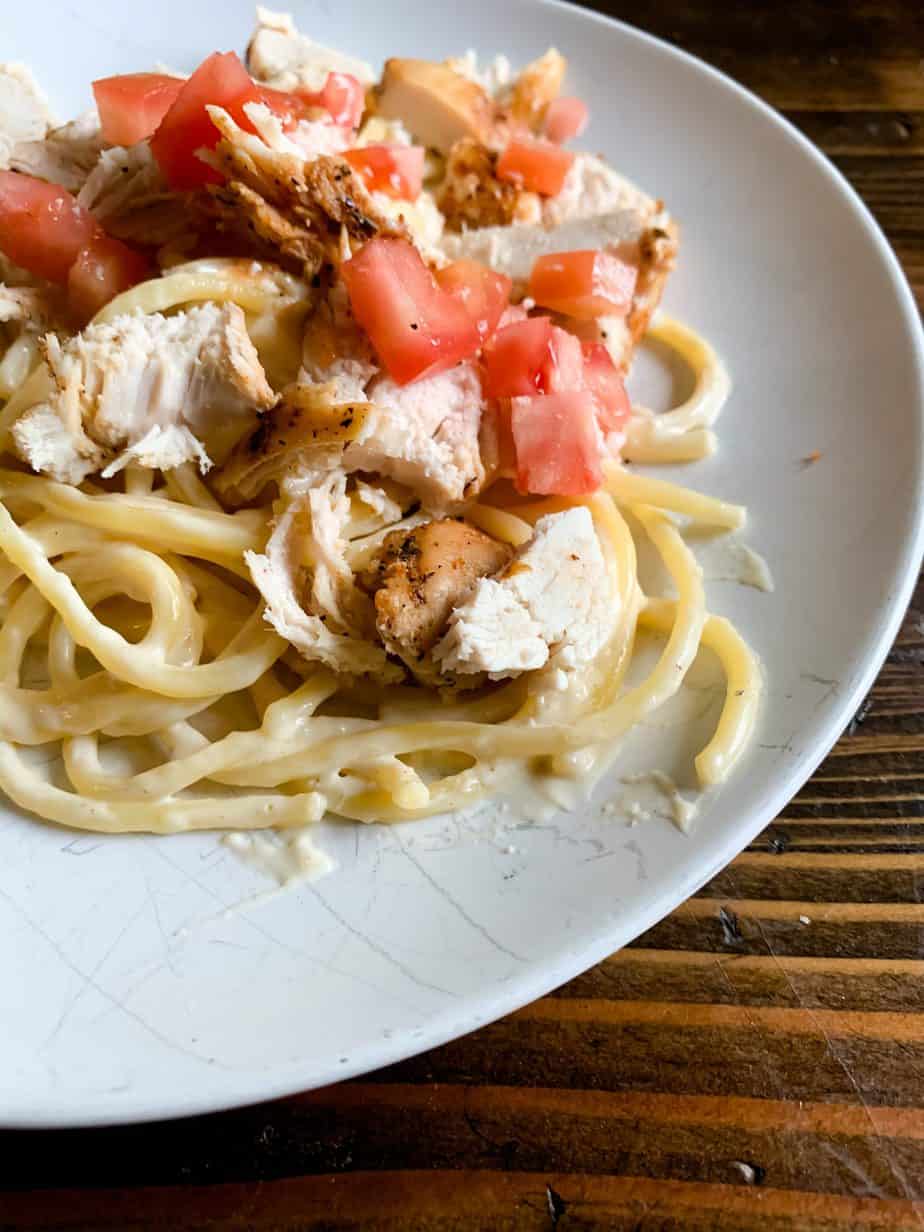 It uses basic ingredients that you can almost always find in your pantry:
Ready-Made Cooked Chicken breast strips. ( I used these )
Garlic
Heavy Cream
Butter
Parmesan
Any type of Pasta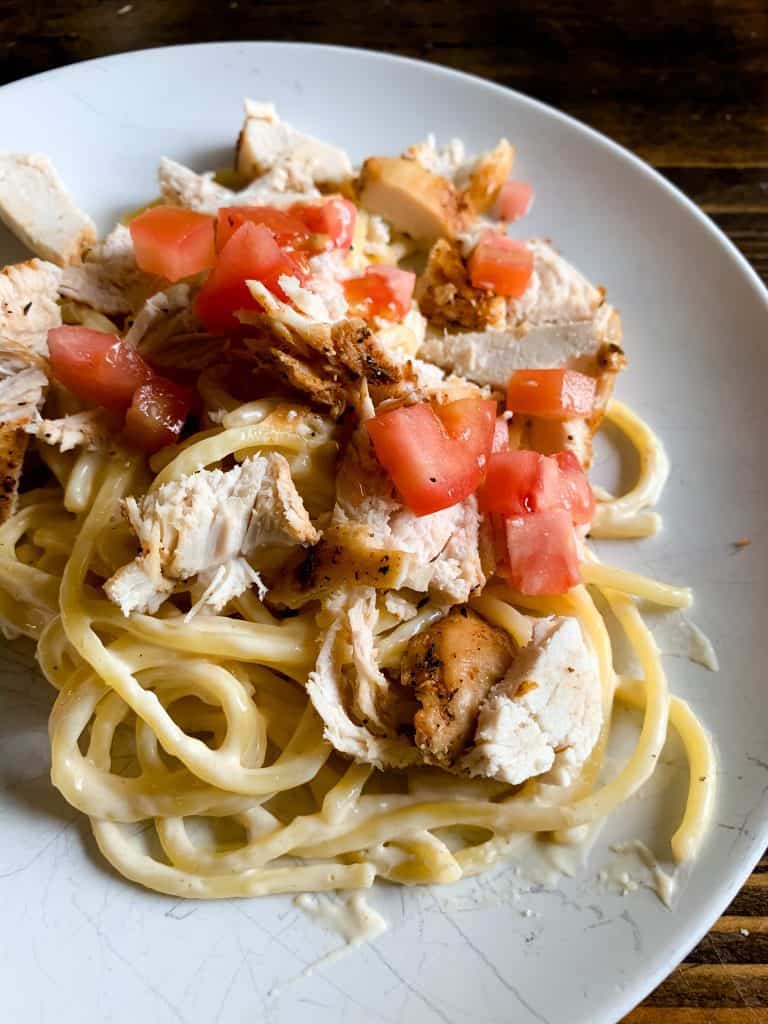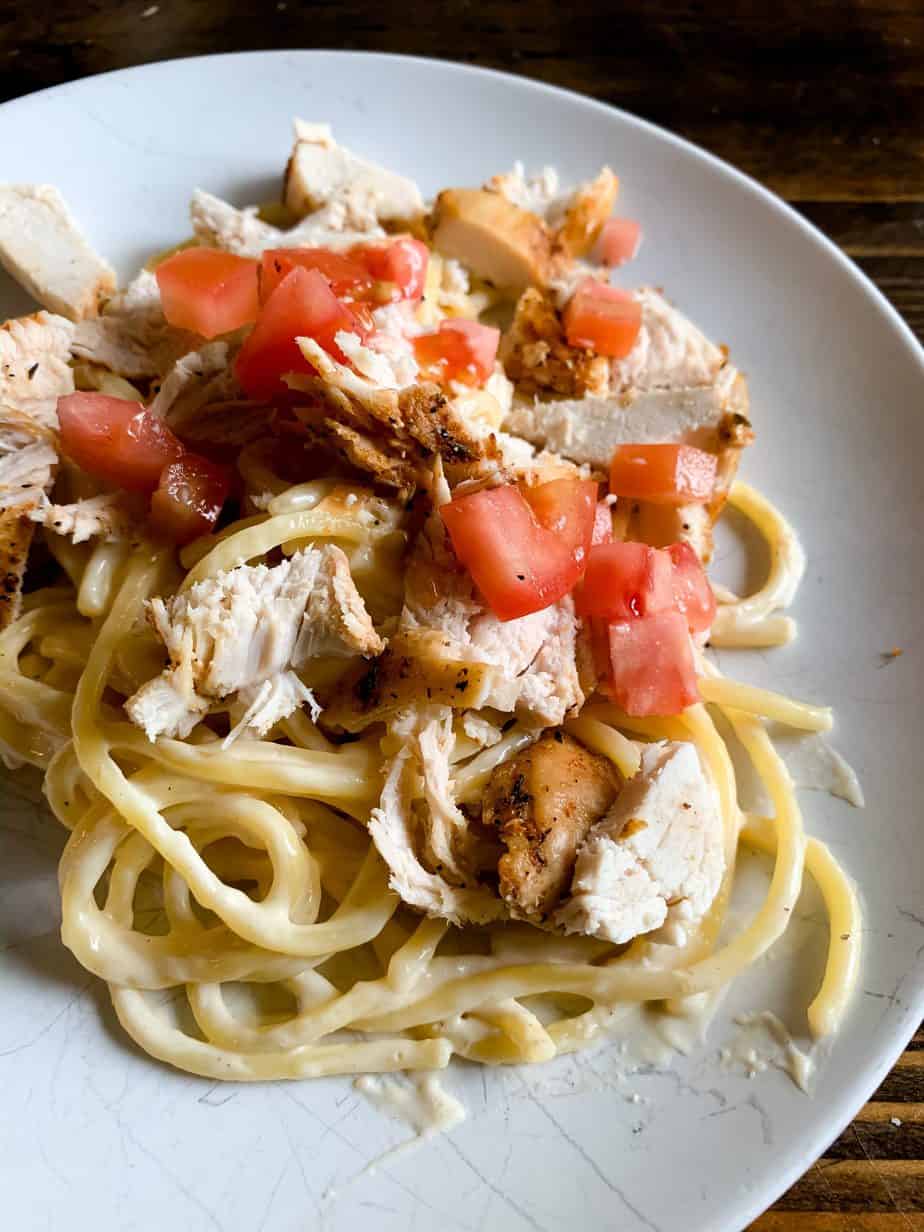 This is how easy it is:
Start cooking your pasta of choice ( make sure you add salt to your boiling water!).
While your pasta is boiling, heat up butter, add your garlic and after 1-2 minutes, slowly add in your heavy cream and cheese, whisking all the while to incorporate.
Add your chicken ( I heated mine in the microwave) to the mix and serve hot with tomatoes for garnish and MORE CHEESE.
Done. Everyone is happy.
This recipe seriously takes me about 20 minutes from start to finish.
Perfect for any weeknight!
Enjoy!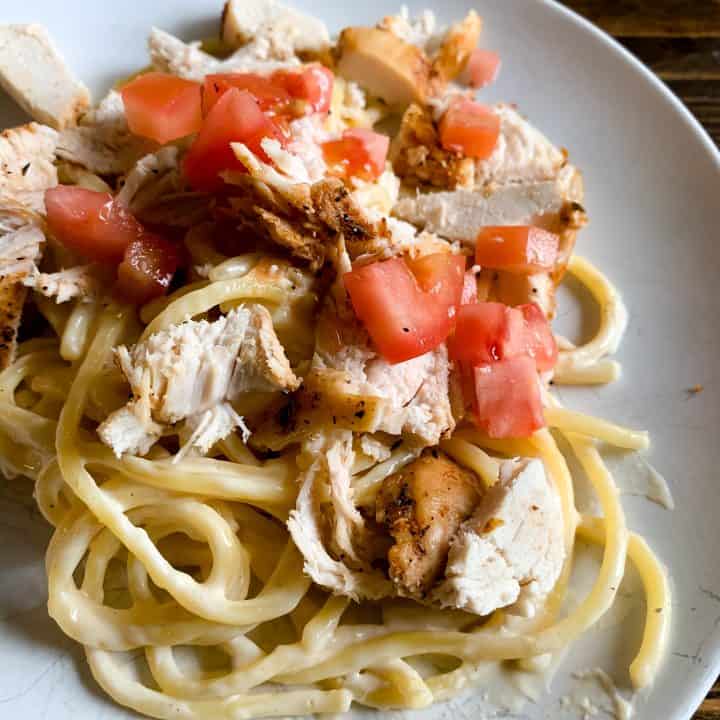 Quick and Easy Homemade Chicken Alfredo
Quick and Easy Homemade Chicken Alfredo. Perfect weeknight meal.
Ingredients
Fully Cooked Grilled Chicken Breast Strips or Pre-made Chicken breast diced
2 tablespoons olive oil, divided
1 tablespoon cajun seasoning
8 ounces of whatever pasta you have
2 tablespoons unsalted butter
3 cloves garlic, minced
1 cup heavy cream, or more, to taste
1/4 cup freshly grated Parmesan
Kosher salt and freshly ground black pepper, to taste
2 Roma tomatoes, diced
Instructions
In a large pot of boiling salted water, cook pasta according to package instructions; drain well.
Melt butter in a saucepan over medium heat. Add garlic, and cook, stirring frequently for about 1-2 minutes.
Whisk in heavy cream. Cook, whisking constantly until incorporated, about 1-2 minutes.
Stir in Parmesan until slightly thickened, about 1-2 minutes. If the sauce is too thick, add more heavy cream.; season with salt and pepper, to taste.
Stir in pasta and gently toss to combine.
Warm Chicken as directed on package
Serve immediately with chicken, garnish with tomatoes if desired.