Thank you Chesapeake Bay Candle for partnering with Everyday Eyecandy on this post about my ongoing search for ways to practice self-care! We all need to do it!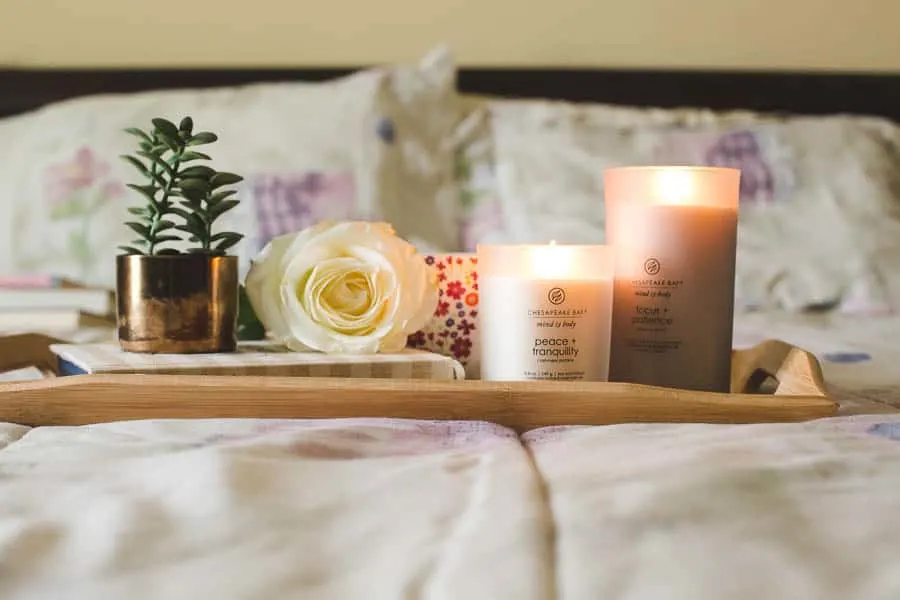 About twice a month, I get a day off from my day job. Now in the past, those days were always spent running around like a chicken with my head cut off trying to do ALL THE THINGS in those 48 hours.
My day off became just as stressful as a regular work day. I always ended them tired and longing for more time to just relax.
But this year, in the name of thriving and taking care of myself, I decided that one of those days would be Self Care day of the month. In other words, anything I did that day would be about me: getting my hair done, taking myself to breakfast, a pedicure, bingeing on Netflix all day or relaxing in bed with a cup of coffee and a great book.
Last week, I decided that it was going to be a bed and a great book self-care kind of day. Scents and candles have always said relaxation to me and I knew it was the perfect time to try out the The Chesapeake Bay Mind & Body collection.
First, the Chesapeake Bay Candles from this collection are gorgeous…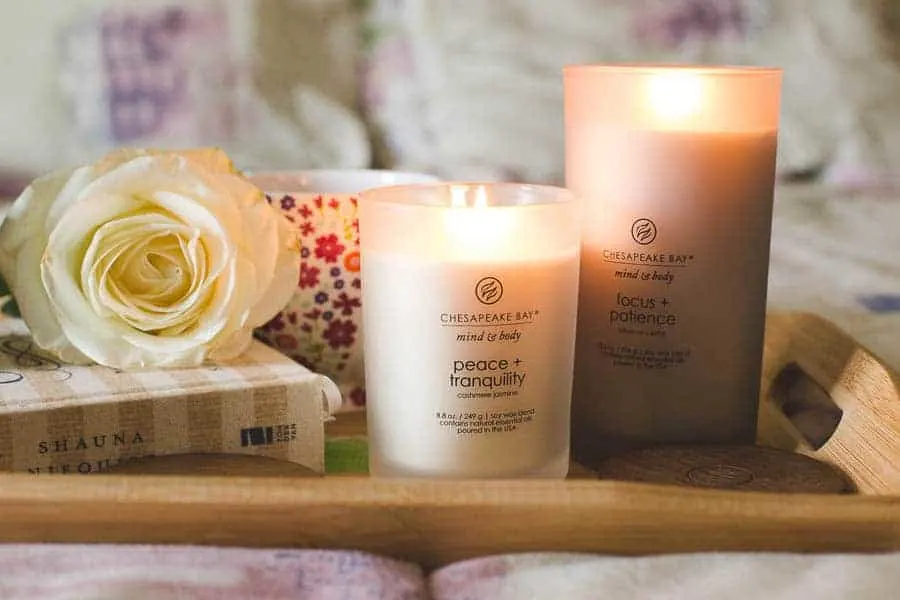 All the candles are made from a natural soy wax blend and feature self-trimming wicks.
The natural wooden lids add a classy touch to them and the soft colored frosted jar candles allow the light of the flame to shine through when burning. ALL of the scents are amazing, but my favorites for relaxation are the Peace + Tranquility Candle ( Cashmere Jasmine) ( which has fresh and clean notes of lily of the valley and bergamot, along with Jasmine, cotton blossom, rose, cashmere woods, white musk and sandalwood) and the Focus + Patience Candle ( Tobacco Cedar) ( which contains calming and inspiring notes of black tea, cinnamon bark and cedar, wrapped in smoked birch and musk).
I'm actually planning to use the other two candles in this collection for my birthday weekend home spa day.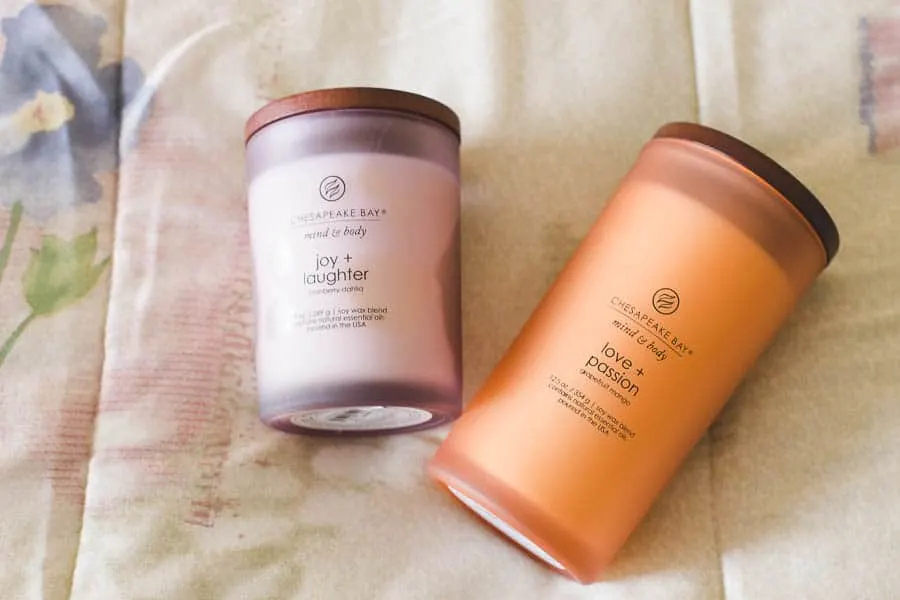 The fragrance description of the The Love + Passion Candle ( Grapefruit Mango) reads: "Young love blossoms with blushing peach nectar, sparkling orange and tart grapefruit. Notes of tropical mango and juicy berries are wrapped in a delicate floral bouquet capturing the alluring feeling of a new romance. Creamy coconut, vanilla and sheer musk adds softness and poetry to this colorful voyage of love and passion."
The Joy+Laughter Candle ( Cranberry Dahlia) description reads "A blissful fruity top of cassis, cranberry and plum nectar smiles at the crest. Rose and dahlia meet in the middle with pink peppercorn as a note of a full-bodied red wine sings sweetly of past memories and family gatherings. Cedarwood and mahogany ground this fragrance as a touch of spice adds complexity to an overall light and gleeful air."
Listen, they smell as divine as the description say they do. I can't wait to light up these Chesapeake Bay Candles and relax on my birthday. There will be chocolate involved too…
Head on over to the Chesapeake Bay Home Page to find out more about the Mind and Body collection from Chesapeake Bay Candles and choose one or two..or all of them for yourself!
Which candle sounds like one you would like to try?