The Ultimate Guide For Using Hashtags On Instagram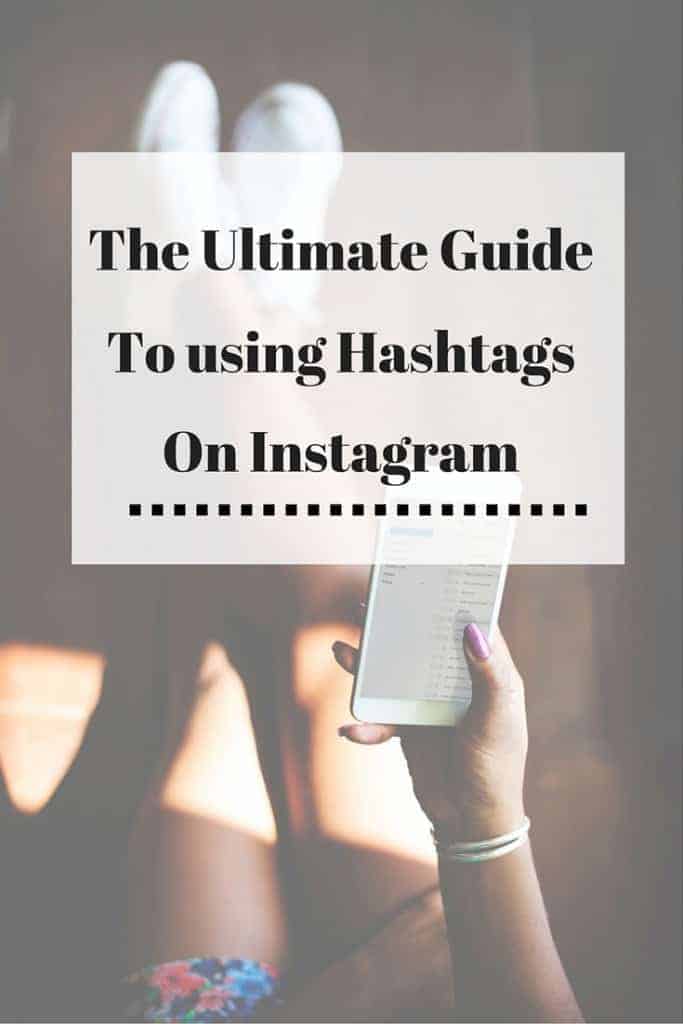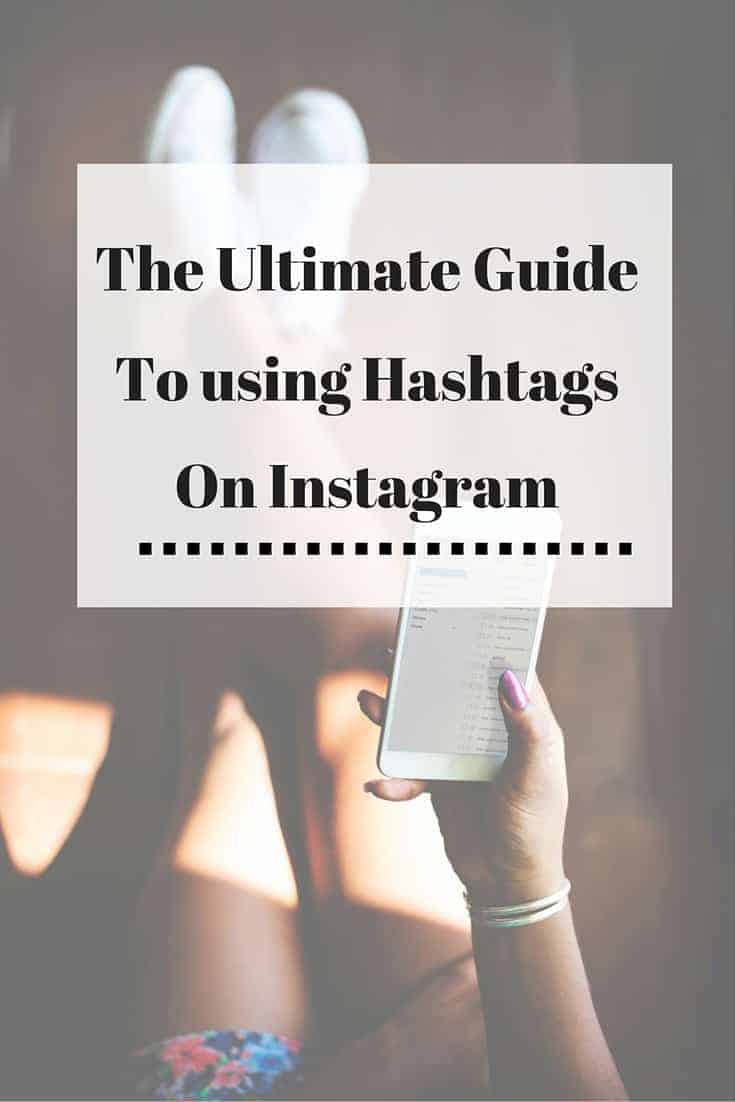 I've talked about using hashtags on Instagram to grow your Instagram in THIS post and of course, in my Grow Your Instagram course, there is a whole day dedicated to hashtags.
I know there are some who think hashtags are spammy and that using them is a like screaming "LOOK AT ME!" But no!
Hashtags are the search engine of Instagram. Not only do hashtags on Instagram help you find your people/your tribe, but it also helps them to find YOU.
But don't just throw up a popular hashtag and think that they will come! Hashtag use on Instagram is about being strategic!
That being said, I've got 5 "rules" for using Instagram hashtags:
Make sure you research your hashtags: Find the hashtags that fit your brand/your photos. Use the search bar to search for hashtags that might be relevant. Click on hashtags used by people in your niche. If you click on a hashtag, not only will Instagram show you all the photos in that hashtag, but it will also show you related hashtags at the top.
Dont overuse hashtags: Instagram allows up to 30 hashtags per photo. I'm not going to tell you not to use all 30. But use your hashtags strategically. Don't #speak #in #hashtags.
Be strategic about using your hashtags: At the time I am writing this post, the hash tag #travel has over #90,400, 176 posts in it. If you hashtag your photo #travel, it's going to get swallowed by the posts in that group within a minute. And you will reach no one. Remember to niche down. For example #family travel has 167,721 posts in it. You post is more likely to be seen and reach who you want: your core audience.
Post your hashtags…right away. When you post your content, make sure to post your hashtags right away. You can do this in your caption OR you can post your content, then immediately post your hashtags in the comments. Which one you do depends on you. Remember, Instagram posts your photos in hashtags in the order that they are posted originally. So if you add a hashtags hours later, the photo will still appear in the hashtag..at the actual time you posted it.
Save your hashtags: That being said. Save your hashtags. I have several groupings of hashtags based on content I post and have them saved in my notes section of my iPhone. You can also save them in Evernote, or in pdf form on your phone. As long as you have them available so that you can just copy and paste into Instagram!
So if you want to know where to start or what hashtags to start using, I've made you the ultimate guide for using hashtags on Instagram. It is a downloadable list of hashtags. I've included 15 Popular Categories for Instagram posts and hashtags for each group. At the end of this post, you can download this as a PDF to your phone and have it at your fingertips. That way you can copy and paste as needed!
Lifestyle
#morningslikethese #thatsdarling #darlingweekend #flashesofdelight #abmhappylife #abmlifeiscolorful #thehappynow #liveauthentic #nothingisordinary #pursuepretty #livethelittlethings #sundayfunday #liveunscripted #livealittle #todayslovely
Food
#igfood #huffposttaste #foodporn #onthetable #foodgasm #foodiegram #onthetable #mytable #mytablesituation #instaeats #foodgasm #foodie #foodphotography #Brunching #f52grams
Fitness
#fitness #fitnessaddict #fitnessjourney #fitnessmodels #instayoga #fitfood #yogaeverydamnday #yogalove #fitfood #runner #marathontraining #instarunners #runchat #girlswhorun #runnersofinstagram
Healthy Lifestyle
#organic #plantstrong #greens #greenjuice #juicing #organic #greensmoothie #poweredbyplants #juiceoftheday #eatyourgreens #vegansofig #vegan #rawfood #strongnotskinny #rawveganfood
Fashion
#fashionista #fashionaddict #fashionblogger #beautyblogger #gorgeous #skincare #dreamsoffashion #effortless #designer #outfit #urbaninspiration #outfitoftheweek #fashionmagazine #fashioncouple #styleblogger
Coffee
#coffeeshots #coffeegram #cultureespresso #espresso #coffeenclothes #coffeepics #butfirstcoffee #coffee #coffeeshop #coffeeaddict #coffeeart #coffeegram #latteart #coffeeshots #coffeelover
Photography
#photography #photooftheday #makemoreportraits #monochrome #Photos #pic #vsco #vscocam #flatlay #fromwhereistand #iphoneonly #vscogood #vscophile #mashpics #postitfortheasthetic #iphoneography #androidography
Quotes
#quoteoftheday #dailyquote #quotesofinstagram #inspirationalquotes #instaquote #wordstoliveby #quoting #lifequotes #design #cutequotes #quotestoliveby #instaquoting #quotesandsayings #quotestags #quoted
Plants and Flowers
#succulents #plants #succulentlove #plantlife #flowers #plantsofinstagram #flowersofinstagram flowerstagram #flowersoftheday #flowersmakemehappy #nature #flowerlove #garden #naturelovers #vsconature #outdoorphotography
The Instagrammer
#igers #instalike #instagood #picoftheday #instagrammers #instafood ##instalove #instadaily #igaddict #photooftheday #instadaily #insta #instacool #instafollow #instatravel #instafamous
Craft/Creatives
#creativityfound #diyproject #crafternoon #doityourself #createexploretakeover #makesomething #creativelife #createeveryday #doitfortheprocess #diy #ilovedesign #artofvisuals #artstagram #interiordesign #design
The Blogger
#ontheblog #bloggerlife #foodblogging #mommyblogger #momblog #fashionblogger #styleblog #blogger #lifestyleblog #bosslife #bosslady #travelblogger #linkinprofile #lifestyleblogger #diyblog
Travel
#travel #instatravel #explore #traveljunkie #exploreeveryting #adventuretravel #wanderlust #exploreer #traveltuesday #traveldiaries #neverstopexploring #travelblogger #traveljunkie #vscotravel
Children
#kids #kidsofinstagram #kidstagram #instagram_kids #kidsthesedays #childhoodunplugged, #letthekids #letthembelittle #vscokids #Candidchildhood #momswithcameras #momtogs #kidsforreal #writeyouonmyheart #throughachildseyes #kidsforreal
Motherhood
#heaventhroughmylens #momswithcameras #mynameismama #clickinmoms #momtogs #mamazine # Ig_motherhood #thebloomforum