To keep this interesting, I decided that this week, all of my photos would be taken with my "kit lens" and my *Lensbaby Spark .
For those of you who don't know, the Kit lens is the lens that comes with your camera when you buy it. Serious photographers will tell you to get rid of it as soon as you get it because it's just no good because of the variable aperture. The Lensbaby is more of a creative lens that I got at Christmas time as a gift to myself.
15/365: Kit lens: It rained all week. ALL week. But these bushes in my front yard were beautiful.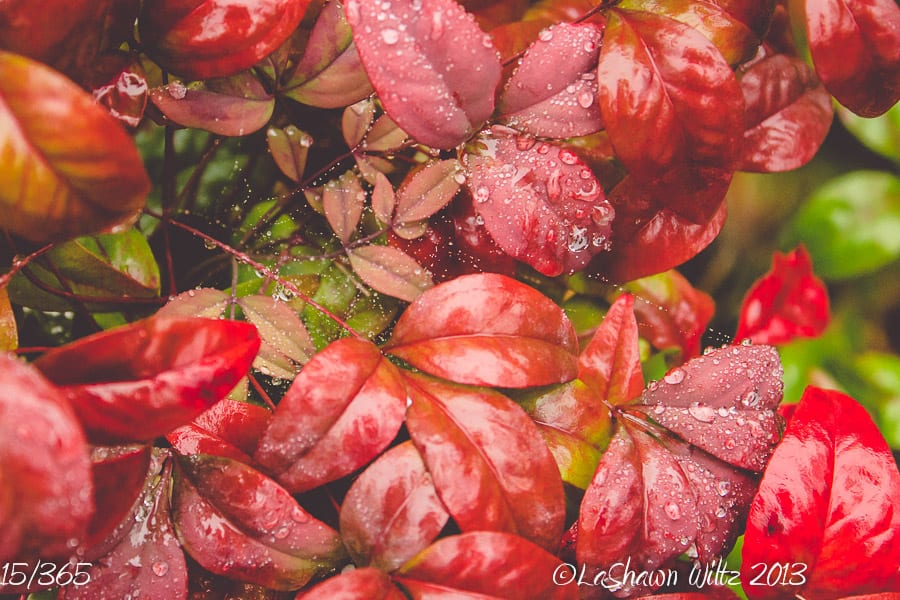 16/365: Kit Lens: It was so cloudy and dreary!!! But we live at the top of a hill now, Pookah is fascinated!
17/365: Kit Lens: This was on Thursday, after work. I had no energy to think creatively, so I took a photo of a breakout from Clickin Moms I'm reading. Hey, it counts.
18/365: Lensbaby Spark: It stopped raining for a while, and I took the Lensbaby outside while there was a peak of sunshine and caught this in the backyard.
19/365 LensBaby Spark: The sun came out!!!! I couldn't choose between these two! Makes up for day 17 🙂
20/365: The kit lens: This past weekend was lovely…..
21/365:Lensbaby Spark. CDub. He let me get three photos this time instead of two! Making progress!!!
So what I learned this week, or rather reaffirmed for myself this week is that while upgrading your lens' is a wonderful wonderful thing, you don't have to have expensive glass to take great photos. For me, it was a reminder and a validation that I CAN take good photos with or without an expensive piece of glass. I needed that. I loved being challenged this week! I think next week, I'll use one lens all week long! Maybe my *Canon EF 35mm f/2
?
*this post contains affiliate links*