It's almost August and I have that itch…that itch to do a photo a day project for a month. I've only been successful with a 365 project ONCE, and frankly, just can't make the commitment again at this time. That's why I love doing photo a day projects throughout the year. They are a good way to jump-start your creativity and pick up your camera. Because you can only get better by practicing! So starting Tuesday, August 1st, I will be hosting August Eyecandy Photo a day Project over on Instagram! Join us!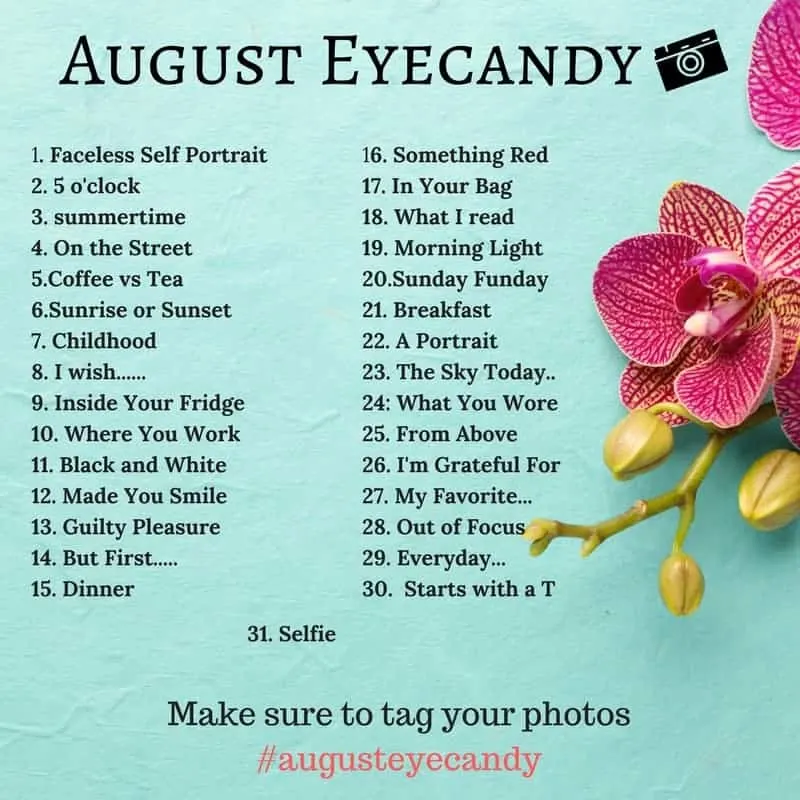 How to Participate
Simple: Just check the list every day and take a photo using the prompt as your inspiration.
Then, share your photo on Instagram using the hashtag #augusteyecandy.
Go through the #augusteyecandy hashtag to like and comment and be a part of the community.
Every Friday in August, I will go through and share four photos from the hashtag that have captured my attention.
If you need an easy way to remember the prompts, CLICK here or the photo above to download it to your computer or your phone. OR just take a screenshot and save it!
Here is an explanation of all the prompts for the August Photo A Day….
Faceless Self Portrait: Take a photo of yourself, but don't include your face! Be creative!
5 o'clock: Show us what you are doing at 5 am or 5 pm
Summertime: Show us summertime in your neck of the woods
On the Street: a little street photography. What do you see?
Coffee vs Tea: Which one do you drink?
Sunrise or Sunset: capture one!
Childhood: show us an example of childhood
I wish…: what do you wish for?
Inside Your Fridge: What's inside your fridge?
Where You Work: show us where you spend your work day
Black and White: take a photo and convert it into black and white. Or show us something that IS black and white
Made You Smile: what made you smile today?
Guilty Pleasure: what's your guilty pleasure?
But First…: what do you need to do first?
Dinner: what did you have for dinner?
Something Red: Something red!
In Your Bag: what's in your bag? Share!!!!
What I read: what are you reading this month?
Morning Light: show us that morning light where you are!
Sunday Funday: What are you doing fun on this Sunday?
Breakfast: What's for breakfast?
A Portrait: take a photo of someone
The Sky Today: what did the sky look like? Cloudy? Sunshine?
What You Wore: What did you wear today? Show off!
From Above: Take a photo from a bird's eye view
I'm Grateful For: what are you grateful for today?
My Favorite: show us your favorite…something…
Out of Focus: Get creative, show an out of focus photo or bokeh!
Everyday..: what do you do every day?
Starts with a T: find something that starts with a T
A selfie: Take a full on selfie! Don't be ashamed!
I can't wait to see everyone's photos! Make sure you are following me on Instagram @lashawnwiltz! See you Tuesday!
Related articles across the web