I love overnight oats. Specifically, I love these Banana Bread Overnight Oats. I feel like if I'm going to eat oatmeal, it should taste like a desert and be semi-healthy.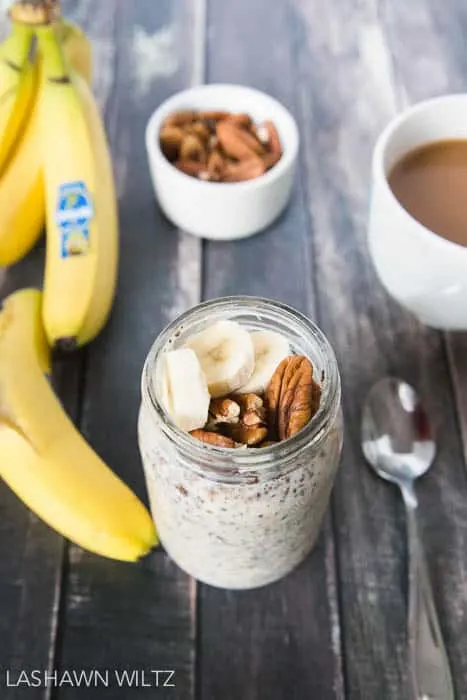 Banana Bread Overnight Oats
I've been on this kick to eat healthier. It's hard!!( So many donuts, so much bacon…) But I've been gradually changing the way I eat one meal at a time.
I don't always make healthy choices, but I'm getting better. I've always been a breakfast eater, but not a HEALTHY breakfast eater.
Related Article: 30+ Overnight Oats Recipes
But it's hard to cook up a healthy breakfast every morning in between getting Pookah to school and getting ready for work. I needed something quick, healthy, and good. I heard about overnight oats and I was intrigued.
I did my research ( Pinterest of course) and discovered a lot of recipes but none that made me want to try. But what I did see were a lot of varieties of what has become my recipe for Banana Nut Bread Overnight Oats.
Of course, my Overnight Oats recipe is not only gluten-free but if you want to get technical, it's vegan too!
Side note: I'm not Vegan, I'm just a weekday vegetarian.
Luckily, all of my ingredients were things that I already had in my pantry, which, let's face it, is the hallmark of a good easy recipe.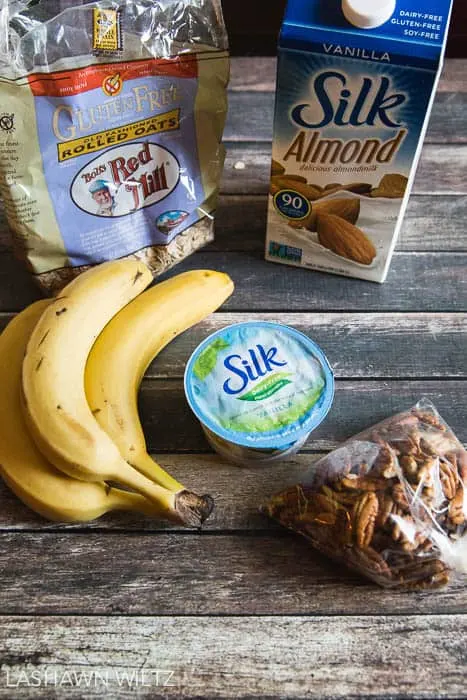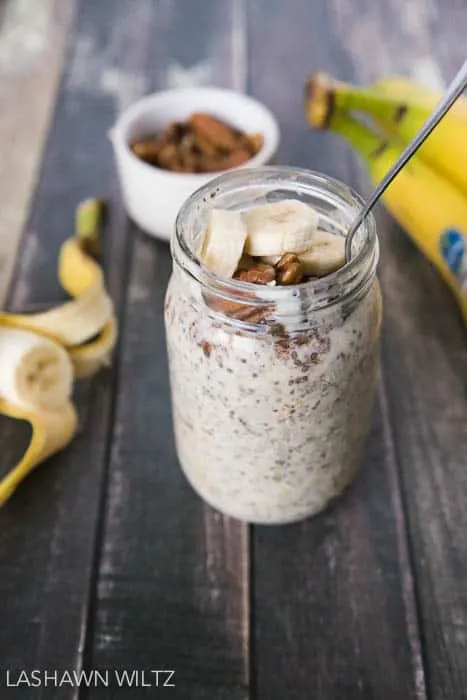 This recipe is so so so good!
I've always loved banana bread and this tricks me into thinking I'm eating something I shouldn't be in the morning. With minimal effort.
It's so creamy, so easy, so good…..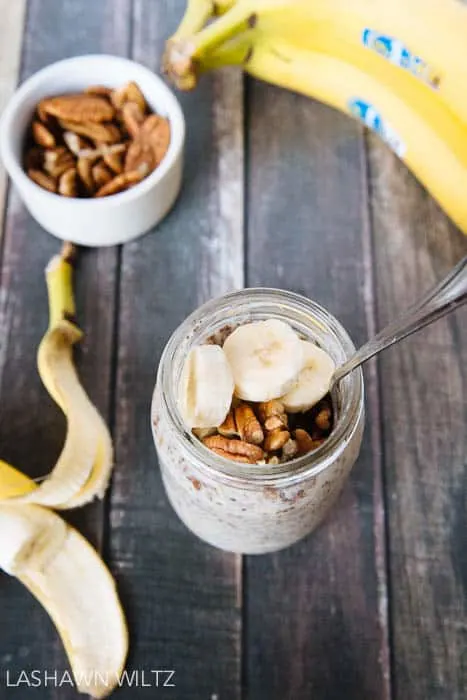 Try it and let me know what you think!
Enjoy! I know I will!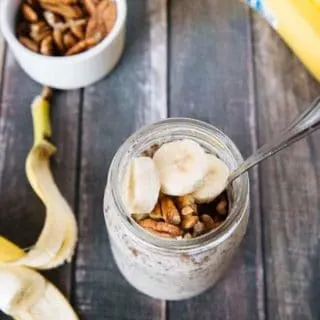 Banana Nut Bread Overnight Oats
Yield: 1

Prep Time: 5 minutes

Total Time: 5 minutes

Easy, delicious overnight banana nut bread oats
Ingredients
1/3 Cup of Gluten Free Old Fashioned Rolled Oats
1 container of Soy Vanilla Yogurt
1 Tbsp chia seeds
1/2 cup of Vanilla Almond Milk
1/2 tsp ground cinnamon
1 Tbsp of Real Maple Syrup
1 Banana
Pecans for topping
Instructions
In a bowl or jar, combine the oats, yogurt, milk, chia seeds, cinnamon, maple syrup and half of the banana (mash banana before mixing).
Stir it all together.
Put in a mason jar and close tight. Place in refrigerator overnight so that it can thicken.
In the morning, top with pecans and other half of the banana.
EAT!
Just a few things used for this recipe…