This Crustless Quiche Lorraine is the low carb twist on a classic recipe! Perfect for Sunday Brunch or any day of the week!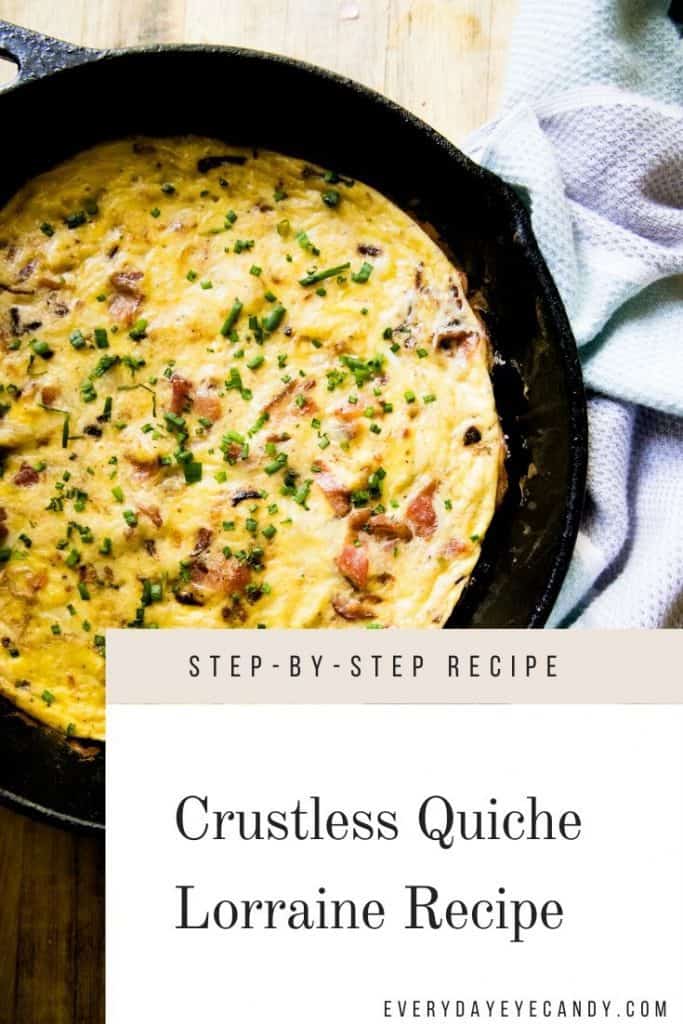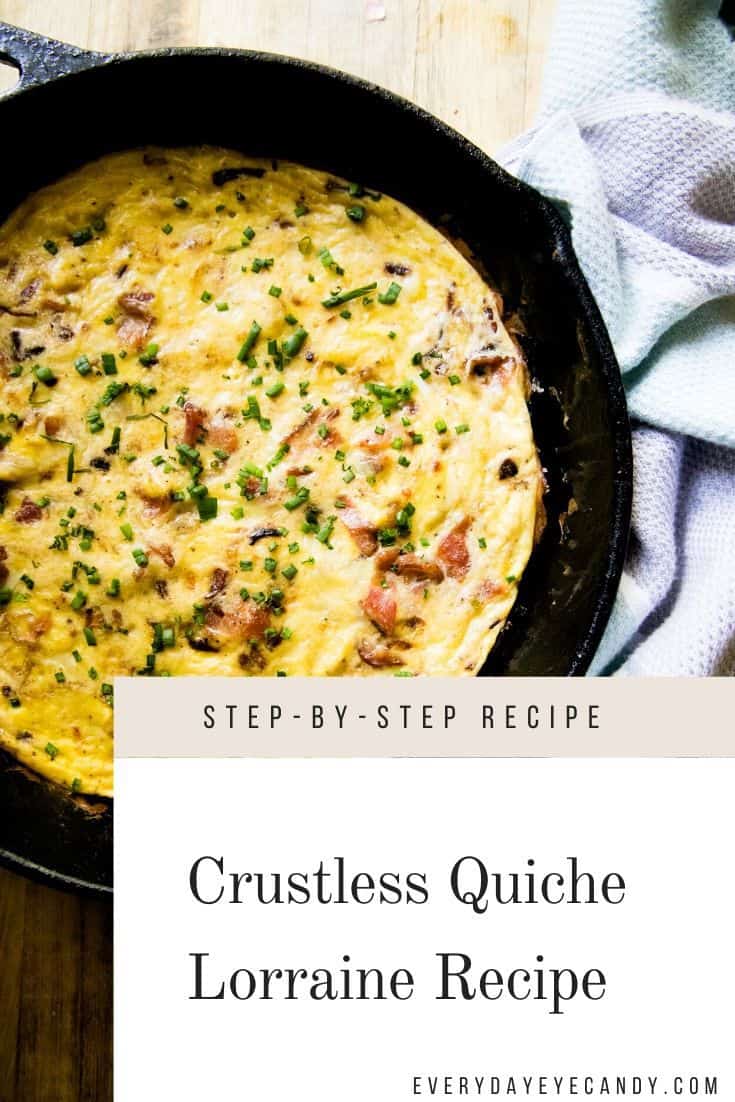 Sooo, I love Quiche. I love it for brunch, dinner, breakfast snack…you get the point, I love it.
But, Pookah has to eat gluten free due to his allergies, and I AM TRYING to eat healthier but still eat all of my favorite things.
So my crustless Quiche Lorraine recipe was born.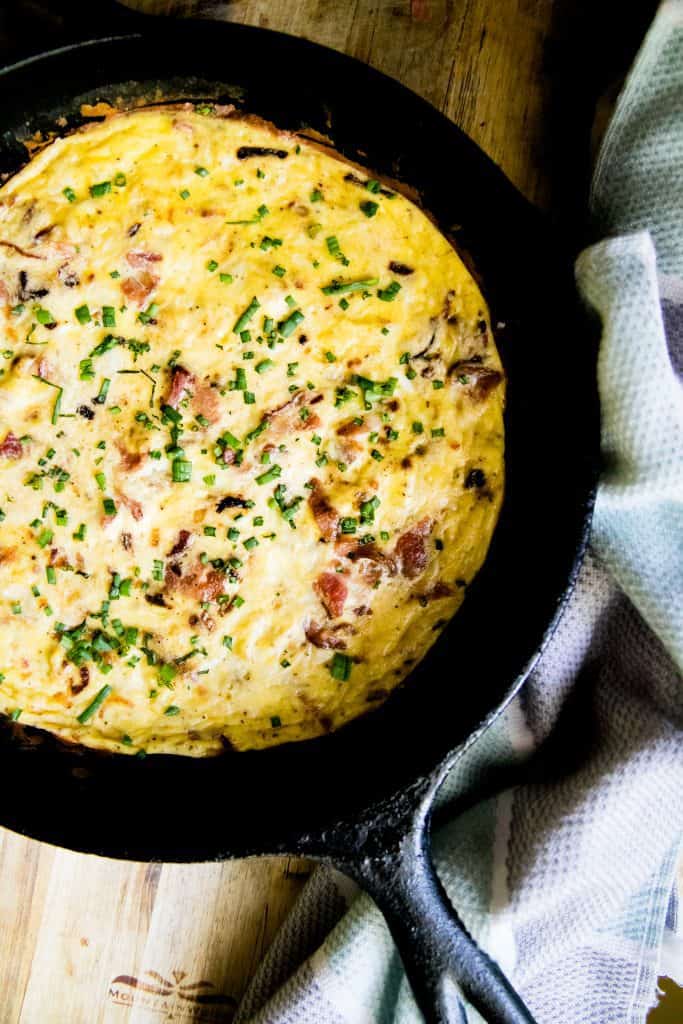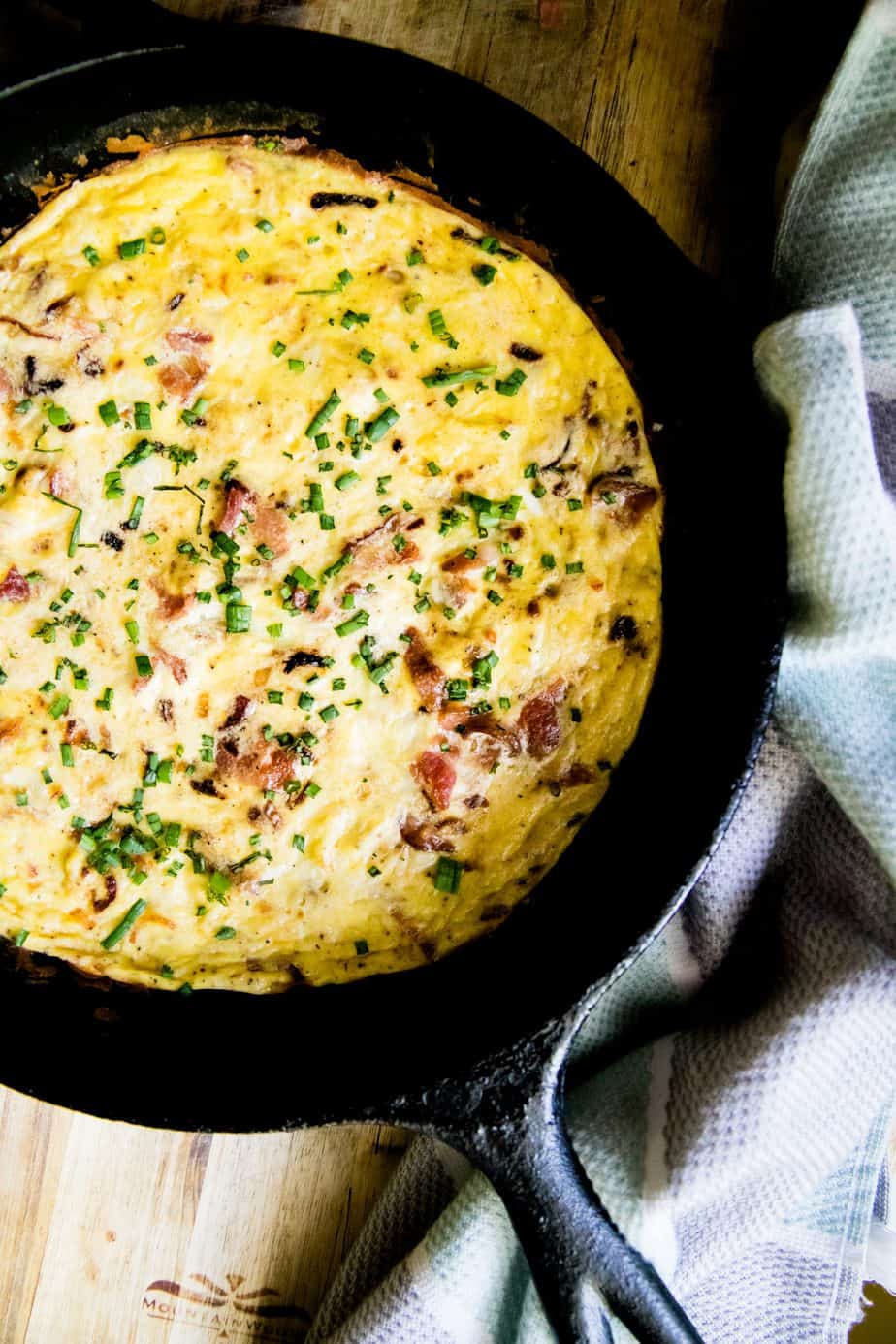 Crustless Quiche Lorraine Recipe
This recipe is easy. Because I don't do complicated. And I hate cooking, so I want to be in the kitchen for as little time as possible.
From start to finish, the Crustless Quiche Lorraine took me about 25 minutes.
What I really love, is that no matter what diet you are on, this recipe can fit: keto, Gluten free, low carb etc.
So let me show you exactly how easy this recipe is.
How to Make this Easy Crustless Quiche Lorraine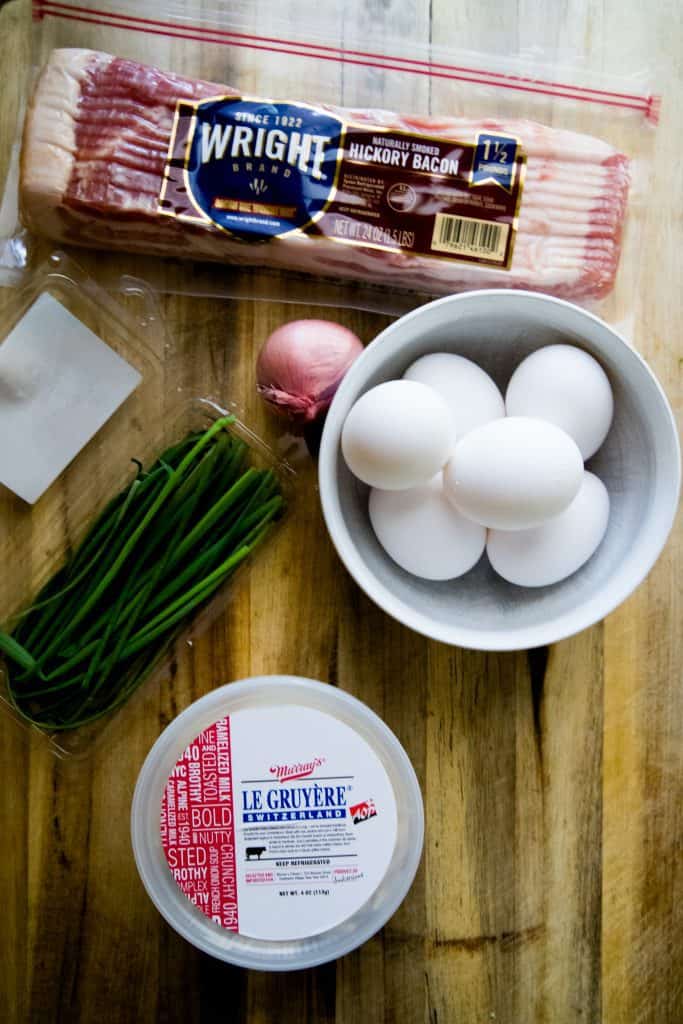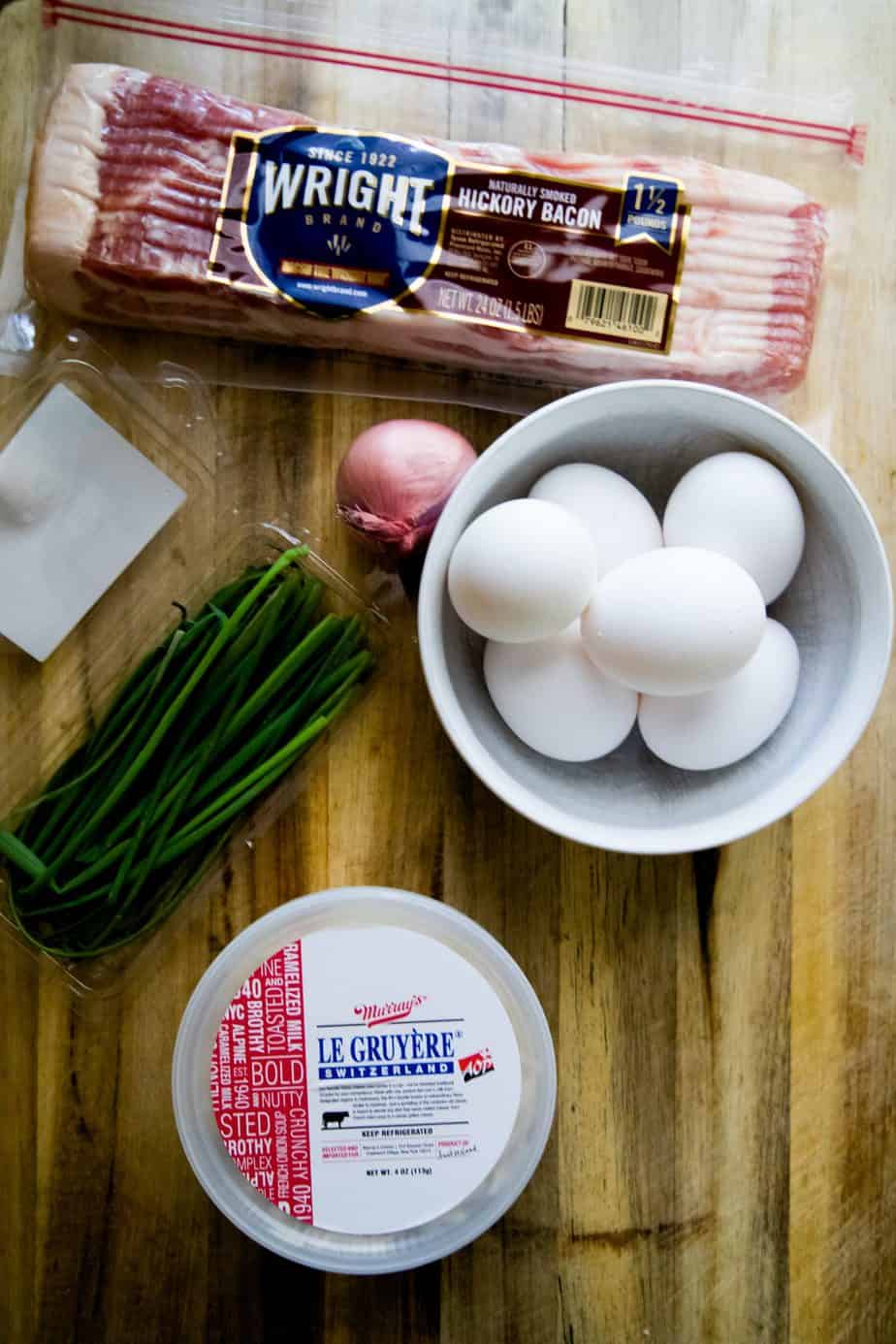 Another thing I love about this recipe is how you can just grab things from your pantry and refrigerator and make it. And yes, I do keep Gruyere cheese in my fridge. It's versatile.
What you need:
Olive Oil
Eggs
Thick Cut Bacon
Shallots
Gruyere cheese
Milk,
Salt and Pepper
Fry up your bacon and save some of the bacon fat to saute your shallots in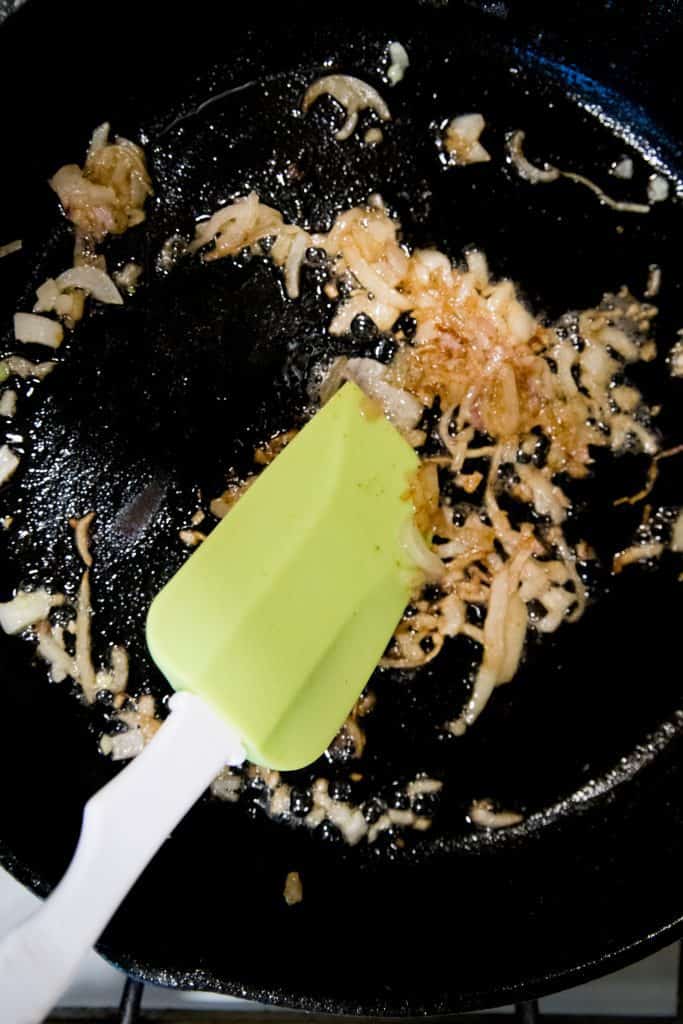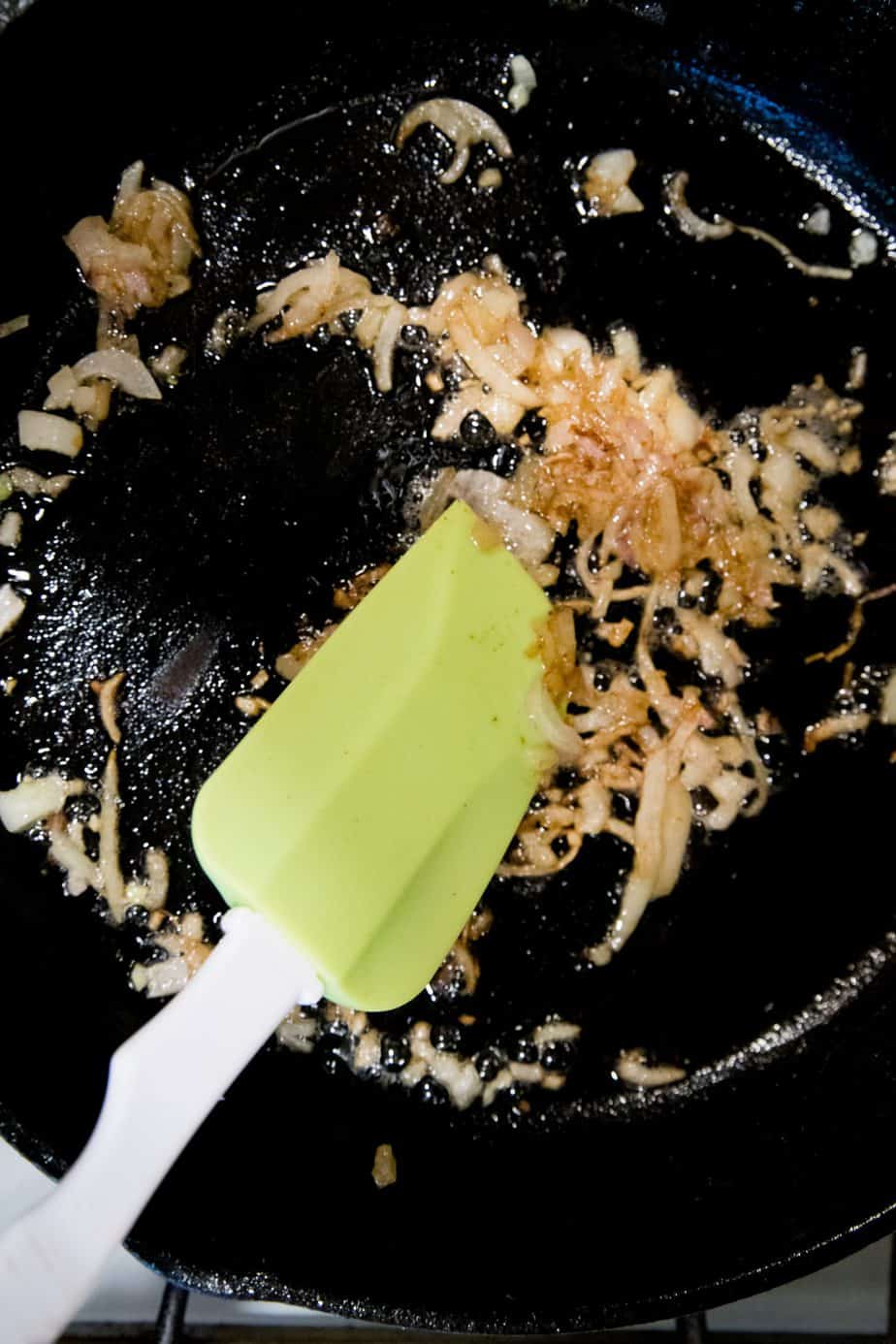 Next, combine your eggs, milk, salt and pepper and whisk together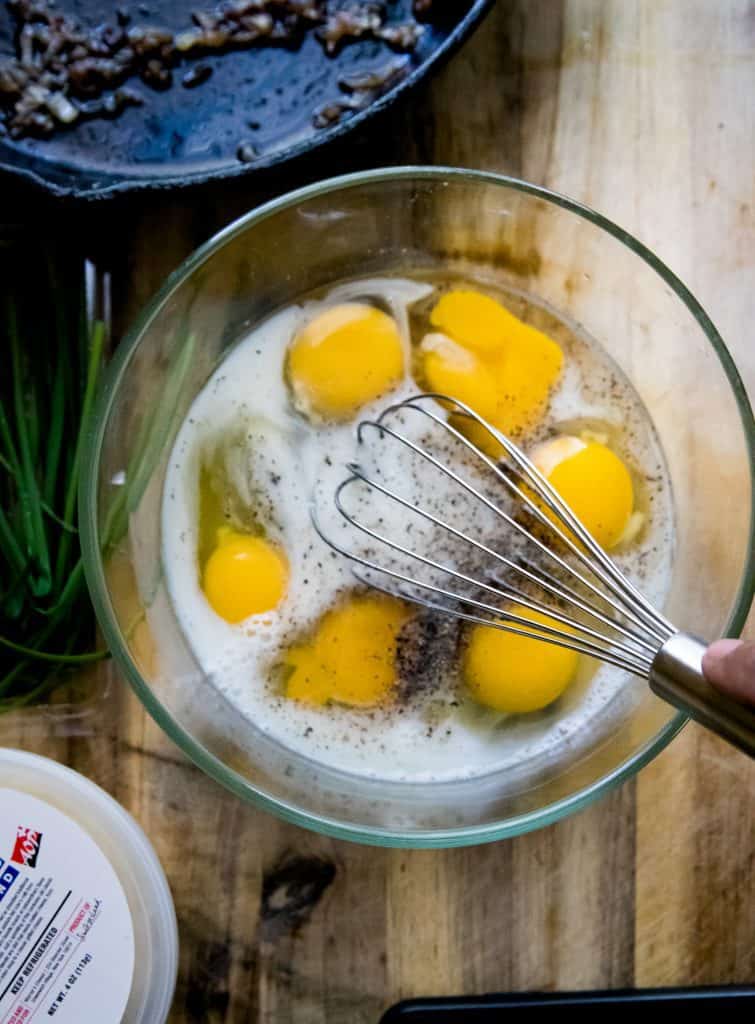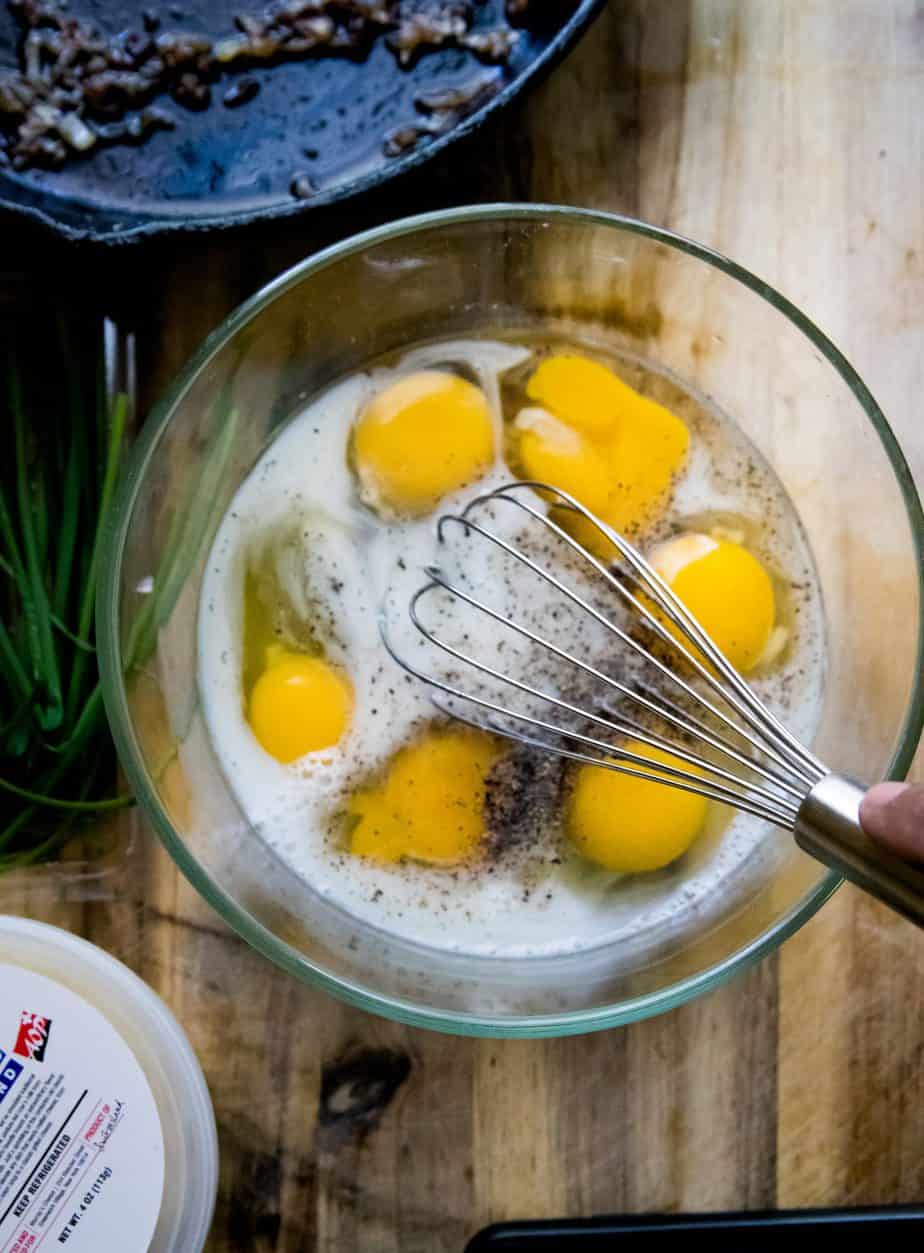 Next, add the cheese!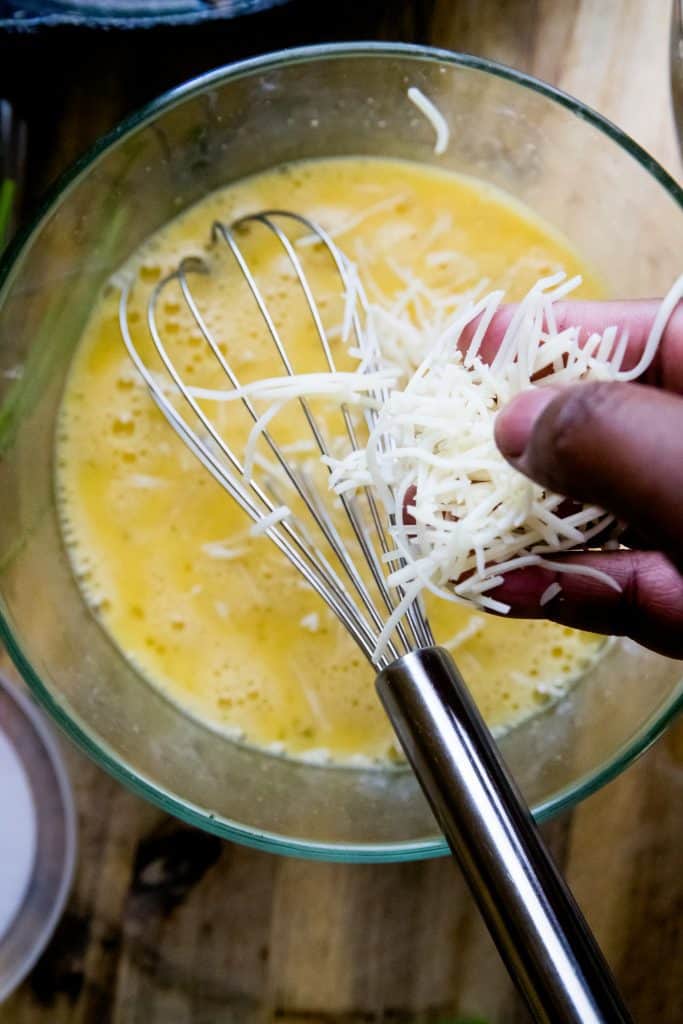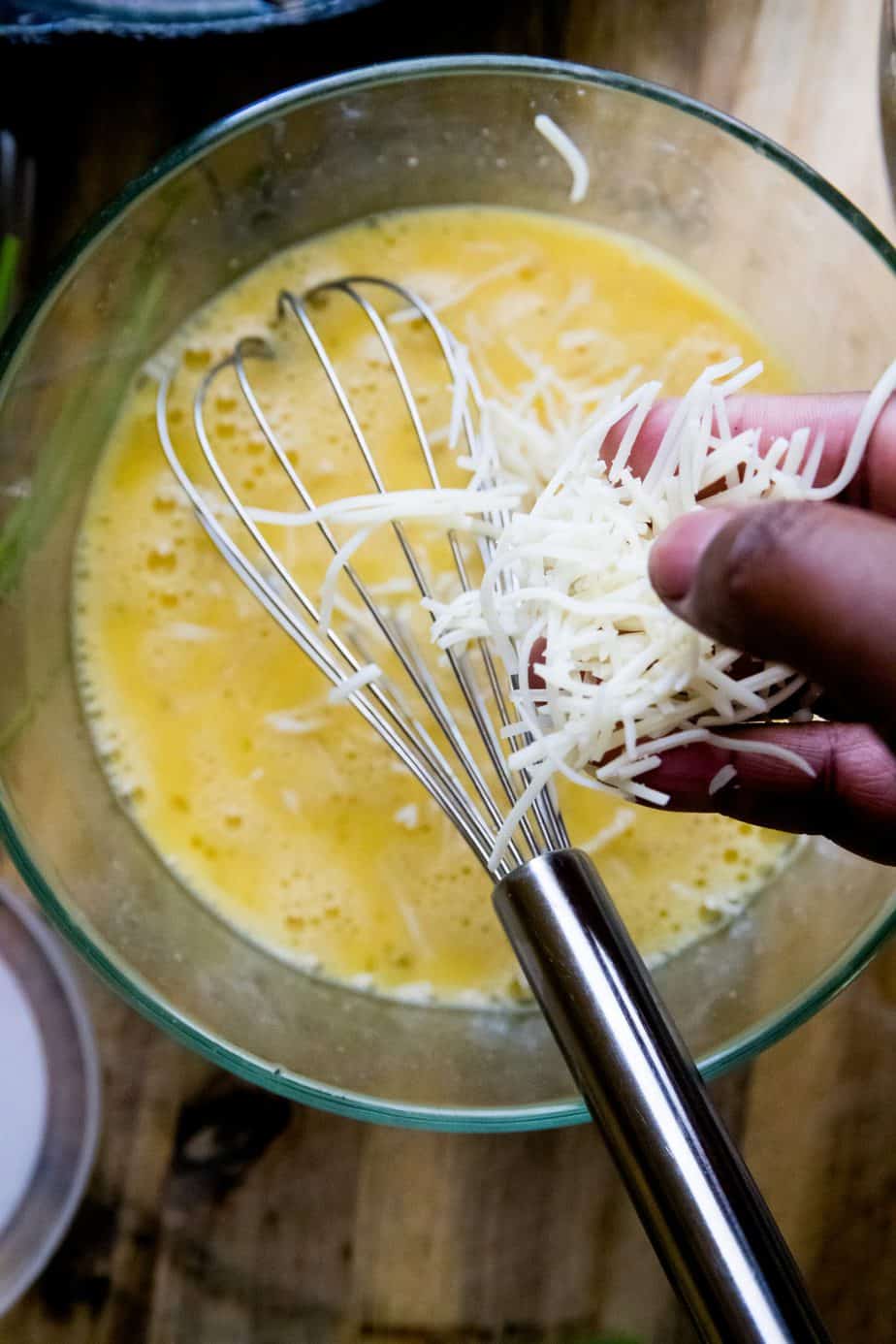 Pour it all back into the cast iron skillet and put the whole thing in the oven and 10 minutes later….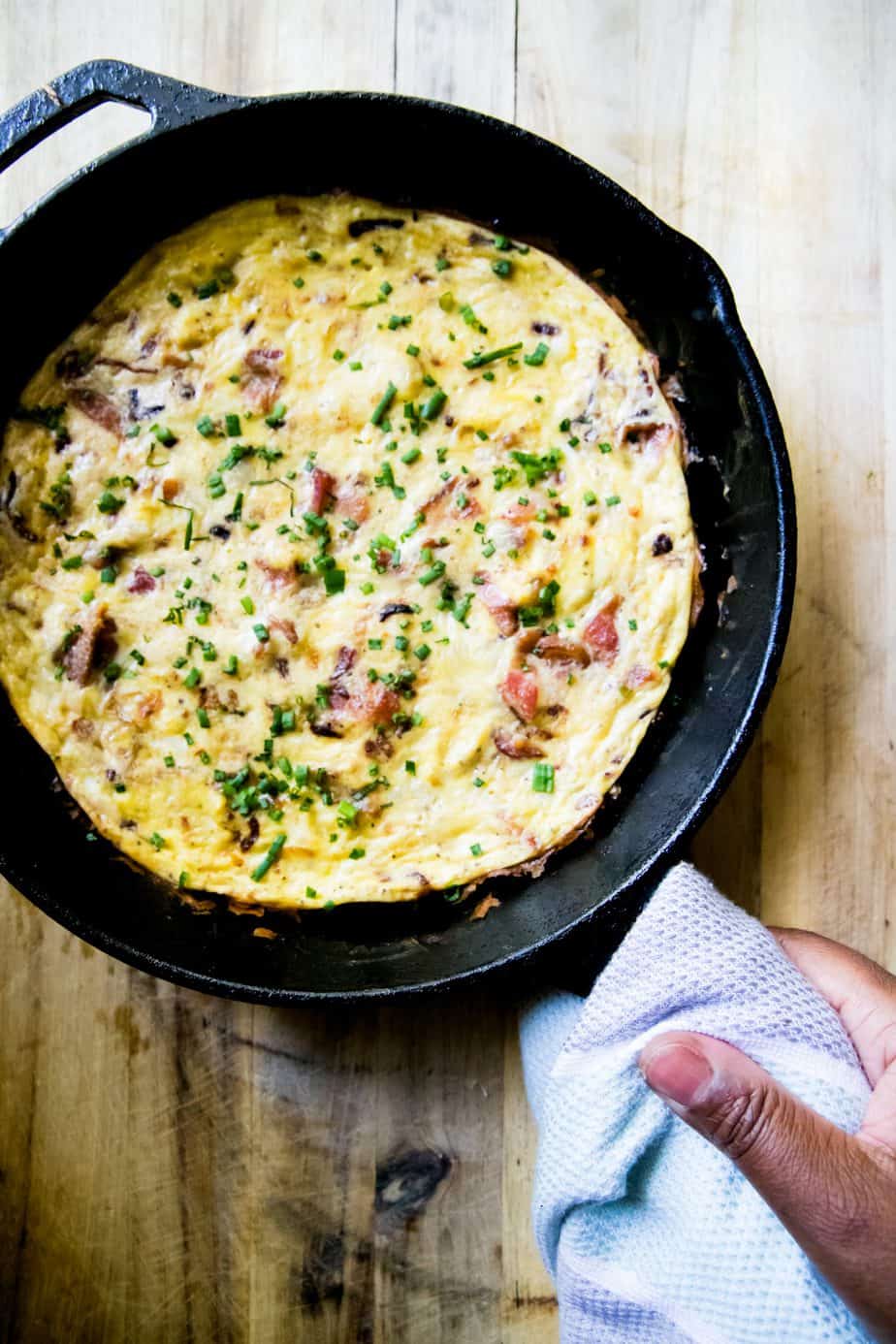 Easy peasy!
So scroll on down for all of the details!
Enjoy!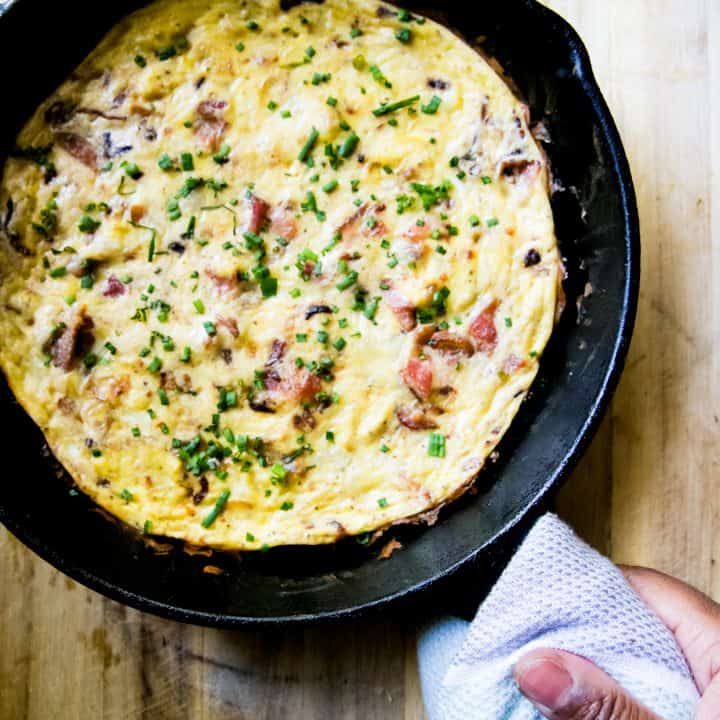 Crustless Quiche Lorraine
Additional Time:
15 minutes
This Crustless Quiche Lorraine is the low carb twist on a classic recipe! Perfect for Sunday Brunch or any day of the week!
Ingredients
1 tsp of extra virgin Olive oil
3 slices of thick cut bacon chopped
1 medium shallot, finely chopped
6 large eggs
1/4 cup of milk
1/4 tsp of kosher salt
1/4 tsp of black pepper
1 cup of shredded Gruyere Cheese
Chives for garnish
Instructions
In an 8 inch cast iron skillet, cook bacon.
Remove bacon from the pan, chop up and set aside.
Reserve some of the scrapings from the bottom of the pan and a tsp of the bacon grease. Add in olive oil and heat to medium.
Add in shallots, cook 5 minutes stirring occasionally.
In a bowl, combine eggs, milk, salt, and pepper. Whisk until combined.
Pour mixture into skillet and cook 3 minutes. stirring occasionally to allow the runny egg to go to the bottom of the pan.
Bake at 375 for 8-10 minutes until the middle is set.
Garnish with chives
Let sit for 15 minutes, then serve.
Notes
Note, this Crustless Quiche will not be as thick as say, a Quiche with a crust. More like a frittata. If you wish to make it thicker, try a smaller pan rather than the 8 inch used here.
Other Recipes you might like